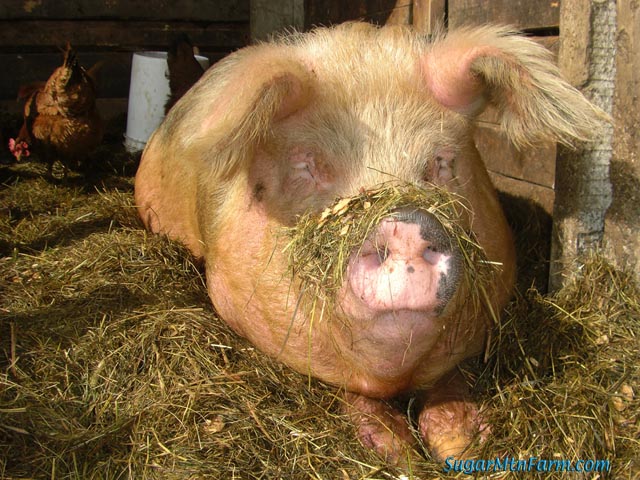 Sow QuarterMane Drowsing in Winter Sun
This is QuarterMane, named in part after he legendary explorer but mostly because she has a ring of dark color a quarter round her neck, a quarter mane.
Here she is enjoying the warm spring sun slanting into the south field shed where she's nesting under the eave. QuarterMane is one of our gentlest, calmest sows. She is a daughter of Blackie. The black coloration is semi-recessive to the more dominant white gene so QuarterMane is a predominantly white pig but produces black piglets at times when crossed back to our Blackie line. Since she carries a variety of color genes she produces piglets of many colored coats.
This picture was taken the day before we moved QuarterMane into the south field shed courtyard. She is bagging but not yet lactating. Notice her rounded belly and the swelling of her udder with the teat development.
In the south field shed, along with several other sows, she'll find private space away from the herd where she can build her farrowing nest and give birth to her spring piglets.
Winter farrowing is by far the hardest time to birth and care for piglets. Now at the tip of spring the weather is warming although we still have deep snows so we still need to provide private shelter where the sows can farrow.
In the easy months of later spring when the snows are gone and then through about October when snows are just starting are the golden months for pasture farrowing. These are the best times to farrow. In those times the sows naturally seek out secluded spots in the margins of the pastures where they build nests, defend their territory and then farrow their piglets. Those are the best of times.
Outdoors: 48°F/20°F Sunny
Tiny Cottage: 66°F/61°F
Daily Spark: Waves are inspiring because each time they fall, they rise again.