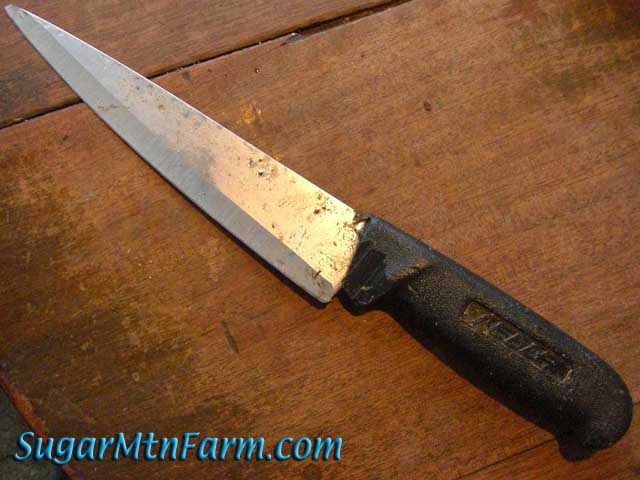 Found Knife
Ben found this 'little' 12″ knife hidden in our winter hay. Has someone been supplying weapons to our pigs?! Perhaps they're revolutionary
capitalist pigs
and planning to take over the farm!?!
The cut mark on the handle is symetrical on both sides and obviously very intentional, probably to make it better fit in a scabbard. This is the sort of knife you would use in a slaughter facility but it is not one of our knives. Our son Will suggested that perhaps the pigs are out in the field training so they can apply for jobs in our butcher shop. I hope not!
More likely this knife fell off the tractor of the farmer who baled our hay over on his farm and got sucked up in the machinery. Then it travelled in the hay bales to our farm where we put the bales out for the pigs. I'm just glad that Ben found the knife first, in the hay, rather than us finding it sticking out of one of our tractor tires! That would have been a very expensive hay bale.
This is not the first time that we've found odd objects in hay bales. Will found a 3′ length of 3/4″ rebar in one bale last year. One of that farmer's fields must have been used for an event with a large tent and the rebar was a tent tension stake. The rebar has a rubber end cap and is painted half length to make it visible. Perhaps this knife was from one of the caterers of that event.
Outdoors: 37°F/22°F Sunny, Light Snow
Tiny Cottage: 64°F/59°F
Daily Spark: There is no such thing as Virgin Olive Oil. Realize that for the tree to produce olives it had to have sex! With bees no less! It is all a fraud…