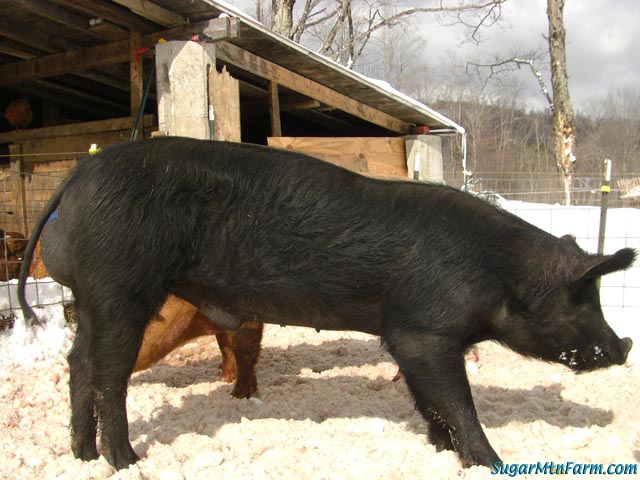 Young Blackie Mainline Boar Showing Off his Length
The boar above is showing off to a sow in heat on his other side. He's as big as her, perhaps bigger, although she is close to a year older than him. Boars grow a lot faster and larger than gilts and sows. She might get as big as 800 or 900 lbs but if he follows in the footsteps of our other boars then he could break 1,000 lbs and perhaps even Spot's 1,700 lbs by the time he's six or eight years old. Make no mistake, these are not pets – These are farm pigs, bred for fast growth, production and thriving in the outdoors of our rugged northern mountain climate.
Over the past year I've been raising up a bunch of young boars from our Blackie line x Mainline with the goal of crossing them over our main herd. They are the potential new breeders. Each week I look them over, culling out the least of them until now we have just a few boars standing. The ones left are the primes, boars descended from the Blackie and our Mainline who are the best of the best, ready to pass their genes on to the next generation.

Blackie is one of our highest performing sows who has often graced these pages. She is a large black sow and has produced many fine litters at the rate of three farrowings a year with litter sizes as high as 19. One of her daughters produced 23 in a single litter. More usual is 10 to 16 once the sows hit their stride.
Crossed with our large fast growing highly selected Yorkshire x Berkshire x other Mainline herd boar's genetics Blackie gave us other fine high producing sows including Double Stuff, Oreo, QuarterMane, Octavia and others. Now I have selected boars from her crossed line that I will cross back to the Mainline. We select hard for temperament, pasture-ability, mothering, winter ability, grazing ability, flavor and other important characteristics for a pasture based small farm. Herd development is a many year process that rewards the patient.
Out of this boar group I've chosen Gomez to be our next south herd boar and I might choose one more. Gomez's brothers, the few and the proud, the excellent primes, the ones who survived almost a year of weekly selection and culling, are available as breeders for other farms. These boars are an excellent way to inject both our mainline and our Blackie line genetics into your swine herd.
"Ajax, as we named the breeder boar we got from Sugar Mountain Farm, has turned out to be a magnificent animal, a credit to his race indeed. He is robust and has more than doubled in size to over 600 lbs and is also extremely tractable and good-natured."

-George Nash of

Gopher Broke Farm

, Wolcott, Vermont

Ajax is a black boar born of Blackie.
We have slaughtered and taste tested several of the mature Blackie Mainline boars, brothers of the ones for sale, over this winter to double check them at maturity for taint and they all came out wonderfully taint free and delicious. If you raise pigs on pasture like us then I would not expect you to need to castrate – we don't castrate and haven't for many years.
These boars were raised on pasture so they know how to graze, know electric fencing and get along well with other livestock such as chickens, ducks and geese as well as being familiar with being herded by us and our working dogs.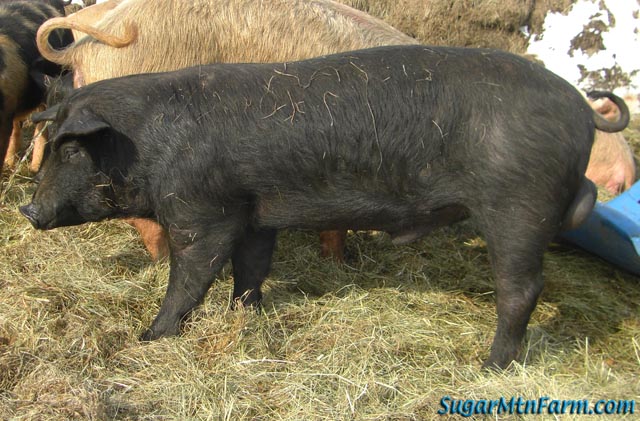 Younger Blackie Mainline Boar
These boars are $600 to $850 depending on age. There are a few who are a little younger like the one above and priced at the low end of that scale but will be ready to breed within a few months, hitting their stride at about ten months. The bigger ones, like the fellow at the top of the page, are already strutting their stuff, breeding for us and ready to service your sows and gilts.
If you are interested in one of these Blackie Mainline cross boars then drop me an email.
"I just wanted to let you know that my pig farrowed yesterday at 115 days. She gave birth to 17 healthy piglets, all alive with no stillborns. I would really like to put a big thank you out to you, because I'm sure that her great mothering ability, beautiful piglets coloring, and size of litter comes from your breeding through Ajax. She has topped both her mother and aunt here at Sterling and they are seasoned mothers."

-Sierra LeCroy, Sterling College, Craftsbury Common, Vermont
You can read more about our breeder animals on the Breeder Page and read about our pigs on the Pig Page, both found in the menu bar above.
Outdoors: 34°F/14°F Sunny
Tiny Cottage: 66°F/62°F
Daily Spark: If you want to get good at something, do it a lot.