Butcher Shop in Blanket of Fresh Snow
We got a bit of snow last week. Not as much as predicted but some almost every day. Tuesday's was probably the last big storm of the winter but one never knows. One year in May we got piled on with a foot of snow. Not unusual in April for there to be some snows.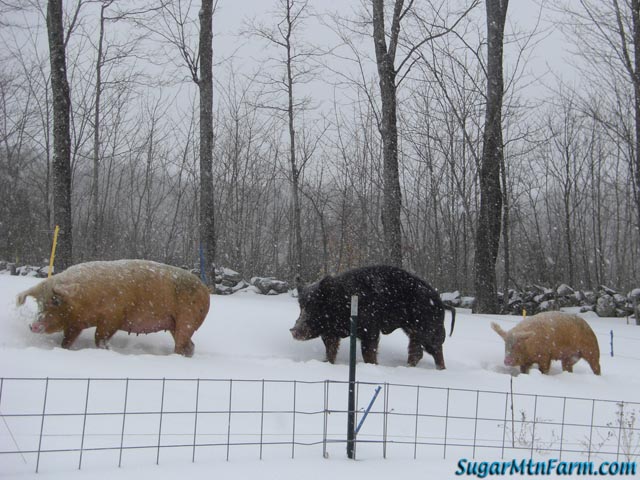 Spitz and Ladies
Spitz and his ladies still walk the path out to the north field pond. They have water closer in but they seem to go for frequent strolls out into the field. They keep the path beaten down and stick to that. Off to the side their short legs don't fare well in the deeper snows.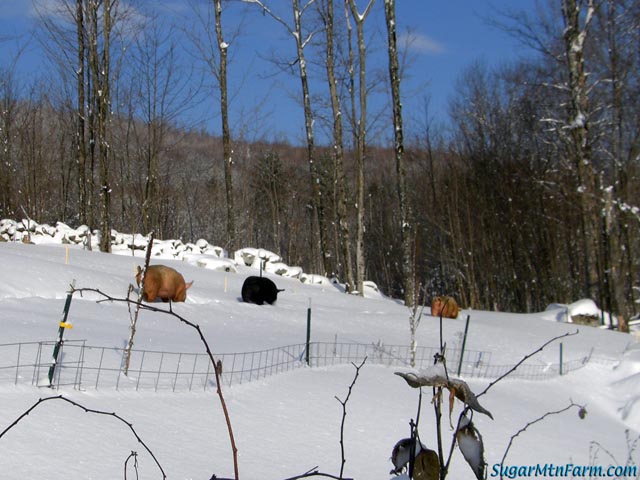 Sugar Mountain Frosted
A black sow on a white snow field looks pretty much like a hole in the picture. She is just a silhouette unlike her 'white' cousins. The white sows are from our main line herd and the black sow is one of Blackie's descendants crossed with our main line boars and back.
We got some extra hay delivered on Saturday and the farmer who trucked it said things were much warmer down the mountain. We generally keep snow a month later than in the valley so I expect it will be a while before we'll be seeing the ground. It's been snowing a bit pretty much every day, even on blue sky days.
Outdoors: 34°F/26°F Sunny
Tiny Cottage: 66°F/63°F
Daily Spark: We need to stop subsidizing stupidity and greed.