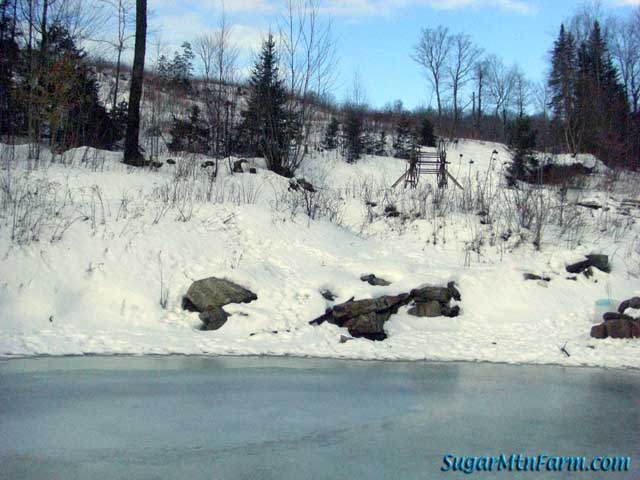 Upper Pond Iced Over
The 2″
water line
from the
sap house
spring
flash froze
earlier this winter. You can just see it in the snow there coming down between the rocks on the other side of the upper pond. When that water line froze this winter it reduced the upper pond to being sourced by the mid-spring, whispering spring and several other small springs. With the cold January and February days it froze over, mostly, rather than staying open as a circulating current with the
ice island
in the middle like it had been. At this point there is just a little open spot where the mid-spring, now called the
brick spring
, splashes in.
One of our livestock guardian herding dogs,
Sirus
, went swimming in the brick spring's hole, inadvertantly.
Hope
(our nine year old daughter) is normally the first one in but he beat her to the punch. I think that is an honor she's willing to forgo. Although the air temperature was up in the forties that day we had high winds. Not that the temperature really matters, apparently, to Hope since the water temperature is a toasty 32°F when she does her first spring dip and plays with the ice bergs. Polar bear, tiger seal or Penguin?
Three little guessing games:
What date the 2″ water line from the sap house spring will begin flowing?
What date will Hope take her first swim in the upper pond?
What date will the ice be gone from the upper pond?
Prizes:
The prizes are a free calendar† from Sugar Mountain Farm.
Rules:
Make one guess for each question.
Limit of one prize per person. i.e., If you win one of the contests then you don't get to win a second or third calendar.
The winning guess is the one closest event date. In the event of a tie I'll randomly pick the winner from the tie guessers.
Contests are open to everyone including family except Hope can't enter contest #2!
Contest entries must be made before the date that the first event happens.
I can make new rules if I want to solve any problems in the known Universe.
No purchase necessary, void where prohibited, walk on the grass.
Leave your three guesses for the event dates in comments!
Outdoors: 34°F/12°F 2″ Snow, Sun
Tiny Cottage: 63°F/61°F
Daily Spark: You probably won't live forever, but just incase, make plans.
†I have a few of the calendars left which have the small cover flaw.