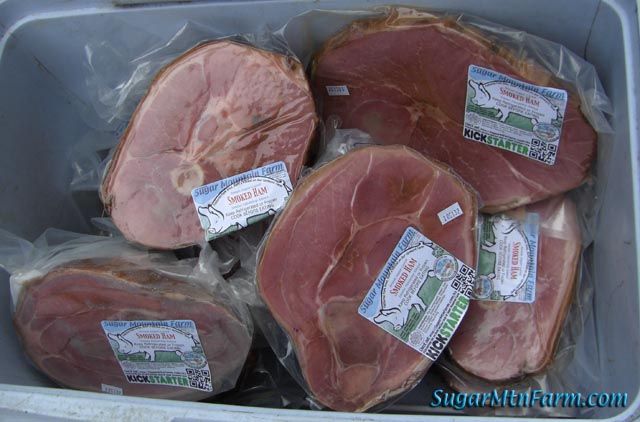 Cooler of Easter Hams and Hamsteaks
Hope was looking at our calendar this morning and pointed out that Easter is coming. This we know because hippity hoppity we just delivered loads of our delicious hams to local stores and restaurants. They sell quickly so act now to get yours!
Hams and ham steaks available at:
Buffaloo Mountain Coop in Hardwick, VT
City Market also known as the Onion River Coop in Burlington, VT
Hunger Mountain in Montpelier, VT
Plainfield Coop in Plainfield, VT
Three Penny Tap Room in Montpelier – in their delicious concoctions
Note that sometimes the hams are in the fresh section and sometimes they are in the freezer section depending on the store.
Sold: Even if you can't get to one of those locations there is still the possibility of getting a Sugar Mountain Farm ham for Easter. There is one bone-in ham left in the freezer: 3.69 lbs @ $7.59/lb = $28. CSA members get a 20% discount.
We also have some ham steaks available in the freezer for those who would like something smaller and she has a few packages of hot dogs from the latest batch.
Local delivery is available if you would like to meet us on our route rather than picking up at the farm. The ham is shippable but the shipping cost (~$50???) would likely be more than the ham with the cost of the dry ice and special insulated box.
If you're interested in a ham for a delicious Easter dinner treat but can't get one at those stores, give us a call at (802) 439-6462 or email her at walterj@sugarmtnfarm.com.
Outdoors: 30°F/20°F Partially Snowy
Tiny Cottage: 64°F/59°F
Daily Spark:
I could never make money with ducks. Too many bills.
I could never deal with cattle. Too much bull.
How do you make money with sheep? Ewe don't.
With hens all I could make was egg money and scratch.
For us, it is pigs are that bring home the bacon.