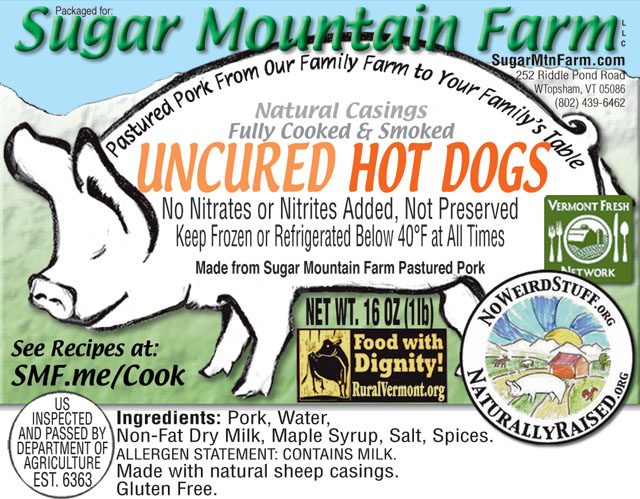 Hot Dogs are Here!
We just did another big batch of our delicious all natural smoked hot dogs. These have a super short and simple ingredient list, no nitrates, no nitrites and are made from our fine pastured pork with a touch of maple syrup from a farm just down the road from us. All the good stuff you want to feed your kids, and yourself!
You'll find our hot dogs at:
Buffalo Mountain Coop in Hardwick, VT
Chubby Muffin in Burlington, VT
City Market a.k.a. Onion River Coop in Burlington, VT
Hunger Mountain in Montpelier, VT
Prohibition Pig in Waterbury, VT
Skinny Pancake in Montpelier & Burlington, VT
South End Market in Bradford, VT
Enjoy!
Also see: our other sausages.
Outdoors: 31°F/14°F Sunny
Tiny Cottage: 62°F/56°F
Daily Spark: "The noblest of all dogs is the hot dog; it feeds the hand that bites it." -Lawrence J. Peter