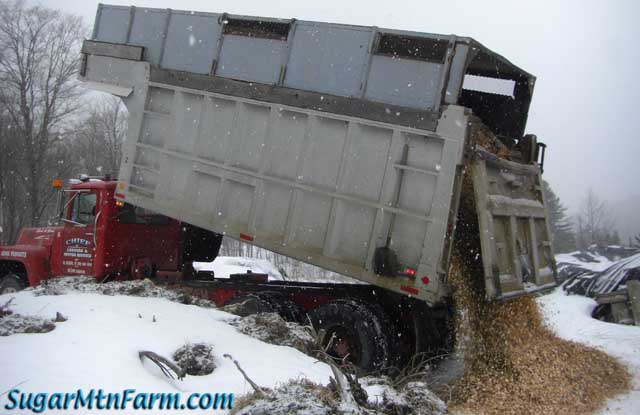 Wood Chip Delivery
This is a delivery of 12 tons of whole tree wood chips, predominantly spruce and pine. Wood chips make a good base for bed packs and help to extend the hay as we head into the wet period of mud season before spring really hits. The advantage of hay is it is edible, wood chips not so much, although a load like this with lots of boughs in it does get eaten to a minor degree. Pigs will eat trees, small branches, roots and brush in particular. The evergreens may even have some
deworming
ability.
Sometimes the weather reports are widely off. Looking at AccuWeather it says last night was 20°F. It still says that even though last night is now history. My highly accurate point and shoot thermometer said it was 0.4°F here and the guy who delivered wood chips this morning said it was -4°F at his house over Groton way. That's quite the difference from the 'predicted' past.
Accuweather claims it got up to 32°F today. My measurements showed 23°F in the sun. Colder in the shade. I take the weather advisements into consideration for the next three days (currently saying 15″ of snow) but their predictions beyond that and out to two weeks out are pretty much voodoo.
If I want to know the weather then it is more accurate to look out the window and say, "Tomorrow will likely be much like today with a chance of change."
Weather plays a big part in our lives – mostly we just endure it when we can't actually enjoy it.
Outdoors: 23°F/0°F Sunny
Tiny Cottage: 61°F/58°F
Daily Spark: The secret to success is often perseverence.