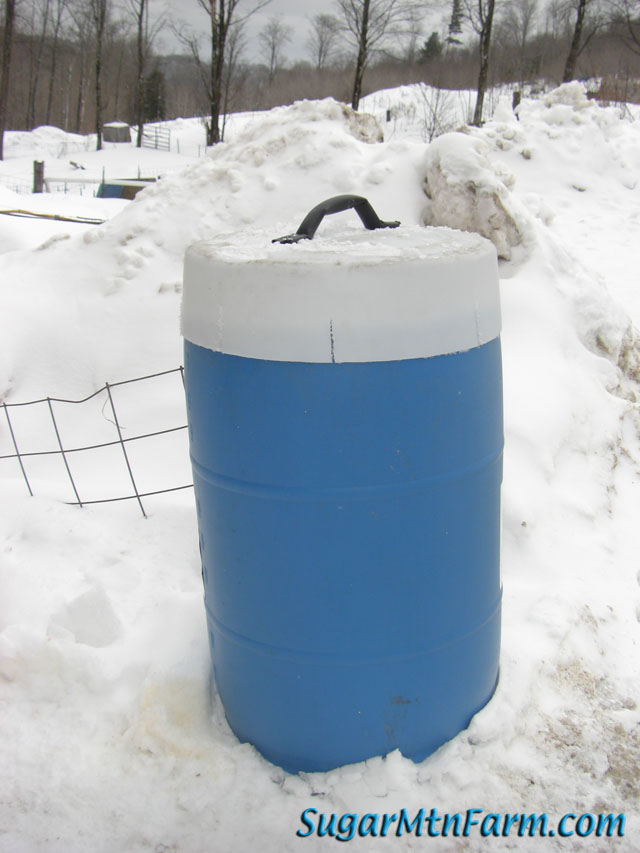 Trash Barrel by Will
Having trash barrels scattered around the farm means trash gets picked up since it is easy to do. The good quality extra large size trash barrels that hold up to the cold and sun are expensive. 65 gallon heavy duty food grade drums are free to $16 around here.
Will made us a whole lot of nice trash barrels with secure lids this past year. The top is the end of one barrel with slits cut in the sides so that it expands slightly over the trash barrel and locks on tight. A short section of old 1″ pipe bolted to the top makes an excellent handle.
These heavy duty plastic barrels last for decades out in the sunlight and don't break in our extreme cold winter weather. The blue and black barrels last slightly longer than the white – incase you have a choice.
Outdoors: 40°F/24°F Sunny
Tiny Cottage: 64°F/60°F
Daily Spark: People are like tea bags, you have to put them in hot water before you know how strong they are.