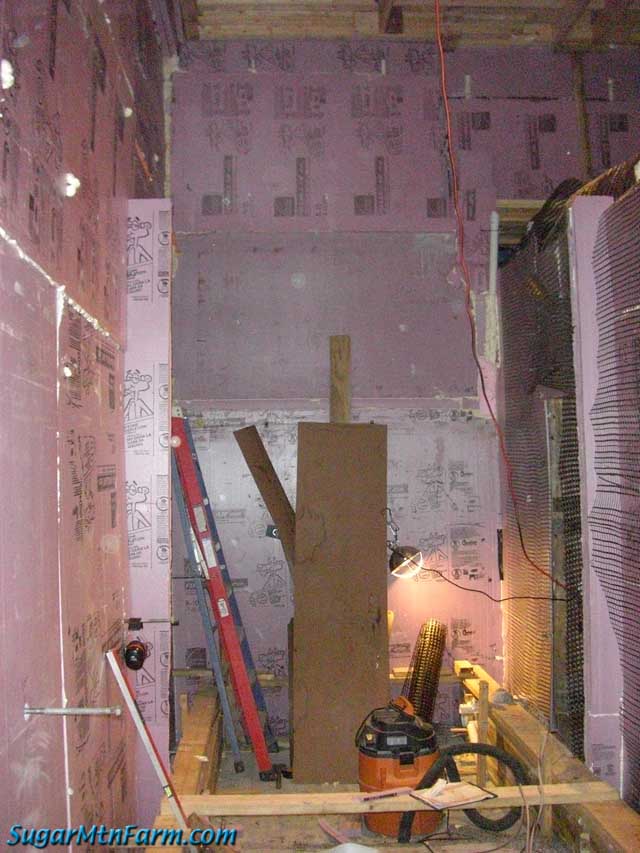 Freezer-Cooler-Brine Basalt Going Up
We will soon be pouring the final concrete floor layer in the Administration section which includes the inspector's office, bathroom with laundry, hall and the smokehouse which will serve as our initial meat cutting room. When we pour that I hope to also pour the walls and arched ceilings of the Freezer, Cooler and Brine rooms (FCB).
By doing the FCB wall and ceiling pour with the floor pour the concrete in the FCB will be cured when we go to do the next pour after that so we can do the floors in there. Synchronizing things like this saves money ($700) on pump trucks.
The photo doesn't do the space justice. That room is nearly 20′ tall. The FCB is a narrow 8′ wide by 24′ long canyon in the reefer. Count pink foam sheets (8'x4′) and you start to realize just how tall the room is. This is the reefer interior, the thermally isolated, heavily insulated, high mass refrigerated interior of the butcher shop. The FCB, along with the other work rooms, will be the bottom 12′ of the reefer. The top area is the coolth attic for storing winter so we can use it later in the warm months.
On the south wall, to the right, you can see basalt mesh which is suspended in sheets between the sub-floors and the coolth attic. These will reinforce the wall. We must use something like basalt, as well as fiber, in the brine room concrete because of the highly corrosive salts used for curing bacon, hams and other goodies which would quickly corrode plain steel. The only metal in here will be stainless steel such as the sockets for hanging rail, some stainless steel pencil rod and then the stainless steel overhead rail. All doors will be stainless steel as well to prevent corrosion.
Outdoors: 27°F/24°F 5″ Light Snow All Day
Tiny Cottage: 66°F/62°F
Daily Spark: "Students of history know that no government in the history of mankind has ever created any wealth. People who work create wealth." -Ezra Taft Benson, Secretary of Agriculture