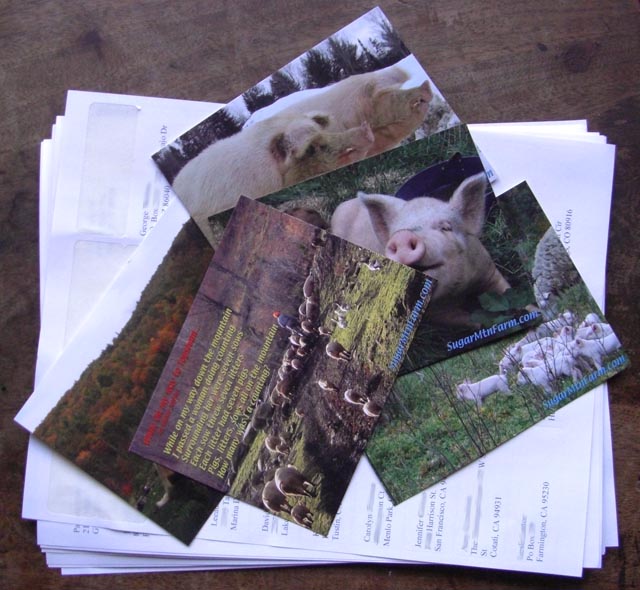 Sugar Mountain Farm Postcards
We have a lot of sows farrowing, that is to say giving birth, right now. It is snowing and I've been sitting watching them as I write postcards so we can put them in the mail tomorrow. Our daughter Hope, age nine, has promised to help me with stamping.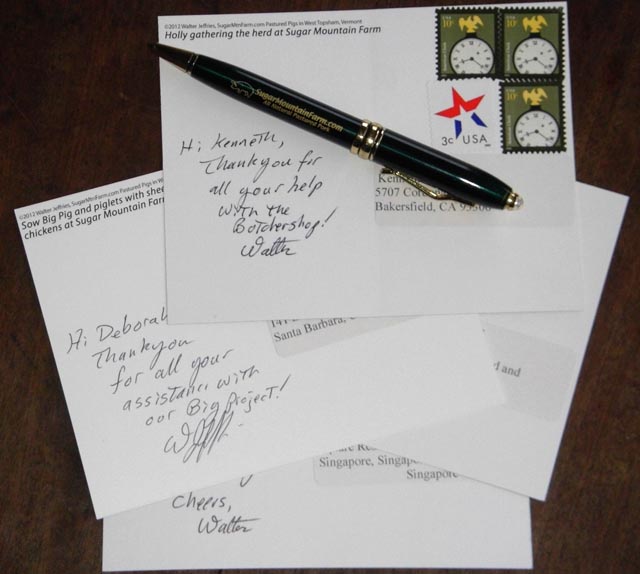 Check your Mailbox!
The weather has warmed so it is a nice time to have piglets. Earlier this week it was down around zero Fahrenheit, that's -17 to those operating on Celsius. Or, a toasty 255°K for those deeply scientifically incline… Hot enough to boil dry ice! But seriously, it is much warmer and less windy now than it has been and the weather is supposed to keep on warming from here on to summer.
I still have some postcards to finish writing – I hope to get those done over the weekend. Everyone at the $15 or higher reward level should be seeing scenic sights of Sugar Mountain Farm in their mailbox soon.
For a bit of fun, when you get your postcard leave a comment here on this update with what state you are in. It will be interesting to see how the waves of cards surf across the country and some even to the other side of the world!
Outdoors: 21°F/9°F 5″ Snow, Continued Snow throughout Day, Some Wind
Tiny Cottage: 62°F/58°F
Daily Spark: Proposed Bumper Sticker: Ignorance is curable.