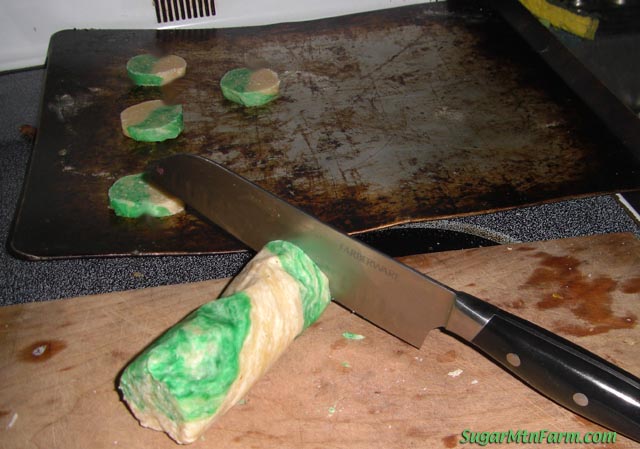 That is a candy cane cookie log. Our son Will made me cookies for Christmas. Not all cooked but rather he made the dough up and rolled it into logs which he put in parchment paper and then saved in the freezer. Now as winter progresses we get to have an occasional treat of Christmas. So we're a little out of season, much like
yesterday's post
but it's fun and delicious. Press in a divot and then perhaps one can think of these as Valentine's Day hearts as well, two blending to form one.
Candy Cane Christmas Valentine's Day Cookies

Pre heat 375°F

1 c soft shortening, butter or fine lard
2.5 c flour
1 tsp salt

1 c sifted conf. sugar
0.5 c granular sugar

1 egg
1.5 tsp almond extract
1 tsp vinilla

Sift flour & salt.
Mix with shortening to form dough.
Mix other ingredients (but not coloring) and combine with first.
Divide dough in two equal parts. Color one. Make into 4 strips.
Lay white by red and roll together to make candy canes. Bake 9 minutes
On greased sheet cookie sheet. Allow to cool fully before serving
for the best taste and texture.

Notes: The photo above shows the cookies in disk form coming off of the log. I usually make thin short candy canes. If you make larger thicker ones (5 or 6 total) then increase the temp to 425°F and adjust the cooking time upward by as much as double. I find I like it best if they brown just a touch.

If you are out or low on Almond extract then substitute mint extract. Some people like mint instead of almond.
I've been making these since I was about Hope's age. I got the recipe out of a magazine in m parent's office. Recently, someone told me that this recipe came from Family Circle Magazine in the November or December 1962 issue. What a good year, my wife and I were born that summer. :-)
Outdoors: 32°F/24°F Misty Morning
Tiny Cottage: 68°F/62°F
Daily Spark: Evolving voles love living longer.