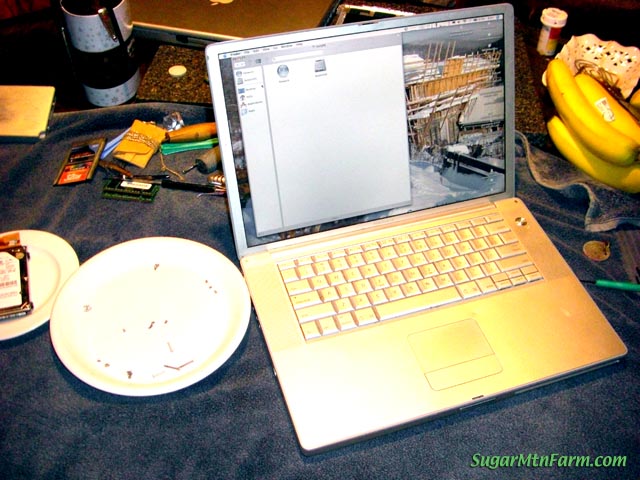 Frankie Lives!
This is the sort of computer that writer
Mary Shelly
might have loved. It began life as your typical Apple Macintosh PowerBook G4 eight years ago. It is now a cobbled together monster of working parts from many dead computers.
Quick, Igor, I need another brain!

All four of our working computers are creatures of the grave yards, hacked together from bits and pieces of those who have died before them. Perhaps this post should have been on Halloween but Holly's computer has been dying gradually for the past few weeks and gave up the ghost yesterday so it was onto my operating table it went, again, along with another computer – thanks, Jessie!
Igor, raise the platform and let in the life giving lightning!
A mere hour later the chime rang and Frankie lives again!
The spare parts left over from combining the computers went back in my electronics grave yard – don't complain that I save everything, sometimes its useful. I'm a hacker in the original Frankenstein version of the word – Creating new life from discarded spare parts. I promise to use my powers for good and never evil…
Outdoors: 31°F/27°F Sunny
Tiny Cottage: 67°F/62°F
Daily Spark: My crayons always fought to get out of the box and mix it up in the arena of my paper. I never did do well inside the box.