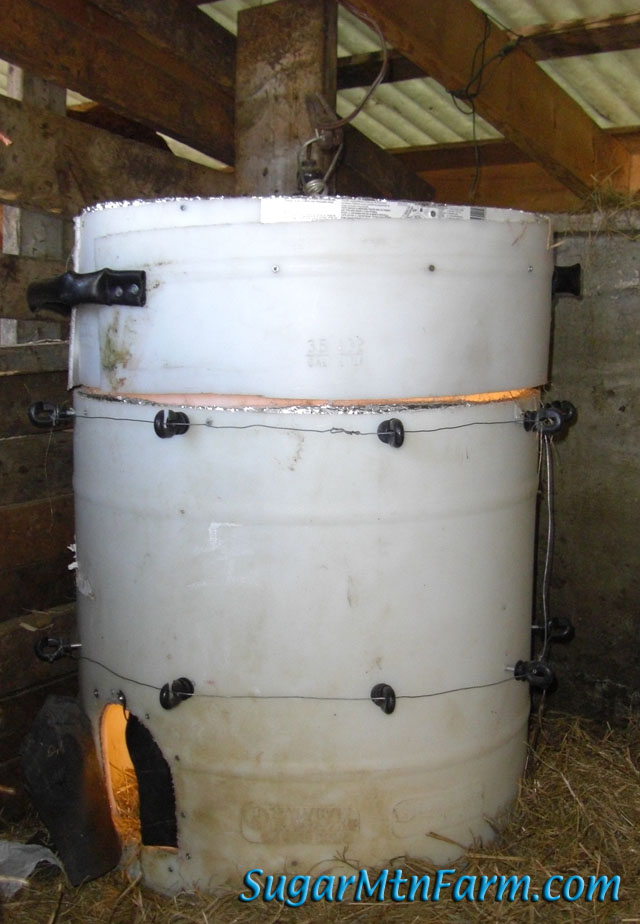 Piglet Brooder Barrel
This is a brooder that Will made out of barrels. It consists of two barrels, one inside of the other with a layer of foil-bubble-bubble-foil (FBBF a.k.a. AstroFoil a.k.a. TekFoil etc) between the barrels for insulation and to reflect the heat back in.
The top comes off and contains a 100 Watt incandescent bulb in a reflector for heat. The heat and the light attracts piglets in. Food inside also helps.
I have misgivings about heat lamps but in the coldest weather, when it drops into the deep negatives, we risk them. Fire is very dangerous. When it gets that cold we're often out there anyways over night so we can keep an eye on things. I suspect that the humidity from the piglet's breath also helps prevent fire – ventilation is important or they get wet from that.
Double rubber flap doors help keep the heat in and drafts out. They were made out pieces of an old tractor tire inner tube that has been recycled to be door seals on our cottage, piglet doors and other purposes.
The salvaged 65 gallon drum fits about ten piglets maximum, much less than the other brooder I showed on last Wednesday. The advantage of this one is it is very easy to move around.
The hot wires instruct the sows not to mess with it. It is a private creep for the piglets.
Big Lots, Piglet & Chicken
Big Lots is one of our Large Black sows. She recently had a litter of piglets in bay four of the south field shed. The brooder pictured above is in her area. The bays are winter paddocks that offer shelter under a roof as well as a large exercise yard. By separating out the sows from the rest of the herd during farrowing we mimic their natural tendency to seek a private space off in the brush on the edges of our pasture during warmer weather.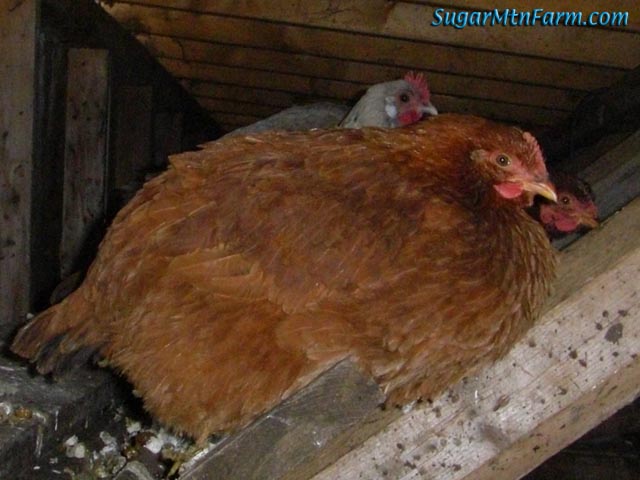 Rhode Island Red Chicken Roosting in Rafters
The hens have started laying after their mid-winter respite. Often the eggs are frozen on the coldest days but they still make excellent piglet food. Eggs are an excellent supplement, especially for the younger pigs who need more protein. Cooking the eggs doubles the available protein – well worth doing if you have a lot.
Update: I have an aversion to heat lamps because of worries about fire and animals electrocuting themselves. There are heat pads but interestingly our piglets don't seem to like the commercial hard plastic heat pads. I haven't figured out why. Sometimes we use heat lamps but we've also found that creeps and hovers built like this one work pretty well even without the heat from pads and lamps. True of both chicks and piglets. The biggest issue with this sort of space is humidity so good ventilation is important. Over the years I've found that keeping the wind off and having a composting bedding pack does the trick so now electricity or fire hazard of bulbs is necessary.
Outdoors: 28°F/5°F 2″ Snow
Tiny Cottage: 66°F/60°F
Daily Spark: According to the latest research you're allowed 11 lies a week to be considered average. Do your part!