Kickstarter Goodie Choices Chart
We've been working on sending out some of the Kickstarter rewards. A number of meat items that don't require our butcher shop shipped such as Roaster Party Packages and Oodles of Oddments. We've also been working on the Goodies – another thing not dependent on having meat cutting. Some of these are shipping now and others will ship later with meat orders.
In the process of figuring out how many knuckle dice sets to make up, how many stone cubes to cut and T-shirts to order I made these charts which shows the goodies choices backers made both over all and by the category. Some of the numbers were quite surprising.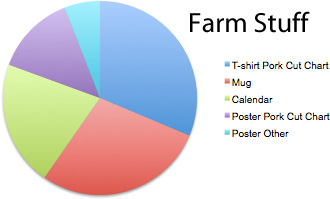 I was not surprised by the number one choice: extra meat. For people who were ordering meat packages, getting extra sausage was by far the most common choice over all of the other possible goodies.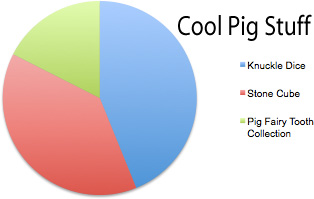 What did surprise me was Knuckle Dice and Stone Cubes were the number two and three choices. I had been sure that T-shirts and mugs would be number #2 and #3 but they ranked down at #8 and #10 respectively although in their own category they did rank highly.
Fun with numbers and colors. This made a good homeschooling lesson too.
Update: See the Shirt Size Ratio post for more fun charts and data.
Outdoors: 14°F/-3°F Sunny
Tiny Cottage: 67°F/62°F
Daily Spark: They say, "you are what you eat." Don't be a vegetable.