Charley and Piglets from her Litter and Others
Piglets are popping out rapid fire on the farm in the winter farrowing bays. These are 30′ to 60′ long by 12′ winter paddocks that have an open shelter at one end and are open to the sky and weather at the other end. The purpose of these areas is to give the sows a semblance of the privacy that they naturally seek out in the warm months for building their nests and farrowing piglets along the margins of our pastures.
I am intending to build a larger greenhouse next year if all goes well. For years we've been experimenting with a collection of small open sheds and little greenhouses formed from stock panels. The pigs really like the greenhouse type structures with the bright sky. Given their druthers they would rather sleep out under the sky than in a dark shed, even an open dark shed. But put a translucent sheet plastic roof or greenhouse glazing on the roof and then the pigs like sleeping in the open shed.
I find that they use less hay for bedding if they have the roof so we're moving towards these open sheds with translucent roofs. Think of them as greenhouses partial walls and lots of ventilation. The light helps to warm the space and dry the bedding, the roof keeps the precipitation off the bedding, the windward wall blocks the cold winter wind. The open sides allow for plenty of ventilation that keeps the humidity down. Life is more pleasant at cold temperatures with low humidity as the wetness conducts heat away from your body.
Chickens Preening on Kneewall of Bay 1 in South Field Shed
To keep newborn piglets in the safer inner bay area we have boards that the sows can jump over to get out to their whey trough, water and dung area. Later as the piglets are more agile these boards can be removed. They fit in slots in the pillars.[
1
,
2
,
3
]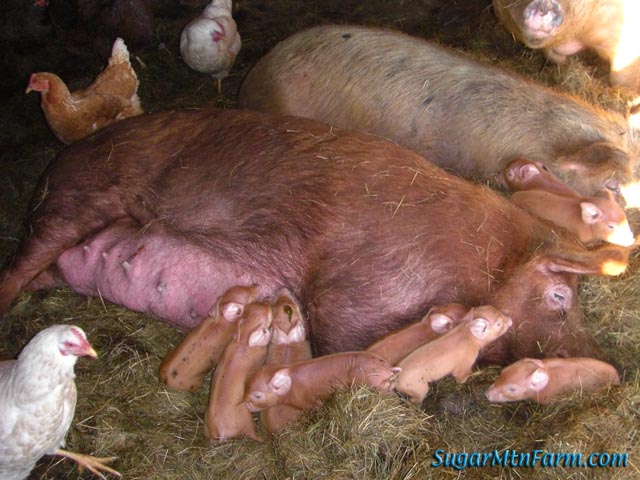 Red Tamworth with New Piglets
These piglets were born just a few hours ago. They picked a beautiful day as it got up to around freezing. The day before and tomorrow will be colder and then much colder weather is coming up.
Charley checking out RedTam who's nursing some of Charley's piglets
The sows co-nurse. That is they open the bar and anyone can nurse. The piglets move around between nipples and between sows.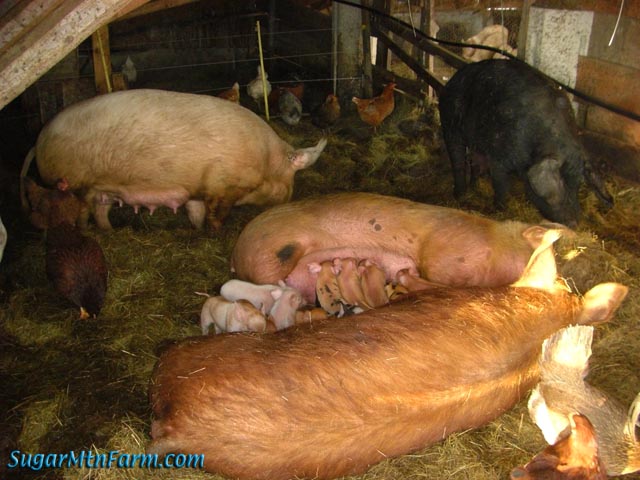 Four Sows and Piglets
The Large Black sow on the right, named Big Lots, has not farrowed yet but this morning when I checked her teats she gave a drop of milk. She will probably farrow on Monday or Tuesday putting all of the piglets in this bay within a week of each other which is idea.
Outdoors: 34°F/-4°F Partially Sunny, 1″ Snow
Tiny Cottage: 65°F/62°F
Daily Spark: Protect our right to farm gnus.