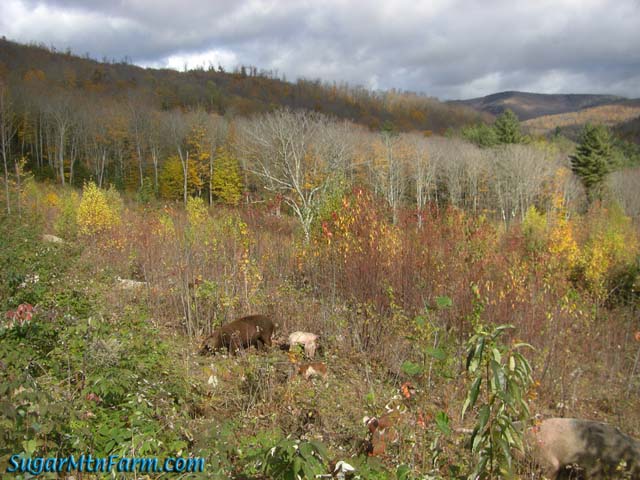 Fall Pigs in North Field
Tina wrote:
I have a question I purchased a finishing pig about 3-1/2 months ago and was getting ready to take her to the butcher; Four days before butcher when she broke out of the pasture we had her in and went into the back woods behind our house. We went and got her and she broke out again and again finally we just left her there My thinking was she found better food or something like that. The next day we went to get her and found that she had nine piglets. She is a great mother. She is a Hampshire. After looking at the babies we noticed that 4 of them where white with black spots and the cutest things ever. I started doing research on them and found out that they could be the GOS so I checked to see if the person we bought from had those types of boars and guess what they do. I am no pig farmer and said I never would be yet I find my self refusing to even give the possiblity for getting rid of these four piglets. I want to raise them and breed them with full blood GOS's can I get a full blood line after breeding these ones with someone elses a couple of times. And what about the mom she is such a good mother and very friendly should I keep her and breed her again or when shes ready send her to the butcher. Oh ya one more thing in all the research I have been doing non stop for 8 days now I am on your page at least twice a day thank you for all the info.

It takes many generations to 'get back to a full blood line'. Some breed registries do allow that sort of out breeding and then breeding back to the line. If you're interested in pure breeding and registering then study their rules carefully.

I urge you to examine your goals and motivations. Getting into breeding is a very big step from where you are. There are a lot of things to learn and infrastructure to establish such as good fencing and places that make good nests.

If what you want is to keep these pigs and breed them because it is a fun thing to do and you want the meat to eat or sell then that's great – go for it, with open eyes. The fact that your sow had a good litter with no intervention is a sign of a good sow and of good genetics. It is somewhere to start. Do not be set on keeping all of the piglets but instead I suggest that you raise these up and then breed only the best of them. The rest should go to meat. That is to say, cull to the table any who show anything less than desirable traits such as low nipple counts, temperament issues, etc. This is how one does selective breeding. To be a breeder you need to be able to be very selective. Typically we keep only about 5% of gilts (females) for test breeding and only about 0.5% of boars for test breeding. Breed the best of the best and eat the rest.

If you want to keep them due to an emotional attachment then don't make a decision now. Raise them up for six months. They'll be a whole lot less cute by market age. Once they're full size you can think about this again and perhaps not have the emotional pull of the hyper cuteness to deal with. Make your decisions rationally – you're taking on a very large responsibility that can rapidly multiply.

If your goal is to raise pure bred heritage Glouster Old Spot (GOS) pigs then I would urge you to start with full blooded GOS pigs instead of with a mix that you must breed back for many generations. You will find the former more rewarding.

If you're going into it for the long term, which is what breed selection takes, then plant an orchard for them on pasture, establish a managed rotational grazing system of paddocks and get some geese and chickens to forage with them.

I would strongly not suggest going into this with the idea of pets. See Pet Pigs for more thoughts on that. Some of our sows get to 800 lbs and boars to 1,700 lbs. Farm pigs are not a good choice for pets.

Either way be aware that the pigs can multiply very rapidly, need plenty of space, eat a tremendous amount of food and produce a lot of (wonderful) manure. Make sure you are not in a location zoned against them. Put in very good fences. Make sure you have a market for the literally tons of pork you're going to be faced with. Do a business plan to understand your costs and enjoy!

Also see:
How Many Sows Do You Need
Have You got the Right Stuff to be a Breeder
Keeping a Pig for Meat
Breeders Page

Outdoors: 38°F/19°F Sunny
Tiny Cottage: 66°F/62°F No fire last three days

Daily Spark:
I met a Leprechaun who said he would grant me one wish. 
Immediately I said, "I want to live forever."
"Sorry," replied the Leprechaun, "I'm not allowed to grant eternal life."
"OK," I said, "then I want to die after Congress gets its head out of its ass."
"Oh, you crafty bastard!" exclaimed the Leprechaun.