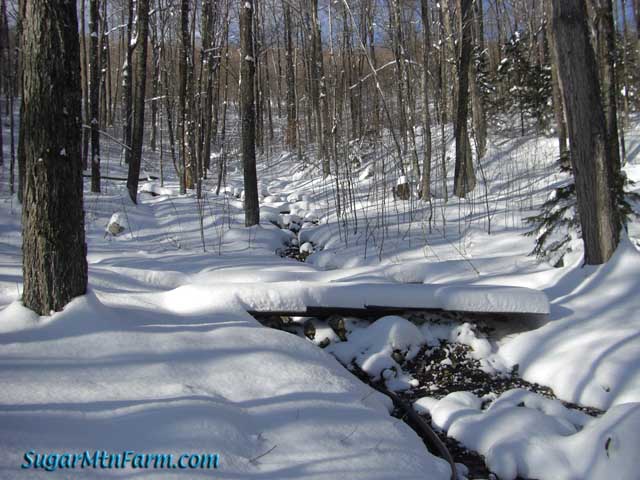 Sap House Spring Covered and Snowed
We only use a small part of the water that comes from the
Sap House Spring
up in our sugar bush. You can see in this photo that quite a bit of the water is flowing past the filter barrel.
This is one of the many little springs that provides water for our livestock and home. The springs feed our ponds including the
Upper Pond
which is the primary reservoir for our livestock watering.
The other day Will and I took the tractor and tools up mountain along the water line road to put a new roof over the spring. This is simply a few sheets of plywood on 2×4's. It creates a microclimate to keep the water from freezing in the filter barrel. The spring is a toasty 45°F so with just a little bit of cover it stays free flowing even through -45°F weather. The snow that accumulates on the 'roof' will act to insulate the spring.
No pumps here – I like gravity fed. Gravity has never failed me.
Outdoors: 20°F/1°F Partially Sunny
Tiny Cottage: 69°F/62°F
Daily Spark: "A reader lives a thousand lives before he dies," said Jojen. "The man who never reads lives only one." ―George R.R. Martin, A Dance With Dragons