South Herd on South Plateau at Compost Pile Wind Block
Ben asked:
I have been lurking/reading your blog for a looong time now. You have been a true inspiration to me and I find our family now on 11 acres north of Omaha with our first home-raised pig (Myrtle) in the freezer! The other night we had pork chops (Mmmm!) and our four year old clara jumped up and down singing "Yay, we get to eat our piggy!" So much for worrying that the girls would be devastated when I killed the pig :)
We are determined to transition to full-time farming because the J.O.B. takes me away from the family too much and we are all suffering. I have seen you answer many questions for other aspiring piggers in the past and am hoping you are willing to do the same for us.
As I said, we have 11 acres. It is a bit over half timber and half pasture with a spring fed stream at the bottom (in a deep gulley). With Nebraska winters being what they are, how many head do you think we could reasonably run at any one time on pasture given that I am commited to MIRG? How many head do think that would reasonably yield for sales?
Also, have you ever heard of Niman Ranch? and if so, would you recommend doing business with them or someone like them?
Thank you!
Ben

Congratulations on completing a cycle of producing food! It is very satisfying. I find that children are more accepting of the idea of eating the animals than many adults. They haven't yet learned the hesitation that modern society is instilling.
Sounds like you have a nice piece of land. I don't know Nebraska personally but suspect your climate is slightly milder than ours but with winter still being a strong force and your soils a bit more fertile and deeper.
With flatter lands like I think you have in Nebraska the winds can be an issue so think about wind breaks. We're high in the mountains and wind is also an issue we keep in mind. Wind is harder than cold. Worst is wet, cold wind. Dry cold in the lee is survivable, even thrive-able. Like us you will find that getting through the winter is a big part of the challenge and that places a limit on things.
Water is critical. The fact that the spring is down at the bottom of the gully means it is hard to get the water up where you want it if I understand the lay of your land. Ideally you don't want to be pumping water. Pumps break down, especially in cold weather, which is why I avoid them. I like gravity fed which is one benefit of the mountain. If you scout around you may notice plants such as ferns growing in clusters that suggest there may be water near the surface such that you can develop a spring. Next look in those areas for very mossy rocks and other signs of wet that indicate where you want to prospect for water. I measured that each pig needs about 0.72 gallons of water per hundred weight per day on the pasture/hay plus dairy diet. On a dry diet they would need more water as that includes 3.6 gallons of whey per hundred weight per day.
Shoats in Winter Paddock with Hay Bale
Based on our experience with our herds on our mountain pastures with our
managed rotational grazing
and supplementing with
dairy
and winter
hay
I figure on up to ten pigs an acre is sustainable. See
How Much Land Per Pig
. In your climate I would start with the a similar assumption and adjust from there based on your experience. Watch the animals, watch the land, watch the forages.
According to the agricultural extension reports I've read, and this varies somewhat from report to report, a pig is about the equivelant of a sheep and a cow is the feeding equivelant of four pigs or four sheep. A cow is considered one animal unit in much of the agricultural math. However, just like when adding sugar to a cup of water you can put in more than you think.
So while the Ag math says:
1 acre sustainably supports 2.5 animal units
1 cow = 4 pigs
1 pig = 1 sheep
Aggie math would say:
1 acre supports
2.5 cows OR
10 pigs OR
10 sheep
But the reality is:
1 acre can support a mix of
1 cows AND
4 pigs AND
4 sheep AND
400 chickens
or something like that. The penciling Aggist might say that in animal units this is:
1+1+1+1
= 4 animal units
where only 2.5 can live. Think about how in nature we have a diversity of species rather than a monoculture. This works because the animals graze differently, each using slightly different resources, it works. Not only that but together they enable resources for each other which would otherwise be locked up. Add in any supplemental feeding and it again will change the balance. This includes garden gleanings, winter hay, grain, pig chow, etc.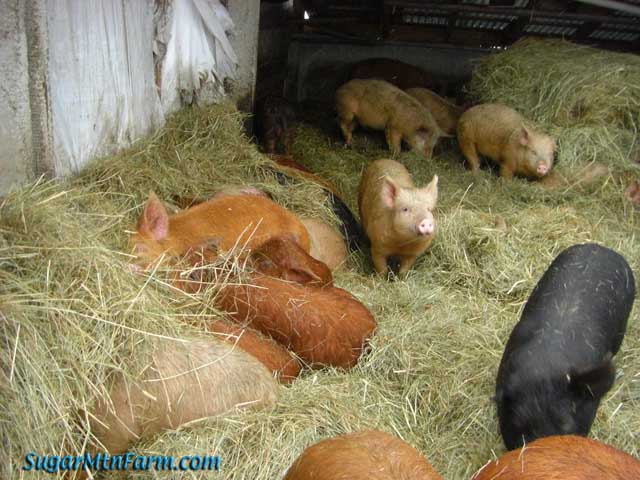 Growers in Winter Hay
Now, don't take any of those numbers too hard because they WILL vary with the size of the animals, the breed, the life stage, the quality of pasture, management techniques and the season. The point is that like adding sugar or salt to a cup of water you can put more in than one might guess. What you want to do is add animals slowly, watch your forage growths, do managed rotational grazing to rest the land and watch the animals's condition. With careful attention your cup won't overflowith.
So, back to your original question… if your fields and forests are similar to ours I would figure:
(11 acres – 1 acre for home)/2
==> 5 acres of pasture for managed rotational grazing
Thus:
5 acres x 10 pigs per acre
==> ~50 pigs or their equivelant would be sustainable
By using a mix of species such as ducks, chickens, pigs, sheep and cattle you'll get the maximum production from those acres just like in nature.
Pigs, and many species, can also make use of some of that forested land, especially if you have nut trees like oak, hickory, beechnut, etc. If you set your managed rotational grazing paddocks up so they are part woods and part field you'll get the best use of the land and you'll have all the fuel you need to keep warm by cutting the dead wood to heat your home. The animals will enjoy the shade and the forages, not harm the woods or the fields through too much much mobbing and soil compaction. Done right, gradually the land will improve.
In our northern climate this assumes buying in winter hay. We buy in about 400 lbs of hay per pig. See Feeding Hay. Buying in hay is good because it imports nutrients to our soil. Which reminds me, get a your soil tested to make sure you have enough iron, selenium, etc for both plants and the livestock. If you don't have enough of the right minerals in your soil then consider feeding kelp or some other mineral mix. Just beware that sheep generally can't tolerate copper and pigs can be killed by salt which is in cattle, sheep and goat mineral mixes.
Speaking of improving fields, I would strongly suggest planting legumes into your field mixes to suck free nitrogen from the sky.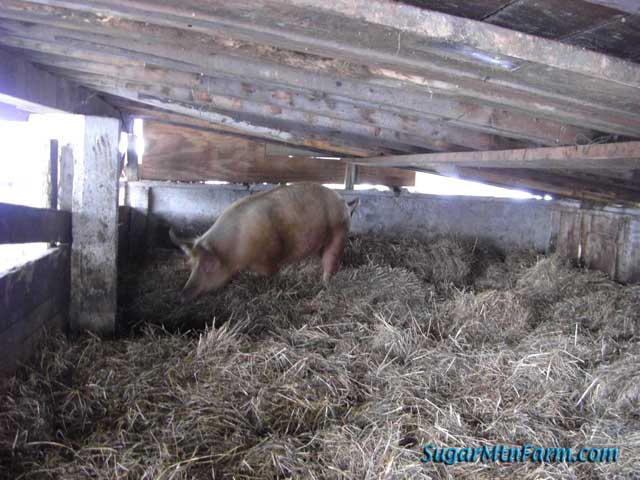 Sow in Winter Paddock 5's Shelter
Start slowly. A sow can easily produce 20 to 30 piglets a year so a sustainable level for your parcel is probably about two sows, maybe four tops. The rule of thumb is that you need three sows to justify the cost of a boar on pasture and on grain or commercial feed figure six sows to justify the boar. It takes the piglets from those sows to justify the cost of keeping the boar. A boar can service around 15 sows. Otherwise go with AI or a borrowed boar and keep well up on vaccinations and parasite control. A boar and three sows would produce give you 60 to 100 pigs on the land per year which is about 50 InstaPigs since they go to market around six months of age. Likewise do the math for other species.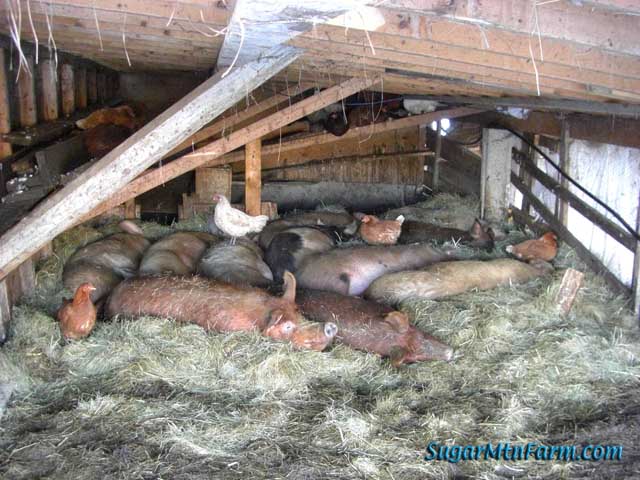 Sows in Winter Paddock 1's Shelter
I would err on the side of caution, that is on the lower end of the animal densities and then adjust. I like to let land rest well between grazing and ideally have plants go to seed to have them self-perpetuate the life cycle. This also helps with breaking parasite cycles and eliminating soil compaction.
I would also recommend that you start slowly on adding animal species. I recommend that people start the first year with chickens, then add weaner pigs which you have already done. Each year add something new as you gain your footing with what you have. Same goes for gardening. Find your pace.
Start just working to feed yourself and your family. This is how you learn the skills. If you want to farm full time and get away from the J.O.B. as you put it then the next question you'll need to work out is how much money in your local market can you sell the pork from those pigs, or other livestock, that you can sustainably keep on that amount of land. Lots of variables there such as what supplemental feeds you can produce, get for free (e.g., diverting the pre-consumer 'waste' stream), what your costs of hay are, what prices you can sell for in your area and what your costs of processing will be like.
Once you have infrastructure such as land, fences, sheds, etc, the big three costs of raising a pig, as an example livestock, come out to be about evenly split between the cost of the piglet, the cost of feed and the cost of processing. Once you get going you can start working on whittling down those costs through producing your own feeds and your own piglets. Processing is the next big hurdle.
Definitely do up a business plan. Winter is a great time to plan. Figure it will take five to ten years to learn the skills, get things established and develop your markets. Don't go too fast. Be sustainable. Most businesses fail in the first year. Be in it for the long haul.
You might find this Animal Unit Calculator interesting as well as checking out the Wiki on Livestock Grazing Comparison and Animal Units. Take all of that with a grain of salt since the same term, Animal Unit, is used by different groups for different purposes.
Last suggestion: Plant fruit trees and berry bushes every year, starting now. They can produce a tremendous amount of food for your animals and your family. If you plant ten trees a year starting now, even though you don't know what the best location is yet, in a decade you'll have nearly 100 productive and near productive trees. Don't put off planting.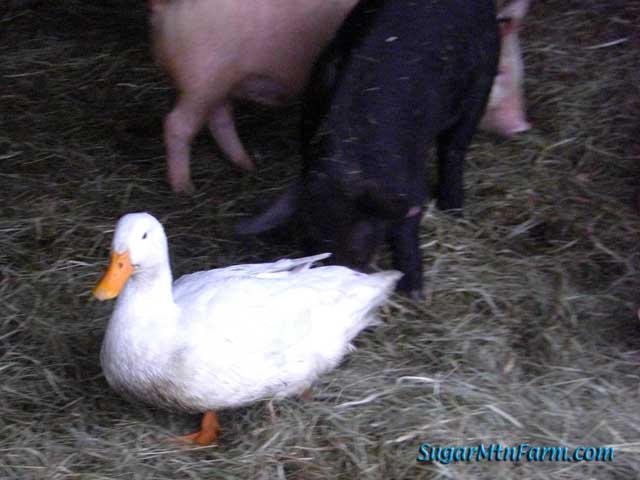 Not a Pig
I have heard of Niman Ranch but don't know anything about them other than that they are a company which buys carcasses from a lot of different small farms who grow the animals to their standards – An aggregator if you will. I have never done business with them or anyone like them although I have been approached, and declined. I prefer working directly with our customers.
Some Related Reading:
One Day of Rotational Grazing
How Much Land Per Pig
Pasture Post Pig Grazing
InstaPigs and Animal Units
North Home Field Sow and Piglets
Sugar Mountain Farm Pigs: Feeding and Grazing
Vet Visit Field Tour
Painted Probed & Pierced Pigs
Sorting and Driving Pigs
Outdoors: 8°F/-13°F 1″ Snow, Mostly Sunny
Tiny Cottage: 70°F/64°F
Daily Spark: When breeding remember that not all pigs are equal and some pigs are more equal than others, to misquote Animal Farm.