2013 Calendar Front Cover
All the Seasons at Sugar Mountain Farm
It's a new year and calendar time! The image above is the front cover of our 2013 calendar. Also check out the calendar from
last year
.
You can download the
PDF digital version
. The file size is about 1.4 Megabytes so be prepared for long download times if you're on a slow connection. Use it on your computer or print it out to hang on the wall so you can enjoy looking at farm scenes all year long.
But enough about trivial technicalities – we're all here for the pictures right!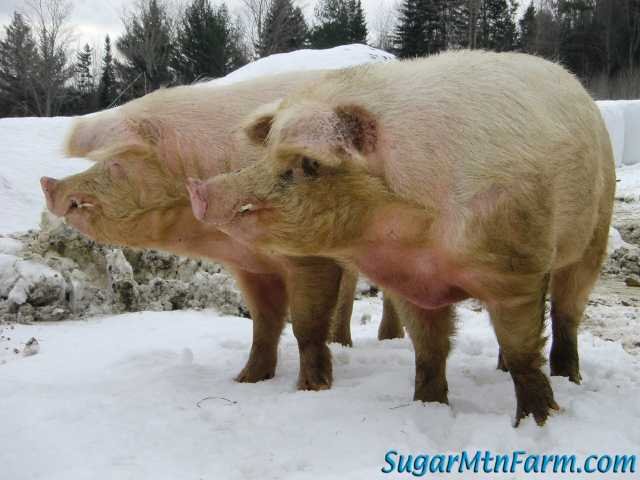 January
Big'Un & Archimedes looking over the south herd
Big'Un
and
Archimedes
are two of the breeder boars who sired many of the pigs in our herds. Here they're standing above Underhill looking south over their herd's domain.

February
02-RoosterSpecklesSFSSun8046.jpg
Speckles
, who is letting the rooster stand on him, another of our big breeder boars. In this picture he is relaxing in the sun on a deep bed of hay in the south field court yard.

March
Piglets nursing on Quartermane
These piglets are enjoying a warm drink at the milk bar of their mother Quartermane on a cold winter day.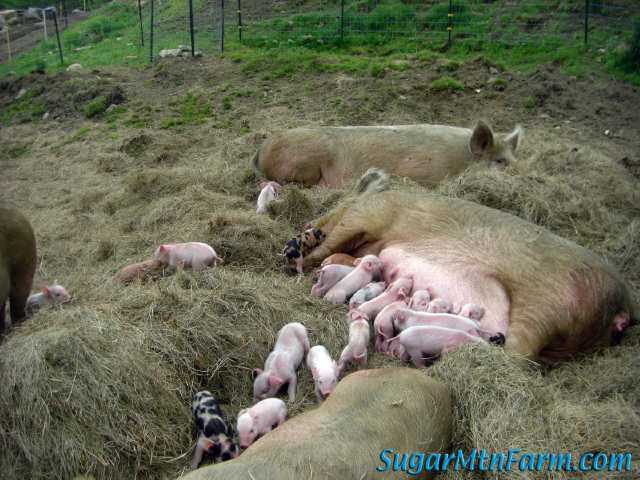 April
Flo, Octavia and other sows at Underhill with piglets
Underhill
is one of the winter paddocks in the south field where these sows farrowed a sound of piglets.

May
Goose & Gander with Goslings
This is the first year that our
geese
have produced goslings. These little ones were born in a nest sheltered among the granite chunks by the lower pond.

June
Big Lots and Alberta with Piglets in North Home Field
This year we had a rare input of new pigs, twice. One group was Tamworth and Large Black sows which included these two ladies. The other incoming pig was Spitz, our new Berkshire boar who joined them in the north herd.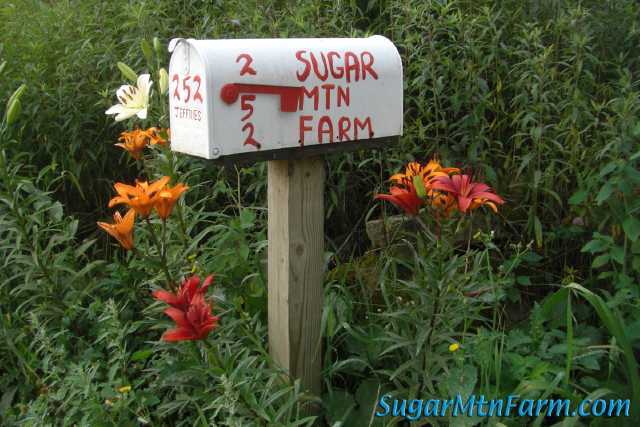 July
Mailbox Tiger and DayLilies
The
lilies
did exceptionally well down by the mailbox. The new crosses of my old plants produced a variety of new and interesting colors.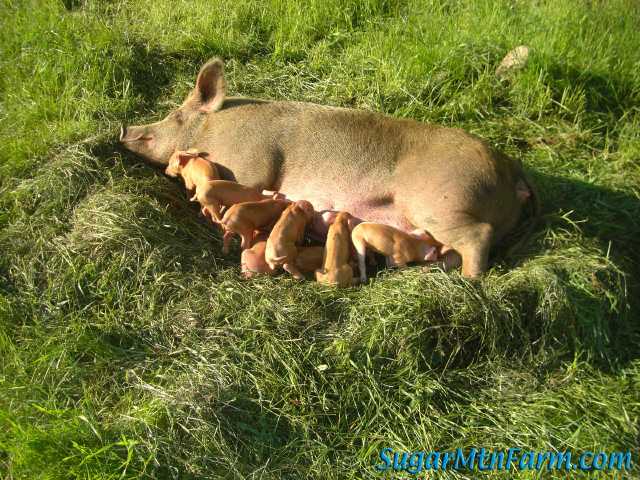 August
Tammy the Tamworth and Piglets
Another of the new
Tamworth
sows with her piglets enjoying the sun in the north home field.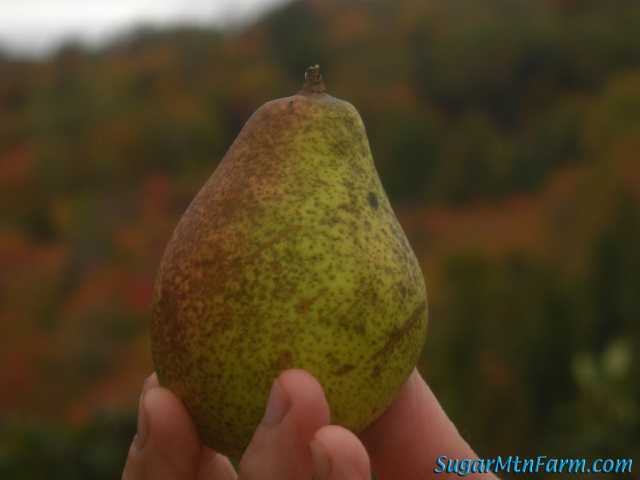 September
Perfect Pear
This year was a particularly productive
pear
period producing many like this beauty. It tasted delicious!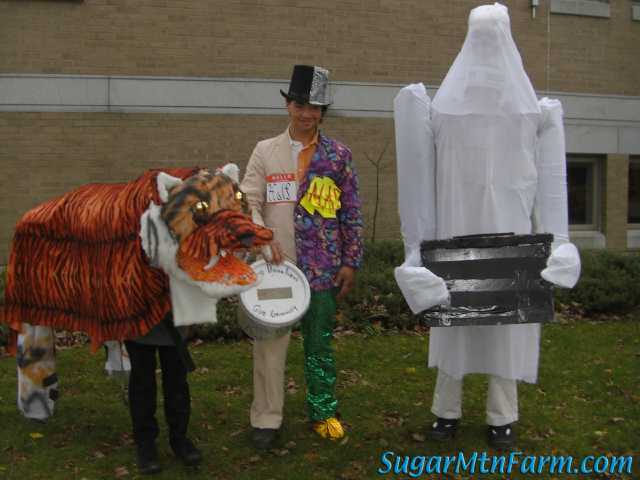 October
Hope, Will & Ben Halloween Costumes
Hope
was a Tiger for
Halloween
.
Will
couldn't decide if he was happy or mad, so he was both.
Ben
was a giant ghost skeleton with a treasure chest that opened to receive donations.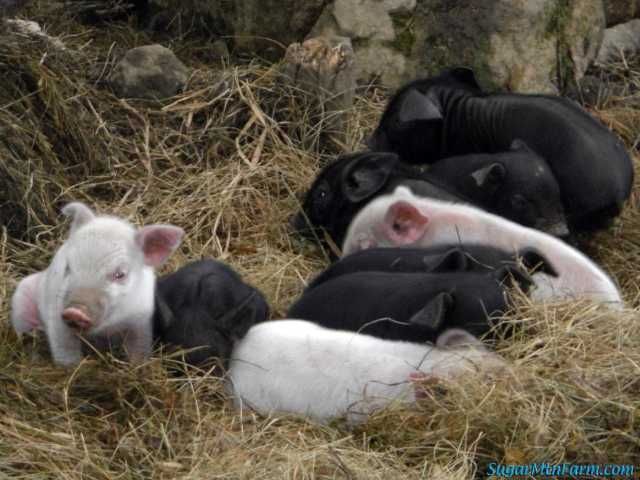 November
Piglets in Repose
Piglets
spend a lot of time sleeping when they're not eating at the milk bar or learning to graze at their mother's side.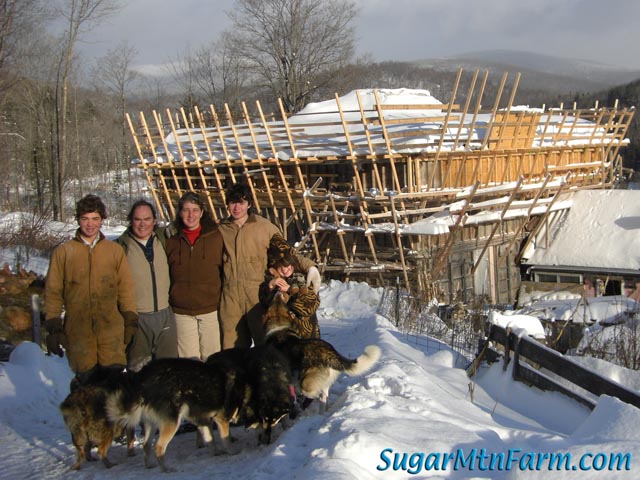 December
The Butcher Shop finally closed in for winter!
The beginning of December we made the final structural pour on the
butcher shop
, creating the top ring of walls and the concrete ceilings. It is all super insulated so that now even though it is winter the building is staying very temperate allowing us to continue construction inside through the winter.
Happy New Year!
Outdoors: 25°F/16°F 1″ Snow
Tiny Cottage: 64°F/62°F
Daily Spark: It is annoying to listen to people insist bumble bees can't fly.
Credit for photos is spread through our family. I used Photoshop for the collaging and GraphicConverter's File:Convert&Modify Batch Scale to 1440 x 1080 for use in the PDF and then 640 x 480 for the web. iCal did the hard work of generating the monthly pages. That used to be harder the way I did it in in Excel years ago. To generate the PDF I used Acrobat.