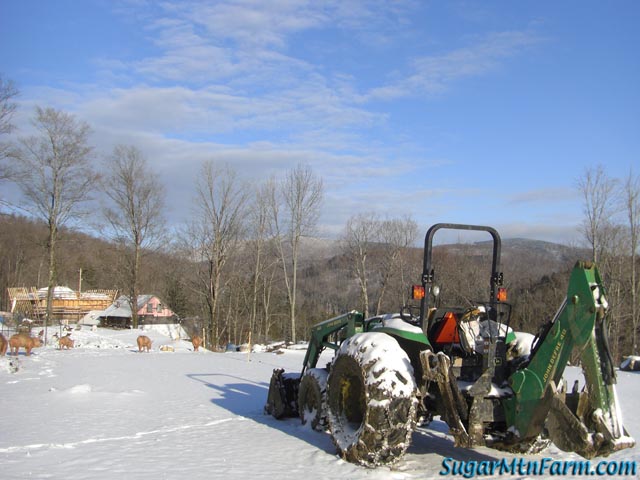 Tractor on Windswept South Field Plateau Looking North at Knox Mtn
Farmers like me do a lot of harvesting, and not just hay, carrots and pork. Recently I've been harvesting spammer IP addresses. In the spirit of sharing, if not feeding the world, I want to share my spam with you. Or at least the IP addresses of the spammers which is more useful than the spam itself.
You can use the data below to block these spammers from your web site. I find that blocking them drops my blog comment spam from several hundred down to 30 or so spam comments per day. The lines starting with # are comments. This could be setup with ranges but I've left it as individual addresses for ease of altering. It is in alphanumeric sort order.
If you want to read about .htaccess control files then check out Wiki to get started. This is one of those things where if you don't know how to use it then you shouldn't be playing with it because you can really mung up your web site by messing with your .htaccess file. Do this at your own risk.
To capture the IP addresses I use BlackLister which is a WordPress blog plugin. In addition to blocking spammers like this I also use Akismet and Bad Behavior among other tools. I have also sometimes used Captcha's like WordPress Captcha and ReCaptcha to make commenter's prove they're human but some people can't get through them so right now I have them turned off.
Outdoors: 17°F/-1°F Sunny
Tiny Cottage: 66°F/63°F
Daily Spark: A automobile company in India is selling inflatable Tatas. Tatas are cars that run on compressed air. Inflatable Tatas is just too comical, a beautiful demonstration of cross cultural miss-translation.
#This .htaccess code blocks known spammers from being able to access a web site.
#To use this, place it in .htaccess file in the directory of the web site to be blocked.
#Slight risk for dynamic IP users if they end up on the same IP address as a
#spammer then they could be blocked until they get back to an IP address that
#is not on this list. You do this at your own risk as you can really screw up
#your web site if you get it wrong. Make a backup before you do this. Don't do this
#if you aren't willing to take the risk.
#
order deny,allow
#
#Deny known spammers
deny from 1.175.243.69
deny from 1.27.171.105
deny from 1.4.228.64
deny from 1.4.229.111
deny from 1.4.232.243
deny from 1.4.233.0
deny from 1.4.234.207
deny from 1.4.242.252
deny from 1.55.89.216
deny from 1.59.87.223
deny from 1.87.204.23
deny from 101.18.89.33
deny from 103.10.62.30
deny from 103.16.30.199
deny from 103.19.77.162
deny from 103.9.196.193
deny from 105.225.20.105
deny from 108.163.241.115
deny from 108.163.248.69
deny from 108.163.250.78
deny from 108.166.119.94
deny from 108.178.10.110
deny from 108.178.54.42
deny from 108.62.71.232
deny from 108.62.71.238
deny from 108.62.71.52
deny from 109.163.233.194
deny from 109.175.8.42
deny from 109.182.149.149
deny from 109.69.210.254
deny from 110.124.105.19
deny from 110.137.235.125
deny from 110.153.173.73
deny from 110.167.104.111
deny from 110.195.10.174
deny from 110.210.28.127
deny from 110.251.126.141
deny from 110.55.3.200
deny from 110.7.37.6
deny from 110.73.95.221
deny from 110.85.75.239
deny from 111.124.196.162
deny from 111.142.23.31
deny from 111.144.182.48
deny from 111.145.63.112
deny from 111.148.206.150
deny from 111.15.25.211
deny from 111.150.104.87
deny from 111.161.38.177
deny from 111.161.38.188
deny from 111.242.170.88
deny from 111.36.130.110
deny from 111.36.180.60
deny from 111.77.66.4
deny from 112.119.76.32
deny from 112.122.161.60
deny from 112.15.200.159
deny from 112.15.30.69
deny from 112.194.186.143
deny from 112.207.139.2
deny from 112.228.38.146
deny from 113.117.155.144
deny from 113.124.169.177
deny from 113.172.238.140
deny from 113.195.194.190
deny from 113.2.52.33
deny from 113.22.97.40
deny from 113.237.13.254
deny from 113.97.253.130
deny from 114.105.182.24
deny from 114.107.186.106
deny from 114.199.89.22
deny from 114.235.218.23
deny from 114.236.14.78
deny from 114.236.148.244
deny from 114.239.131.87
deny from 114.43.197.238
deny from 114.79.12.210
deny from 114.96.229.191
deny from 115.239.251.129
deny from 115.60.104.219
deny from 117.0.0.166
deny from 117.81.58.175
deny from 117.82.192.212
deny from 118.100.221.209
deny from 118.101.108.149
deny from 118.113.61.9
deny from 118.195.65.249
deny from 118.70.171.46
deny from 118.70.67.142
deny from 118.72.4.157
deny from 118.96.203.212
deny from 118.99.76.45
deny from 118.99.79.0
deny from 119.179.254.232
deny from 119.186.160.86
deny from 119.2.49.172
deny from 119.252.170.98
deny from 119.5.211.122
deny from 119.52.187.62
deny from 119.53.208.5
deny from 119.96.232.26
deny from 120.28.223.34
deny from 120.3.205.186
deny from 120.36.145.228
deny from 120.59.52.152
deny from 120.8.96.80
deny from 121.205.247.65
deny from 121.22.72.61
deny from 121.23.156.243
deny from 121.97.54.191
deny from 122.138.130.225
deny from 122.167.41.41
deny from 123.173.180.53
deny from 123.22.149.251
deny from 123.254.106.198
deny from 123.64.63.26
deny from 123.69.62.13
deny from 124.155.167.126
deny from 124.237.92.2
deny from 124.244.221.86
deny from 124.73.62.148
deny from 124.91.149.231
deny from 125.162.51.157
deny from 125.164.101.9
deny from 130.185.156.156
deny from 132.241.246.87
deny from 137.117.80.43
deny from 139.192.204.148
deny from 139.193.156.69
deny from 139.195.244.55
deny from 139.208.88.55
deny from 139.228.33.89
deny from 14.160.47.18
deny from 14.200.0.51
deny from 140.249.12.175
deny from 142.234.62.157
deny from 142.234.62.230
deny from 142.54.190.155
deny from 142.54.190.230
deny from 147.255.162.72
deny from 147.255.162.9
deny from 147.255.162.91
deny from 147.255.56.181
deny from 150.255.236.192
deny from 151.237.189.222
deny from 151.237.190.146
deny from 151.237.191.214
deny from 151.237.191.220
deny from 151.237.191.225
deny from 163.125.55.33
deny from 168.61.35.161
deny from 168.62.165.185
deny from 171.110.84.26
deny from 171.37.173.13
deny from 172.255.81.162
deny from 172.255.81.249
deny from 172.255.81.41
deny from 173.0.51.90
deny from 173.0.57.34
deny from 173.208.2.127
deny from 173.208.2.35
deny from 173.212.192.41
deny from 173.213.89.122
deny from 173.213.96.254
deny from 173.213.96.31
deny from 173.213.96.49
deny from 173.213.96.5
deny from 173.213.96.57
deny from 173.213.97.217
deny from 173.232.23.32
deny from 173.232.86.230
deny from 173.236.26.229
deny from 173.236.58.44
deny from 173.236.70.4
deny from 173.237.182.94
deny from 173.44.246.76
deny from 173.58.54.183
deny from 175.31.12.227
deny from 175.42.56.241
deny from 176.31.127.73
deny from 176.31.132.232
deny from 176.31.132.64
deny from 176.31.132.69
deny from 176.31.182.124
deny from 176.31.182.125
deny from 176.31.3.157
deny from 176.44.16.202
deny from 176.61.140.86
deny from 176.61.142.105
deny from 176.67.81.17
deny from 177.1.232.212
deny from 177.103.180.81
deny from 177.134.74.113
deny from 177.16.65.81
deny from 177.35.200.216
deny from 177.35.41.157
deny from 177.98.114.144
deny from 177.98.134.238
deny from 177.99.77.150
deny from 178.191.139.121
deny from 178.216.48.193
deny from 178.216.48.250
deny from 178.223.127.243
deny from 178.32.176.34
deny from 178.32.209.203
deny from 178.32.219.110
deny from 178.32.226.79
deny from 178.32.232.212
deny from 178.33.181.137
deny from 178.33.83.71
deny from 178.43.22.145
deny from 178.63.199.173
deny from 178.79.152.174
deny from 180.148.209.126
deny from 180.246.114.20
deny from 180.250.82.187
deny from 180.92.226.16
deny from 182.129.251.203
deny from 182.136.52.251
deny from 182.178.67.49
deny from 182.183.171.111
deny from 182.186.121.209
deny from 182.186.18.253
deny from 182.186.76.175
deny from 182.39.124.52
deny from 182.89.38.2
deny from 183.216.174.187
deny from 183.217.240.212
deny from 183.219.25.129
deny from 183.248.239.7
deny from 183.5.141.20
deny from 183.61.27.19
deny from 183.91.9.188
deny from 184.154.119.226
deny from 184.154.128.142
deny from 184.154.129.154
deny from 184.154.252.110
deny from 184.154.33.60
deny from 184.154.7.214
deny from 184.22.103.106
deny from 184.22.157.125
deny from 184.22.157.126
deny from 184.22.67.115
deny from 184.82.21.5
deny from 184.82.97.41
deny from 185.12.45.23
deny from 185.3.133.109
deny from 185.3.133.124
deny from 186.108.191.122
deny from 186.207.129.248
deny from 186.212.198.202
deny from 186.212.71.217
deny from 186.215.212.130
deny from 186.225.228.23
deny from 186.244.41.227
deny from 187.10.21.184
deny from 187.10.231.17
deny from 187.139.178.75
deny from 187.199.78.144
deny from 187.38.168.206
deny from 187.44.12.32
deny from 187.62.51.83
deny from 187.73.70.14
deny from 187.79.221.217
deny from 188.136.216.130
deny from 188.165.165.126
deny from 188.165.169.249
deny from 188.165.169.250
deny from 188.165.193.105
deny from 188.165.205.184
deny from 188.223.146.84
deny from 188.223.184.38
deny from 188.227.183.61
deny from 188.26.154.139
deny from 189.104.14.146
deny from 189.106.204.54
deny from 189.107.7.26
deny from 189.111.96.191
deny from 189.17.167.98
deny from 189.249.8.248
deny from 189.25.170.226
deny from 189.25.185.78
deny from 189.25.65.46
deny from 189.252.51.102
deny from 189.45.203.252
deny from 189.71.97.183
deny from 189.78.208.16
deny from 190.214.31.130
deny from 192.119.144.207
deny from 192.119.144.38
deny from 192.119.148.103
deny from 192.119.148.20
deny from 192.119.148.223
deny from 192.119.148.251
deny from 192.121.44.109
deny from 192.151.145.29
deny from 192.95.15.68
deny from 192.95.22.120
deny from 192.95.38.176
deny from 192.95.44.43
deny from 193.105.154.50
deny from 193.180.119.177
deny from 194.103.2.22
deny from 194.71.222.186
deny from 195.222.75.39
deny from 198.12.124.151
deny from 198.143.101.54
deny from 198.143.143.44
deny from 198.144.158.86
deny from 198.147.22.30
deny from 198.167.136.36
deny from 198.175.126.7
deny from 198.20.66.235
deny from 198.23.150.168
deny from 198.27.64.114
deny from 198.50.136.231
deny from 198.50.153.107
deny from 198.52.128.114
deny from 198.52.128.213
deny from 199.119.226.76
deny from 199.180.116.201
deny from 199.180.116.239
deny from 199.180.128.145
deny from 199.180.131.193
deny from 199.19.108.73
deny from 199.229.249.126
deny from 199.48.147.35
deny from 2.102.206.203
deny from 2.126.195.231
deny from 2.146.249.5
deny from 2.146.41.163
deny from 2.146.8.228
deny from 200.129.141.21
deny from 200.150.3.100
deny from 201.127.13.4
deny from 201.22.7.191
deny from 201.25.234.81
deny from 201.58.194.58
deny from 201.59.188.34
deny from 201.75.33.243
deny from 201.88.218.78
deny from 202.105.61.20
deny from 202.105.62.227
deny from 202.138.243.218
deny from 202.152.38.162
deny from 202.154.40.108
deny from 202.154.41.87
deny from 202.43.188.4
deny from 202.67.15.149
deny from 203.142.131.77
deny from 203.70.93.245
deny from 205.164.15.244
deny from 205.164.9.33
deny from 208.115.236.213
deny from 208.53.157.156
deny from 208.91.129.154
deny from 209.255.149.66
deny from 210.42.123.38
deny from 212.174.249.81
deny from 212.34.155.50
deny from 216.152.251.56
deny from 216.152.252.59
deny from 216.59.18.36
deny from 217.195.169.113
deny from 218.59.153.21
deny from 219.219.114.74
deny from 219.234.82.52
deny from 219.234.82.75
deny from 219.234.82.82
deny from 220.134.95.171
deny from 222.124.147.105
deny from 222.33.218.30
deny from 222.45.108.230
deny from 222.54.135.48
deny from 222.58.253.3
deny from 222.73.233.146
deny from 223.206.221.128
deny from 223.4.31.169
deny from 223.84.221.24
deny from 223.92.2.190
deny from 23.19.163.165
deny from 27.129.243.141
deny from 27.159.236.197
deny from 27.159.237.95
deny from 27.9.86.156
deny from 31.169.83.130
deny from 31.169.83.143
deny from 31.169.83.157
deny from 31.209.249.254
deny from 31.223.112.19
deny from 36.230.73.186
deny from 36.231.38.17
deny from 36.231.49.109
deny from 36.239.209.2
deny from 36.239.214.45
deny from 36.249.176.50
deny from 36.72.217.128
deny from 37.112.64.4
deny from 37.113.243.152
deny from 37.203.215.149
deny from 37.203.215.233
deny from 37.203.215.53
deny from 37.59.145.28
deny from 37.59.164.228
deny from 37.59.171.216
deny from 37.59.236.19
deny from 37.59.255.157
deny from 37.72.190.139
deny from 39.41.208.232
deny from 39.42.147.218
deny from 39.45.86.119
deny from 41.141.55.48
deny from 41.249.175.178
deny from 41.44.241.207
deny from 41.44.251.175
deny from 41.77.137.246
deny from 46.105.110.115
deny from 46.105.111.69
deny from 46.105.135.95
deny from 46.105.156.52
deny from 46.119.141.114
deny from 46.227.68.51
deny from 46.227.70.194
deny from 46.29.251.199
deny from 46.29.253.176
deny from 46.29.253.47
deny from 46.59.198.126
deny from 49.0.85.204
deny from 49.128.177.230
deny from 49.48.186.182
deny from 49.48.187.96
deny from 49.81.68.56
deny from 5.108.13.44
deny from 5.12.26.96
deny from 5.135.154.134
deny from 5.135.154.167
deny from 5.135.189.226
deny from 5.135.233.230
deny from 5.135.27.103
deny from 5.135.38.174
deny from 5.135.47.101
deny from 5.135.47.99
deny from 5.135.96.39
deny from 5.199.166.250
deny from 5.34.241.19
deny from 5.34.247.101
deny from 5.39.108.21
deny from 5.39.119.87
deny from 5.39.122.194
deny from 5.39.122.202
deny from 5.39.63.7
deny from 5.39.7.246
deny from 5.9.215.82
deny from 50.115.169.209
deny from 50.115.169.215
deny from 50.115.173.130
deny from 50.115.173.39
deny from 50.115.174.49
deny from 50.57.170.105
deny from 54.248.89.183
deny from 58.97.200.144
deny from 59.55.37.29
deny from 60.215.226.30
deny from 60.252.196.219
deny from 61.239.251.8
deny from 61.33.231.3
deny from 61.93.204.56
deny from 62.148.216.11
deny from 64.120.215.154
deny from 64.209.159.150
deny from 64.251.26.166
deny from 65.181.120.222
deny from 67.210.96.136
deny from 67.82.121.97
deny from 69.137.4.61
deny from 69.147.240.230
deny from 69.175.75.12
deny from 69.197.190.91
deny from 69.31.103.54
deny from 70.50.73.187
deny from 71.199.48.67
deny from 71.242.205.136
deny from 72.18.18.133
deny from 72.202.129.42
deny from 74.208.45.201
deny from 74.221.217.129
deny from 74.221.217.179
deny from 74.221.217.207
deny from 74.91.26.44
deny from 74.91.26.93
deny from 75.131.231.205
deny from 78.113.16.24
deny from 78.189.187.150
deny from 78.189.61.234
deny from 78.46.133.156
deny from 78.47.88.119
deny from 78.97.173.251
deny from 79.116.3.36
deny from 79.130.92.126
deny from 79.176.216.76
deny from 79.25.144.124
deny from 80.137.120.152
deny from 80.153.114.208
deny from 80.42.118.20
deny from 80.72.38.51
deny from 80.94.238.54
deny from 81.216.140.73
deny from 82.207.68.142
deny from 83.9.60.127
deny from 84.52.134.139
deny from 84.53.240.92
deny from 85.154.112.238
deny from 85.18.120.6
deny from 85.73.135.254
deny from 86.121.16.23
deny from 86.144.108.119
deny from 86.148.161.46
deny from 87.126.70.205
deny from 87.98.137.5
deny from 88.190.217.11
deny from 88.198.179.98
deny from 88.2.213.130
deny from 88.238.207.34
deny from 88.242.213.114
deny from 88.80.20.197
deny from 88.80.21.216
deny from 89.116.45.90
deny from 89.218.138.54
deny from 89.28.48.122
deny from 89.36.197.57
deny from 89.47.26.207
deny from 91.121.56.204
deny from 91.121.77.201
deny from 91.210.102.61
deny from 91.210.103.2
deny from 91.211.188.216
deny from 91.229.248.195
deny from 91.229.248.30
deny from 91.236.74.117
deny from 92.230.120.13
deny from 92.231.230.233
deny from 92.231.242.226
deny from 92.29.206.37
deny from 93.139.93.215
deny from 93.20.214.71
deny from 94.102.55.167
deny from 94.178.5.152
deny from 94.23.227.36
deny from 94.23.230.103
deny from 94.23.230.96
deny from 94.23.233.186
deny from 94.242.241.204
deny from 95.19.248.210
deny from 95.209.167.236
deny from 95.43.164.234
deny from 96.127.147.45
deny from 96.250.16.145
deny from 96.47.226.19
deny from 98.160.179.13
deny from 1.24.118.183
deny from 1.24.251.55
deny from 1.4.225.22
deny from 1.4.236.167
deny from 1.4.255.242
deny from 1.62.30.175
deny from 101.19.58.3
deny from 101.22.217.243
deny from 101.226.74.168
deny from 101.24.122.40
deny from 101.24.2.97
deny from 108.178.5.238
deny from 108.178.59.32
deny from 108.178.60.195
deny from 108.62.71.194
deny from 108.62.71.22
deny from 108.62.71.62
deny from 108.62.71.81
deny from 110.137.61.6
deny from 110.248.34.176
deny from 110.85.74.136
deny from 111.143.229.191
deny from 111.143.240.66
deny from 111.146.184.190
deny from 111.161.38.200
deny from 111.255.88.117
deny from 111.94.164.148
deny from 112.15.232.116
deny from 112.23.32.213
deny from 112.240.29.73
deny from 112.78.161.29
deny from 113.0.97.83
deny from 113.122.48.76
deny from 113.162.86.247
deny from 114.80.136.112
deny from 116.112.116.22
deny from 117.0.6.155
deny from 117.211.91.147
deny from 117.26.117.165
deny from 117.26.76.135
deny from 117.41.197.135
deny from 117.68.107.231
deny from 117.89.187.85
deny from 117.93.84.173
deny from 118.97.20.221
deny from 118.99.67.84
deny from 119.130.215.244
deny from 119.167.41.88
deny from 119.178.232.117
deny from 119.189.144.76
deny from 119.250.244.144
deny from 120.11.212.98
deny from 120.11.76.73
deny from 120.12.21.219
deny from 120.5.118.0
deny from 121.205.215.161
deny from 121.224.177.64
deny from 122.118.125.178
deny from 122.118.128.16
deny from 122.158.59.112
deny from 122.161.4.126
deny from 122.7.238.1
deny from 123.11.2.209
deny from 123.133.204.208
deny from 123.146.102.60
deny from 123.187.195.109
deny from 123.21.91.36
deny from 123.26.194.173
deny from 123.81.209.203
deny from 123.93.9.92
deny from 124.226.19.32
deny from 125.166.23.193
deny from 125.167.14.32
deny from 128.119.91.226
deny from 128.121.63.135
deny from 130.185.105.140
deny from 130.185.105.201
deny from 130.185.156.210
deny from 139.210.10.255
deny from 14.161.72.253
deny from 14.214.90.47
deny from 14.218.246.97
deny from 142.0.34.179
deny from 142.11.215.233
deny from 142.4.101.26
deny from 149.255.111.62
deny from 151.237.190.103
deny from 151.237.191.199
deny from 171.112.136.242
deny from 171.214.30.126
deny from 173.0.51.102
deny from 173.208.190.236
deny from 173.208.2.96
deny from 173.213.76.77
deny from 173.213.76.81
deny from 173.213.97.22
deny from 173.232.45.198
deny from 174.126.199.10
deny from 174.34.146.12
deny from 175.150.197.170
deny from 175.155.50.67
deny from 175.17.192.102
deny from 175.45.191.130
deny from 176.31.223.220
deny from 176.31.41.19
deny from 176.31.50.156
deny from 176.31.50.87
deny from 176.61.138.118
deny from 176.67.86.144
deny from 176.67.86.44
deny from 176.9.164.177
deny from 176.9.236.50
deny from 177.132.120.159
deny from 177.135.129.50
deny from 177.138.32.247
deny from 177.159.204.202
deny from 177.18.107.132
deny from 177.19.129.74
deny from 177.195.7.132
deny from 177.41.0.79
deny from 178.137.250.17
deny from 178.18.17.208
deny from 178.233.124.149
deny from 178.32.226.86
deny from 178.32.232.210
deny from 178.32.232.214
deny from 178.32.232.219
deny from 178.32.232.223
deny from 178.33.212.134
deny from 178.33.212.135
deny from 178.42.188.178
deny from 179.252.13.5
deny from 180.149.14.96
deny from 180.250.130.130
deny from 180.252.109.71
deny from 182.178.177.157
deny from 182.186.11.233
deny from 182.186.64.222
deny from 182.186.77.42
deny from 182.19.30.161
deny from 182.32.0.206
deny from 183.167.160.155
deny from 183.201.255.64
deny from 183.220.208.245
deny from 184.154.15.213
deny from 184.154.151.148
deny from 184.154.204.210
deny from 184.154.249.188
deny from 184.154.253.19
deny from 184.154.45.204
deny from 184.22.240.75
deny from 184.82.210.133
deny from 185.3.133.113
deny from 185.3.133.126
deny from 186.215.247.92
deny from 186.222.27.123
deny from 186.91.141.211
deny from 187.121.113.218
deny from 187.14.140.227
deny from 187.23.41.13
deny from 187.35.110.226
deny from 187.45.180.75
deny from 187.78.138.231
deny from 187.78.40.134
deny from 187.79.249.127
deny from 188.165.220.106
deny from 188.165.230.65
deny from 188.175.79.41
deny from 188.26.152.92
deny from 188.49.203.12
deny from 188.52.77.232
deny from 189.104.180.44
deny from 189.24.39.192
deny from 189.25.43.51
deny from 189.29.244.156
deny from 189.46.152.222
deny from 190.142.173.225
deny from 192.165.17.74
deny from 192.95.47.177
deny from 193.235.43.48
deny from 194.103.2.131
deny from 194.121.218.182
deny from 194.71.223.10
deny from 197.148.48.129
deny from 197.87.3.32
deny from 198.143.102.168
deny from 198.143.143.34
deny from 198.143.144.171
deny from 198.46.139.18
deny from 198.50.136.107
deny from 198.50.136.225
deny from 198.61.224.117
deny from 199.180.130.235
deny from 199.180.132.242
deny from 199.231.210.142
deny from 199.48.147.41
deny from 2.179.65.62
deny from 200.153.132.200
deny from 200.163.65.99
deny from 201.13.210.74
deny from 201.3.202.220
deny from 201.50.211.51
deny from 201.73.241.205
deny from 201.79.117.207
deny from 201.8.192.57
deny from 201.9.129.228
deny from 202.138.232.114
deny from 202.152.198.130
deny from 202.152.204.206
deny from 203.88.90.106
deny from 204.93.60.103
deny from 208.110.85.175
deny from 208.89.213.40
deny from 209.73.151.200
deny from 209.73.151.94
deny from 210.242.4.253
deny from 212.50.243.64
deny from 212.59.28.180
deny from 216.18.208.50
deny from 217.125.215.246
deny from 217.129.59.76
deny from 218.164.22.125
deny from 218.188.13.237
deny from 219.136.103.53
deny from 219.234.82.62
deny from 219.234.82.74
deny from 219.83.100.195
deny from 220.114.209.22
deny from 220.180.100.96
deny from 221.123.162.123
deny from 222.54.211.233
deny from 222.77.247.175
deny from 222.93.235.28
deny from 223.241.91.98
deny from 223.246.157.69
deny from 223.68.97.134
deny from 223.82.99.59
deny from 23.19.132.219
deny from 23.19.163.65
deny from 23.19.34.196
deny from 27.152.156.238
deny from 27.153.207.71
deny from 27.153.209.94
deny from 27.188.116.243
deny from 27.197.128.188
deny from 27.20.113.6
deny from 27.34.142.47
deny from 31.99.249.251
deny from 36.68.145.152
deny from 36.81.172.181
deny from 36.82.17.158
deny from 37.203.214.50
deny from 37.203.214.52
deny from 37.203.214.70
deny from 37.203.214.98
deny from 37.59.227.69
deny from 37.59.238.63
deny from 37.59.239.96
deny from 37.59.239.98
deny from 37.59.240.22
deny from 37.59.240.23
deny from 37.59.88.208
deny from 39.41.106.135
deny from 39.41.23.211
deny from 39.42.188.8
deny from 41.143.47.95
deny from 41.251.102.19
deny from 41.78.26.154
deny from 42.116.22.11
deny from 42.119.3.101
deny from 46.105.123.66
deny from 46.105.179.220
deny from 46.105.247.245
deny from 46.105.63.40
deny from 46.105.76.43
deny from 46.109.97.189
deny from 46.116.86.134
deny from 46.119.119.242
deny from 46.227.68.48
deny from 46.29.251.164
deny from 46.4.241.73
deny from 46.65.37.157
deny from 49.89.97.23
deny from 5.108.19.51
deny from 5.108.28.68
deny from 5.135.114.13
deny from 5.135.114.16
deny from 5.135.114.22
deny from 5.135.114.27
deny from 5.135.114.31
deny from 5.135.114.8
deny from 5.135.154.67
deny from 5.135.160.205
deny from 5.135.165.48
deny from 5.14.206.41
deny from 5.20.74.247
deny from 5.9.228.113
deny from 5.9.255.79
deny from 50.115.170.146
deny from 50.115.171.231
deny from 58.181.228.242
deny from 58.251.125.107
deny from 58.46.206.187
deny from 58.65.129.189
deny from 58.97.253.171
deny from 59.58.151.32
deny from 61.52.213.71
deny from 61.55.141.11
deny from 62.122.187.18
deny from 63.141.237.198
deny from 63.223.113.13
deny from 65.184.252.21
deny from 65.96.167.80
deny from 67.162.192.166
deny from 67.209.190.166
deny from 67.209.190.64
deny from 69.147.240.252
deny from 69.147.240.5
deny from 69.147.240.96
deny from 69.175.33.34
deny from 69.175.58.134
deny from 69.175.8.235
deny from 69.197.190.41
deny from 69.197.190.45
deny from 69.197.190.97
deny from 69.9.40.102
deny from 71.57.138.40
deny from 72.46.133.186
deny from 72.46.133.189
deny from 74.221.208.222
deny from 74.221.212.40
deny from 74.221.212.95
deny from 74.221.217.164
deny from 74.91.26.87
deny from 75.176.54.71
deny from 78.108.163.14
deny from 78.183.77.219
deny from 78.188.129.214
deny from 78.192.114.219
deny from 79.127.99.99
deny from 8.36.224.158
deny from 80.241.213.251
deny from 80.250.27.246
deny from 80.7.77.56
deny from 83.131.229.116
deny from 83.131.243.147
deny from 85.181.225.138
deny from 85.181.225.158
deny from 85.185.80.178
deny from 85.75.253.164
deny from 86.126.96.119
deny from 86.127.148.224
deny from 86.127.46.60
deny from 86.180.155.31
deny from 87.221.46.80
deny from 89.172.230.111
deny from 89.79.243.64
deny from 90.211.34.11
deny from 91.121.101.183
deny from 91.206.148.29
deny from 91.207.8.117
deny from 91.210.102.179
deny from 91.210.103.200
deny from 91.214.84.87
deny from 91.229.85.220
deny from 91.77.113.217
deny from 91.83.210.19
deny from 92.17.143.36
deny from 92.228.253.109
deny from 92.230.123.71
deny from 92.45.34.35
deny from 92.60.25.198
deny from 92.99.193.244
deny from 93.137.150.68
deny from 93.184.66.138
deny from 94.200.77.244
deny from 94.23.169.152
deny from 94.23.230.179
deny from 94.242.241.157
deny from 95.133.21.215
deny from 95.19.246.120
deny from 98.112.73.114
deny from 1.22.194.68
deny from 1.22.195.90
deny from 1.4.230.215
deny from 1.4.231.128
deny from 1.4.231.157
deny from 1.4.232.147
deny from 1.4.242.186
deny from 1.55.9.249
deny from 1.55.91.254
deny from 101.64.116.253
deny from 101.66.58.102
deny from 108.62.71.166
deny from 108.62.71.28
deny from 108.90.12.118
deny from 109.102.3.159
deny from 109.231.19.68
deny from 110.124.187.229
deny from 110.171.78.84
deny from 110.228.244.208
deny from 110.241.166.2
deny from 110.247.221.147
deny from 111.0.71.219
deny from 111.1.81.19
deny from 111.146.188.44
deny from 111.254.107.190
deny from 112.199.79.227
deny from 112.200.123.205
deny from 112.207.22.218
deny from 112.207.56.36
deny from 113.11.25.82
deny from 113.123.30.114
deny from 113.165.1.110
deny from 113.168.166.4
deny from 113.190.74.37
deny from 113.23.46.73
deny from 113.231.33.85
deny from 114.235.225.75
deny from 115.166.97.8
deny from 115.43.91.25
deny from 116.28.65.249
deny from 117.1.227.125
deny from 117.203.64.4
deny from 117.206.105.172
deny from 117.3.81.221
deny from 117.43.213.180
deny from 117.6.133.230
deny from 117.6.78.156
deny from 117.65.82.7
deny from 118.71.10.19
deny from 118.71.160.214
deny from 119.249.66.168
deny from 119.55.83.66
deny from 120.201.80.28
deny from 121.175.56.122
deny from 121.205.81.112
deny from 122.143.3.90
deny from 122.143.3.93
deny from 122.173.131.150
deny from 122.173.214.170
deny from 122.232.142.163
deny from 122.88.154.4
deny from 123.103.23.125
deny from 123.18.114.239
deny from 123.20.145.113
deny from 123.233.8.220
deny from 123.24.11.242
deny from 123.24.43.148
deny from 123.28.95.6
deny from 124.120.134.195
deny from 124.207.34.91
deny from 125.165.136.101
deny from 125.167.3.36
deny from 130.204.19.69
deny from 139.209.209.126
deny from 140.237.14.71
deny from 142.0.34.145
deny from 147.255.162.117
deny from 147.255.162.202
deny from 151.21.64.180
deny from 151.230.164.100
deny from 168.63.84.178
deny from 172.218.72.66
deny from 173.208.2.119
deny from 173.208.2.139
deny from 173.213.90.53
deny from 173.213.96.54
deny from 173.213.96.56
deny from 173.213.96.58
deny from 173.213.97.221
deny from 173.232.104.28
deny from 173.232.104.29
deny from 173.236.125.229
deny from 173.254.206.143
deny from 175.136.162.71
deny from 176.214.128.255
deny from 176.31.63.99
deny from 176.61.141.83
deny from 176.67.81.241
deny from 176.67.84.12
deny from 176.67.86.1
deny from 176.9.235.178
deny from 176.9.235.179
deny from 177.12.227.13
deny from 177.126.116.50
deny from 177.132.168.163
deny from 177.141.100.209
deny from 177.158.204.188
deny from 177.193.159.151
deny from 177.199.172.33
deny from 177.205.40.245
deny from 177.41.91.105
deny from 177.5.51.187
deny from 177.69.215.197
deny from 177.69.39.249
deny from 178.124.68.14
deny from 178.124.87.107
deny from 178.18.17.250
deny from 178.32.226.78
deny from 178.32.77.209
deny from 178.79.158.54
deny from 179.192.38.193
deny from 179.234.217.254
deny from 180.244.149.216
deny from 182.19.30.173
deny from 182.68.93.248
deny from 183.201.72.162
deny from 183.212.172.121
deny from 183.216.248.13
deny from 183.219.172.24
deny from 183.219.87.177
deny from 183.248.194.174
deny from 183.34.139.38
deny from 183.80.141.139
deny from 183.95.242.75
deny from 184.154.151.214
deny from 184.154.253.18
deny from 184.154.255.58
deny from 184.82.50.98
deny from 185.12.45.33
deny from 185.3.132.224
deny from 186.224.100.153
deny from 186.236.223.21
deny from 186.5.57.230
deny from 187.17.173.3
deny from 187.199.108.34
deny from 187.55.200.40
deny from 187.56.229.63
deny from 187.56.78.90
deny from 187.79.215.212
deny from 188.165.211.185
deny from 188.165.238.126
deny from 188.51.221.40
deny from 189.102.206.190
deny from 189.124.28.10
deny from 189.13.19.42
deny from 189.168.63.228
deny from 189.31.47.103
deny from 189.55.176.117
deny from 189.63.172.94
deny from 189.69.42.5
deny from 189.70.245.213
deny from 189.70.27.231
deny from 189.73.135.28
deny from 189.79.99.14
deny from 189.83.185.98
deny from 190.14.226.74
deny from 190.151.122.38
deny from 190.94.220.55
deny from 192.119.144.238
deny from 192.154.105.133
deny from 192.165.17.91
deny from 192.169.54.179
deny from 192.95.5.35
deny from 192.96.203.100
deny from 192.96.203.101
deny from 193.104.110.105
deny from 194.28.38.125
deny from 195.229.241.171
deny from 197.160.21.252
deny from 198.136.59.241
deny from 198.143.130.245
deny from 198.143.144.10
deny from 198.143.144.197
deny from 198.143.165.194
deny from 198.50.179.55
deny from 199.180.116.205
deny from 199.180.132.109
deny from 2.185.127.144
deny from 200.151.86.110
deny from 200.170.125.21
deny from 200.201.164.52
deny from 200.220.203.66
deny from 200.230.55.210
deny from 200.97.248.185
deny from 201.13.184.246
deny from 201.14.145.140
deny from 201.27.34.3
deny from 201.8.105.131
deny from 202.103.132.115
deny from 202.105.60.238
deny from 202.105.89.157
deny from 202.131.237.134
deny from 202.156.11.12
deny from 202.52.15.98
deny from 202.74.75.131
deny from 203.80.222.8
deny from 205.164.13.155
deny from 209.179.57.201
deny from 209.73.151.227
deny from 210.24.116.13
deny from 211.138.121.35
deny from 211.140.7.214
deny from 211.206.122.151
deny from 212.139.204.230
deny from 212.33.216.66
deny from 213.131.41.98
deny from 213.25.97.210
deny from 216.152.248.74
deny from 216.172.141.163
deny from 216.172.141.178
deny from 216.18.208.19
deny from 216.18.208.37
deny from 216.59.18.127
deny from 218.108.242.124
deny from 219.234.82.54
deny from 219.234.82.73
deny from 222.124.3.81
deny from 222.55.8.41
deny from 222.57.81.198
deny from 222.74.98.234
deny from 222.77.224.216
deny from 222.77.225.187
deny from 223.255.225.38
deny from 223.82.211.114
deny from 23.19.56.241
deny from 24.250.19.62
deny from 24.44.218.92
deny from 27.153.211.26
deny from 27.159.216.99
deny from 27.197.34.251
deny from 27.46.43.177
deny from 31.51.182.201
deny from 36.224.152.30
deny from 36.249.186.50
deny from 37.4.161.2
deny from 37.59.66.37
deny from 37.59.71.177
deny from 37.59.73.99
deny from 37.59.88.242
deny from 37.59.91.57
deny from 41.137.105.39
deny from 41.77.133.166
deny from 46.105.251.22
deny from 46.105.52.177
deny from 46.129.73.221
deny from 46.165.251.67
deny from 46.182.89.136
deny from 46.196.125.226
deny from 46.239.38.19
deny from 49.204.133.75
deny from 5.135.154.68
deny from 5.135.154.69
deny from 5.135.160.152
deny from 5.248.188.13
deny from 50.115.170.137
deny from 50.117.64.170
deny from 50.118.215.18
deny from 50.155.107.78
deny from 54.251.150.193
deny from 54.251.150.200
deny from 59.145.202.90
deny from 59.177.173.1
deny from 59.42.239.87
deny from 60.174.187.67
deny from 60.181.79.105
deny from 61.180.49.18
deny from 61.91.89.28
deny from 61.91.89.29
deny from 62.113.213.242
deny from 62.235.176.184
deny from 64.120.242.19
deny from 66.169.132.11
deny from 66.183.99.58
deny from 67.205.92.59
deny from 67.8.209.90
deny from 67.82.122.192
deny from 69.147.240.187
deny from 69.147.240.87
deny from 69.197.190.10
deny from 74.221.211.113
deny from 74.63.209.210
deny from 75.31.4.197
deny from 77.52.61.140
deny from 78.145.82.207
deny from 78.148.139.43
deny from 78.182.169.35
deny from 78.189.204.207
deny from 78.191.178.253
deny from 79.119.147.104
deny from 80.44.183.3
deny from 81.132.129.132
deny from 82.236.123.92
deny from 83.27.181.105
deny from 83.8.74.164
deny from 83.8.79.125
deny from 84.130.57.243
deny from 84.238.188.100
deny from 84.83.134.242
deny from 85.181.227.69
deny from 85.181.228.170
deny from 85.207.251.230
deny from 87.119.223.46
deny from 88.190.236.63
deny from 88.198.255.236
deny from 88.231.237.35
deny from 88.244.12.131
deny from 88.80.20.220
deny from 89.40.223.44
deny from 89.46.131.157
deny from 89.67.123.137
deny from 91.153.73.36
deny from 92.230.120.254
deny from 92.231.217.115
deny from 92.231.219.233
deny from 94.23.149.44
deny from 94.23.248.66
deny from 94.242.241.111
deny from 94.242.241.134
deny from 95.102.79.255
deny from 95.165.140.174
deny from 95.87.239.115
deny from 96.127.137.18
deny from 96.25.55.162
deny from 96.250.50.20
deny from 98.192.228.157
deny from 98.232.107.37
deny from 1.1.146.246
deny from 1.1.160.210
deny from 1.1.163.82
deny from 1.1.165.83
deny from 1.1.166.237
deny from 1.4.225.135
deny from 1.4.240.112
deny from 1.4.248.88
deny from 1.4.252.133
deny from 1.4.253.82
deny from 1.4.255.43
deny from 1.54.14.129
deny from 1.55.80.73
deny from 1.57.184.225
deny from 1.60.193.69
deny from 1.86.167.240
deny from 1.86.36.71
deny from 101.0.32.20
deny from 101.51.144.208
deny from 101.51.150.15
deny from 105.158.18.185
deny from 107.52.71.197
deny from 108.163.204.34
deny from 108.163.204.36
deny from 108.178.39.22
deny from 108.240.53.46
deny from 108.62.71.163
deny from 109.186.71.20
deny from 109.231.22.66
deny from 109.92.84.204
deny from 110.137.247.209
deny from 110.153.33.117
deny from 110.171.39.74
deny from 110.253.8.165
deny from 110.254.251.208
deny from 110.86.167.71
deny from 111.172.130.164
deny from 111.224.172.37
deny from 111.68.120.82
deny from 112.11.5.218
deny from 112.198.64.79
deny from 112.210.114.104
deny from 112.238.81.166
deny from 113.109.188.251
deny from 113.122.179.100
deny from 113.162.88.100
deny from 113.167.184.153
deny from 113.167.186.141
deny from 113.167.187.201
deny from 113.172.181.101
deny from 113.178.38.249
deny from 113.190.54.189
deny from 113.22.88.142
deny from 113.22.92.89
deny from 113.23.11.163
deny from 113.90.206.71
deny from 114.101.123.250
deny from 114.27.112.109
deny from 115.241.76.129
deny from 115.241.82.154
deny from 115.74.252.35
deny from 115.78.15.17
deny from 116.21.64.215
deny from 117.0.11.12
deny from 117.0.15.28
deny from 117.204.69.230
deny from 117.204.83.3
deny from 117.206.233.254
deny from 117.30.95.39
deny from 117.7.66.56
deny from 117.7.69.126
deny from 118.100.86.61
deny from 118.186.86.167
deny from 118.77.31.130
deny from 119.155.131.112
deny from 119.157.170.243
deny from 119.187.113.172
deny from 119.249.252.78
deny from 119.36.143.138
deny from 119.50.164.195
deny from 119.62.234.115
deny from 120.43.10.108
deny from 120.59.54.112
deny from 121.205.18.65
deny from 121.205.243.102
deny from 121.25.171.191
deny from 122.141.150.115
deny from 122.169.77.37
deny from 122.94.18.161
deny from 123.158.3.161
deny from 123.16.127.232
deny from 123.17.167.104
deny from 123.27.165.186
deny from 124.13.69.75
deny from 124.134.53.9
deny from 124.43.98.236
deny from 124.6.181.215
deny from 124.68.6.15
deny from 124.72.53.54
deny from 125.163.249.223
deny from 125.164.221.228
deny from 125.212.125.145
deny from 125.25.174.231
deny from 125.82.70.172
deny from 130.185.156.251
deny from 130.185.157.7
deny from 134.181.130.86
deny from 137.117.75.24
deny from 139.0.8.52
deny from 142.0.129.124
deny from 142.54.170.243
deny from 142.54.190.145
deny from 142.54.190.195
deny from 142.54.190.221
deny from 142.54.190.225
deny from 142.91.13.128
deny from 142.91.79.238
deny from 142.91.79.24
deny from 142.91.79.74
deny from 147.255.162.103
deny from 147.255.162.162
deny from 147.255.162.70
deny from 147.255.56.15
deny from 151.237.189.189
deny from 151.237.190.109
deny from 151.237.191.197
deny from 151.237.191.240
deny from 151.64.251.63
deny from 153.129.175.212
deny from 157.157.73.55
deny from 168.28.136.35
deny from 168.61.46.95
deny from 171.246.86.116
deny from 171.6.146.130
deny from 171.98.110.191
deny from 171.98.82.231
deny from 173.0.49.214
deny from 173.0.53.160
deny from 173.0.59.168
deny from 173.198.228.4
deny from 173.198.228.43
deny from 173.208.145.172
deny from 173.208.158.15
deny from 173.208.158.41
deny from 173.208.2.131
deny from 173.212.192.93
deny from 173.213.112.22
deny from 173.213.112.220
deny from 173.213.76.76
deny from 173.213.96.52
deny from 173.213.96.55
deny from 173.213.96.69
deny from 173.213.96.71
deny from 173.213.96.78
deny from 173.213.96.82
deny from 173.213.96.84
deny from 173.213.97.224
deny from 173.213.97.23
deny from 173.213.97.31
deny from 173.213.99.156
deny from 173.232.46.66
deny from 173.236.34.182
deny from 173.236.71.187
deny from 173.252.208.55
deny from 173.254.207.51
deny from 173.44.40.48
deny from 173.58.94.212
deny from 174.48.73.11
deny from 174.53.205.244
deny from 174.88.217.127
deny from 175.151.6.145
deny from 175.43.14.36
deny from 175.44.46.35
deny from 176.228.152.251
deny from 176.237.119.194
deny from 176.31.159.59
deny from 176.31.60.137
deny from 176.61.140.202
deny from 176.61.140.237
deny from 176.61.140.244
deny from 176.61.141.62
deny from 176.61.141.99
deny from 176.61.142.169
deny from 176.9.176.244
deny from 177.0.40.123
deny from 177.132.212.234
deny from 177.139.68.26
deny from 177.157.232.72
deny from 177.158.151.68
deny from 177.16.225.168
deny from 177.16.81.184
deny from 177.17.0.61
deny from 177.180.4.166
deny from 177.204.56.111
deny from 177.3.231.179
deny from 177.34.87.240
deny from 177.4.194.21
deny from 177.42.22.238
deny from 177.71.182.56
deny from 177.96.8.96
deny from 177.98.24.163
deny from 178.190.231.188
deny from 178.216.50.253
deny from 178.216.52.128
deny from 178.32.142.27
deny from 178.32.160.93
deny from 178.32.226.72
deny from 178.32.31.5
deny from 178.32.61.8
deny from 178.33.179.207
deny from 178.33.83.66
deny from 178.73.207.82
deny from 179.170.236.28
deny from 180.126.217.43
deny from 180.149.31.134
deny from 180.214.233.88
deny from 180.244.140.36
deny from 180.247.53.4
deny from 180.247.61.165
deny from 182.178.4.191
deny from 182.181.161.176
deny from 182.186.147.174
deny from 182.68.97.13
deny from 183.163.89.131
deny from 183.219.47.33
deny from 183.82.18.75
deny from 183.82.86.31
deny from 183.91.10.174
deny from 183.91.12.65
deny from 184.105.176.13
deny from 184.107.164.110
deny from 184.154.10.67
deny from 184.154.111.114
deny from 184.154.124.140
deny from 184.154.15.211
deny from 184.154.159.117
deny from 184.154.167.179
deny from 184.73.235.9
deny from 185.12.47.32
deny from 185.3.132.192
deny from 185.3.132.196
deny from 185.3.132.204
deny from 185.3.132.221
deny from 185.3.132.222
deny from 185.3.132.229
deny from 185.3.133.118
deny from 186.103.130.90
deny from 186.213.116.142
deny from 186.214.192.69
deny from 186.251.102.245
deny from 187.101.174.162
deny from 187.112.3.193
deny from 187.113.118.96
deny from 187.126.133.142
deny from 187.162.157.151
deny from 187.35.249.130
deny from 187.38.57.135
deny from 187.40.229.42
deny from 187.41.107.8
deny from 187.5.194.38
deny from 187.53.37.118
deny from 187.56.47.195
deny from 187.59.27.55
deny from 187.63.207.14
deny from 187.64.73.104
deny from 187.65.85.16
deny from 188.126.74.201
deny from 188.129.123.95
deny from 188.129.63.221
deny from 188.138.0.137
deny from 188.165.152.89
deny from 188.165.193.26
deny from 188.224.26.69
deny from 188.227.161.3
deny from 188.252.254.190
deny from 188.26.85.129
deny from 188.26.87.116
deny from 188.53.229.190
deny from 188.83.136.200
deny from 189.111.70.89
deny from 189.114.168.205
deny from 189.121.199.210
deny from 189.13.136.42
deny from 189.26.76.43
deny from 189.33.225.239
deny from 189.34.196.102
deny from 189.41.11.241
deny from 189.41.242.214
deny from 189.41.61.200
deny from 189.46.145.109
deny from 189.46.35.211
deny from 189.48.1.150
deny from 189.54.121.144
deny from 189.70.142.19
deny from 189.71.227.36
deny from 189.81.8.26
deny from 189.92.243.10
deny from 190.73.98.188
deny from 190.80.130.239
deny from 192.119.151.97
deny from 192.119.154.208
deny from 192.165.17.33
deny from 192.210.223.15
deny from 192.30.32.130
deny from 193.200.150.82
deny from 194.150.65.164
deny from 194.166.3.30
deny from 195.190.13.198
deny from 197.1.207.149
deny from 197.247.4.2
deny from 197.247.8.171
deny from 197.255.213.146
deny from 198.102.29.195
deny from 198.143.143.198
deny from 198.143.144.139
deny from 198.143.144.170
deny from 198.143.144.19
deny from 198.143.145.196
deny from 198.145.120.198
deny from 198.20.65.170
deny from 198.23.138.7
deny from 198.24.131.83
deny from 198.50.136.253
deny from 198.50.139.60
deny from 198.50.141.123
deny from 199.116.86.33
deny from 199.116.87.98
deny from 199.119.226.187
deny from 199.119.226.84
deny from 199.175.51.174
deny from 199.180.116.200
deny from 199.180.116.223
deny from 199.180.131.167
deny from 199.180.132.231
deny from 199.192.157.148
deny from 199.192.205.76
deny from 199.231.210.141
deny from 2.103.33.189
deny from 2.133.92.50
deny from 2.135.238.178
deny from 2.180.123.85
deny from 2.184.37.200
deny from 200.111.115.171
deny from 200.111.180.58
deny from 200.127.96.58
deny from 200.128.60.57
deny from 200.140.33.170
deny from 200.179.192.1
deny from 200.252.203.154
deny from 200.32.69.162
deny from 201.1.107.233
deny from 201.110.89.207
deny from 201.130.242.67
deny from 201.20.106.186
deny from 201.229.164.151
deny from 201.24.68.247
deny from 201.25.214.80
deny from 201.50.79.79
deny from 201.58.215.206
deny from 201.58.94.195
deny from 201.6.181.14
deny from 201.69.240.79
deny from 201.8.214.22
deny from 201.87.23.78
deny from 201.93.196.98
deny from 202.105.61.235
deny from 202.105.89.99
deny from 202.152.194.188
deny from 202.58.96.56
deny from 202.59.136.18
deny from 203.192.242.225
deny from 203.217.170.188
deny from 204.124.181.124
deny from 205.164.13.160
deny from 206.214.82.225
deny from 206.214.93.141
deny from 206.214.93.200
deny from 208.91.129.215
deny from 209.134.36.116
deny from 213.177.17.106
deny from 213.5.179.126
deny from 213.87.120.39
deny from 216.151.139.199
deny from 216.152.249.156
deny from 216.152.251.13
deny from 216.152.251.47
deny from 216.152.251.50
deny from 216.152.251.51
deny from 216.172.145.27
deny from 216.18.228.171
deny from 216.59.18.65
deny from 217.195.202.8
deny from 217.209.61.211
deny from 218.57.42.24
deny from 218.87.142.7
deny from 219.136.101.166
deny from 220.171.171.9
deny from 220.255.2.144
deny from 222.77.207.142
deny from 222.91.250.124
deny from 223.204.170.176
deny from 223.246.155.91
deny from 223.255.228.100
deny from 223.255.229.9
deny from 23.19.163.146
deny from 23.27.129.139
deny from 23.27.129.149
deny from 23.27.129.197
deny from 23.27.19.186
deny from 23.27.19.234
deny from 23.27.19.51
deny from 23.27.237.195
deny from 23.27.237.228
deny from 23.27.237.60
deny from 23.27.237.73
deny from 24.129.57.150
deny from 24.46.183.9
deny from 27.195.67.212
deny from 27.206.212.9
deny from 27.32.189.144
deny from 27.43.22.53
deny from 31.126.56.225
deny from 36.48.140.56
deny from 37.220.15.134
deny from 37.59.132.138
deny from 37.59.210.233
deny from 37.59.224.128
deny from 37.59.251.141
deny from 37.59.69.71
deny from 37.72.190.100
deny from 39.45.113.116
deny from 39.54.196.56
deny from 41.129.28.208
deny from 41.141.224.202
deny from 41.141.51.192
deny from 41.143.41.161
deny from 41.214.242.104
deny from 46.105.133.51
deny from 46.105.145.98
deny from 46.105.187.249
deny from 46.105.251.223
deny from 46.105.252.254
deny from 46.134.234.43
deny from 46.144.82.62
deny from 46.161.41.7
deny from 46.166.180.131
deny from 46.227.68.153
deny from 46.29.248.230
deny from 46.29.248.71
deny from 46.99.27.66
deny from 49.48.176.4
deny from 5.12.208.220
deny from 5.135.113.131
deny from 5.135.113.236
deny from 5.135.165.118
deny from 5.135.3.125
deny from 5.135.30.157
deny from 5.135.34.195
deny from 5.135.4.27
deny from 5.135.53.199
deny from 5.135.77.218
deny from 5.135.85.233
deny from 5.135.85.237
deny from 5.135.9.45
deny from 5.144.176.123
deny from 5.144.176.183
deny from 5.144.176.40
deny from 5.166.133.34
deny from 5.34.242.12
deny from 5.39.113.27
deny from 5.39.36.79
deny from 5.39.44.145
deny from 5.39.44.148
deny from 5.39.44.218
deny from 5.39.97.23
deny from 5.9.242.39
deny from 50.115.171.112
deny from 50.115.171.249
deny from 50.115.172.107
deny from 50.115.173.34
deny from 50.115.173.72
deny from 50.117.46.206
deny from 50.117.75.175
deny from 50.118.202.91
deny from 50.21.142.254
deny from 58.46.22.56
deny from 59.55.38.12
deny from 59.56.116.43
deny from 60.212.170.189
deny from 60.215.230.175
deny from 60.216.160.113
deny from 60.51.25.184
deny from 62.235.176.234
deny from 62.44.135.183
deny from 62.44.135.98
deny from 62.46.230.121
deny from 62.80.161.112
deny from 63.223.124.186
deny from 64.120.171.214
deny from 66.248.193.83
deny from 67.207.208.140
deny from 67.209.190.62
deny from 68.108.155.177
deny from 68.38.41.66
deny from 69.147.240.194
deny from 69.147.240.213
deny from 69.175.67.42
deny from 69.197.190.115
deny from 69.197.190.37
deny from 69.197.190.60
deny from 69.46.79.56
deny from 72.227.172.91
deny from 74.177.108.4
deny from 74.221.220.59
deny from 77.100.18.224
deny from 77.34.28.169
deny from 78.160.150.9
deny from 78.168.59.52
deny from 78.3.242.219
deny from 78.3.252.196
deny from 78.38.23.242
deny from 78.45.208.115
deny from 78.54.13.101
deny from 79.116.200.146
deny from 79.172.34.89
deny from 79.182.202.240
deny from 80.191.169.66
deny from 80.249.84.62
deny from 80.33.179.204
deny from 80.72.38.194
deny from 81.181.19.45
deny from 81.183.170.92
deny from 81.27.58.77
deny from 82.19.20.214
deny from 82.200.254.66
deny from 82.233.23.172
deny from 83.131.242.81
deny from 83.131.246.250
deny from 83.4.166.61
deny from 83.99.170.72
deny from 84.200.78.159
deny from 85.100.155.255
deny from 85.107.212.146
deny from 85.181.225.4
deny from 85.181.239.79
deny from 85.229.33.19
deny from 85.230.175.216
deny from 85.237.211.157
deny from 85.237.211.3
deny from 86.137.202.70
deny from 86.147.165.213
deny from 86.157.63.15
deny from 86.20.5.38
deny from 87.98.159.253
deny from 87.98.173.189
deny from 88.115.115.212
deny from 88.192.248.155
deny from 88.227.9.236
deny from 88.232.156.81
deny from 88.244.26.204
deny from 88.80.20.131
deny from 89.136.80.249
deny from 89.17.105.203
deny from 89.218.120.50
deny from 89.39.126.183
deny from 89.66.212.145
deny from 91.121.197.85
deny from 91.198.177.116
deny from 91.207.116.189
deny from 91.218.137.45
deny from 91.219.136.100
deny from 91.236.74.124
deny from 91.236.74.181
deny from 91.236.74.2
deny from 91.236.75.51
deny from 91.236.75.52
deny from 91.236.75.53
deny from 92.113.61.142
deny from 92.224.173.140
deny from 92.228.253.161
deny from 92.231.13.100
deny from 92.231.217.243
deny from 92.231.219.170
deny from 92.60.22.225
deny from 92.80.80.252
deny from 92.85.167.176
deny from 93.137.162.243
deny from 93.139.54.254
deny from 93.172.175.43
deny from 93.81.148.99
deny from 94.190.193.17
deny from 94.242.237.150
deny from 94.242.241.10
deny from 94.242.241.243
deny from 94.71.165.114
deny from 95.170.82.167
deny from 95.19.251.156
deny from 95.61.4.202
deny from 95.76.233.87
deny from 96.127.144.234
deny from 96.127.154.229
deny from 97.90.194.160
deny from 98.88.222.63
deny from 1.1.153.249
deny from 1.1.159.76
deny from 1.1.160.3
deny from 1.162.96.43
deny from 1.172.97.195
deny from 1.22.88.25
deny from 1.4.231.115
deny from 1.4.239.182
deny from 1.4.248.0
deny from 1.4.252.165
deny from 1.54.84.183
deny from 1.60.52.144
deny from 1.82.38.80
deny from 103.10.52.14
deny from 103.10.67.158
deny from 103.245.8.29
deny from 103.247.16.2
deny from 103.4.109.24
deny from 103.5.49.37
deny from 105.129.43.212
deny from 107.0.5.250
deny from 107.57.176.41
deny from 108.163.197.61
deny from 108.166.22.88
deny from 108.170.86.114
deny from 108.178.24.154
deny from 108.178.39.21
deny from 108.178.53.171
deny from 108.59.8.131
deny from 108.62.215.161
deny from 109.154.54.32
deny from 109.169.95.138
deny from 109.188.127.87
deny from 109.2.86.233
deny from 109.200.12.189
deny from 109.64.183.85
deny from 109.70.176.1
deny from 109.92.208.215
deny from 110.138.241.143
deny from 110.195.82.18
deny from 110.234.220.70
deny from 110.248.211.57
deny from 110.253.68.207
deny from 110.255.26.93
deny from 110.34.178.194
deny from 111.124.147.46
deny from 111.128.224.199
deny from 111.161.38.204
deny from 111.241.31.73
deny from 111.253.101.239
deny from 111.37.62.200
deny from 111.94.168.45
deny from 112.112.197.251
deny from 112.125.94.54
deny from 112.172.130.28
deny from 112.198.64.77
deny from 112.210.51.197
deny from 112.230.23.10
deny from 113.0.117.78
deny from 113.160.93.78
deny from 113.161.84.17
deny from 113.190.195.127
deny from 113.203.227.125
deny from 113.22.68.175
deny from 113.4.55.219
deny from 113.6.185.22
deny from 114.100.193.209
deny from 114.101.193.19
deny from 114.103.44.83
deny from 114.107.150.215
deny from 114.39.15.128
deny from 114.79.0.68
deny from 114.79.16.81
deny from 114.79.19.233
deny from 115.127.23.123
deny from 115.152.19.235
deny from 115.156.234.212
deny from 115.238.228.53
deny from 115.242.228.10
deny from 115.25.216.6
deny from 115.54.127.194
deny from 116.116.200.103
deny from 117.0.13.47
deny from 117.207.81.44
deny from 117.241.234.108
deny from 117.6.104.164
deny from 118.100.75.91
deny from 118.100.78.213
deny from 118.195.65.248
deny from 118.26.250.195
deny from 118.68.246.253
deny from 118.82.27.1
deny from 118.96.136.209
deny from 118.97.188.82
deny from 119.101.225.98
deny from 119.142.101.216
deny from 119.183.29.227
deny from 119.233.255.50
deny from 119.253.43.120
deny from 119.254.90.18
deny from 120.193.70.8
deny from 121.205.248.32
deny from 121.232.174.175
deny from 121.247.79.112
deny from 121.25.111.156
deny from 121.9.242.76
deny from 122.1.23.66
deny from 122.138.114.228
deny from 122.154.246.107
deny from 122.169.23.208
deny from 122.50.127.51
deny from 122.72.124.2
deny from 122.96.51.83
deny from 123.129.214.155
deny from 123.24.117.94
deny from 123.30.20.10
deny from 123.86.224.184
deny from 124.134.34.58
deny from 124.235.0.132
deny from 124.81.117.114
deny from 125.114.58.99
deny from 125.164.96.71
deny from 125.165.137.154
deny from 125.18.77.9
deny from 125.208.1.163
deny from 125.230.103.113
deny from 125.39.238.242
deny from 125.39.66.130
deny from 125.39.66.150
deny from 125.39.68.227
deny from 125.65.140.64
deny from 128.125.10.112
deny from 128.210.131.183
deny from 128.23.34.81
deny from 129.89.24.100
deny from 130.185.156.206
deny from 131.155.0.135
deny from 133.242.158.145
deny from 139.130.97.74
deny from 14.132.31.226
deny from 14.145.235.83
deny from 14.147.205.53
deny from 14.150.72.251
deny from 14.17.29.112
deny from 142.0.34.139
deny from 142.0.34.184
deny from 142.11.215.120
deny from 142.22.16.55
deny from 142.234.104.112
deny from 142.240.200.10
deny from 142.32.208.226
deny from 142.54.190.220
deny from 142.91.113.6
deny from 142.91.79.13
deny from 142.91.79.42
deny from 142.91.79.66
deny from 147.255.162.102
deny from 150.254.41.202
deny from 151.226.152.162
deny from 152.160.22.43
deny from 153.127.246.124
deny from 157.238.208.1
deny from 159.226.8.10
deny from 163.177.76.26
deny from 166.122.21.7
deny from 168.63.57.246
deny from 168.63.62.175
deny from 168.63.62.182
deny from 168.63.76.184
deny from 168.63.84.217
deny from 168.63.84.251
deny from 173.0.59.167
deny from 173.179.151.38
deny from 173.198.228.45
deny from 173.198.253.204
deny from 173.208.103.155
deny from 173.208.103.231
deny from 173.208.103.236
deny from 173.208.103.34
deny from 173.208.103.72
deny from 173.208.2.125
deny from 173.208.2.143
deny from 173.208.227.57
deny from 173.212.192.18
deny from 173.213.96.234
deny from 173.213.96.62
deny from 173.213.97.41
deny from 173.213.97.45
deny from 173.213.97.46
deny from 173.232.104.151
deny from 173.234.196.238
deny from 173.234.59.26
deny from 173.234.59.75
deny from 173.234.59.83
deny from 173.242.122.80
deny from 175.138.142.99
deny from 175.142.180.205
deny from 175.154.164.172
deny from 175.43.56.64
deny from 176.227.212.178
deny from 176.31.156.23
deny from 176.31.204.61
deny from 176.31.3.181
deny from 176.31.60.136
deny from 176.31.89.81
deny from 176.31.89.82
deny from 176.61.141.94
deny from 176.61.141.95
deny from 176.61.142.100
deny from 176.61.143.171
deny from 176.61.143.178
deny from 176.67.86.80
deny from 176.8.201.13
deny from 177.101.121.58
deny from 177.101.240.2
deny from 177.132.184.75
deny from 177.132.51.139
deny from 177.134.243.80
deny from 177.158.210.148
deny from 177.18.103.206
deny from 177.2.58.126
deny from 177.203.1.241
deny from 177.42.40.198
deny from 177.6.33.210
deny from 177.64.236.200
deny from 177.84.120.138
deny from 177.96.10.95
deny from 177.97.52.167
deny from 178.124.133.78
deny from 178.157.81.116
deny from 178.17.126.209
deny from 178.32.108.28
deny from 178.32.171.35
deny from 178.32.224.85
deny from 178.32.229.155
deny from 178.33.179.204
deny from 178.63.215.92
deny from 178.89.185.3
deny from 179.236.162.95
deny from 18.7.125.24
deny from 180.149.8.47
deny from 180.169.15.202
deny from 180.241.15.67
deny from 180.250.144.232
deny from 180.254.10.175
deny from 180.254.73.90
deny from 182.101.177.30
deny from 182.158.133.66
deny from 182.180.102.153
deny from 182.34.190.100
deny from 182.73.3.78
deny from 183.110.231.23
deny from 183.160.224.111
deny from 183.216.205.131
deny from 183.88.251.2
deny from 183.89.113.21
deny from 183.91.85.130
deny from 183.93.196.73
deny from 184.154.10.66
deny from 184.154.119.230
deny from 184.22.61.136
deny from 184.22.95.42
deny from 184.82.204.91
deny from 185.3.132.205
deny from 186.227.53.232
deny from 186.237.50.73
deny from 186.241.42.150
deny from 186.244.183.125
deny from 186.247.3.84
deny from 186.45.29.205
deny from 187.109.208.58
deny from 187.120.6.222
deny from 187.139.165.213
deny from 187.14.151.163
deny from 187.191.28.201
deny from 187.21.181.121
deny from 187.23.145.159
deny from 187.36.27.17
deny from 187.40.19.205
deny from 187.79.183.147
deny from 188.127.242.33
deny from 188.180.66.82
deny from 188.210.236.64
deny from 188.227.165.248
deny from 188.26.151.99
deny from 188.26.223.110
deny from 188.80.217.111
deny from 189.100.57.182
deny from 189.111.119.149
deny from 189.112.178.129
deny from 189.186.5.154
deny from 189.205.27.4
deny from 189.210.174.146
deny from 189.25.73.217
deny from 189.32.8.7
deny from 189.46.146.159
deny from 189.69.116.94
deny from 189.70.229.9
deny from 189.72.232.250
deny from 189.76.38.24
deny from 189.78.211.220
deny from 190.143.102.154
deny from 190.182.150.245
deny from 190.52.120.38
deny from 190.92.88.210
deny from 192.119.144.155
deny from 192.119.151.238
deny from 192.119.151.5
deny from 192.119.151.66
deny from 192.121.44.26
deny from 192.165.17.244
deny from 192.74.234.237
deny from 193.144.88.150
deny from 193.16.235.9
deny from 193.169.134.141
deny from 193.183.105.4
deny from 193.218.136.65
deny from 193.235.43.221
deny from 193.61.245.252
deny from 194.105.50.26
deny from 194.224.200.190
deny from 194.56.178.164
deny from 194.71.15.242
deny from 194.71.222.80
deny from 194.83.162.123
deny from 195.136.208.216
deny from 195.151.218.237
deny from 195.23.81.67
deny from 196.14.169.11
deny from 196.40.4.122
deny from 198.101.206.82
deny from 198.143.100.132
deny from 198.143.130.244
deny from 198.143.135.18
deny from 198.143.143.59
deny from 198.143.144.165
deny from 198.143.98.132
deny from 198.24.131.92
deny from 198.245.63.133
deny from 198.27.80.212
deny from 198.50.136.123
deny from 198.52.128.122
deny from 198.52.128.202
deny from 198.74.126.233
deny from 199.101.102.56
deny from 199.115.229.180
deny from 199.116.85.182
deny from 199.127.103.25
deny from 199.180.116.196
deny from 199.180.119.195
deny from 199.180.119.241
deny from 199.180.119.244
deny from 199.192.152.108
deny from 199.229.249.127
deny from 2.133.93.114
deny from 2.133.93.210
deny from 2.146.154.142
deny from 2.228.151.221
deny from 2.25.66.249
deny from 2.29.127.13
deny from 2.50.47.51
deny from 200.140.161.67
deny from 200.164.99.42
deny from 200.186.89.210
deny from 200.203.89.82
deny from 200.217.214.26
deny from 200.236.193.126
deny from 200.27.180.155
deny from 200.62.228.82
deny from 201.110.61.179
deny from 201.134.138.242
deny from 201.222.138.236
deny from 201.25.100.210
deny from 201.255.223.142
deny from 201.26.59.154
deny from 201.41.187.82
deny from 201.58.58.231
deny from 201.63.164.132
deny from 201.69.233.167
deny from 201.82.24.39
deny from 202.106.16.36
deny from 202.109.182.2
deny from 202.142.208.6
deny from 202.150.174.3
deny from 202.153.70.100
deny from 202.158.163.202
deny from 203.106.224.183
deny from 203.126.25.170
deny from 203.217.21.218
deny from 203.58.7.206
deny from 203.82.250.136
deny from 204.45.103.235
deny from 206.196.115.38
deny from 206.217.138.46
deny from 207.182.154.28
deny from 208.91.129.186
deny from 208.91.129.217
deny from 209.116.238.162
deny from 209.172.33.171
deny from 209.251.55.133
deny from 210.134.62.101
deny from 210.157.20.86
deny from 210.186.126.152
deny from 210.23.9.48
deny from 210.24.116.224
deny from 211.103.177.226
deny from 211.151.181.41
deny from 212.118.60.2
deny from 212.147.42.197
deny from 212.219.101.42
deny from 212.33.212.130
deny from 213.1.222.254
deny from 213.105.57.24
deny from 213.177.82.116
deny from 213.182.73.178
deny from 213.69.204.203
deny from 216.144.242.43
deny from 216.152.252.99
deny from 216.184.106.198
deny from 216.23.175.36
deny from 216.55.181.39
deny from 216.59.18.70
deny from 216.81.180.225
deny from 217.116.55.226
deny from 217.150.82.10
deny from 217.165.233.172
deny from 217.167.129.14
deny from 218.17.151.219
deny from 218.202.219.66
deny from 219.138.90.114
deny from 220.128.176.147
deny from 220.130.130.46
deny from 220.181.151.25
deny from 220.255.1.102
deny from 221.1.223.4
deny from 221.178.45.82
deny from 221.194.138.78
deny from 221.202.177.138
deny from 222.124.52.46
deny from 222.158.83.244
deny from 222.52.151.2
deny from 223.204.172.118
deny from 223.244.233.188
deny from 223.4.245.25
deny from 223.4.86.221
deny from 223.82.15.49
deny from 23.19.132.148
deny from 23.19.163.156
deny from 23.19.163.72
deny from 23.29.125.179
deny from 24.226.195.201
deny from 27.16.228.44
deny from 27.197.108.212
deny from 27.20.122.198
deny from 27.8.242.187
deny from 31.170.112.22
deny from 31.42.107.188
deny from 31.6.71.21
deny from 32.42.5.62
deny from 37.220.22.182
deny from 37.247.51.110
deny from 37.59.241.234
deny from 37.59.251.138
deny from 37.59.60.188
deny from 37.72.190.111
deny from 38.104.254.98
deny from 39.47.67.150
deny from 41.130.156.195
deny from 41.141.101.3
deny from 41.141.192.135
deny from 41.206.62.70
deny from 41.250.40.148
deny from 41.66.25.36
deny from 41.92.70.19
deny from 42.119.33.6
deny from 42.184.141.120
deny from 42.201.147.76
deny from 46.102.234.180
deny from 46.102.234.212
deny from 46.102.234.28
deny from 46.105.231.48
deny from 46.105.239.134
deny from 46.116.161.205
deny from 46.119.99.223
deny from 46.20.38.43
deny from 46.227.68.156
deny from 46.246.93.139
deny from 46.26.170.140
deny from 46.29.248.87
deny from 46.29.254.237
deny from 46.37.185.166
deny from 46.4.113.166
deny from 46.43.46.155
deny from 49.212.158.20
deny from 5.108.13.145
deny from 5.135.106.102
deny from 5.135.106.97
deny from 5.135.113.132
deny from 5.135.180.101
deny from 5.135.187.125
deny from 5.135.188.151
deny from 5.135.200.157
deny from 5.135.30.149
deny from 5.135.30.156
deny from 5.135.34.24
deny from 5.135.38.128
deny from 5.135.47.120
deny from 5.135.50.111
deny from 5.135.85.89
deny from 5.135.93.23
deny from 5.144.176.125
deny from 5.144.176.149
deny from 5.144.176.30
deny from 5.34.241.47
deny from 5.39.113.13
deny from 5.39.13.44
deny from 5.39.97.22
deny from 5.9.126.70
deny from 5.99.64.3
deny from 50.118.136.177
deny from 50.193.61.126
deny from 50.198.153.113
deny from 50.198.66.181
deny from 50.31.10.132
deny from 50.31.10.63
deny from 50.63.181.15
deny from 50.63.184.184
deny from 50.63.25.202
deny from 50.97.116.114
deny from 54.235.78.122
deny from 58.19.243.141
deny from 58.22.151.183
deny from 58.96.111.34
deny from 59.11.237.151
deny from 59.120.147.5
deny from 59.148.224.190
deny from 59.42.236.154
deny from 60.169.77.110
deny from 60.195.251.213
deny from 60.214.67.86
deny from 60.247.92.242
deny from 60.251.178.83
deny from 60.6.65.91
deny from 60.6.95.178
deny from 60.62.56.125
deny from 61.122.229.150
deny from 61.135.179.183
deny from 61.135.209.203
deny from 61.156.157.246
deny from 61.166.55.153
deny from 61.185.137.11
deny from 62.216.34.26
deny from 62.57.88.57
deny from 63.119.56.76
deny from 63.138.193.130
deny from 63.97.76.67
deny from 64.83.242.178
deny from 65.202.239.135
deny from 65.213.70.116
deny from 65.254.212.201
deny from 66.162.42.100
deny from 66.18.176.179
deny from 66.248.193.65
deny from 66.248.200.229
deny from 67.220.215.88
deny from 67.23.190.156
deny from 68.64.140.11
deny from 69.175.67.46
deny from 69.197.190.28
deny from 69.197.190.29
deny from 69.197.190.74
deny from 69.46.79.54
deny from 71.146.244.10
deny from 71.23.13.62
deny from 74.113.231.124
deny from 74.202.69.211
deny from 74.203.213.142
deny from 74.216.179.165
deny from 74.63.192.11
deny from 74.63.243.248
deny from 76.11.238.22
deny from 76.253.138.88
deny from 76.26.160.229
deny from 76.8.73.222
deny from 77.1.5.181
deny from 77.29.142.54
deny from 77.50.249.212
deny from 78.129.232.85
deny from 78.150.228.128
deny from 78.191.124.196
deny from 78.31.109.175
deny from 78.40.183.200
deny from 78.40.224.34
deny from 78.47.35.16
deny from 78.84.230.234
deny from 78.97.93.217
deny from 79.125.66.142
deny from 79.177.221.60
deny from 80.123.245.125
deny from 80.191.78.251
deny from 80.78.229.84
deny from 80.88.201.121
deny from 81.252.219.149
deny from 82.209.195.5
deny from 83.226.3.28
deny from 83.36.181.77
deny from 83.4.129.117
deny from 84.27.94.210
deny from 85.107.207.139
deny from 85.125.85.236
deny from 85.204.235.52
deny from 85.229.238.90
deny from 85.229.36.121
deny from 85.44.125.242
deny from 85.90.63.62
deny from 86.173.231.236
deny from 86.59.212.141
deny from 87.207.183.92
deny from 87.236.233.66
deny from 87.251.152.218
deny from 87.51.227.110
deny from 88.232.121.8
deny from 89.145.86.81
deny from 89.185.37.93
deny from 89.218.100.114
deny from 89.97.216.194
deny from 90.148.129.114
deny from 90.152.3.178
deny from 91.121.27.24
deny from 91.193.75.101
deny from 91.211.127.124
deny from 91.229.48.41
deny from 91.230.85.2
deny from 91.237.143.140
deny from 91.237.143.141
deny from 92.228.255.189
deny from 92.25.220.151
deny from 92.29.235.15
deny from 92.50.147.106
deny from 92.62.60.162
deny from 93.100.116.6
deny from 93.137.193.234
deny from 93.96.5.62
deny from 94.107.236.100
deny from 94.132.230.87
deny from 94.137.239.19
deny from 94.190.190.204
deny from 94.23.150.147
deny from 94.23.174.20
deny from 94.23.235.174
deny from 94.23.238.222
deny from 94.242.241.99
deny from 94.42.171.106
deny from 95.105.95.122
deny from 95.110.225.65
deny from 95.154.216.242
deny from 95.165.134.56
deny from 95.178.206.41
deny from 95.19.241.219
deny from 95.57.64.74
deny from 95.67.106.110
deny from 96.127.149.187
deny from 96.241.113.138
deny from 96.9.141.237
deny from 96.9.141.238
deny from 96.9.152.34
deny from 97.76.100.134
deny from 99.238.116.120
deny from 99.91.181.60
deny from 1.1.169.11
deny from 1.1.169.151
deny from 1.1.169.85
deny from 1.203.72.138
deny from 1.4.224.124
deny from 1.4.224.194
deny from 1.4.224.223
deny from 1.4.225.149
deny from 1.4.233.189
deny from 1.4.234.11
deny from 1.4.234.168
deny from 1.53.22.243
deny from 1.53.36.48
deny from 1.54.83.65
deny from 1.55.36.148
deny from 1.55.64.206
deny from 1.55.93.22
deny from 1.57.103.109
deny from 101.21.188.19
deny from 101.69.102.38
deny from 103.15.165.34
deny from 103.17.104.254
deny from 108.174.50.234
deny from 108.178.57.122
deny from 108.178.60.253
deny from 108.27.244.62
deny from 109.123.193.30
deny from 109.231.17.40
deny from 109.67.187.103
deny from 109.9.70.131
deny from 110.55.3.37
deny from 110.85.107.89
deny from 111.123.172.223
deny from 111.161.64.120
deny from 111.161.71.36
deny from 111.182.44.148
deny from 111.94.181.238
deny from 112.111.19.111
deny from 112.113.104.137
deny from 112.14.66.14
deny from 112.15.12.212
deny from 112.192.130.33
deny from 113.124.249.186
deny from 113.160.88.178
deny from 113.162.246.205
deny from 113.162.86.84
deny from 113.179.37.222
deny from 113.190.161.146
deny from 113.190.182.149
deny from 113.190.192.236
deny from 113.195.102.194
deny from 113.207.126.98
deny from 113.23.115.213
deny from 113.240.193.168
deny from 113.64.110.72
deny from 113.65.147.71
deny from 113.65.150.44
deny from 113.8.137.83
deny from 114.78.98.77
deny from 115.167.127.122
deny from 115.254.32.66
deny from 115.58.118.73
deny from 115.74.202.124
deny from 116.203.55.229
deny from 117.144.231.4
deny from 117.57.166.23
deny from 117.6.165.222
deny from 118.68.116.154
deny from 118.68.12.23
deny from 118.68.121.20
deny from 118.68.15.169
deny from 118.68.206.77
deny from 118.69.37.53
deny from 118.71.193.85
deny from 119.157.173.15
deny from 119.179.228.101
deny from 119.179.238.112
deny from 119.55.49.170
deny from 120.15.54.129
deny from 120.206.202.199
deny from 120.7.75.66
deny from 121.97.142.248
deny from 121.97.142.5
deny from 122.140.12.240
deny from 123.148.35.59
deny from 123.163.32.184
deny from 123.17.118.167
deny from 123.21.101.27
deny from 123.24.100.1
deny from 123.26.166.162
deny from 123.55.125.129
deny from 124.149.59.51
deny from 125.160.52.41
deny from 125.212.123.33
deny from 125.212.124.86
deny from 125.24.201.151
deny from 125.71.213.254
deny from 125.74.166.57
deny from 128.73.3.235
deny from 130.185.156.153
deny from 130.185.156.56
deny from 139.190.134.187
deny from 14.147.204.48
deny from 14.150.73.99
deny from 14.207.122.227
deny from 142.0.34.149
deny from 142.54.190.140
deny from 142.91.208.154
deny from 142.91.208.224
deny from 142.91.208.42
deny from 142.91.81.106
deny from 142.91.81.191
deny from 142.91.81.196
deny from 147.255.162.213
deny from 147.255.56.11
deny from 147.255.56.118
deny from 147.255.56.13
deny from 147.255.56.234
deny from 147.255.56.236
deny from 147.255.56.98
deny from 168.61.70.56
deny from 168.62.193.55
deny from 171.7.23.17
deny from 171.93.102.15
deny from 173.13.200.181
deny from 173.165.82.222
deny from 173.208.158.214
deny from 173.208.2.227
deny from 173.208.2.90
deny from 173.213.112.165
deny from 173.213.96.26
deny from 173.232.104.168
deny from 173.232.23.34
deny from 173.232.86.85
deny from 173.234.59.18
deny from 173.234.59.63
deny from 173.236.101.155
deny from 173.236.31.244
deny from 173.254.234.244
deny from 173.255.169.110
deny from 173.255.169.15
deny from 175.144.112.163
deny from 175.174.25.250
deny from 176.104.188.163
deny from 176.31.204.21
deny from 176.31.223.45
deny from 176.61.141.84
deny from 176.61.142.165
deny from 176.61.142.78
deny from 176.67.86.40
deny from 176.67.87.28
deny from 176.9.235.102
deny from 177.133.177.164
deny from 177.182.182.239
deny from 177.38.74.1
deny from 177.41.115.172
deny from 177.41.92.91
deny from 177.42.4.28
deny from 177.96.25.40
deny from 177.97.64.18
deny from 177.98.70.10
deny from 178.122.163.110
deny from 178.129.222.99
deny from 178.215.108.99
deny from 178.215.97.99
deny from 178.32.138.116
deny from 178.32.55.40
deny from 178.33.157.187
deny from 178.36.247.163
deny from 178.84.188.85
deny from 180.140.18.77
deny from 180.143.63.10
deny from 180.211.183.249
deny from 180.241.120.206
deny from 180.244.138.199
deny from 180.248.59.165
deny from 182.177.153.28
deny from 182.178.14.86
deny from 182.185.202.106
deny from 182.188.132.44
deny from 182.8.125.21
deny from 183.186.59.18
deny from 183.36.75.178
deny from 183.5.56.186
deny from 183.80.96.154
deny from 183.81.115.90
deny from 184.106.132.4
deny from 184.154.115.2
deny from 184.154.137.213
deny from 184.154.220.246
deny from 184.154.251.4
deny from 184.154.5.108
deny from 184.22.117.58
deny from 184.22.157.34
deny from 184.22.2.194
deny from 184.22.221.190
deny from 184.22.230.194
deny from 184.22.230.197
deny from 184.22.230.198
deny from 185.12.47.81
deny from 185.3.133.122
deny from 186.214.199.250
deny from 186.244.170.38
deny from 186.45.0.249
deny from 186.90.174.68
deny from 187.127.235.153
deny from 187.127.43.136
deny from 187.138.173.182
deny from 187.40.128.239
deny from 187.40.171.133
deny from 187.41.98.115
deny from 187.44.26.19
deny from 187.68.172.79
deny from 187.87.12.80
deny from 187.95.109.58
deny from 188.116.53.191
deny from 188.129.169.108
deny from 188.214.5.218
deny from 188.223.163.130
deny from 188.227.161.38
deny from 188.227.161.52
deny from 188.234.60.10
deny from 188.24.237.188
deny from 188.24.240.217
deny from 188.24.244.129
deny from 189.10.32.236
deny from 189.104.134.228
deny from 189.104.19.34
deny from 189.104.22.53
deny from 189.107.7.71
deny from 189.107.86.235
deny from 189.115.22.243
deny from 189.127.247.49
deny from 189.13.225.159
deny from 189.146.104.41
deny from 189.187.190.122
deny from 189.187.212.9
deny from 189.4.105.172
deny from 189.46.153.182
deny from 189.47.8.39
deny from 189.48.10.189
deny from 189.50.202.114
deny from 189.58.117.15
deny from 189.68.12.178
deny from 189.70.155.46
deny from 189.72.115.134
deny from 189.79.30.68
deny from 190.203.90.210
deny from 190.229.203.57
deny from 190.80.130.96
deny from 192.119.144.151
deny from 192.119.151.87
deny from 192.121.44.27
deny from 192.151.198.122
deny from 192.154.104.163
deny from 192.157.253.193
deny from 192.165.17.23
deny from 192.200.157.81
deny from 192.95.0.192
deny from 192.95.0.204
deny from 192.95.0.205
deny from 192.95.0.212
deny from 193.183.105.185
deny from 193.183.105.227
deny from 193.183.105.44
deny from 193.200.150.152
deny from 193.235.43.177
deny from 193.235.43.185
deny from 194.103.2.127
deny from 194.28.39.75
deny from 194.71.223.166
deny from 196.206.13.1
deny from 197.247.13.193
deny from 197.253.197.34
deny from 197.253.206.37
deny from 198.143.133.116
deny from 198.143.135.107
deny from 198.143.143.178
deny from 198.143.143.186
deny from 198.143.144.164
deny from 198.143.162.27
deny from 198.143.188.46
deny from 198.147.23.69
deny from 198.23.150.154
deny from 198.50.136.232
deny from 198.50.136.249
deny from 198.50.136.250
deny from 198.50.140.69
deny from 199.119.226.181
deny from 199.180.135.239
deny from 199.192.203.138
deny from 2.138.128.221
deny from 2.181.17.168
deny from 200.133.8.4
deny from 200.196.164.132
deny from 200.207.143.82
deny from 201.130.242.77
deny from 201.23.99.179
deny from 201.25.54.4
deny from 201.253.188.50
deny from 201.27.227.123
deny from 201.58.203.213
deny from 201.95.225.152
deny from 202.105.60.146
deny from 202.105.63.125
deny from 203.205.126.24
deny from 203.215.122.216
deny from 203.215.122.34
deny from 203.76.177.20
deny from 205.209.143.82
deny from 205.251.157.3
deny from 207.177.47.178
deny from 211.82.178.119
deny from 212.174.156.163
deny from 212.253.244.146
deny from 212.7.192.139
deny from 216.152.251.17
deny from 216.152.252.115
deny from 216.152.252.91
deny from 216.213.38.251
deny from 216.24.201.160
deny from 216.80.90.24
deny from 217.195.202.21
deny from 217.210.55.54
deny from 218.107.132.66
deny from 218.62.89.87
deny from 219.150.204.30
deny from 219.234.82.83
deny from 220.200.20.188
deny from 220.200.22.1
deny from 220.200.23.213
deny from 220.200.23.22
deny from 220.200.23.251
deny from 220.248.237.234
deny from 220.255.1.29
deny from 220.255.1.39
deny from 220.255.1.42
deny from 220.255.1.60
deny from 220.255.1.61
deny from 220.255.1.94
deny from 222.252.84.77
deny from 222.76.78.172
deny from 223.205.168.72
deny from 223.206.172.159
deny from 223.255.229.78
deny from 23.19.163.164
deny from 23.19.163.202
deny from 23.19.163.211
deny from 23.19.163.214
deny from 24.206.4.237
deny from 27.159.219.233
deny from 27.194.224.62
deny from 27.3.212.206
deny from 31.222.176.247
deny from 31.6.71.20
deny from 31.6.71.9
deny from 31.7.44.102
deny from 36.251.102.97
deny from 36.72.139.179
deny from 36.73.80.213
deny from 37.188.82.168
deny from 37.229.234.8
deny from 37.229.237.33
deny from 37.59.129.117
deny from 37.59.135.139
deny from 37.59.150.116
deny from 37.59.179.15
deny from 37.59.238.166
deny from 37.59.247.44
deny from 37.59.91.53
deny from 37.9.171.88
deny from 39.54.68.148
deny from 41.141.205.249
deny from 41.141.3.240
deny from 41.142.182.138
deny from 41.235.64.96
deny from 41.249.176.162
deny from 41.44.21.233
deny from 42.113.253.209
deny from 42.119.141.116
deny from 46.105.137.65
deny from 46.105.172.15
deny from 46.105.79.209
deny from 46.134.215.176
deny from 46.227.68.155
deny from 46.29.248.88
deny from 46.37.165.176
deny from 49.0.124.110
deny from 49.49.74.175
deny from 5.13.201.209
deny from 5.135.106.190
deny from 5.135.166.41
deny from 5.135.30.138
deny from 5.135.34.193
deny from 5.135.34.199
deny from 5.135.42.84
deny from 5.135.53.228
deny from 5.135.85.122
deny from 5.135.85.232
deny from 5.144.176.19
deny from 5.144.176.208
deny from 5.144.176.32
deny from 5.144.176.83
deny from 5.166.40.25
deny from 5.254.138.16
deny from 5.34.241.182
deny from 5.34.243.110
deny from 5.39.119.82
deny from 5.39.33.252
deny from 5.39.97.19
deny from 50.115.169.204
deny from 50.115.171.16
deny from 50.115.173.174
deny from 50.117.70.3
deny from 50.31.10.121
deny from 50.31.10.122
deny from 50.31.10.147
deny from 50.31.10.30
deny from 58.186.178.67
deny from 58.27.165.34
deny from 58.58.210.238
deny from 58.67.145.146
deny from 60.173.11.121
deny from 60.215.224.114
deny from 61.160.222.32
deny from 61.174.9.246
deny from 61.8.79.198
deny from 64.119.215.18
deny from 64.120.142.140
deny from 64.27.3.214
deny from 66.197.246.25
deny from 66.197.246.27
deny from 66.197.246.30
deny from 66.219.24.238
deny from 66.248.193.128
deny from 66.248.193.220
deny from 66.248.202.101
deny from 66.248.202.107
deny from 66.248.202.242
deny from 66.248.202.59
deny from 67.209.190.71
deny from 69.147.234.174
deny from 69.147.240.62
deny from 69.175.67.44
deny from 69.175.71.77
deny from 69.249.200.240
deny from 71.154.209.152
deny from 71.21.196.190
deny from 74.221.212.33
deny from 74.221.217.215
deny from 74.221.219.32
deny from 74.63.209.124
deny from 75.119.228.24
deny from 75.163.197.141
deny from 77.255.206.12
deny from 78.138.107.6
deny from 78.161.33.219
deny from 78.190.120.143
deny from 78.191.121.3
deny from 78.234.120.11
deny from 78.41.201.69
deny from 79.113.59.172
deny from 79.113.78.222
deny from 79.141.161.13
deny from 79.141.162.19
deny from 8.36.225.81
deny from 80.186.13.74
deny from 80.186.45.222
deny from 80.51.178.3
deny from 80.93.213.247
deny from 81.190.82.197
deny from 81.249.173.8
deny from 83.228.56.23
deny from 83.50.252.58
deny from 83.7.99.211
deny from 84.127.26.117
deny from 84.22.32.222
deny from 84.43.189.194
deny from 84.61.11.2
deny from 85.108.105.99
deny from 85.130.21.92
deny from 85.138.151.120
deny from 85.181.224.167
deny from 85.181.228.115
deny from 85.237.170.109
deny from 85.250.97.61
deny from 85.74.25.71
deny from 85.90.193.241
deny from 86.144.227.160
deny from 86.151.35.204
deny from 86.183.102.214
deny from 86.99.181.153
deny from 87.178.120.244
deny from 87.205.33.232
deny from 87.223.229.44
deny from 88.13.50.21
deny from 88.175.231.55
deny from 88.188.145.109
deny from 88.207.63.136
deny from 88.231.32.159
deny from 88.246.4.89
deny from 89.108.195.16
deny from 89.218.100.202
deny from 89.242.213.132
deny from 89.47.23.92
deny from 89.47.28.11
deny from 89.47.28.139
deny from 89.47.28.170
deny from 89.47.28.37
deny from 89.47.28.42
deny from 89.47.28.57
deny from 91.121.205.110
deny from 91.15.84.170
deny from 91.236.74.177
deny from 91.236.75.33
deny from 91.236.75.34
deny from 91.236.75.40
deny from 91.236.75.41
deny from 91.77.139.139
deny from 92.228.255.229
deny from 92.231.14.135
deny from 92.231.15.225
deny from 92.235.113.81
deny from 92.24.213.93
deny from 93.137.155.250
deny from 93.143.173.98
deny from 93.145.67.60
deny from 93.86.228.250
deny from 94.23.109.134
deny from 94.23.222.158
deny from 94.231.132.109
deny from 94.242.241.107
deny from 94.242.241.11
deny from 94.52.136.238
deny from 95.128.241.86
deny from 95.131.48.13
deny from 95.140.123.42
deny from 95.141.27.41
deny from 95.141.29.54
deny from 95.141.31.4
deny from 95.141.36.147
deny from 95.19.246.125
deny from 95.19.246.195
deny from 95.209.165.159
deny from 95.209.166.192
deny from 95.209.184.255
deny from 95.48.26.236
deny from 98.240.12.203
deny from 99.91.220.54
deny from 1.189.51.73
deny from 1.194.182.12
deny from 1.25.183.34
deny from 1.27.95.16
deny from 1.4.230.57
deny from 1.4.232.36
deny from 1.4.234.20
deny from 1.4.234.9
deny from 1.4.237.154
deny from 1.4.241.34
deny from 1.4.251.29
deny from 1.54.90.224
deny from 1.55.80.153
deny from 1.58.220.241
deny from 1.59.207.30
deny from 1.60.212.79
deny from 1.81.95.1
deny from 101.255.32.42
deny from 103.3.222.228
deny from 108.163.193.70
deny from 108.163.248.68
deny from 108.178.39.59
deny from 108.178.5.196
deny from 108.235.108.230
deny from 108.40.21.239
deny from 108.62.215.176
deny from 108.62.215.52
deny from 108.62.82.112
deny from 108.62.82.152
deny from 108.62.82.155
deny from 108.62.82.163
deny from 108.62.82.18
deny from 108.62.82.219
deny from 108.62.82.247
deny from 108.62.82.42
deny from 108.62.82.51
deny from 109.186.79.137
deny from 109.236.37.133
deny from 109.236.38.149
deny from 109.236.47.215
deny from 109.24.219.57
deny from 110.171.87.143
deny from 110.185.130.103
deny from 110.212.79.143
deny from 110.241.252.140
deny from 110.248.239.197
deny from 110.255.17.255
deny from 110.255.62.217
deny from 110.51.128.63
deny from 110.6.209.67
deny from 111.11.214.30
deny from 111.123.126.211
deny from 111.124.71.139
deny from 111.14.18.129
deny from 111.91.234.165
deny from 112.123.181.47
deny from 112.123.249.59
deny from 112.200.168.24
deny from 112.210.120.90
deny from 112.210.70.87
deny from 112.215.65.25
deny from 112.240.130.69
deny from 112.245.209.205
deny from 112.72.96.18
deny from 113.124.154.172
deny from 113.160.0.14
deny from 113.162.190.202
deny from 113.167.190.66
deny from 113.173.36.60
deny from 113.190.99.241
deny from 113.212.70.171
deny from 113.238.126.33
deny from 113.242.166.67
deny from 113.242.172.198
deny from 113.3.229.157
deny from 113.64.111.77
deny from 114.103.168.53
deny from 114.79.3.40
deny from 114.80.149.183
deny from 114.98.96.72
deny from 115.137.189.39
deny from 115.21.35.1
deny from 115.238.155.242
deny from 115.74.235.108
deny from 115.79.175.247
deny from 116.253.31.169
deny from 116.95.17.194
deny from 117.149.165.143
deny from 117.194.197.245
deny from 117.201.37.148
deny from 117.201.45.34
deny from 117.204.88.99
deny from 117.6.128.214
deny from 117.7.237.75
deny from 118.172.86.247
deny from 118.70.170.126
deny from 118.73.55.87
deny from 118.81.155.33
deny from 119.116.199.114
deny from 119.130.67.172
deny from 119.147.146.14
deny from 119.176.213.164
deny from 119.177.152.190
deny from 119.187.127.234
deny from 119.187.6.174
deny from 119.249.193.139
deny from 119.36.220.125
deny from 119.49.177.109
deny from 119.51.20.229
deny from 119.51.40.157
deny from 119.53.117.105
deny from 120.14.107.93
deny from 120.206.218.206
deny from 120.3.211.116
deny from 120.32.149.178
deny from 120.43.5.253
deny from 120.44.125.45
deny from 120.5.161.55
deny from 121.220.13.228
deny from 121.30.135.101
deny from 122.143.123.72
deny from 122.143.164.102
deny from 122.150.176.64
deny from 122.157.228.162
deny from 122.173.243.214
deny from 122.73.59.118
deny from 122.88.197.108
deny from 123.17.172.216
deny from 123.171.181.123
deny from 123.20.68.251
deny from 123.20.69.51
deny from 123.27.230.161
deny from 123.87.0.156
deny from 124.231.207.181
deny from 125.163.124.82
deny from 125.165.186.131
deny from 130.185.156.175
deny from 14.145.236.251
deny from 14.147.205.130
deny from 14.150.75.24
deny from 14.160.47.146
deny from 14.207.23.153
deny from 14.216.201.105
deny from 14.217.130.69
deny from 142.54.171.200
deny from 142.54.190.153
deny from 142.54.190.156
deny from 142.54.190.198
deny from 142.54.190.243
deny from 142.91.79.136
deny from 142.91.79.197
deny from 142.91.79.9
deny from 147.255.162.114
deny from 147.255.56.156
deny from 151.21.83.15
deny from 151.237.189.216
deny from 151.237.191.251
deny from 151.84.198.184
deny from 157.95.211.202
deny from 159.224.149.243
deny from 164.77.196.78
deny from 168.62.213.15
deny from 171.100.174.40
deny from 171.208.117.45
deny from 173.0.48.60
deny from 173.0.52.70
deny from 173.208.145.28
deny from 173.208.153.183
deny from 173.208.43.145
deny from 173.208.43.99
deny from 173.213.112.221
deny from 173.234.196.193
deny from 173.234.226.124
deny from 173.234.226.49
deny from 173.234.58.175
deny from 173.234.59.148
deny from 173.237.182.73
deny from 173.245.194.117
deny from 173.254.206.231
deny from 174.7.224.86
deny from 174.7.250.130
deny from 175.143.67.209
deny from 175.145.132.113
deny from 175.145.48.86
deny from 175.174.106.17
deny from 175.43.35.165
deny from 175.51.42.188
deny from 176.113.228.200
deny from 176.116.153.18
deny from 176.227.197.80
deny from 176.31.18.250
deny from 176.31.3.159
deny from 176.61.141.168
deny from 176.61.142.101
deny from 176.61.142.104
deny from 176.67.85.1
deny from 176.67.86.72
deny from 177.132.66.71
deny from 177.158.201.110
deny from 177.17.111.134
deny from 177.201.98.23
deny from 177.38.246.243
deny from 177.64.35.35
deny from 177.84.34.178
deny from 178.121.196.236
deny from 178.124.0.76
deny from 178.32.226.187
deny from 178.33.10.250
deny from 178.33.10.255
deny from 178.33.166.220
deny from 178.33.181.40
deny from 178.33.73.197
deny from 178.33.94.69
deny from 178.63.199.147
deny from 180.126.145.155
deny from 180.127.30.107
deny from 180.127.37.133
deny from 180.136.62.100
deny from 180.149.12.60
deny from 180.153.223.78
deny from 180.183.218.73
deny from 180.234.230.112
deny from 180.244.106.185
deny from 180.244.141.233
deny from 182.125.238.165
deny from 182.177.0.152
deny from 182.177.126.114
deny from 182.177.69.174
deny from 182.182.30.45
deny from 182.37.226.80
deny from 182.37.228.56
deny from 183.12.226.206
deny from 183.167.89.122
deny from 183.185.225.37
deny from 183.220.158.185
deny from 183.68.208.107
deny from 184.154.100.94
deny from 184.154.129.156
deny from 184.163.52.56
deny from 184.22.157.32
deny from 184.82.10.104
deny from 184.82.188.99
deny from 184.82.95.36
deny from 185.3.132.228
deny from 186.116.206.3
deny from 186.212.248.223
deny from 186.225.138.134
deny from 187.10.58.219
deny from 187.10.6.132
deny from 187.120.113.167
deny from 187.2.58.210
deny from 187.26.152.230
deny from 187.38.140.99
deny from 187.41.137.47
deny from 187.72.236.4
deny from 187.79.253.100
deny from 187.95.72.163
deny from 188.142.16.131
deny from 188.143.234.127
deny from 188.165.151.171
deny from 188.165.152.92
deny from 188.165.169.253
deny from 188.198.121.41
deny from 188.26.180.17
deny from 188.92.75.82
deny from 189.105.122.65
deny from 189.187.130.184
deny from 189.19.44.97
deny from 189.2.198.130
deny from 189.30.52.124
deny from 189.41.194.237
deny from 189.5.178.8
deny from 189.72.89.39
deny from 189.72.91.29
deny from 189.82.95.143
deny from 189.83.131.184
deny from 189.94.151.144
deny from 190.201.239.224
deny from 190.28.137.229
deny from 190.42.166.155
deny from 190.77.18.153
deny from 190.9.207.91
deny from 192.119.144.153
deny from 192.95.30.78
deny from 192.95.55.84
deny from 193.180.119.179
deny from 193.183.105.138
deny from 193.183.105.151
deny from 193.183.105.97
deny from 193.234.166.133
deny from 194.103.2.134
deny from 194.71.222.162
deny from 194.71.223.143
deny from 194.71.224.59
deny from 194.79.76.134
deny from 195.161.40.10
deny from 196.206.42.254
deny from 198.143.143.11
deny from 198.143.144.226
deny from 198.143.145.245
deny from 198.144.116.8
deny from 198.144.191.3
deny from 198.50.136.236
deny from 198.50.136.247
deny from 198.74.101.231
deny from 199.119.225.63
deny from 199.19.110.151
deny from 199.192.203.135
deny from 199.193.253.171
deny from 2.146.177.99
deny from 2.96.34.17
deny from 200.179.192.11
deny from 200.181.209.44
deny from 200.97.121.248
deny from 201.231.226.238
deny from 201.52.253.209
deny from 201.75.8.177
deny from 201.79.174.199
deny from 201.82.186.101
deny from 201.88.42.5
deny from 201.94.196.158
deny from 202.103.132.208
deny from 202.103.133.91
deny from 202.105.63.152
deny from 202.105.88.80
deny from 202.105.89.103
deny from 208.108.209.203
deny from 208.89.210.243
deny from 208.89.211.243
deny from 212.118.232.63
deny from 212.15.150.110
deny from 212.59.28.59
deny from 213.154.174.252
deny from 213.167.209.116
deny from 213.254.109.119
deny from 216.152.251.10
deny from 217.195.202.16
deny from 218.86.50.191
deny from 219.136.100.57
deny from 220.238.50.236
deny from 220.255.1.105
deny from 220.255.1.108
deny from 220.255.1.109
deny from 220.255.1.110
deny from 220.255.1.114
deny from 220.255.1.116
deny from 220.255.1.122
deny from 220.255.1.126
deny from 220.255.1.131
deny from 220.255.1.140
deny from 220.255.1.148
deny from 220.255.1.149
deny from 220.255.1.151
deny from 220.255.1.152
deny from 220.255.1.156
deny from 220.255.1.160
deny from 220.255.1.162
deny from 220.255.1.164
deny from 220.255.1.167
deny from 220.255.1.169
deny from 220.255.1.170
deny from 220.255.1.172
deny from 220.255.1.175
deny from 220.255.1.95
deny from 220.255.1.98
deny from 220.255.2.23
deny from 220.255.2.35
deny from 220.255.2.49
deny from 220.255.2.52
deny from 220.255.2.82
deny from 220.255.2.85
deny from 220.255.2.87
deny from 220.255.2.93
deny from 221.175.221.201
deny from 221.194.5.149
deny from 221.199.196.62
deny from 222.187.221.8
deny from 222.76.170.220
deny from 223.198.124.134
deny from 223.199.211.50
deny from 223.220.104.107
deny from 223.220.63.173
deny from 23.29.55.157
deny from 23.29.58.37
deny from 24.7.149.150
deny from 27.187.40.115
deny from 27.192.105.81
deny from 27.207.197.0
deny from 27.9.168.129
deny from 31.171.135.206
deny from 31.6.71.61
deny from 36.1.142.135
deny from 36.249.115.177
deny from 37.18.137.196
deny from 37.203.214.112
deny from 37.221.174.111
deny from 37.229.231.115
deny from 37.43.123.22
deny from 37.59.150.123
deny from 37.59.179.217
deny from 37.59.199.155
deny from 37.59.225.32
deny from 37.59.232.94
deny from 37.8.41.227
deny from 39.49.57.2
deny from 39.54.198.45
deny from 41.129.77.122
deny from 41.141.198.216
deny from 41.141.203.33
deny from 41.142.182.220
deny from 41.196.249.188
deny from 41.222.196.37
deny from 41.235.80.246
deny from 41.59.17.36
deny from 42.113.254.112
deny from 42.80.123.127
deny from 46.105.164.35
deny from 46.105.168.168
deny from 46.175.188.21
deny from 46.227.68.121
deny from 46.227.71.190
deny from 46.29.254.236
deny from 46.29.254.248
deny from 46.43.46.152
deny from 46.73.11.200
deny from 5.135.113.133
deny from 5.135.165.120
deny from 5.135.53.200
deny from 5.135.53.246
deny from 5.135.80.29
deny from 5.135.86.50
deny from 5.135.90.176
deny from 5.14.13.232
deny from 5.14.204.253
deny from 5.249.160.130
deny from 5.254.130.194
deny from 5.254.137.136
deny from 5.254.137.232
deny from 5.254.146.172
deny from 5.39.125.193
deny from 5.39.33.246
deny from 5.39.40.128
deny from 5.39.63.1
deny from 50.115.170.219
deny from 50.115.173.54
deny from 50.117.46.186
deny from 58.187.45.29
deny from 58.53.100.130
deny from 58.8.19.166
deny from 58.8.7.135
deny from 58.97.147.155
deny from 58.97.202.165
deny from 59.127.154.88
deny from 59.152.193.62
deny from 60.14.207.108
deny from 60.160.116.177
deny from 60.215.229.242
deny from 61.138.222.19
deny from 61.247.46.57
deny from 61.247.57.193
deny from 61.90.47.91
deny from 62.46.173.183
deny from 63.141.198.255
deny from 64.231.218.8
deny from 66.233.59.28
deny from 67.228.179.11
deny from 69.197.190.116
deny from 69.197.190.99
deny from 69.23.44.187
deny from 69.248.105.161
deny from 71.154.211.219
deny from 72.64.146.136
deny from 74.63.192.10
deny from 76.168.204.148
deny from 76.95.51.18
deny from 77.253.251.248
deny from 78.169.164.112
deny from 78.176.146.251
deny from 78.191.238.235
deny from 78.58.235.223
deny from 79.134.7.86
deny from 79.140.0.134
deny from 79.146.159.137
deny from 79.183.206.151
deny from 81.91.182.178
deny from 82.103.135.80
deny from 82.103.138.49
deny from 83.154.173.147
deny from 83.177.135.185
deny from 83.177.191.89
deny from 83.46.168.130
deny from 84.146.253.66
deny from 84.200.78.166
deny from 84.200.78.167
deny from 85.107.54.198
deny from 85.156.215.6
deny from 85.97.64.12
deny from 86.1.38.62
deny from 86.127.9.139
deny from 86.170.96.149
deny from 86.34.254.12
deny from 86.59.134.16
deny from 87.110.121.140
deny from 87.117.255.125
deny from 87.251.152.109
deny from 87.251.152.250
deny from 87.51.227.63
deny from 87.98.131.115
deny from 88.173.125.54
deny from 88.224.201.222
deny from 88.244.81.155
deny from 88.80.20.148
deny from 89.108.168.46
deny from 89.20.35.176
deny from 89.210.54.241
deny from 89.37.70.28
deny from 89.45.205.70
deny from 89.47.26.96
deny from 90.191.233.39
deny from 90.60.35.141
deny from 91.121.110.30
deny from 91.203.176.216
deny from 91.218.160.244
deny from 91.219.237.133
deny from 91.232.96.20
deny from 91.232.96.22
deny from 91.232.96.23
deny from 91.232.96.25
deny from 91.232.96.26
deny from 91.83.31.23
deny from 91.98.17.203
deny from 92.20.103.230
deny from 92.231.12.81
deny from 92.231.243.87
deny from 92.245.36.46
deny from 93.172.185.115
deny from 93.182.184.148
deny from 94.153.24.164
deny from 94.153.90.21
deny from 94.23.104.138
deny from 94.23.114.57
deny from 94.23.118.183
deny from 94.23.157.166
deny from 94.242.237.71
deny from 94.242.241.186
deny from 94.71.109.212
deny from 95.169.184.137
deny from 95.8.55.75
deny from 96.127.158.236
deny from 97.100.218.42
deny from 98.82.81.80
deny from 99.58.198.137
deny from 1.1.151.138
deny from 1.4.246.11
deny from 108.178.5.195
deny from 110.77.232.18
deny from 113.161.70.62
deny from 113.190.240.152
deny from 113.22.68.235
deny from 113.97.133.135
deny from 115.73.143.27
deny from 117.1.224.183
deny from 117.201.126.116
deny from 117.6.131.165
deny from 118.172.66.197
deny from 118.97.13.197
deny from 120.40.157.196
deny from 121.100.28.18
deny from 123.20.59.44
deny from 124.170.199.24
deny from 137.117.64.230
deny from 139.0.5.149
deny from 139.190.176.100
deny from 14.150.75.151
deny from 142.4.201.197
deny from 142.54.162.10
deny from 142.54.190.185
deny from 151.237.189.235
deny from 173.213.96.237
deny from 173.232.104.135
deny from 174.48.17.199
deny from 176.61.137.124
deny from 176.67.86.52
deny from 177.137.239.213
deny from 177.41.92.179
deny from 178.33.10.253
deny from 178.33.179.205
deny from 182.177.51.206
deny from 184.154.129.60
deny from 184.154.48.244
deny from 184.154.68.28
deny from 187.139.169.18
deny from 187.23.193.125
deny from 187.52.236.129
deny from 188.165.161.212
deny from 188.219.238.226
deny from 189.106.43.234
deny from 189.121.30.109
deny from 189.135.169.80
deny from 189.25.157.253
deny from 189.34.68.86
deny from 189.71.188.28
deny from 189.79.71.125
deny from 190.90.36.8
deny from 198.52.128.246
deny from 200.27.183.100
deny from 202.105.63.226
deny from 202.182.49.41
deny from 202.77.107.106
deny from 204.93.60.165
deny from 208.89.208.70
deny from 212.119.105.65
deny from 216.151.139.233
deny from 217.12.113.67
deny from 217.129.125.103
deny from 218.29.54.105
deny from 219.92.31.157
deny from 220.255.1.51
deny from 220.255.2.28
deny from 220.255.2.29
deny from 220.255.2.38
deny from 220.255.2.71
deny from 220.255.2.72
deny from 220.255.2.78
deny from 24.234.199.48
deny from 37.59.145.113
deny from 37.59.180.141
deny from 41.141.215.217
deny from 41.142.30.175
deny from 41.143.55.105
deny from 41.42.102.88
deny from 46.4.123.200
deny from 46.4.34.4
deny from 49.49.201.188
deny from 5.135.113.232
deny from 5.135.53.225
deny from 5.135.53.238
deny from 5.135.86.54
deny from 5.14.123.239
deny from 5.248.163.184
deny from 5.249.160.60
deny from 5.254.139.189
deny from 50.115.168.130
deny from 62.141.38.222
deny from 62.173.37.202
deny from 69.175.87.166
deny from 74.89.87.85
deny from 77.78.2.205
deny from 78.0.106.201
deny from 78.191.117.248
deny from 81.201.49.34
deny from 82.200.254.162
deny from 83.26.178.100
deny from 84.232.20.72
deny from 84.234.221.22
deny from 85.178.177.34
deny from 85.237.211.251
deny from 88.13.33.34
deny from 88.131.67.22
deny from 88.249.244.111
deny from 89.218.160.50
deny from 89.46.100.102
deny from 91.232.96.24
deny from 92.224.175.122
deny from 96.127.137.251
deny from 96.9.155.56
deny from 98.242.94.11
deny from 99.247.213.176
deny from 1.22.245.91
deny from 1.26.31.80
deny from 1.4.224.98
deny from 1.4.229.143
deny from 1.4.239.243
deny from 1.55.80.191
deny from 101.80.123.101
deny from 101.99.23.251
deny from 107.6.113.82
deny from 108.163.232.171
deny from 110.114.149.38
deny from 110.186.165.98
deny from 110.77.232.127
deny from 111.145.13.224
deny from 111.161.30.173
deny from 111.73.45.38
deny from 111.79.227.237
deny from 112.198.64.81
deny from 112.200.153.129
deny from 112.207.158.46
deny from 112.246.46.218
deny from 112.247.114.129
deny from 113.23.6.142
deny from 113.64.112.22
deny from 115.249.34.194
deny from 115.72.225.36
deny from 116.23.185.52
deny from 116.231.161.2
deny from 117.223.238.69
deny from 117.242.189.197
deny from 117.67.41.143
deny from 118.174.61.9
deny from 120.206.101.252
deny from 122.173.201.57
deny from 123.17.166.246
deny from 123.20.34.170
deny from 123.24.75.118
deny from 123.24.85.49
deny from 14.110.247.66
deny from 14.110.255.3
deny from 140.249.36.228
deny from 142.234.104.90
deny from 147.255.162.134
deny from 147.255.162.175
deny from 147.255.162.251
deny from 151.237.189.234
deny from 163.179.243.95
deny from 171.4.108.113
deny from 173.0.53.157
deny from 173.0.61.19
deny from 173.234.196.218
deny from 173.234.249.226
deny from 176.31.212.185
deny from 176.8.161.242
deny from 177.44.7.160
deny from 177.83.66.80
deny from 177.9.11.217
deny from 177.96.12.147
deny from 177.96.25.195
deny from 178.255.148.10
deny from 178.32.231.201
deny from 182.177.50.18
deny from 183.1.104.34
deny from 184.146.236.44
deny from 184.154.100.90
deny from 184.154.114.179
deny from 184.154.47.12
deny from 184.22.177.102
deny from 184.22.177.103
deny from 184.22.177.105
deny from 184.22.223.116
deny from 184.22.26.2
deny from 186.200.159.83
deny from 186.215.145.60
deny from 186.215.7.199
deny from 187.160.124.162
deny from 187.40.114.3
deny from 187.5.248.250
deny from 187.56.64.76
deny from 187.78.184.202
deny from 188.165.33.20
deny from 188.40.253.76
deny from 188.44.11.51
deny from 188.81.229.245
deny from 189.33.59.190
deny from 189.38.3.122
deny from 189.47.69.235
deny from 189.63.97.99
deny from 189.78.14.196
deny from 189.78.216.230
deny from 190.52.124.36
deny from 190.79.128.214
deny from 192.119.144.250
deny from 192.119.151.150
deny from 192.95.44.41
deny from 193.200.150.125
deny from 193.254.230.222
deny from 194.44.23.234
deny from 198.143.130.138
deny from 198.143.145.236
deny from 198.143.156.5
deny from 198.245.63.121
deny from 198.27.83.187
deny from 198.50.136.118
deny from 199.116.113.114
deny from 199.180.134.127
deny from 2.135.238.18
deny from 2.146.112.202
deny from 2.146.112.232
deny from 2.146.166.228
deny from 2.146.254.57
deny from 2.30.166.237
deny from 2.99.190.132
deny from 200.158.109.250
deny from 201.28.102.170
deny from 201.58.78.221
deny from 201.62.91.150
deny from 201.64.121.31
deny from 201.65.111.146
deny from 201.82.88.2
deny from 202.105.91.150
deny from 209.107.208.178
deny from 212.59.28.53
deny from 216.172.139.67
deny from 218.17.182.18
deny from 219.136.101.251
deny from 219.136.103.220
deny from 219.234.82.72
deny from 220.160.194.58
deny from 220.163.184.120
deny from 220.176.155.68
deny from 220.255.2.32
deny from 220.255.2.63
deny from 220.255.2.68
deny from 220.255.2.91
deny from 221.175.216.164
deny from 24.0.170.194
deny from 27.153.169.63
deny from 31.171.134.56
deny from 31.185.172.43
deny from 31.43.132.47
deny from 31.6.71.10
deny from 36.231.47.122
deny from 37.201.91.116
deny from 37.203.214.38
deny from 37.229.235.194
deny from 37.59.90.108
deny from 39.54.52.124
deny from 41.141.204.249
deny from 41.141.49.143
deny from 41.142.37.245
deny from 41.142.71.130
deny from 42.114.79.37
deny from 42.114.8.237
deny from 42.119.156.0
deny from 42.120.18.80
deny from 46.105.244.242
deny from 46.116.170.128
deny from 46.159.1.70
deny from 46.227.71.138
deny from 46.239.13.71
deny from 46.252.42.2
deny from 49.204.137.56
deny from 5.12.189.245
deny from 5.254.133.156
deny from 5.254.141.187
deny from 5.34.242.99
deny from 5.39.113.12
deny from 5.39.33.250
deny from 50.115.169.247
deny from 50.115.173.73
deny from 50.70.98.115
deny from 58.11.113.210
deny from 58.186.70.165
deny from 61.145.121.124
deny from 61.247.57.201
deny from 61.90.65.172
deny from 68.58.14.140
deny from 69.175.8.166
deny from 69.197.190.78
deny from 69.46.94.228
deny from 76.110.117.13
deny from 76.173.74.36
deny from 78.166.73.181
deny from 78.185.170.135
deny from 8.36.225.195
deny from 8.36.225.82
deny from 80.202.157.215
deny from 80.246.133.144
deny from 80.39.50.171
deny from 83.27.182.206
deny from 83.4.112.47
deny from 83.5.78.155
deny from 85.103.251.108
deny from 85.237.212.71
deny from 85.237.212.9
deny from 85.97.171.4
deny from 86.127.137.94
deny from 86.127.16.175
deny from 86.151.138.236
deny from 86.171.191.21
deny from 86.59.169.228
deny from 87.236.233.150
deny from 88.135.140.223
deny from 88.199.246.163
deny from 88.232.17.234
deny from 88.232.236.44
deny from 88.232.91.40
deny from 88.80.20.178
deny from 88.80.21.213
deny from 89.216.219.141
deny from 90.195.58.182
deny from 91.176.235.254
deny from 91.202.164.29
deny from 91.207.208.226
deny from 91.236.75.28
deny from 91.237.249.248
deny from 91.238.134.234
deny from 92.231.242.143
deny from 93.137.112.111
deny from 93.182.186.187
deny from 94.159.229.192
deny from 94.242.237.85
deny from 95.154.74.14
deny from 96.127.166.85
deny from 96.9.155.51
deny from 99.198.125.130
deny from 1.25.245.166
deny from 1.4.225.235
deny from 1.4.226.104
deny from 1.4.228.104
deny from 1.4.230.130
deny from 1.4.233.4
deny from 1.4.234.111
deny from 1.4.238.176
deny from 1.4.238.80
deny from 1.4.243.162
deny from 1.4.245.251
deny from 1.4.245.78
deny from 1.4.249.97
deny from 1.4.255.177
deny from 1.53.29.239
deny from 1.54.170.14
deny from 101.108.72.46
deny from 103.11.52.116
deny from 103.28.36.35
deny from 108.163.197.62
deny from 108.163.228.131
deny from 108.163.252.211
deny from 108.178.13.154
deny from 108.21.102.199
deny from 108.217.229.6
deny from 108.235.45.255
deny from 108.239.121.199
deny from 108.27.246.225
deny from 108.6.226.190
deny from 109.123.110.125
deny from 109.172.25.251
deny from 109.230.63.219
deny from 109.236.220.98
deny from 109.65.162.222
deny from 109.92.233.2
deny from 109.93.19.226
deny from 110.115.157.225
deny from 110.136.184.93
deny from 110.137.238.66
deny from 110.174.67.21
deny from 110.85.107.9
deny from 111.118.187.25
deny from 111.15.203.194
deny from 112.192.48.243
deny from 112.198.64.75
deny from 113.119.53.2
deny from 113.161.198.119
deny from 113.162.246.89
deny from 113.179.24.233
deny from 113.179.26.72
deny from 113.185.6.60
deny from 113.22.180.224
deny from 113.23.61.201
deny from 114.106.193.86
deny from 114.79.63.109
deny from 115.132.93.71
deny from 115.248.189.249
deny from 115.87.236.161
deny from 116.21.64.157
deny from 117.1.236.232
deny from 117.223.225.118
deny from 117.223.225.51
deny from 117.223.229.218
deny from 117.26.118.233
deny from 118.168.97.146
deny from 118.172.75.111
deny from 118.172.95.230
deny from 118.174.54.175
deny from 118.68.13.131
deny from 118.71.233.209
deny from 118.71.28.25
deny from 118.95.119.78
deny from 118.97.212.177
deny from 118.99.70.29
deny from 119.117.99.97
deny from 119.157.149.142
deny from 119.187.14.82
deny from 120.2.97.83
deny from 120.33.240.166
deny from 120.43.7.246
deny from 120.56.232.26
deny from 122.121.242.124
deny from 122.164.69.207
deny from 122.172.11.175
deny from 122.172.23.67
deny from 122.172.44.50
deny from 122.172.47.67
deny from 122.174.120.46
deny from 122.174.157.183
deny from 122.176.41.5
deny from 122.178.167.93
deny from 122.235.188.180
deny from 123.128.32.41
deny from 123.136.106.76
deny from 123.16.226.139
deny from 123.20.183.17
deny from 123.24.175.221
deny from 123.243.129.52
deny from 123.88.185.71
deny from 124.229.154.229
deny from 124.66.139.118
deny from 124.73.1.210
deny from 124.83.54.206
deny from 125.163.126.200
deny from 125.163.73.56
deny from 125.166.204.10
deny from 125.216.144.199
deny from 128.73.195.177
deny from 130.185.156.141
deny from 14.145.233.63
deny from 14.145.236.112
deny from 14.145.236.157
deny from 14.145.239.83
deny from 14.150.72.37
deny from 14.150.74.230
deny from 14.150.75.120
deny from 14.161.44.101
deny from 142.0.34.153
deny from 142.234.104.37
deny from 142.255.79.165
deny from 142.4.117.121
deny from 142.4.117.37
deny from 142.54.190.163
deny from 142.54.190.214
deny from 143.107.213.4
deny from 147.255.56.199
deny from 151.224.43.230
deny from 151.237.190.196
deny from 151.237.191.204
deny from 151.237.191.209
deny from 159.224.85.113
deny from 171.251.99.56
deny from 171.6.171.105
deny from 173.0.58.17
deny from 173.0.62.241
deny from 173.16.135.138
deny from 173.208.103.37
deny from 173.208.130.241
deny from 173.208.36.37
deny from 173.208.46.156
deny from 173.213.109.37
deny from 173.213.96.88
deny from 173.232.88.144
deny from 173.232.88.43
deny from 173.234.196.70
deny from 173.234.225.112
deny from 173.234.249.118
deny from 173.237.179.86
deny from 173.245.64.73
deny from 173.254.245.67
deny from 173.44.191.59
deny from 173.65.250.223
deny from 174.122.221.224
deny from 174.34.178.182
deny from 175.110.203.177
deny from 175.166.10.128
deny from 176.227.197.69
deny from 176.31.49.44
deny from 176.31.59.241
deny from 176.33.219.222
deny from 176.61.136.203
deny from 176.67.84.177
deny from 176.67.84.185
deny from 176.67.86.104
deny from 176.9.221.103
deny from 177.134.93.21
deny from 177.143.192.49
deny from 177.177.194.160
deny from 177.2.56.173
deny from 177.67.99.236
deny from 177.73.136.5
deny from 177.97.188.202
deny from 178.136.209.73
deny from 178.149.26.178
deny from 178.159.123.154
deny from 178.32.231.37
deny from 178.33.106.95
deny from 178.42.189.48
deny from 178.63.199.234
deny from 178.79.152.172
deny from 180.151.114.126
deny from 180.211.189.105
deny from 181.208.66.212
deny from 182.178.183.149
deny from 182.183.182.116
deny from 182.183.234.23
deny from 182.34.114.136
deny from 182.89.214.232
deny from 183.12.225.85
deny from 183.81.78.228
deny from 183.81.89.0
deny from 183.82.1.148
deny from 183.82.22.199
deny from 183.82.22.36
deny from 183.91.4.141
deny from 184.154.114.77
deny from 184.154.115.5
deny from 184.154.202.26
deny from 184.154.204.164
deny from 184.154.252.214
deny from 184.154.48.245
deny from 184.154.61.74
deny from 184.154.74.212
deny from 184.164.140.162
deny from 184.22.151.156
deny from 184.22.151.189
deny from 184.22.157.35
deny from 184.22.177.104
deny from 184.22.221.163
deny from 184.22.221.179
deny from 184.22.221.180
deny from 184.22.221.182
deny from 184.22.221.185
deny from 184.22.58.171
deny from 184.82.188.100
deny from 184.82.92.232
deny from 185.17.27.86
deny from 185.3.134.244
deny from 186.212.200.104
deny from 186.214.121.11
deny from 186.214.255.58
deny from 186.218.108.152
deny from 186.247.155.6
deny from 186.94.61.146
deny from 187.12.186.10
deny from 187.134.195.129
deny from 187.139.203.175
deny from 187.22.29.198
deny from 187.34.119.241
deny from 187.41.177.34
deny from 187.52.154.116
deny from 187.56.34.56
deny from 187.57.51.103
deny from 187.58.85.18
deny from 187.65.58.249
deny from 187.78.99.221
deny from 187.84.95.254
deny from 187.86.75.35
deny from 188.165.151.174
deny from 188.165.73.28
deny from 188.165.83.233
deny from 188.223.150.3
deny from 188.223.157.37
deny from 188.23.114.30
deny from 188.25.92.158
deny from 188.26.145.58
deny from 188.56.22.11
deny from 188.76.64.24
deny from 189.107.216.10
deny from 189.107.38.36
deny from 189.107.4.130
deny from 189.110.54.137
deny from 189.111.125.26
deny from 189.123.33.219
deny from 189.14.239.131
deny from 189.18.20.38
deny from 189.182.149.193
deny from 189.186.143.91
deny from 189.24.90.54
deny from 189.29.245.234
deny from 189.30.142.55
deny from 189.44.19.2
deny from 189.50.124.2
deny from 189.71.102.160
deny from 189.71.215.40
deny from 189.72.102.141
deny from 189.73.59.23
deny from 189.75.4.107
deny from 189.78.204.136
deny from 189.79.142.232
deny from 190.213.62.29
deny from 190.69.143.9
deny from 192.210.214.209
deny from 192.74.231.129
deny from 193.107.25.10
deny from 193.16.101.136
deny from 194.46.36.240
deny from 195.13.38.218
deny from 195.96.77.186
deny from 196.206.137.192
deny from 196.217.206.14
deny from 198.143.143.45
deny from 198.143.144.155
deny from 198.143.144.179
deny from 198.144.177.156
deny from 198.175.124.45
deny from 199.101.102.4
deny from 199.101.102.7
deny from 199.119.226.7
deny from 199.15.234.104
deny from 199.180.119.219
deny from 199.192.203.137
deny from 2.133.92.242
deny from 2.146.207.238
deny from 2.146.72.38
deny from 2.146.88.14
deny from 2.147.9.197
deny from 2.233.207.58
deny from 2.82.102.219
deny from 200.133.126.45
deny from 200.142.112.192
deny from 200.151.77.34
deny from 200.158.50.94
deny from 200.170.98.60
deny from 200.19.220.2
deny from 200.196.182.210
deny from 200.233.105.130
deny from 200.246.162.131
deny from 201.1.142.70
deny from 201.11.103.249
deny from 201.127.18.49
deny from 201.13.62.3
deny from 201.140.157.55
deny from 201.17.225.89
deny from 201.19.85.199
deny from 201.34.143.175
deny from 201.37.116.179
deny from 201.40.117.41
deny from 201.41.85.114
deny from 201.51.216.145
deny from 201.55.31.81
deny from 201.58.161.238
deny from 201.6.106.72
deny from 201.67.139.118
deny from 201.67.241.194
deny from 201.68.154.79
deny from 201.73.78.20
deny from 201.78.182.2
deny from 201.79.21.132
deny from 201.8.104.215
deny from 201.94.210.226
deny from 202.103.132.35
deny from 202.105.60.165
deny from 202.105.62.27
deny from 202.169.224.62
deny from 202.22.203.88
deny from 202.29.24.196
deny from 202.5.134.82
deny from 203.153.223.72
deny from 203.93.104.10
deny from 204.124.182.242
deny from 205.164.60.85
deny from 206.214.82.151
deny from 207.181.224.192
deny from 207.223.31.237
deny from 208.115.207.235
deny from 208.89.210.241
deny from 208.89.210.33
deny from 208.89.211.130
deny from 208.89.211.198
deny from 209.104.216.230
deny from 210.186.246.7
deny from 210.213.58.96
deny from 212.118.232.84
deny from 212.59.16.107
deny from 213.163.65.50
deny from 213.57.222.157
deny from 213.98.222.27
deny from 216.59.18.119
deny from 216.59.18.39
deny from 218.28.140.186
deny from 219.136.101.205
deny from 219.234.82.81
deny from 219.234.82.84
deny from 220.170.247.190
deny from 220.170.251.9
deny from 220.170.254.72
deny from 220.255.1.168
deny from 220.255.1.35
deny from 220.255.1.41
deny from 220.255.1.45
deny from 220.255.1.47
deny from 220.255.2.26
deny from 220.255.2.36
deny from 220.255.2.41
deny from 220.255.2.46
deny from 220.255.2.47
deny from 220.255.2.48
deny from 220.255.2.50
deny from 220.255.2.55
deny from 220.255.2.59
deny from 220.255.2.60
deny from 220.255.2.84
deny from 220.255.2.92
deny from 221.172.137.46
deny from 221.210.5.30
deny from 221.221.182.245
deny from 222.252.168.171
deny from 222.77.206.151
deny from 222.85.130.188
deny from 222.85.131.38
deny from 223.203.188.33
deny from 223.205.3.7
deny from 223.246.84.209
deny from 23.19.163.133
deny from 23.27.129.179
deny from 24.49.136.230
deny from 27.153.204.168
deny from 27.55.149.68
deny from 27.96.119.230
deny from 31.185.194.185
deny from 31.23.114.55
deny from 31.51.71.176
deny from 36.72.119.171
deny from 36.76.166.100
deny from 37.128.105.162
deny from 37.203.214.137
deny from 37.203.214.140
deny from 37.203.214.143
deny from 37.220.1.25
deny from 37.229.225.219
deny from 37.229.229.36
deny from 37.229.238.160
deny from 37.59.150.96
deny from 37.59.164.227
deny from 37.59.171.222
deny from 37.59.205.106
deny from 37.59.205.107
deny from 37.59.238.60
deny from 37.59.240.13
deny from 37.59.91.56
deny from 37.59.91.66
deny from 37.72.190.149
deny from 38.69.196.245
deny from 39.41.136.111
deny from 39.54.4.182
deny from 41.129.114.173
deny from 41.141.219.38
deny from 41.142.123.213
deny from 41.143.129.165
deny from 41.143.40.187
deny from 41.206.15.52
deny from 41.215.162.61
deny from 41.235.75.53
deny from 41.237.44.202
deny from 41.249.48.126
deny from 41.250.58.215
deny from 41.251.195.240
deny from 41.251.195.3
deny from 41.32.112.97
deny from 42.116.151.246
deny from 42.116.167.4
deny from 42.119.162.199
deny from 42.119.168.63
deny from 46.105.165.225
deny from 46.105.187.248
deny from 46.105.239.129
deny from 46.119.145.177
deny from 46.134.201.143
deny from 46.165.208.207
deny from 46.198.116.65
deny from 46.21.149.10
deny from 46.227.215.98
deny from 46.32.14.238
deny from 46.4.241.92
deny from 46.47.100.94
deny from 46.5.254.109
deny from 49.206.157.217
deny from 49.212.129.130
deny from 5.12.113.219
deny from 5.13.211.42
deny from 5.135.113.137
deny from 5.135.218.184
deny from 5.135.47.114
deny from 5.135.85.94
deny from 5.14.123.88
deny from 5.144.176.166
deny from 5.144.176.69
deny from 5.164.165.19
deny from 5.2.67.139
deny from 5.249.160.50
deny from 5.249.161.123
deny from 5.254.133.160
deny from 5.254.145.116
deny from 5.34.247.115
deny from 5.39.125.200
deny from 5.39.125.205
deny from 5.39.43.66
deny from 5.39.7.250
deny from 5.39.89.140
deny from 5.54.41.210
deny from 5.9.209.228
deny from 50.115.165.94
deny from 50.115.169.207
deny from 50.115.175.111
deny from 50.117.74.208
deny from 50.21.140.44
deny from 58.11.78.202
deny from 58.16.207.164
deny from 58.243.91.126
deny from 59.177.9.143
deny from 59.50.122.21
deny from 60.169.77.114
deny from 60.225.171.61
deny from 60.225.76.89
deny from 60.4.98.14
deny from 63.141.199.120
deny from 63.141.244.170
deny from 64.237.49.201
deny from 66.248.194.223
deny from 67.163.24.90
deny from 67.170.192.203
deny from 67.209.190.56
deny from 67.209.190.58
deny from 67.209.190.73
deny from 67.23.169.89
deny from 67.23.169.90
deny from 68.0.132.95
deny from 69.175.8.237
deny from 69.175.94.53
deny from 69.249.234.18
deny from 69.64.50.192
deny from 71.135.43.169
deny from 71.20.96.246
deny from 72.10.169.212
deny from 74.129.141.27
deny from 74.221.215.108
deny from 74.221.217.128
deny from 74.221.219.25
deny from 76.173.67.144
deny from 76.224.229.4
deny from 76.91.56.220
deny from 77.100.89.11
deny from 77.253.246.250
deny from 77.29.221.27
deny from 77.3.175.53
deny from 77.91.162.237
deny from 77.97.234.136
deny from 78.131.216.103
deny from 78.132.169.126
deny from 78.138.107.1
deny from 78.173.20.177
deny from 78.188.65.191
deny from 78.56.204.100
deny from 78.81.23.7
deny from 78.92.54.24
deny from 78.98.143.207
deny from 79.119.144.220
deny from 79.143.190.97
deny from 8.36.224.81
deny from 80.59.233.83
deny from 80.93.217.41
deny from 80.93.217.42
deny from 81.172.86.78
deny from 81.200.127.221
deny from 81.242.49.181
deny from 83.144.112.202
deny from 83.29.211.20
deny from 83.66.165.247
deny from 85.102.174.2
deny from 85.177.94.134
deny from 85.181.224.88
deny from 85.186.115.2
deny from 85.237.211.225
deny from 85.237.212.148
deny from 85.64.164.23
deny from 85.97.57.94
deny from 86.122.104.148
deny from 86.126.71.235
deny from 86.127.23.135
deny from 86.15.202.144
deny from 86.160.19.27
deny from 86.164.84.206
deny from 86.23.77.175
deny from 86.59.209.202
deny from 86.9.234.34
deny from 86.91.204.249
deny from 87.100.224.199
deny from 87.112.52.218
deny from 87.223.8.52
deny from 87.236.209.29
deny from 88.231.18.17
deny from 88.231.233.36
deny from 88.231.27.156
deny from 88.80.20.136
deny from 88.80.20.180
deny from 88.80.20.224
deny from 88.80.21.184
deny from 89.154.214.167
deny from 89.171.170.178
deny from 89.216.196.125
deny from 89.218.101.18
deny from 89.40.166.111
deny from 89.68.53.246
deny from 90.195.58.92
deny from 90.211.132.18
deny from 91.108.178.163
deny from 91.115.230.172
deny from 91.121.82.5
deny from 91.180.80.53
deny from 91.218.98.67
deny from 91.236.74.152
deny from 92.113.217.242
deny from 92.224.175.226
deny from 93.100.185.150
deny from 93.177.196.152
deny from 93.182.147.150
deny from 93.41.222.217
deny from 94.123.203.3
deny from 94.209.236.197
deny from 94.226.162.245
deny from 94.71.54.208
deny from 95.112.132.126
deny from 95.77.97.146
deny from 96.127.137.61
deny from 96.253.50.158
deny from 96.43.131.53
deny from 96.9.155.55
deny from 96.9.155.58
deny from 96.9.155.62
deny from 99.118.24.104
deny from 99.198.125.122
deny from 99.198.125.123
deny from 99.198.125.124
deny from 1.22.244.87
deny from 1.4.228.30
deny from 1.4.232.140
deny from 1.4.233.81
deny from 103.10.22.231
deny from 108.178.29.210
deny from 108.27.244.11
deny from 108.62.139.195
deny from 108.62.233.46
deny from 108.62.82.224
deny from 109.199.154.31
deny from 109.73.65.146
deny from 110.113.59.95
deny from 110.211.192.139
deny from 112.198.64.73
deny from 112.198.64.85
deny from 112.198.64.93
deny from 113.172.197.78
deny from 113.190.193.30
deny from 113.212.71.245
deny from 114.79.1.235
deny from 115.192.214.231
deny from 115.59.184.188
deny from 116.202.70.167
deny from 116.73.216.248
deny from 117.192.107.17
deny from 117.195.204.249
deny from 118.96.168.171
deny from 118.97.212.179
deny from 119.157.139.87
deny from 119.157.186.89
deny from 120.42.90.29
deny from 121.205.244.252
deny from 123.19.212.224
deny from 135.0.24.71
deny from 14.147.207.83
deny from 14.150.73.228
deny from 142.91.79.29
deny from 151.237.189.150
deny from 151.237.190.159
deny from 151.250.246.203
deny from 172.162.112.17
deny from 173.213.97.32
deny from 173.234.232.221
deny from 173.236.54.102
deny from 173.245.64.14
deny from 175.51.43.42
deny from 176.31.139.221
deny from 176.61.136.216
deny from 176.67.81.81
deny from 176.67.84.169
deny from 177.138.197.154
deny from 177.3.202.249
deny from 178.127.208.157
deny from 178.203.76.111
deny from 182.177.240.207
deny from 182.185.132.65
deny from 182.186.112.7
deny from 182.186.179.244
deny from 183.36.73.165
deny from 183.5.141.179
deny from 183.82.20.14
deny from 184.154.133.218
deny from 184.154.135.4
deny from 184.154.4.102
deny from 184.154.7.26
deny from 184.22.152.26
deny from 184.22.157.36
deny from 184.22.221.162
deny from 184.22.221.181
deny from 184.22.221.187
deny from 184.95.45.174
deny from 186.91.133.103
deny from 187.194.177.252
deny from 187.241.154.65
deny from 187.74.195.51
deny from 188.165.187.72
deny from 188.165.42.99
deny from 188.165.68.160
deny from 188.26.89.126
deny from 189.111.200.16
deny from 189.14.234.163
deny from 189.149.120.67
deny from 189.24.30.35
deny from 189.31.242.187
deny from 189.41.194.88
deny from 189.59.50.105
deny from 189.79.137.129
deny from 190.251.146.124
deny from 192.119.144.201
deny from 192.74.234.202
deny from 195.13.38.211
deny from 198.147.21.42
deny from 198.71.81.151
deny from 198.74.113.204
deny from 199.180.135.166
deny from 2.83.89.121
deny from 200.102.217.160
deny from 200.66.11.20
deny from 200.66.12.126
deny from 201.231.41.248
deny from 201.24.116.83
deny from 201.26.214.239
deny from 201.8.8.146
deny from 202.105.63.141
deny from 204.77.14.198
deny from 208.89.210.59
deny from 209.134.42.238
deny from 209.54.40.5
deny from 211.162.73.122
deny from 213.22.144.46
deny from 216.152.249.243
deny from 219.136.101.250
deny from 220.255.2.74
deny from 222.245.119.29
deny from 223.207.80.22
deny from 27.7.216.160
deny from 37.229.225.189
deny from 37.59.165.101
deny from 37.59.240.20
deny from 37.72.190.140
deny from 39.53.107.214
deny from 39.53.122.113
deny from 39.53.215.240
deny from 41.141.54.218
deny from 41.141.56.120
deny from 41.234.235.159
deny from 41.235.56.184
deny from 41.67.2.2
deny from 5.135.113.229
deny from 5.135.137.23
deny from 5.135.180.102
deny from 5.144.176.131
deny from 5.39.113.6
deny from 5.9.186.236
deny from 50.115.165.93
deny from 58.186.226.20
deny from 58.20.98.56
deny from 60.186.111.101
deny from 64.120.239.173
deny from 65.181.127.206
deny from 66.187.64.225
deny from 66.187.68.176
deny from 66.23.228.16
deny from 66.55.132.242
deny from 67.184.102.161
deny from 67.209.190.57
deny from 67.82.122.216
deny from 69.197.190.94
deny from 69.35.184.55
deny from 69.35.184.60
deny from 69.35.184.62
deny from 71.219.218.158
deny from 76.244.148.201
deny from 78.161.30.1
deny from 78.172.2.2
deny from 78.172.65.24
deny from 78.188.180.3
deny from 79.116.193.219
deny from 79.143.9.238
deny from 81.102.102.190
deny from 81.184.59.84
deny from 81.219.133.205
deny from 82.42.241.138
deny from 83.119.101.240
deny from 85.237.211.4
deny from 85.243.247.63
deny from 85.73.209.238
deny from 85.97.239.86
deny from 86.120.84.67
deny from 86.122.34.0
deny from 86.143.7.108
deny from 86.183.86.169
deny from 87.11.255.108
deny from 87.98.142.73
deny from 88.226.231.240
deny from 88.242.128.130
deny from 88.244.157.36
deny from 88.245.241.8
deny from 89.218.68.122
deny from 89.69.214.137
deny from 92.83.186.32
deny from 94.23.176.173
deny from 94.242.241.174
deny from 95.133.52.80
deny from 95.173.183.231
deny from 95.5.51.198
deny from 96.127.137.60
deny from 96.232.94.178
deny from 96.44.161.183
deny from 97.103.189.16
deny from 1.22.195.133
deny from 1.4.230.34
deny from 1.4.245.153
deny from 1.54.127.244
deny from 1.54.185.20
deny from 1.55.91.188
deny from 1.58.29.173
deny from 103.12.9.158
deny from 105.158.99.214
deny from 108.170.18.36
deny from 108.177.194.116
deny from 108.178.45.212
deny from 108.27.246.44
deny from 109.150.100.14
deny from 109.163.238.118
deny from 109.80.140.162
deny from 110.85.127.141
deny from 111.162.246.159
deny from 111.73.45.55
deny from 112.198.64.91
deny from 112.207.145.145
deny from 112.210.127.50
deny from 112.241.201.90
deny from 112.252.209.183
deny from 113.1.230.153
deny from 113.161.204.188
deny from 113.173.127.164
deny from 113.23.15.179
deny from 113.26.15.253
deny from 113.64.114.126
deny from 113.64.115.116
deny from 113.97.138.125
deny from 113.97.138.61
deny from 114.127.254.116
deny from 114.79.29.214
deny from 115.205.2.172
deny from 115.253.89.149
deny from 117.1.238.96
deny from 117.22.228.82
deny from 117.6.131.191
deny from 117.7.69.163
deny from 118.70.182.119
deny from 118.97.255.107
deny from 119.114.32.168
deny from 119.157.242.145
deny from 119.235.54.94
deny from 119.62.72.202
deny from 120.43.31.0
deny from 120.59.85.225
deny from 122.159.239.74
deny from 122.245.176.226
deny from 122.60.21.110
deny from 123.145.185.91
deny from 123.186.116.114
deny from 123.19.161.56
deny from 123.26.58.141
deny from 124.95.165.250
deny from 128.72.93.214
deny from 139.194.166.9
deny from 139.208.147.184
deny from 14.150.72.13
deny from 14.150.74.61
deny from 14.150.75.114
deny from 14.213.155.73
deny from 14.217.111.105
deny from 142.0.137.97
deny from 142.0.34.156
deny from 142.0.34.158
deny from 142.0.34.163
deny from 142.0.34.175
deny from 142.4.211.224
deny from 142.54.190.161
deny from 142.91.62.130
deny from 142.91.62.70
deny from 147.255.162.165
deny from 147.31.182.137
deny from 151.237.189.231
deny from 151.237.190.191
deny from 151.237.191.198
deny from 159.205.95.5
deny from 168.61.12.184
deny from 171.116.135.223
deny from 172.129.107.121
deny from 172.190.23.196
deny from 173.0.49.195
deny from 173.0.61.17
deny from 173.213.96.99
deny from 173.213.97.223
deny from 173.232.104.233
deny from 173.234.226.67
deny from 173.236.26.12
deny from 173.236.56.29
deny from 173.236.61.173
deny from 173.245.64.59
deny from 173.248.153.110
deny from 173.254.206.106
deny from 173.27.108.76
deny from 175.144.253.7
deny from 175.18.232.48
deny from 176.31.159.129
deny from 176.31.47.91
deny from 176.31.57.8
deny from 176.67.81.113
deny from 176.67.84.11
deny from 176.67.84.153
deny from 176.67.84.161
deny from 176.67.84.248
deny from 176.67.86.24
deny from 176.67.86.4
deny from 176.67.87.20
deny from 176.67.87.24
deny from 176.9.20.42
deny from 177.1.170.133
deny from 177.132.0.145
deny from 177.134.45.236
deny from 177.177.238.227
deny from 177.202.68.50
deny from 177.47.130.114
deny from 177.55.128.18
deny from 177.7.78.86
deny from 177.99.43.146
deny from 178.150.204.3
deny from 178.17.166.82
deny from 178.18.88.233
deny from 178.32.254.79
deny from 178.32.31.46
deny from 178.32.31.47
deny from 178.32.41.67
deny from 178.33.20.188
deny from 178.33.250.224
deny from 179.236.13.126
deny from 179.236.160.240
deny from 180.126.246.6
deny from 180.151.36.168
deny from 180.151.36.170
deny from 180.254.29.104
deny from 182.112.243.6
deny from 182.186.13.5
deny from 183.12.224.34
deny from 183.12.225.72
deny from 183.12.226.179
deny from 183.12.227.10
deny from 184.154.105.21
deny from 184.154.154.242
deny from 184.154.221.27
deny from 184.154.253.77
deny from 184.154.255.62
deny from 184.154.7.98
deny from 184.154.9.130
deny from 184.22.132.47
deny from 184.22.157.33
deny from 184.22.157.40
deny from 184.22.219.137
deny from 184.82.123.114
deny from 184.82.253.149
deny from 185.8.105.105
deny from 186.16.64.26
deny from 186.193.82.100
deny from 186.212.54.239
deny from 186.212.76.252
deny from 186.232.58.199
deny from 186.244.106.254
deny from 187.105.87.125
deny from 187.108.28.62
deny from 187.114.227.161
deny from 187.131.214.175
deny from 187.139.82.244
deny from 187.14.114.91
deny from 187.14.200.172
deny from 187.188.175.9
deny from 187.21.164.219
deny from 187.5.250.10
deny from 187.55.50.38
deny from 187.58.112.43
deny from 187.6.197.139
deny from 187.62.117.85
deny from 187.74.205.62
deny from 187.95.106.9
deny from 188.143.232.31
deny from 188.213.164.146
deny from 188.58.177.178
deny from 189.10.147.153
deny from 189.104.71.146
deny from 189.105.28.163
deny from 189.113.76.203
deny from 189.115.23.68
deny from 189.12.33.156
deny from 189.124.28.20
deny from 189.187.187.224
deny from 189.19.0.49
deny from 189.2.201.130
deny from 189.25.117.150
deny from 189.25.153.50
deny from 189.35.54.145
deny from 189.48.227.18
deny from 189.69.114.42
deny from 189.79.81.140
deny from 189.81.46.193
deny from 189.82.80.194
deny from 190.107.133.243
deny from 192.119.144.210
deny from 192.119.148.153
deny from 192.165.17.2
deny from 192.30.32.131
deny from 192.74.234.201
deny from 192.95.38.177
deny from 193.234.166.238
deny from 194.103.2.243
deny from 194.71.222.129
deny from 194.71.223.165
deny from 194.71.224.122
deny from 194.71.225.218
deny from 195.68.150.50
deny from 197.237.9.53
deny from 198.143.135.22
deny from 198.143.143.140
deny from 198.143.143.76
deny from 198.143.144.162
deny from 198.143.144.172
deny from 198.143.144.174
deny from 198.143.145.234
deny from 198.143.162.245
deny from 198.143.162.246
deny from 198.143.165.116
deny from 198.148.112.117
deny from 198.167.136.246
deny from 198.175.124.230
deny from 198.20.70.35
deny from 198.20.70.38
deny from 198.23.132.20
deny from 198.74.121.141
deny from 199.101.102.54
deny from 199.114.222.251
deny from 199.188.105.236
deny from 199.192.238.138
deny from 2.135.237.106
deny from 2.135.237.250
deny from 2.147.139.173
deny from 2.147.165.252
deny from 200.155.83.174
deny from 200.163.14.145
deny from 200.179.192.8
deny from 200.198.136.144
deny from 200.96.190.93
deny from 201.147.113.238
deny from 201.2.53.39
deny from 201.212.199.13
deny from 201.27.217.143
deny from 201.3.3.188
deny from 201.34.187.220
deny from 201.35.49.105
deny from 201.42.114.112
deny from 201.55.31.14
deny from 201.68.0.166
deny from 201.8.37.225
deny from 202.103.132.116
deny from 202.105.90.48
deny from 203.62.1.65
deny from 203.88.128.126
deny from 209.188.18.215
deny from 212.253.247.221
deny from 212.59.28.77
deny from 212.76.58.172
deny from 213.245.17.147
deny from 213.98.211.106
deny from 216.172.131.180
deny from 216.245.222.20
deny from 218.65.232.250
deny from 218.94.145.210
deny from 219.136.102.251
deny from 220.255.2.40
deny from 221.223.165.83
deny from 222.138.46.153
deny from 222.252.176.126
deny from 222.77.225.119
deny from 223.27.31.118
deny from 23.19.163.209
deny from 27.159.237.206
deny from 27.50.19.101
deny from 31.3.242.75
deny from 36.248.11.90
deny from 37.59.225.234
deny from 37.59.66.253
deny from 37.59.9.56
deny from 39.53.190.115
deny from 41.141.52.133
deny from 41.142.139.251
deny from 41.143.103.142
deny from 41.234.237.52
deny from 41.249.181.255
deny from 41.249.192.33
deny from 41.250.170.158
deny from 46.107.36.234
deny from 46.109.133.175
deny from 46.137.139.147
deny from 46.161.41.27
deny from 46.166.169.244
deny from 46.19.140.94
deny from 46.227.68.2
deny from 46.239.12.169
deny from 46.31.203.78
deny from 46.37.168.250
deny from 46.99.14.17
deny from 49.248.9.196
deny from 5.13.155.227
deny from 5.13.38.144
deny from 5.13.47.242
deny from 5.135.42.138
deny from 5.135.90.188
deny from 5.254.134.124
deny from 5.39.122.178
deny from 50.115.160.103
deny from 50.115.164.173
deny from 50.115.171.19
deny from 50.117.54.61
deny from 50.201.87.110
deny from 58.242.119.171
deny from 58.97.171.215
deny from 59.42.236.117
deny from 60.176.11.254
deny from 60.215.231.127
deny from 60.55.8.18
deny from 62.182.28.242
deny from 62.21.25.137
deny from 64.120.171.172
deny from 64.120.99.10
deny from 66.187.64.155
deny from 66.197.246.29
deny from 66.206.39.124
deny from 66.248.193.174
deny from 66.248.194.48
deny from 67.209.190.61
deny from 67.209.190.65
deny from 67.230.173.66
deny from 69.147.240.125
deny from 69.162.123.36
deny from 69.175.60.14
deny from 69.197.57.26
deny from 69.35.184.56
deny from 69.35.184.58
deny from 69.57.161.170
deny from 71.28.112.49
deny from 71.81.127.168
deny from 74.221.212.184
deny from 76.115.9.78
deny from 76.124.200.90
deny from 76.231.30.213
deny from 78.129.220.45
deny from 78.147.184.94
deny from 78.147.60.197
deny from 78.174.123.156
deny from 78.185.239.152
deny from 78.188.181.10
deny from 79.112.42.70
deny from 79.141.160.64
deny from 79.141.164.13
deny from 79.141.173.79
deny from 79.167.3.241
deny from 8.30.145.212
deny from 81.157.41.47
deny from 81.172.86.73
deny from 81.218.235.170
deny from 81.25.53.97
deny from 82.155.24.150
deny from 84.211.19.25
deny from 84.236.184.132
deny from 85.101.227.188
deny from 85.181.224.123
deny from 85.204.251.220
deny from 85.246.186.147
deny from 85.71.141.216
deny from 85.97.173.161
deny from 86.121.237.68
deny from 86.159.40.143
deny from 87.6.26.144
deny from 88.250.173.22
deny from 89.137.227.23
deny from 89.137.97.59
deny from 89.156.215.218
deny from 89.182.144.20
deny from 89.184.103.67
deny from 89.23.138.4
deny from 89.47.24.92
deny from 90.215.151.12
deny from 92.113.22.144
deny from 92.231.15.192
deny from 92.83.123.242
deny from 93.114.43.204
deny from 93.79.133.223
deny from 93.91.233.50
deny from 94.100.22.104
deny from 94.23.158.226
deny from 94.242.241.73
deny from 94.46.240.137
deny from 94.78.169.230
deny from 96.127.147.52
deny from 96.8.117.227
deny from 96.9.155.50
deny from 98.71.216.22
deny from 99.88.197.89
deny from 1.195.247.88
deny from 1.81.17.90
deny from 101.255.36.175
deny from 108.177.194.193
deny from 108.178.25.194
deny from 108.61.95.203
deny from 108.81.134.131
deny from 110.138.239.223
deny from 112.241.82.209
deny from 114.127.254.114
deny from 118.97.208.194
deny from 119.252.160.34
deny from 120.37.209.193
deny from 120.43.5.83
deny from 122.148.206.252
deny from 122.252.181.20
deny from 124.134.55.187
deny from 130.185.156.31
deny from 14.109.78.150
deny from 14.145.237.202
deny from 14.150.75.111
deny from 147.255.162.127
deny from 151.237.191.211
deny from 171.98.102.44
deny from 173.0.51.85
deny from 173.213.97.250
deny from 173.232.104.144
deny from 173.232.46.150
deny from 173.236.35.211
deny from 174.24.13.91
deny from 176.197.98.42
deny from 177.183.127.17
deny from 177.44.35.19
deny from 177.96.195.86
deny from 178.32.149.13
deny from 178.33.212.173
deny from 180.213.157.53
deny from 182.48.115.82
deny from 184.154.133.220
deny from 184.22.105.98
deny from 184.22.157.41
deny from 186.244.109.18
deny from 186.244.204.17
deny from 187.2.31.220
deny from 187.23.239.98
deny from 187.37.121.213
deny from 187.40.83.211
deny from 187.52.120.158
deny from 187.79.153.114
deny from 188.126.79.105
deny from 188.143.232.211
deny from 188.165.151.172
deny from 189.101.108.208
deny from 189.250.55.170
deny from 189.29.37.233
deny from 189.41.62.224
deny from 189.69.102.84
deny from 189.71.195.103
deny from 189.74.231.19
deny from 190.202.241.180
deny from 190.92.87.108
deny from 192.119.151.250
deny from 192.74.228.177
deny from 194.71.222.79
deny from 194.71.223.224
deny from 194.71.224.12
deny from 194.71.224.46
deny from 194.71.224.94
deny from 194.71.225.237
deny from 194.71.225.59
deny from 195.23.105.71
deny from 198.143.143.206
deny from 198.143.143.54
deny from 198.143.143.86
deny from 198.147.23.114
deny from 199.180.132.244
deny from 2.135.237.10
deny from 2.135.237.130
deny from 2.135.237.234
deny from 2.30.165.247
deny from 2.81.166.252
deny from 200.174.181.62
deny from 200.179.192.2
deny from 200.222.6.34
deny from 200.255.200.2
deny from 200.97.139.166
deny from 201.0.58.214
deny from 201.238.227.202
deny from 201.24.68.52
deny from 202.105.61.31
deny from 202.105.90.170
deny from 202.105.90.51
deny from 202.129.185.112
deny from 202.152.28.114
deny from 202.182.172.2
deny from 208.163.36.221
deny from 209.107.208.244
deny from 209.73.154.63
deny from 212.175.88.3
deny from 216.156.128.162
deny from 216.156.128.254
deny from 220.255.1.57
deny from 222.124.218.164
deny from 223.92.115.246
deny from 223.92.96.211
deny from 23.19.163.139
deny from 23.19.32.233
deny from 24.110.105.52
deny from 27.123.221.122
deny from 37.59.61.63
deny from 46.227.70.180
deny from 46.227.70.245
deny from 46.43.44.80
deny from 49.0.124.126
deny from 49.65.116.57
deny from 5.135.188.36
deny from 5.249.161.58
deny from 50.31.70.10
deny from 59.61.20.100
deny from 66.197.246.23
deny from 66.197.246.24
deny from 66.197.246.28
deny from 66.85.144.150
deny from 67.202.123.41
deny from 68.235.38.116
deny from 68.71.76.242
deny from 69.175.109.181
deny from 71.105.109.86
deny from 74.208.149.239
deny from 78.189.144.251
deny from 79.148.210.233
deny from 8.30.145.211
deny from 8.30.145.3
deny from 82.200.236.58
deny from 85.130.93.189
deny from 85.251.55.115
deny from 86.180.122.238
deny from 87.106.78.68
deny from 87.117.225.86
deny from 89.218.120.122
deny from 89.237.134.10
deny from 91.219.237.126
deny from 93.91.49.225
deny from 94.242.237.106
deny from 95.140.114.130
deny from 95.211.186.210
deny from 95.31.18.119
deny from 95.8.39.249
deny from 101.99.10.120
deny from 108.170.5.75
deny from 108.170.5.76
deny from 108.178.2.26
deny from 109.230.213.107
deny from 110.77.137.220
deny from 110.85.69.114
deny from 111.14.253.16
deny from 111.93.108.214
deny from 112.121.174.178
deny from 112.216.3.214
deny from 113.195.73.82
deny from 116.212.112.247
deny from 116.23.186.31
deny from 118.73.193.215
deny from 118.73.99.45
deny from 118.99.66.112
deny from 119.178.199.152
deny from 120.3.216.57
deny from 121.205.213.196
deny from 122.72.80.101
deny from 123.125.74.254
deny from 123.159.95.55
deny from 123.188.150.55
deny from 123.6.173.163
deny from 123.8.138.169
deny from 130.185.159.223
deny from 14.150.73.237
deny from 142.91.208.19
deny from 142.91.79.204
deny from 151.237.188.131
deny from 151.237.191.241
deny from 157.56.181.7
deny from 173.0.62.166
deny from 173.0.62.198
deny from 173.208.39.77
deny from 173.212.216.74
deny from 173.212.216.85
deny from 173.213.89.12
deny from 173.213.96.24
deny from 173.231.149.166
deny from 173.232.104.248
deny from 173.232.23.83
deny from 173.236.56.91
deny from 176.31.3.244
deny from 176.61.142.30
deny from 176.61.142.80
deny from 177.102.52.140
deny from 177.134.211.115
deny from 177.139.147.221
deny from 177.177.147.152
deny from 177.177.178.105
deny from 177.189.208.33
deny from 177.32.254.212
deny from 177.42.205.149
deny from 177.5.234.238
deny from 177.5.68.48
deny from 177.66.51.146
deny from 177.81.166.50
deny from 178.32.108.106
deny from 178.32.31.45
deny from 180.124.174.195
deny from 183.12.225.227
deny from 184.154.136.74
deny from 184.154.153.214
deny from 184.154.184.147
deny from 184.154.184.149
deny from 184.154.189.131
deny from 184.154.189.134
deny from 184.22.117.59
deny from 184.82.48.177
deny from 184.82.99.151
deny from 186.247.201.122
deny from 186.92.96.238
deny from 187.115.103.195
deny from 187.15.227.130
deny from 187.19.203.59
deny from 187.199.168.142
deny from 187.3.16.143
deny from 187.34.112.226
deny from 187.40.125.92
deny from 187.52.229.18
deny from 187.52.35.152
deny from 187.65.122.43
deny from 187.73.228.149
deny from 187.75.85.129
deny from 187.76.23.10
deny from 189.103.148.184
deny from 189.104.40.53
deny from 189.107.193.221
deny from 189.107.7.245
deny from 189.110.211.123
deny from 189.111.191.93
deny from 189.12.141.199
deny from 189.125.202.200
deny from 189.26.73.229
deny from 189.33.89.122
deny from 189.35.153.248
deny from 189.47.107.11
deny from 189.47.244.131
deny from 189.70.245.247
deny from 189.73.151.106
deny from 189.78.4.165
deny from 189.82.69.69
deny from 189.91.213.114
deny from 189.91.223.42
deny from 190.0.16.58
deny from 190.79.97.102
deny from 190.85.37.90
deny from 192.30.33.197
deny from 192.95.40.139
deny from 194.57.108.36
deny from 194.71.222.213
deny from 194.71.222.78
deny from 194.71.223.106
deny from 194.71.223.156
deny from 194.71.223.23
deny from 194.71.224.113
deny from 194.71.224.146
deny from 194.71.225.144
deny from 194.71.225.178
deny from 194.71.225.20
deny from 194.71.225.96
deny from 198.143.130.243
deny from 198.143.133.162
deny from 198.143.143.13
deny from 198.143.144.149
deny from 199.116.118.139
deny from 199.119.226.190
deny from 199.127.61.187
deny from 2.133.93.82
deny from 2.135.237.146
deny from 2.135.238.10
deny from 2.135.238.202
deny from 200.102.28.195
deny from 200.164.99.145
deny from 200.188.228.10
deny from 200.195.165.122
deny from 200.204.163.35
deny from 200.253.158.131
deny from 201.1.142.179
deny from 201.110.202.245
deny from 201.26.61.179
deny from 201.34.85.174
deny from 201.35.92.25
deny from 201.4.163.16
deny from 201.40.48.70
deny from 201.56.208.233
deny from 201.56.231.210
deny from 201.77.127.161
deny from 201.79.33.238
deny from 202.105.62.115
deny from 202.105.88.60
deny from 202.60.56.250
deny from 204.93.60.220
deny from 206.165.130.177
deny from 206.165.130.192
deny from 206.165.131.153
deny from 208.75.183.143
deny from 209.250.21.123
deny from 209.250.21.141
deny from 210.22.115.162
deny from 212.107.116.230
deny from 216.152.251.37
deny from 216.152.252.76
deny from 216.156.128.60
deny from 216.172.145.249
deny from 216.213.191.233
deny from 216.223.220.175
deny from 216.99.157.122
deny from 219.234.82.76
deny from 220.225.253.12
deny from 222.177.8.69
deny from 222.76.76.142
deny from 222.77.215.167
deny from 222.77.227.223
deny from 223.27.30.155
deny from 23.16.220.251
deny from 23.19.132.190
deny from 24.67.86.55
deny from 27.188.76.73
deny from 27.8.144.223
deny from 37.59.179.224
deny from 37.59.238.175
deny from 37.72.190.18
deny from 38.69.196.221
deny from 38.69.198.112
deny from 38.69.199.46
deny from 41.220.28.51
deny from 42.121.18.69
deny from 46.227.68.173
deny from 46.227.68.221
deny from 46.227.68.235
deny from 46.227.68.85
deny from 46.227.70.217
deny from 46.227.71.136
deny from 46.227.71.143
deny from 46.227.71.177
deny from 46.227.71.242
deny from 49.74.78.167
deny from 5.135.11.117
deny from 5.135.180.69
deny from 5.135.3.116
deny from 5.135.30.155
deny from 5.254.138.164
deny from 5.34.241.110
deny from 5.39.119.90
deny from 5.39.33.254
deny from 5.9.215.88
deny from 50.115.165.91
deny from 50.115.169.220
deny from 50.117.46.32
deny from 50.122.39.2
deny from 50.31.71.126
deny from 58.22.151.123
deny from 64.31.17.198
deny from 64.34.205.251
deny from 64.87.61.239
deny from 66.41.89.181
deny from 67.5.217.142
deny from 69.162.123.35
deny from 69.172.211.72
deny from 69.172.229.26
deny from 69.175.109.172
deny from 71.96.228.24
deny from 72.206.100.94
deny from 74.221.219.42
deny from 77.78.255.14
deny from 81.164.20.134
deny from 82.200.253.58
deny from 87.145.54.12
deny from 88.80.21.218
deny from 89.39.192.18
deny from 89.47.19.51
deny from 90.218.37.232
deny from 91.204.240.40
deny from 91.207.5.54
deny from 91.238.134.198
deny from 94.122.212.184
deny from 94.159.135.77
deny from 94.23.149.178
deny from 96.250.118.19
deny from 96.9.187.228
deny from 1.4.228.79
deny from 101.25.181.57
deny from 108.163.203.107
deny from 108.170.18.46
deny from 108.170.5.74
deny from 108.178.5.124
deny from 108.178.5.125
deny from 108.217.84.234
deny from 110.137.47.23
deny from 110.244.15.230
deny from 112.192.178.58
deny from 112.207.139.197
deny from 113.16.116.91
deny from 115.68.59.46
deny from 116.93.12.104
deny from 117.195.207.242
deny from 120.9.16.19
deny from 121.12.118.241
deny from 121.237.117.38
deny from 123.169.235.93
deny from 124.81.113.183
deny from 130.185.156.105
deny from 137.205.126.15
deny from 142.0.34.140
deny from 142.4.97.161
deny from 147.255.162.104
deny from 147.255.162.43
deny from 151.237.189.10
deny from 151.237.190.152
deny from 151.237.190.156
deny from 151.237.190.173
deny from 151.237.191.250
deny from 173.0.49.117
deny from 173.0.51.153
deny from 173.0.51.243
deny from 173.0.57.123
deny from 173.0.58.145
deny from 173.0.60.27
deny from 173.0.61.150
deny from 173.213.108.184
deny from 173.213.96.32
deny from 173.213.96.35
deny from 173.213.99.18
deny from 173.232.104.163
deny from 173.232.104.167
deny from 173.232.124.239
deny from 173.232.124.99
deny from 173.232.87.44
deny from 173.234.232.132
deny from 173.234.248.156
deny from 173.236.10.149
deny from 176.31.60.139
deny from 176.61.136.244
deny from 176.61.140.134
deny from 176.9.176.194
deny from 177.0.61.234
deny from 177.100.204.184
deny from 177.103.139.64
deny from 177.106.145.71
deny from 177.141.137.133
deny from 177.157.118.233
deny from 177.157.245.239
deny from 177.158.66.28
deny from 177.17.61.236
deny from 177.17.81.38
deny from 177.176.12.55
deny from 177.18.205.232
deny from 177.180.252.226
deny from 177.191.139.93
deny from 177.194.186.242
deny from 177.20.247.254
deny from 177.40.70.7
deny from 177.41.128.80
deny from 177.41.88.125
deny from 177.84.140.2
deny from 177.85.112.98
deny from 177.96.146.115
deny from 178.158.221.73
deny from 178.238.130.233
deny from 178.33.195.39
deny from 178.48.2.237
deny from 182.203.149.20
deny from 183.12.226.146
deny from 183.218.80.251
deny from 183.249.3.143
deny from 183.89.46.99
deny from 184.154.177.70
deny from 184.154.190.118
deny from 184.154.204.196
deny from 184.154.252.109
deny from 184.154.26.228
deny from 184.154.26.229
deny from 184.154.61.172
deny from 184.154.9.204
deny from 184.82.92.54
deny from 185.3.132.197
deny from 185.3.132.58
deny from 186.207.143.39
deny from 186.209.8.162
deny from 186.247.19.28
deny from 187.101.228.236
deny from 187.11.252.90
deny from 187.112.160.140
deny from 187.113.33.174
deny from 187.114.94.73
deny from 187.122.78.32
deny from 187.13.129.12
deny from 187.131.122.130
deny from 187.14.149.19
deny from 187.147.143.141
deny from 187.155.45.137
deny from 187.23.36.44
deny from 187.32.127.163
deny from 187.34.180.74
deny from 187.37.68.241
deny from 187.39.192.100
deny from 187.40.141.36
deny from 187.40.221.175
deny from 187.40.43.121
deny from 187.52.157.217
deny from 187.52.194.116
deny from 187.70.46.163
deny from 187.72.3.8
deny from 187.75.188.55
deny from 187.85.89.167
deny from 188.165.124.176
deny from 188.165.162.79
deny from 188.76.89.45
deny from 189.102.73.74
deny from 189.106.156.53
deny from 189.107.66.106
deny from 189.110.237.17
deny from 189.12.40.236
deny from 189.12.88.144
deny from 189.14.234.10
deny from 189.18.156.119
deny from 189.26.177.11
deny from 189.27.165.211
deny from 189.41.111.127
deny from 189.41.193.202
deny from 189.46.248.6
deny from 189.48.104.236
deny from 189.55.26.75
deny from 189.59.48.251
deny from 189.69.59.197
deny from 189.75.252.100
deny from 189.75.36.187
deny from 189.75.7.158
deny from 189.78.212.254
deny from 189.79.139.30
deny from 189.81.141.236
deny from 189.83.173.64
deny from 190.146.132.205
deny from 190.40.34.131
deny from 192.119.151.83
deny from 192.95.44.47
deny from 194.71.222.172
deny from 194.71.223.235
deny from 194.71.223.245
deny from 194.71.223.54
deny from 194.71.223.73
deny from 194.71.224.230
deny from 194.71.225.72
deny from 195.190.13.117
deny from 197.136.43.2
deny from 198.143.143.42
deny from 198.143.144.100
deny from 198.143.144.147
deny from 198.143.144.148
deny from 198.143.144.173
deny from 198.143.144.99
deny from 198.143.145.205
deny from 198.175.124.209
deny from 199.101.101.187
deny from 199.101.102.10
deny from 199.116.118.58
deny from 199.116.84.128
deny from 199.116.85.205
deny from 199.116.85.9
deny from 199.116.86.130
deny from 199.116.86.168
deny from 199.119.226.185
deny from 199.119.226.186
deny from 199.180.116.230
deny from 199.180.130.119
deny from 199.180.131.243
deny from 2.133.92.162
deny from 2.133.94.26
deny from 2.135.237.162
deny from 2.135.237.98
deny from 2.135.242.130
deny from 200.137.169.3
deny from 200.149.14.74
deny from 200.162.240.80
deny from 200.166.248.226
deny from 200.186.76.58
deny from 200.193.12.184
deny from 200.252.241.107
deny from 200.71.86.50
deny from 200.96.212.253
deny from 200.97.57.236
deny from 201.13.171.112
deny from 201.14.2.248
deny from 201.19.21.177
deny from 201.207.201.238
deny from 201.218.63.4
deny from 201.24.179.3
deny from 201.249.26.123
deny from 201.26.63.220
deny from 201.35.236.76
deny from 201.50.236.82
deny from 201.51.229.106
deny from 201.64.247.3
deny from 201.76.10.13
deny from 201.78.155.41
deny from 201.78.78.42
deny from 201.8.113.145
deny from 201.8.42.7
deny from 201.80.249.70
deny from 201.9.36.105
deny from 201.93.197.7
deny from 201.94.206.173
deny from 202.46.147.42
deny from 204.124.180.55
deny from 205.164.57.2
deny from 216.151.139.175
deny from 216.172.139.130
deny from 216.244.79.170
deny from 216.59.18.32
deny from 216.59.3.178
deny from 220.245.219.48
deny from 221.206.162.163
deny from 221.213.88.184
deny from 222.165.248.6
deny from 222.76.77.144
deny from 223.243.76.162
deny from 223.93.134.88
deny from 23.19.163.40
deny from 23.19.163.68
deny from 23.29.58.192
deny from 31.10.10.242
deny from 37.19.47.142
deny from 37.203.214.155
deny from 37.59.91.70
deny from 42.113.154.56
deny from 46.105.145.96
deny from 46.227.68.101
deny from 46.227.68.169
deny from 46.227.68.198
deny from 46.227.68.249
deny from 46.227.68.251
deny from 46.227.70.171
deny from 46.227.71.181
deny from 46.37.185.14
deny from 49.89.42.198
deny from 5.135.11.120
deny from 5.135.11.124
deny from 5.144.176.163
deny from 5.144.176.85
deny from 5.254.130.73
deny from 5.254.141.203
deny from 5.39.106.20
deny from 5.39.28.245
deny from 5.39.47.164
deny from 5.8.242.10
deny from 50.115.160.168
deny from 50.115.165.106
deny from 50.115.170.215
deny from 50.115.171.82
deny from 50.115.171.84
deny from 50.115.172.101
deny from 50.115.173.201
deny from 50.117.46.229
deny from 50.117.67.55
deny from 50.117.69.35
deny from 62.165.42.170
deny from 63.141.249.37
deny from 66.248.193.101
deny from 66.248.193.196
deny from 66.248.193.59
deny from 66.248.193.79
deny from 66.248.194.79
deny from 69.140.75.211
deny from 69.147.240.146
deny from 69.147.240.95
deny from 69.162.123.34
deny from 69.175.75.147
deny from 69.175.75.150
deny from 69.197.190.100
deny from 69.46.81.49
deny from 74.115.214.199
deny from 75.65.241.76
deny from 76.185.97.87
deny from 76.74.205.17
deny from 78.176.112.124
deny from 78.176.144.198
deny from 79.243.74.223
deny from 80.93.213.252
deny from 81.111.138.238
deny from 81.193.158.247
deny from 81.67.56.192
deny from 82.200.254.138
deny from 85.237.212.241
deny from 86.126.71.253
deny from 88.100.110.118
deny from 88.80.21.134
deny from 89.137.79.33
deny from 89.218.0.194
deny from 89.218.100.106
deny from 89.218.100.234
deny from 89.218.100.90
deny from 89.218.160.2
deny from 89.218.68.42
deny from 90.217.33.19
deny from 91.121.209.46
deny from 91.121.244.234
deny from 91.201.64.63
deny from 91.207.6.233
deny from 92.39.54.161
deny from 92.74.208.233
deny from 93.123.45.23
deny from 94.23.171.22
deny from 94.23.55.39
deny from 94.23.77.178
deny from 96.127.130.178
deny from 96.127.130.236
deny from 96.127.142.188
deny from 96.127.142.190
deny from 96.9.155.54
deny from 142.234.104.123
deny from 188.165.141.6
deny from 194.71.222.245
deny from 194.71.225.187
deny from 31.210.100.7
deny from 5.254.139.61
deny from 5.39.44.216
deny from 69.175.97.77
deny from 91.238.134.229
deny from 94.242.237.129
deny from 94.242.241.16
deny from 94.242.241.24
deny from 95.82.35.130
deny from 108.163.245.210
deny from 108.163.245.214
deny from 108.178.32.110
deny from 108.61.95.80
deny from 113.212.70.220
deny from 142.234.104.20
deny from 142.234.104.51
deny from 142.234.104.98
deny from 149.255.111.31
deny from 151.237.190.150
deny from 151.237.190.155
deny from 151.237.190.157
deny from 173.208.153.210
deny from 173.213.96.7
deny from 173.234.196.187
deny from 173.75.252.29
deny from 176.61.140.109
deny from 178.238.130.34
deny from 178.32.172.134
deny from 178.32.231.34
deny from 178.32.251.119
deny from 180.149.12.198
deny from 184.154.142.69
deny from 185.3.133.101
deny from 185.3.133.110
deny from 192.119.154.191
deny from 192.80.150.30
deny from 194.71.222.10
deny from 194.71.222.103
deny from 194.71.222.16
deny from 194.71.222.55
deny from 194.71.223.189
deny from 194.71.223.197
deny from 194.71.223.41
deny from 194.71.223.57
deny from 194.71.223.82
deny from 194.71.224.135
deny from 194.71.224.41
deny from 194.71.224.44
deny from 194.71.224.62
deny from 194.71.225.132
deny from 194.71.225.192
deny from 198.143.143.107
deny from 198.143.144.109
deny from 198.143.144.50
deny from 198.143.144.60
deny from 198.143.144.75
deny from 198.143.144.98
deny from 198.143.145.186
deny from 198.143.145.220
deny from 198.143.145.229
deny from 198.8.84.45
deny from 199.119.227.131
deny from 202.51.118.14
deny from 208.115.198.79
deny from 23.19.163.38
deny from 37.203.214.121
deny from 37.203.214.167
deny from 46.227.68.74
deny from 46.227.70.223
deny from 46.227.70.240
deny from 49.212.161.77
deny from 5.135.1.162
deny from 5.135.86.55
deny from 5.39.117.69
deny from 5.39.118.1
deny from 5.39.40.131
deny from 5.39.40.138
deny from 5.39.43.65
deny from 50.115.163.151
deny from 50.115.163.236
deny from 50.115.170.138
deny from 50.115.170.144
deny from 50.117.66.117
deny from 68.235.38.5
deny from 69.147.240.12
deny from 69.175.117.28
deny from 70.32.34.51
deny from 84.22.142.53
deny from 86.160.197.180
deny from 87.98.158.203
deny from 91.207.4.178
deny from 94.242.241.147
deny from 106.51.126.157
deny from 108.177.158.137
deny from 108.177.158.236
deny from 108.178.2.212
deny from 108.62.215.218
deny from 142.234.104.48
deny from 142.234.104.95
deny from 142.54.190.250
deny from 142.91.79.218
deny from 151.237.190.144
deny from 151.237.191.175
deny from 173.0.49.224
deny from 173.0.50.249
deny from 173.16.17.77
deny from 178.32.13.107
deny from 178.32.153.63
deny from 184.22.221.188
deny from 184.82.188.98
deny from 185.3.133.12
deny from 188.165.225.60
deny from 192.95.7.13
deny from 194.71.222.228
deny from 194.71.222.70
deny from 194.71.224.163
deny from 194.71.225.24
deny from 194.71.225.88
deny from 196.46.189.162
deny from 199.19.105.94
deny from 200.203.105.243
deny from 208.69.116.185
deny from 208.89.211.245
deny from 23.27.131.31
deny from 37.203.214.134
deny from 46.105.131.117
deny from 46.227.68.41
deny from 46.227.70.143
deny from 46.227.71.144
deny from 46.29.248.89
deny from 46.29.254.226
deny from 5.144.176.245
deny from 5.34.241.49
deny from 50.117.64.155
deny from 69.147.240.149
deny from 69.162.161.25
deny from 69.197.190.125
deny from 79.145.202.116
deny from 80.93.213.249
deny from 83.29.171.168
deny from 83.7.224.151
deny from 89.47.17.239
deny from 90.218.37.237
deny from 91.207.8.222
deny from 91.236.74.251
deny from 96.127.158.234
deny from 96.9.155.160
deny from 96.9.155.49
deny from 96.9.155.53
deny from 108.163.203.122
deny from 108.21.102.10
deny from 108.69.53.152
deny from 110.138.210.52
deny from 113.212.68.135
deny from 121.97.55.163
deny from 125.39.66.134
deny from 130.185.156.212
deny from 130.185.156.9
deny from 142.234.104.88
deny from 147.255.162.77
deny from 149.3.141.77
deny from 151.237.189.156
deny from 159.253.137.95
deny from 173.0.56.78
deny from 173.198.228.40
deny from 173.198.228.42
deny from 173.213.76.42
deny from 173.213.83.250
deny from 173.232.104.160
deny from 178.73.208.34
deny from 178.73.208.74
deny from 180.188.253.112
deny from 180.250.192.222
deny from 184.154.187.83
deny from 184.154.205.189
deny from 184.154.221.75
deny from 184.154.250.178
deny from 184.22.221.178
deny from 184.22.221.183
deny from 184.22.221.184
deny from 184.22.221.186
deny from 184.22.221.189
deny from 188.165.161.213
deny from 188.165.174.91
deny from 188.165.68.162
deny from 190.223.53.198
deny from 190.25.231.8
deny from 192.119.154.245
deny from 194.71.222.108
deny from 194.71.222.185
deny from 194.71.222.27
deny from 194.71.222.52
deny from 194.71.223.116
deny from 194.71.223.13
deny from 194.71.223.230
deny from 194.71.223.246
deny from 194.71.223.253
deny from 194.71.223.33
deny from 194.71.223.51
deny from 194.71.223.66
deny from 194.71.223.77
deny from 194.71.224.161
deny from 194.71.224.49
deny from 194.71.224.74
deny from 194.71.225.1
deny from 194.71.225.65
deny from 198.167.136.245
deny from 199.127.63.163
deny from 199.180.119.196
deny from 199.180.131.166
deny from 199.180.134.101
deny from 199.47.122.148
deny from 202.134.13.132
deny from 204.124.83.133
deny from 205.189.73.112
deny from 205.189.73.78
deny from 206.214.82.178
deny from 208.89.211.184
deny from 209.104.216.29
deny from 216.151.130.117
deny from 23.19.132.19
deny from 23.19.132.230
deny from 23.19.132.238
deny from 23.19.163.194
deny from 23.19.171.200
deny from 23.29.125.145
deny from 23.29.125.174
deny from 37.130.227.133
deny from 37.203.214.133
deny from 37.203.214.152
deny from 37.59.200.229
deny from 37.72.190.102
deny from 46.105.52.81
deny from 46.227.68.132
deny from 46.227.68.204
deny from 46.227.68.209
deny from 46.227.68.213
deny from 46.227.68.238
deny from 46.227.68.82
deny from 46.227.68.96
deny from 46.227.70.128
deny from 46.227.70.176
deny from 46.227.70.215
deny from 46.227.71.147
deny from 46.227.71.203
deny from 46.227.71.237
deny from 46.29.254.234
deny from 49.0.124.54
deny from 49.49.188.228
deny from 5.135.200.185
deny from 5.135.85.226
deny from 5.144.176.144
deny from 5.34.241.229
deny from 5.39.117.64
deny from 5.39.122.83
deny from 5.39.124.16
deny from 5.39.29.74
deny from 5.39.40.140
deny from 50.115.173.172
deny from 50.115.173.97
deny from 58.110.97.237
deny from 59.120.178.28
deny from 66.197.18.52
deny from 66.197.78.106
deny from 66.248.193.134
deny from 66.248.194.185
deny from 66.69.185.21
deny from 66.85.134.200
deny from 67.209.190.60
deny from 67.209.190.66
deny from 69.147.248.12
deny from 69.175.122.58
deny from 69.197.190.86
deny from 74.221.209.41
deny from 74.221.220.49
deny from 74.63.212.84
deny from 76.71.158.26
deny from 78.131.55.82
deny from 80.93.213.253
deny from 81.241.81.182
deny from 88.80.20.217
deny from 89.47.17.173
deny from 90.216.77.174
deny from 91.143.90.25
deny from 94.242.241.217
deny from 94.242.241.26
deny from 94.242.241.37
deny from 94.242.241.94
deny from 96.127.142.3
deny from 96.20.174.71
deny from 96.9.155.52
deny from 96.9.155.57
deny from 96.9.155.59
deny from 96.9.155.60
deny from 96.9.155.61
deny from 202.134.10.132
deny from 213.233.161.69
deny from 46.227.68.228
deny from 8.30.146.147
deny from 94.242.241.136
deny from 108.62.238.209
deny from 109.96.12.56
deny from 109.96.18.84
deny from 109.96.23.75
deny from 109.96.30.47
deny from 109.96.60.223
deny from 109.97.247.29
deny from 115.187.16.4
deny from 122.161.222.152
deny from 123.125.116.242
deny from 173.0.50.89
deny from 173.208.153.16
deny from 173.213.76.39
deny from 173.236.34.179
deny from 173.245.90.144
deny from 178.32.173.37
deny from 178.73.196.168
deny from 184.82.183.229
deny from 188.165.162.76
deny from 194.71.222.34
deny from 194.71.223.250
deny from 194.71.224.209
deny from 194.71.224.50
deny from 194.71.224.83
deny from 195.190.13.169
deny from 199.101.102.23
deny from 199.47.122.166
deny from 202.134.10.135
deny from 202.134.13.129
deny from 202.134.13.135
deny from 206.165.131.164
deny from 208.69.116.202
deny from 37.203.214.144
deny from 37.59.152.161
deny from 37.59.219.168
deny from 37.59.224.135
deny from 37.59.247.47
deny from 46.105.174.250
deny from 46.227.68.111
deny from 46.227.70.243
deny from 5.135.30.153
deny from 5.144.176.108
deny from 5.254.133.61
deny from 5.34.240.163
deny from 5.9.215.70
deny from 50.115.168.82
deny from 66.187.67.109
deny from 69.147.240.109
deny from 69.147.240.175
deny from 74.221.219.51
deny from 74.221.220.73
deny from 91.98.155.120
deny from 92.83.102.188
deny from 93.118.232.40
deny from 93.182.173.53
deny from 93.182.175.165
deny from 94.242.237.61
deny from 99.247.235.161
deny from 2.102.67.133
deny from 108.62.238.209
deny from 109.96.12.56
deny from 109.96.18.84
deny from 109.96.23.75
deny from 109.96.30.47
deny from 109.96.60.223
deny from 109.97.247.29
deny from 115.187.16.4
deny from 122.161.222.152
deny from 123.125.116.242
deny from 173.0.50.89
deny from 173.208.153.16
deny from 173.213.76.39
deny from 173.245.90.144
deny from 178.32.173.37
deny from 184.82.183.229
deny from 188.165.162.76
deny from 194.71.222.34
deny from 194.71.223.250
deny from 194.71.224.209
deny from 194.71.224.50
deny from 194.71.224.83
deny from 195.190.13.169
deny from 199.101.102.23
deny from 199.47.122.166
deny from 202.134.10.135
deny from 202.134.13.135
deny from 206.165.131.164
deny from 208.69.116.202
deny from 37.59.152.161
deny from 37.59.219.168
deny from 37.59.224.135
deny from 37.59.247.47
deny from 46.105.174.250
deny from 46.227.68.111
deny from 46.227.70.243
deny from 5.135.30.153
deny from 5.254.133.61
deny from 5.34.240.163
deny from 5.9.215.70
deny from 50.115.168.82
deny from 66.187.67.109
deny from 69.147.240.109
deny from 69.147.240.175
deny from 74.221.219.51
deny from 74.221.220.73
deny from 91.98.155.120
deny from 92.83.102.188
deny from 93.118.232.40
deny from 93.182.173.53
deny from 93.182.175.165
deny from 94.242.237.61
deny from 99.247.235.161
deny from 108.178.2.110
deny from 117.21.225.108
deny from 142.54.170.208
deny from 199.19.109.59
deny from 50.115.163.184
deny from 8.36.225.126
deny from 108.163.205.70
deny from 111.227.44.160
deny from 117.21.191.223
deny from 117.21.224.16
deny from 171.39.2.156
deny from 173.234.196.57
deny from 184.154.251.3
deny from 194.71.224.157
deny from 194.71.224.206
deny from 194.71.225.22
deny from 205.164.13.212
deny from 46.105.145.99
deny from 46.227.70.155
deny from 46.227.71.187
deny from 46.29.254.247
deny from 5.144.176.29
deny from 60.191.142.233
deny from 85.214.254.220
deny from 98.168.210.121
deny from 94.23.180.201
deny from 46.37.165.76
deny from 46.105.249.66
deny from 108.62.215.46
deny from 123.14.215.107
deny from 124.122.240.91
deny from 124.40.250.102
deny from 124.42.140.185
deny from 173.208.130.102
deny from 178.33.154.135
deny from 178.33.191.117
deny from 178.33.73.192
deny from 184.154.204.194
deny from 184.154.76.234
deny from 184.22.208.47
deny from 185.3.133.117
deny from 186.194.12.33
deny from 192.119.154.136
deny from 194.71.222.29
deny from 194.71.222.71
deny from 194.71.223.146
deny from 194.71.225.220
deny from 199.167.199.222
deny from 199.180.114.146
deny from 199.180.114.158
deny from 200.54.78.66
deny from 204.124.83.131
deny from 206.165.131.86
deny from 213.241.94.205
deny from 216.152.252.86
deny from 37.59.251.143
deny from 46.225.55.60
deny from 46.227.68.187
deny from 46.227.68.196
deny from 46.29.254.246
deny from 46.37.185.222
deny from 5.135.112.205
deny from 5.135.9.42
deny from 5.39.125.197
deny from 65.120.61.73
deny from 65.34.10.45
deny from 69.199.21.213
deny from 74.222.9.21
deny from 77.244.254.228
deny from 81.241.56.177
deny from 82.245.188.17
deny from 84.177.248.101
deny from 88.198.97.118
deny from 91.207.8.62
deny from 94.242.241.141
deny from 95.166.33.65
deny from 96.127.191.29
deny from 81.33.7.209
deny from 108.62.71.240
deny from 109.96.23.219
deny from 122.106.23.0
deny from 151.237.189.112
deny from 168.61.48.223
deny from 173.208.2.156
deny from 173.208.2.36
deny from 173.213.83.26
deny from 173.233.83.171
deny from 173.245.75.43
deny from 176.31.28.144
deny from 176.31.48.95
deny from 176.31.50.82
deny from 178.32.168.175
deny from 178.63.199.224
deny from 178.75.125.246
deny from 184.22.120.3
deny from 185.3.134.252
deny from 187.72.224.65
deny from 190.199.227.175
deny from 194.71.222.240
deny from 194.71.222.43
deny from 194.71.222.81
deny from 194.71.223.115
deny from 194.71.223.219
deny from 194.71.224.17
deny from 194.71.224.22
deny from 194.71.224.223
deny from 194.71.224.250
deny from 194.71.225.129
deny from 194.71.225.152
deny from 194.71.225.241
deny from 199.101.102.29
deny from 199.101.102.38
deny from 199.101.102.43
deny from 199.180.116.203
deny from 213.186.122.123
deny from 216.151.137.35
deny from 216.172.131.108
deny from 23.19.163.153
deny from 37.203.214.184
deny from 37.59.145.26
deny from 37.59.255.144
deny from 41.35.214.127
deny from 42.62.5.114
deny from 46.105.158.240
deny from 46.166.139.11
deny from 46.227.68.116
deny from 46.227.70.129
deny from 46.227.70.136
deny from 46.227.70.193
deny from 46.227.70.196
deny from 46.227.71.178
deny from 46.246.67.179
deny from 46.37.185.174
deny from 5.135.112.61
deny from 5.135.113.157
deny from 5.135.96.35
deny from 5.144.176.67
deny from 5.254.142.16
deny from 5.39.108.229
deny from 5.39.124.22
deny from 5.39.40.141
deny from 50.115.163.167
deny from 50.117.54.222
deny from 78.157.217.100
deny from 78.47.173.97
deny from 86.13.107.110
deny from 87.145.51.129
deny from 87.98.148.221
deny from 88.204.30.35
deny from 88.80.21.132
deny from 94.23.207.72
deny from 95.166.33.65
deny from 95.172.68.150
deny from 108.177.231.97
deny from 124.72.6.17
deny from 173.237.179.187
deny from 188.244.140.166
deny from 194.71.224.197
deny from 50.31.70.236
deny from 94.23.63.174
deny from 108.177.231.23
deny from 108.27.246.83
deny from 108.62.215.183
deny from 108.62.71.115
deny from 109.185.80.71
deny from 115.111.31.186
deny from 118.170.202.41
deny from 119.92.55.223
deny from 121.240.238.160
deny from 121.254.180.103
deny from 122.11.38.17
deny from 130.104.5.100
deny from 130.185.156.64
deny from 147.255.162.20
deny from 151.237.191.172
deny from 162.21.255.103
deny from 168.167.43.218
deny from 168.167.43.222
deny from 173.219.89.4
deny from 173.232.23.180
deny from 173.83.247.222
deny from 177.158.58.93
deny from 177.23.119.101
deny from 177.66.108.2
deny from 178.124.147.183
deny from 178.238.130.105
deny from 178.32.173.51
deny from 178.63.0.144
deny from 178.63.169.94
deny from 180.222.216.3
deny from 184.154.141.117
deny from 184.73.185.224
deny from 187.155.110.222
deny from 187.35.152.15
deny from 187.37.204.132
deny from 190.236.201.75
deny from 190.251.141.44
deny from 190.251.30.197
deny from 192.119.154.138
deny from 192.119.154.225
deny from 192.233.155.228
deny from 193.201.106.177
deny from 193.54.120.32
deny from 194.199.237.226
deny from 194.71.225.198
deny from 194.71.225.92
deny from 195.199.27.177
deny from 195.229.48.132
deny from 198.12.71.144
deny from 198.170.103.93
deny from 198.57.53.139
deny from 199.116.173.51
deny from 199.127.62.252
deny from 199.164.68.195
deny from 199.33.126.36
deny from 200.147.22.33
deny from 201.85.50.148
deny from 203.39.192.43
deny from 206.214.93.143
deny from 206.223.182.82
deny from 207.58.139.195
deny from 208.113.148.240
deny from 208.250.67.131
deny from 208.70.142.33
deny from 209.175.18.200
deny from 211.142.236.132
deny from 212.69.68.106
deny from 216.59.18.62
deny from 217.109.108.254
deny from 217.165.236.52
deny from 217.199.165.149
deny from 221.120.210.214
deny from 223.4.204.86
deny from 23.19.132.208
deny from 23.29.125.163
deny from 31.133.13.253
deny from 31.172.30.1
deny from 37.59.246.43
deny from 37.59.91.71
deny from 38.102.29.210
deny from 41.215.122.243
deny from 46.105.239.131
deny from 46.105.247.247
deny from 46.105.249.68
deny from 46.227.70.167
deny from 46.25.77.81
deny from 5.135.3.113
deny from 5.144.176.46
deny from 5.39.112.251
deny from 50.115.171.118
deny from 50.115.173.151
deny from 50.115.173.202
deny from 50.6.77.104
deny from 58.241.135.170
deny from 61.175.225.130
deny from 62.103.107.62
deny from 65.119.139.190
deny from 67.125.30.140
deny from 67.205.6.227
deny from 67.222.154.114
deny from 72.242.229.2
deny from 74.200.85.132
deny from 77.225.13.246
deny from 80.250.164.32
deny from 82.199.35.15
deny from 83.167.252.88
deny from 83.254.16.35
deny from 85.214.199.133
deny from 85.30.112.106
deny from 85.43.254.202
deny from 86.154.90.129
deny from 86.47.244.201
deny from 88.80.20.135
deny from 90.203.214.157
deny from 91.237.249.200
deny from 91.243.160.10
deny from 94.23.0.44
deny from 94.23.1.28
deny from 98.130.2.113
deny from 103.10.22.228
deny from 108.163.255.131
deny from 108.61.95.35
deny from 111.124.44.63
deny from 112.111.40.168
deny from 112.203.181.254
deny from 118.96.170.141
deny from 119.129.116.159
deny from 120.37.211.179
deny from 120.40.149.92
deny from 121.204.47.251
deny from 121.254.180.103
deny from 121.97.254.34
deny from 123.169.238.52
deny from 129.75.126.213
deny from 142.32.208.227
deny from 151.237.189.161
deny from 173.245.75.38
deny from 175.210.230.218
deny from 176.31.43.191
deny from 176.9.144.177
deny from 176.9.47.143
deny from 177.132.53.181
deny from 177.140.160.87
deny from 177.158.232.86
deny from 177.159.57.119
deny from 177.159.75.210
deny from 177.17.66.153
deny from 177.177.12.168
deny from 177.188.93.198
deny from 177.5.171.198
deny from 177.65.9.247
deny from 177.68.19.149
deny from 177.9.47.64
deny from 177.97.229.159
deny from 178.217.133.27
deny from 178.238.228.43
deny from 183.12.226.194
deny from 186.213.246.138
deny from 186.244.43.39
deny from 187.104.148.70
deny from 187.113.251.43
deny from 187.120.233.164
deny from 187.14.160.186
deny from 187.35.224.198
deny from 187.45.12.200
deny from 187.45.96.254
deny from 187.5.104.43
deny from 187.52.82.73
deny from 187.53.237.121
deny from 187.55.187.76
deny from 187.7.192.126
deny from 188.161.10.211
deny from 189.105.120.8
deny from 189.107.188.71
deny from 189.128.156.142
deny from 189.25.155.181
deny from 189.250.51.72
deny from 189.27.49.167
deny from 189.4.9.248
deny from 189.46.147.38
deny from 189.73.248.68
deny from 189.74.169.102
deny from 189.76.20.37
deny from 189.79.75.139
deny from 190.10.50.4
deny from 190.111.121.57
deny from 190.151.20.83
deny from 190.233.223.62
deny from 190.71.53.218
deny from 192.71.245.179
deny from 194.71.223.225
deny from 194.71.224.76
deny from 198.147.22.94
deny from 199.101.101.174
deny from 199.116.173.48
deny from 199.116.87.103
deny from 200.102.94.10
deny from 200.103.149.29
deny from 200.165.141.194
deny from 200.180.27.202
deny from 200.193.137.210
deny from 200.195.189.18
deny from 200.206.190.105
deny from 201.1.136.58
deny from 201.14.174.12
deny from 201.253.51.156
deny from 201.42.21.69
deny from 201.43.176.102
deny from 201.78.224.152
deny from 201.79.12.7
deny from 201.79.125.139
deny from 201.8.217.44
deny from 201.94.162.49
deny from 201.94.200.2
deny from 202.158.37.114
deny from 206.146.51.98
deny from 216.151.130.179
deny from 216.172.131.57
deny from 216.172.145.207
deny from 220.255.2.165
deny from 37.59.247.24
deny from 37.59.255.149
deny from 37.59.55.26
deny from 42.96.145.89
deny from 46.227.68.194
deny from 46.227.71.217
deny from 46.37.165.183
deny from 5.135.85.88
deny from 5.135.86.53
deny from 5.39.127.52
deny from 50.115.173.56
deny from 59.124.85.205
deny from 59.34.57.88
deny from 59.58.112.220
deny from 61.181.22.157
deny from 62.149.73.241
deny from 62.213.199.129
deny from 66.132.251.111
deny from 66.228.50.170
deny from 66.36.189.37
deny from 69.36.182.126
deny from 71.13.95.28
deny from 76.168.23.118
deny from 77.70.64.156
deny from 78.181.111.111
deny from 80.75.5.145
deny from 82.154.77.11
deny from 82.53.72.95
deny from 84.121.243.108
deny from 85.223.144.54
deny from 85.226.77.143
deny from 86.146.215.247
deny from 86.6.229.241
deny from 86.98.25.144
deny from 87.241.216.174
deny from 87.98.183.1
deny from 88.208.220.69
deny from 88.36.56.194
deny from 90.199.44.204
deny from 91.232.96.36
deny from 92.243.181.216
deny from 92.44.30.171
deny from 92.81.48.66
deny from 93.188.35.221
deny from 94.242.241.110
deny from 95.28.255.11
deny from 1.23.240.46
deny from 1.36.175.129
deny from 1.4.136.98
deny from 1.4.142.168
deny from 1.4.226.253
deny from 1.63.129.8
deny from 1.63.156.203
deny from 1.85.17.82
deny from 101.21.147.252
deny from 101.255.12.38
deny from 103.11.244.8
deny from 103.247.216.2
deny from 103.5.187.30
deny from 103.8.160.150
deny from 106.187.246.201
deny from 106.8.86.250
deny from 107.16.66.225
deny from 107.194.200.51
deny from 107.198.155.31
deny from 107.6.159.28
deny from 108.13.186.201
deny from 108.168.159.58
deny from 108.177.138.96
deny from 108.177.194.125
deny from 108.177.230.47
deny from 108.177.254.18
deny from 108.21.228.126
deny from 108.224.57.38
deny from 108.62.238.78
deny from 108.62.71.136
deny from 108.62.71.43
deny from 108.95.173.10
deny from 109.10.142.216
deny from 109.153.129.146
deny from 109.163.229.179
deny from 109.169.77.189
deny from 109.182.37.219
deny from 109.182.41.110
deny from 109.228.170.246
deny from 109.233.240.6
deny from 109.76.21.145
deny from 109.76.90.134
deny from 109.87.170.195
deny from 110.124.184.102
deny from 110.124.189.141
deny from 110.164.187.220
deny from 110.247.198.223
deny from 110.77.228.51
deny from 110.77.250.195
deny from 110.85.103.116
deny from 110.85.115.60
deny from 110.85.4.112
deny from 110.88.125.196
deny from 111.145.71.84
deny from 111.175.90.155
deny from 111.225.170.135
deny from 111.73.239.71
deny from 112.195.115.251
deny from 112.217.228.212
deny from 112.220.99.43
deny from 112.242.92.172
deny from 112.5.254.162
deny from 112.78.150.226
deny from 112.90.208.8
deny from 113.212.68.166
deny from 113.212.68.36
deny from 113.212.70.243
deny from 113.212.71.107
deny from 113.212.71.80
deny from 113.64.114.175
deny from 113.67.177.81
deny from 113.97.134.252
deny from 113.97.135.242
deny from 114.108.176.233
deny from 114.111.46.100
deny from 114.111.46.97
deny from 114.111.46.98
deny from 114.111.46.99
deny from 114.221.143.209
deny from 114.35.167.38
deny from 114.6.31.70
deny from 114.66.65.91
deny from 115.152.139.186
deny from 115.47.8.39
deny from 115.73.130.46
deny from 116.123.216.90
deny from 116.202.69.199
deny from 116.236.216.116
deny from 116.33.193.133
deny from 117.20.60.245
deny from 117.202.132.139
deny from 117.218.1.182
deny from 117.240.172.19
deny from 117.26.119.56
deny from 117.26.190.66
deny from 117.27.87.30
deny from 117.34.72.51
deny from 117.6.132.113
deny from 117.65.213.63
deny from 117.67.1.83
deny from 118.142.40.106
deny from 118.144.108.244
deny from 118.174.0.155
deny from 118.174.144.138
deny from 118.36.202.226
deny from 118.69.64.144
deny from 118.77.92.147
deny from 118.97.150.178
deny from 118.97.95.234
deny from 119.101.51.171
deny from 119.187.13.165
deny from 119.2.54.176
deny from 119.252.172.131
deny from 119.253.43.122
deny from 119.51.49.60
deny from 119.54.246.59
deny from 119.55.41.219
deny from 119.82.252.76
deny from 12.205.29.196
deny from 120.151.38.244
deny from 120.203.214.182
deny from 120.36.194.116
deny from 120.40.148.169
deny from 120.43.28.206
deny from 120.43.30.220
deny from 120.72.85.132
deny from 120.90.102.77
deny from 121.14.241.43
deny from 121.160.74.206
deny from 121.183.211.168
deny from 121.204.53.112
deny from 121.205.241.233
deny from 121.23.212.40
deny from 122.0.67.26
deny from 122.137.148.253
deny from 122.165.255.252
deny from 122.167.8.164
deny from 122.72.33.139
deny from 123.116.48.181
deny from 123.125.116.243
deny from 123.139.255.181
deny from 123.154.19.249
deny from 123.179.219.78
deny from 123.20.129.95
deny from 124.131.166.166
deny from 124.134.177.47
deny from 124.168.81.189
deny from 124.180.34.198
deny from 124.180.57.111
deny from 124.230.55.204
deny from 124.41.70.253
deny from 124.72.44.97
deny from 124.72.7.105
deny from 124.72.9.113
deny from 125.38.78.32
deny from 125.39.66.149
deny from 125.62.212.83
deny from 128.204.194.12
deny from 128.204.194.13
deny from 129.75.105.183
deny from 130.0.38.164
deny from 130.185.156.71
deny from 130.185.157.26
deny from 131.188.11.53
deny from 139.192.84.213
deny from 14.102.106.188
deny from 14.106.44.204
deny from 14.111.115.182
deny from 14.139.232.19
deny from 14.146.13.249
deny from 14.146.15.3
deny from 14.48.184.231
deny from 140.224.103.82
deny from 141.105.66.179
deny from 141.131.3.55
deny from 141.194.8.55
deny from 141.255.162.137
deny from 141.255.162.154
deny from 141.255.162.186
deny from 141.255.162.254
deny from 141.255.162.30
deny from 141.255.162.8
deny from 141.255.163.21
deny from 141.255.163.241
deny from 141.255.163.253
deny from 141.255.163.39
deny from 141.255.164.125
deny from 141.255.164.135
deny from 141.255.164.144
deny from 141.255.164.146
deny from 141.255.164.157
deny from 141.255.164.205
deny from 141.255.164.245
deny from 141.255.164.33
deny from 141.255.164.54
deny from 141.255.164.67
deny from 141.255.164.82
deny from 141.255.165.179
deny from 141.255.165.253
deny from 141.255.165.82
deny from 142.0.44.147
deny from 142.32.208.235
deny from 142.54.190.141
deny from 142.54.190.148
deny from 142.54.190.151
deny from 142.54.190.229
deny from 142.54.190.236
deny from 142.91.208.161
deny from 142.91.208.22
deny from 142.91.208.244
deny from 142.91.79.145
deny from 144.64.42.155
deny from 145.100.191.24
deny from 147.255.162.108
deny from 147.255.162.11
deny from 147.255.162.153
deny from 147.255.162.163
deny from 147.255.162.192
deny from 147.255.162.254
deny from 147.255.162.62
deny from 147.255.162.90
deny from 147.255.162.93
deny from 151.142.239.11
deny from 151.237.184.120
deny from 151.237.188.140
deny from 151.237.189.244
deny from 151.237.190.170
deny from 151.237.190.194
deny from 151.237.190.202
deny from 151.49.78.20
deny from 168.61.17.216
deny from 168.61.51.24
deny from 168.62.213.52
deny from 168.63.16.128
deny from 171.101.144.18
deny from 171.6.185.6
deny from 173.0.48.145
deny from 173.163.42.57
deny from 173.192.22.19
deny from 173.196.144.130
deny from 173.208.103.26
deny from 173.208.171.188
deny from 173.208.171.242
deny from 173.208.171.251
deny from 173.208.2.31
deny from 173.208.2.34
deny from 173.208.29.43
deny from 173.208.39.16
deny from 173.212.192.23
deny from 173.212.192.232
deny from 173.212.192.53
deny from 173.212.198.34
deny from 173.212.198.39
deny from 173.212.198.42
deny from 173.213.108.142
deny from 173.213.108.203
deny from 173.213.108.68
deny from 173.213.110.72
deny from 173.213.114.120
deny from 173.213.76.13
deny from 173.213.76.45
deny from 173.213.90.2
deny from 173.213.96.79
deny from 173.213.97.26
deny from 173.224.210.233
deny from 173.224.211.233
deny from 173.231.92.87
deny from 173.232.45.99
deny from 173.232.88.127
deny from 173.234.194.43
deny from 173.234.196.168
deny from 173.234.196.19
deny from 173.234.226.196
deny from 173.236.15.30
deny from 173.236.34.3
deny from 173.236.55.3
deny from 173.242.125.5
deny from 173.245.220.207
deny from 173.245.75.165
deny from 173.245.75.2
deny from 173.245.90.162
deny from 173.44.37.226
deny from 173.44.37.234
deny from 173.44.37.242
deny from 173.44.37.250
deny from 174.122.237.115
deny from 174.139.21.244
deny from 175.103.38.166
deny from 175.111.117.5
deny from 175.118.112.74
deny from 175.136.16.191
deny from 175.136.234.10
deny from 175.154.38.149
deny from 175.154.38.253
deny from 175.23.65.223
deny from 175.42.40.13
deny from 175.42.58.159
deny from 175.45.10.228
deny from 176.106.40.127
deny from 176.106.43.107
deny from 176.249.103.3
deny from 176.31.117.44
deny from 176.31.132.65
deny from 176.31.132.70
deny from 176.31.155.124
deny from 176.31.41.18
deny from 176.31.9.212
deny from 176.42.20.24
deny from 176.42.29.117
deny from 176.61.137.122
deny from 176.61.140.118
deny from 176.61.141.60
deny from 176.61.141.88
deny from 176.61.141.89
deny from 176.61.142.218
deny from 176.61.142.79
deny from 176.61.143.182
deny from 176.62.74.150
deny from 176.9.166.150
deny from 177.0.225.68
deny from 177.1.106.21
deny from 177.1.183.163
deny from 177.10.39.30
deny from 177.100.20.198
deny from 177.100.228.27
deny from 177.101.97.254
deny from 177.102.212.225
deny from 177.102.7.215
deny from 177.103.202.115
deny from 177.105.115.41
deny from 177.106.144.92
deny from 177.106.168.248
deny from 177.106.174.147
deny from 177.106.207.184
deny from 177.125.241.145
deny from 177.130.173.175
deny from 177.132.129.41
deny from 177.132.215.201
deny from 177.132.37.130
deny from 177.133.106.206
deny from 177.133.247.63
deny from 177.133.98.6
deny from 177.135.20.138
deny from 177.135.21.64
deny from 177.135.25.201
deny from 177.135.27.122
deny from 177.138.144.27
deny from 177.138.185.157
deny from 177.139.240.224
deny from 177.141.254.47
deny from 177.156.107.198
deny from 177.156.111.40
deny from 177.156.241.190
deny from 177.157.101.12
deny from 177.157.120.33
deny from 177.157.151.227
deny from 177.157.16.55
deny from 177.157.219.142
deny from 177.158.129.53
deny from 177.158.241.62
deny from 177.158.3.187
deny from 177.159.1.105
deny from 177.159.139.68
deny from 177.159.252.212
deny from 177.159.35.170
deny from 177.16.142.22
deny from 177.16.193.125
deny from 177.16.223.35
deny from 177.16.233.150
deny from 177.16.245.87
deny from 177.17.160.117
deny from 177.17.218.175
deny from 177.17.5.215
deny from 177.17.70.81
deny from 177.17.71.240
deny from 177.177.112.234
deny from 177.177.118.132
deny from 177.177.119.254
deny from 177.177.18.218
deny from 177.177.196.135
deny from 177.177.88.249
deny from 177.179.12.169
deny from 177.179.12.227
deny from 177.179.153.53
deny from 177.179.171.82
deny from 177.179.74.153
deny from 177.179.93.38
deny from 177.18.148.22
deny from 177.18.152.159
deny from 177.18.177.106
deny from 177.18.178.33
deny from 177.18.216.86
deny from 177.18.96.155
deny from 177.19.109.147
deny from 177.19.110.16
deny from 177.19.158.149
deny from 177.192.24.211
deny from 177.192.244.171
deny from 177.193.21.80
deny from 177.212.63.28
deny from 177.23.70.74
deny from 177.24.194.132
deny from 177.3.160.91
deny from 177.33.199.250
deny from 177.33.250.242
deny from 177.35.234.171
deny from 177.35.72.115
deny from 177.36.212.68
deny from 177.36.223.26
deny from 177.38.241.50
deny from 177.4.49.21
deny from 177.4.96.140
deny from 177.40.220.141
deny from 177.40.47.84
deny from 177.41.144.143
deny from 177.41.153.40
deny from 177.41.154.162
deny from 177.41.178.228
deny from 177.41.179.28
deny from 177.41.19.46
deny from 177.41.190.192
deny from 177.41.220.52
deny from 177.41.223.144
deny from 177.41.75.208
deny from 177.41.90.80
deny from 177.42.116.167
deny from 177.42.132.231
deny from 177.42.41.82
deny from 177.42.42.10
deny from 177.43.172.130
deny from 177.43.69.2
deny from 177.43.72.250
deny from 177.5.113.233
deny from 177.5.122.6
deny from 177.5.193.221
deny from 177.5.213.156
deny from 177.5.234.111
deny from 177.5.252.191
deny from 177.5.39.180
deny from 177.5.75.170
deny from 177.60.15.202
deny from 177.64.135.4
deny from 177.65.10.64
deny from 177.65.131.144
deny from 177.68.34.169
deny from 177.69.223.100
deny from 177.70.168.4
deny from 177.73.152.34
deny from 177.73.208.1
deny from 177.82.188.166
deny from 177.85.233.3
deny from 177.9.179.166
deny from 177.9.198.174
deny from 177.9.50.166
deny from 177.96.109.16
deny from 177.96.136.73
deny from 177.96.143.56
deny from 177.96.164.217
deny from 177.96.183.206
deny from 177.96.204.124
deny from 177.96.40.90
deny from 177.96.82.126
deny from 177.96.86.32
deny from 177.96.92.61
deny from 177.97.132.175
deny from 177.97.15.148
deny from 177.97.27.72
deny from 177.97.57.125
deny from 177.98.135.152
deny from 177.98.136.22
deny from 177.98.155.68
deny from 177.98.171.182
deny from 177.98.200.30
deny from 177.98.213.47
deny from 177.98.227.88
deny from 177.99.101.243
deny from 177.99.125.13
deny from 177.99.126.217
deny from 177.99.166.46
deny from 177.99.65.134
deny from 178.130.35.14
deny from 178.167.108.1
deny from 178.167.57.223
deny from 178.189.112.122
deny from 178.208.235.244
deny from 178.216.48.172
deny from 178.216.48.191
deny from 178.223.64.234
deny from 178.238.130.104
deny from 178.238.228.92
deny from 178.32.156.196
deny from 178.32.173.48
deny from 178.32.231.203
deny from 178.32.231.207
deny from 178.32.254.37
deny from 178.32.254.39
deny from 178.32.254.74
deny from 178.32.254.75
deny from 178.32.51.188
deny from 178.32.52.230
deny from 178.32.86.148
deny from 178.32.86.153
deny from 178.32.86.155
deny from 178.33.10.249
deny from 178.33.154.134
deny from 178.33.160.36
deny from 178.33.181.41
deny from 178.33.181.45
deny from 178.33.191.116
deny from 178.33.40.51
deny from 178.33.48.7
deny from 178.43.71.157
deny from 178.43.73.218
deny from 178.43.78.16
deny from 178.43.79.87
deny from 178.43.81.165
deny from 178.43.84.87
deny from 178.48.134.4
deny from 178.63.114.173
deny from 178.63.199.220
deny from 178.63.84.146
deny from 178.73.202.158
deny from 179.234.228.83
deny from 179.234.236.26
deny from 180.139.226.25
deny from 180.190.211.222
deny from 180.246.178.57
deny from 180.246.80.146
deny from 180.96.62.21
deny from 180.96.71.91
deny from 182.107.206.24
deny from 182.186.138.109
deny from 182.186.218.139
deny from 182.36.103.135
deny from 182.36.105.29
deny from 182.36.99.160
deny from 182.68.79.240
deny from 183.1.108.118
deny from 183.12.224.17
deny from 183.179.38.123
deny from 183.187.100.136
deny from 183.5.17.12
deny from 183.5.22.227
deny from 183.5.30.165
deny from 183.5.44.47
deny from 184.154.164.235
deny from 184.154.76.244
deny from 184.173.252.144
deny from 184.183.183.90
deny from 184.22.157.38
deny from 184.22.38.202
deny from 184.22.86.242
deny from 184.73.107.152
deny from 184.82.177.135
deny from 184.82.183.228
deny from 184.82.68.3
deny from 185.3.132.201
deny from 185.3.132.202
deny from 185.3.132.215
deny from 185.3.132.219
deny from 185.3.134.227
deny from 185.3.134.236
deny from 185.3.134.254
deny from 186.116.11.170
deny from 186.194.214.10
deny from 186.194.214.11
deny from 186.201.143.105
deny from 186.201.143.226
deny from 186.201.143.97
deny from 186.201.163.94
deny from 186.204.112.39
deny from 186.204.150.172
deny from 186.207.203.84
deny from 186.207.250.119
deny from 186.207.252.26
deny from 186.210.15.136
deny from 186.210.208.245
deny from 186.210.52.232
deny from 186.212.102.140
deny from 186.212.106.93
deny from 186.212.139.227
deny from 186.212.143.218
deny from 186.212.158.29
deny from 186.212.169.22
deny from 186.212.193.133
deny from 186.212.44.102
deny from 186.212.48.146
deny from 186.212.49.49
deny from 186.212.51.87
deny from 186.212.72.211
deny from 186.213.127.178
deny from 186.213.144.63
deny from 186.213.26.211
deny from 186.213.66.142
deny from 186.213.66.212
deny from 186.213.90.231
deny from 186.213.93.205
deny from 186.213.98.232
deny from 186.214.173.79
deny from 186.214.185.110
deny from 186.215.151.178
deny from 186.215.17.134
deny from 186.215.17.96
deny from 186.215.38.34
deny from 186.216.141.161
deny from 186.218.161.100
deny from 186.218.222.107
deny from 186.218.54.120
deny from 186.222.47.245
deny from 186.223.242.220
deny from 186.223.253.158
deny from 186.223.254.26
deny from 186.227.30.253
deny from 186.232.58.12
deny from 186.232.58.222
deny from 186.232.58.231
deny from 186.232.59.168
deny from 186.232.59.220
deny from 186.232.59.232
deny from 186.233.225.150
deny from 186.236.143.243
deny from 186.236.205.226
deny from 186.238.122.194
deny from 186.241.117.109
deny from 186.241.65.110
deny from 186.241.84.5
deny from 186.244.102.114
deny from 186.244.192.116
deny from 186.244.199.99
deny from 186.244.203.181
deny from 186.244.204.122
deny from 186.244.229.118
deny from 186.244.231.105
deny from 186.244.3.245
deny from 186.244.37.134
deny from 186.244.4.158
deny from 186.244.41.240
deny from 186.244.60.88
deny from 186.244.70.207
deny from 186.247.129.156
deny from 186.247.192.181
deny from 186.247.194.176
deny from 186.247.196.166
deny from 186.247.196.197
deny from 186.247.240.37
deny from 186.247.245.48
deny from 186.249.121.204
deny from 186.46.187.43
deny from 186.5.81.2
deny from 186.52.67.109
deny from 186.7.159.21
deny from 186.90.219.62
deny from 187.0.149.131
deny from 187.0.231.3
deny from 187.0.251.25
deny from 187.0.48.26
deny from 187.1.51.174
deny from 187.1.96.230
deny from 187.10.138.248
deny from 187.10.16.160
deny from 187.10.17.252
deny from 187.10.220.99
deny from 187.10.62.81
deny from 187.10.8.155
deny from 187.101.123.105
deny from 187.101.165.3
deny from 187.101.194.161
deny from 187.101.248.92
deny from 187.101.251.196
deny from 187.101.32.222
deny from 187.101.9.54
deny from 187.102.97.91
deny from 187.103.173.18
deny from 187.104.252.2
deny from 187.105.74.41
deny from 187.106.100.49
deny from 187.106.206.220
deny from 187.106.227.204
deny from 187.106.243.148
deny from 187.106.58.154
deny from 187.107.180.234
deny from 187.108.148.113
deny from 187.108.190.98
deny from 187.108.28.48
deny from 187.108.29.102
deny from 187.108.51.4
deny from 187.109.198.15
deny from 187.109.204.114
deny from 187.109.224.66
deny from 187.11.116.220
deny from 187.11.132.224
deny from 187.11.193.144
deny from 187.11.197.79
deny from 187.11.211.220
deny from 187.11.236.177
deny from 187.11.237.220
deny from 187.11.253.30
deny from 187.110.94.196
deny from 187.112.161.149
deny from 187.112.171.251
deny from 187.112.199.17
deny from 187.112.222.20
deny from 187.112.242.215
deny from 187.112.242.80
deny from 187.112.243.128
deny from 187.112.41.102
deny from 187.112.45.51
deny from 187.112.86.237
deny from 187.113.147.77
deny from 187.113.148.187
deny from 187.113.149.69
deny from 187.113.176.246
deny from 187.113.183.81
deny from 187.113.242.234
deny from 187.113.36.22
deny from 187.113.8.192
deny from 187.114.192.158
deny from 187.114.224.62
deny from 187.114.252.171
deny from 187.114.254.201
deny from 187.114.80.131
deny from 187.114.85.210
deny from 187.115.152.92
deny from 187.115.154.231
deny from 187.115.161.236
deny from 187.115.172.89
deny from 187.115.202.236
deny from 187.115.202.57
deny from 187.115.36.121
deny from 187.115.44.145
deny from 187.115.64.242
deny from 187.115.66.169
deny from 187.119.205.120
deny from 187.12.103.190
deny from 187.12.186.19
deny from 187.12.201.3
deny from 187.12.236.14
deny from 187.12.6.220
deny from 187.120.123.232
deny from 187.120.195.36
deny from 187.122.240.62
deny from 187.123.124.179
deny from 187.124.183.62
deny from 187.125.100.194
deny from 187.126.152.140
deny from 187.126.176.49
deny from 187.126.208.78
deny from 187.127.118.18
deny from 187.127.150.209
deny from 187.127.212.246
deny from 187.127.241.20
deny from 187.127.43.187
deny from 187.13.188.39
deny from 187.13.237.174
deny from 187.13.37.45
deny from 187.13.69.17
deny from 187.13.75.237
deny from 187.134.157.12
deny from 187.139.6.135
deny from 187.14.138.174
deny from 187.14.15.143
deny from 187.14.151.69
deny from 187.14.154.146
deny from 187.14.173.149
deny from 187.14.181.215
deny from 187.14.182.94
deny from 187.14.201.135
deny from 187.14.34.67
deny from 187.14.39.105
deny from 187.14.45.164
deny from 187.14.90.64
deny from 187.147.154.205
deny from 187.147.156.255
deny from 187.15.142.90
deny from 187.15.170.197
deny from 187.15.172.126
deny from 187.15.198.120
deny from 187.15.251.24
deny from 187.15.30.12
deny from 187.15.39.250
deny from 187.15.60.156
deny from 187.15.96.79
deny from 187.155.36.147
deny from 187.155.40.171
deny from 187.157.169.197
deny from 187.158.228.56
deny from 187.158.90.58
deny from 187.16.231.2
deny from 187.16.232.2
deny from 187.17.123.173
deny from 187.171.3.109
deny from 187.175.235.145
deny from 187.18.151.86
deny from 187.18.164.187
deny from 187.18.90.210
deny from 187.185.241.157
deny from 187.188.158.83
deny from 187.19.248.93
deny from 187.19.250.57
deny from 187.19.56.227
deny from 187.192.114.69
deny from 187.20.119.132
deny from 187.201.213.255
deny from 187.204.30.192
deny from 187.204.77.124
deny from 187.206.77.171
deny from 187.207.194.3
deny from 187.207.201.252
deny from 187.207.234.138
deny from 187.207.243.77
deny from 187.21.166.212
deny from 187.21.39.28
deny from 187.22.105.143
deny from 187.23.235.221
deny from 187.23.245.198
deny from 187.23.246.156
deny from 187.23.248.72
deny from 187.233.81.183
deny from 187.237.10.34
deny from 187.24.97.112
deny from 187.28.147.55
deny from 187.3.232.39
deny from 187.3.28.181
deny from 187.3.64.146
deny from 187.3.94.218
deny from 187.32.225.124
deny from 187.32.225.237
deny from 187.34.20.136
deny from 187.34.246.124
deny from 187.34.252.142
deny from 187.34.36.4
deny from 187.34.46.131
deny from 187.34.51.167
deny from 187.34.89.178
deny from 187.35.100.239
deny from 187.35.14.238
deny from 187.35.153.250
deny from 187.35.186.196
deny from 187.35.24.39
deny from 187.35.245.123
deny from 187.35.27.78
deny from 187.35.76.29
deny from 187.36.169.85
deny from 187.37.121.126
deny from 187.37.240.153
deny from 187.37.67.28
deny from 187.38.46.8
deny from 187.39.175.151
deny from 187.39.49.140
deny from 187.4.10.230
deny from 187.4.100.196
deny from 187.4.138.141
deny from 187.4.18.30
deny from 187.4.214.135
deny from 187.4.241.126
deny from 187.4.32.172
deny from 187.40.126.81
deny from 187.40.14.65
deny from 187.40.167.72
deny from 187.40.168.151
deny from 187.40.190.26
deny from 187.40.219.15
deny from 187.40.45.53
deny from 187.40.57.122
deny from 187.40.66.142
deny from 187.40.85.218
deny from 187.40.92.231
deny from 187.41.122.96
deny from 187.41.139.2
deny from 187.41.142.201
deny from 187.41.235.243
deny from 187.41.34.138
deny from 187.41.41.245
deny from 187.41.59.250
deny from 187.41.82.240
deny from 187.43.255.127
deny from 187.43.44.193
deny from 187.43.82.226
deny from 187.44.27.86
deny from 187.45.102.245
deny from 187.45.12.223
deny from 187.45.12.239
deny from 187.45.41.137
deny from 187.45.72.213
deny from 187.48.61.32
deny from 187.49.193.202
deny from 187.49.7.99
deny from 187.5.109.106
deny from 187.5.127.33
deny from 187.5.13.179
deny from 187.5.132.208
deny from 187.5.152.180
deny from 187.5.166.248
deny from 187.5.172.144
deny from 187.5.195.191
deny from 187.5.46.13
deny from 187.5.86.218
deny from 187.50.185.2
deny from 187.52.111.105
deny from 187.52.12.59
deny from 187.52.124.245
deny from 187.52.171.178
deny from 187.52.189.59
deny from 187.52.34.211
deny from 187.52.77.111
deny from 187.52.88.91
deny from 187.53.112.238
deny from 187.53.139.35
deny from 187.53.139.59
deny from 187.53.140.247
deny from 187.53.208.164
deny from 187.53.22.119
deny from 187.53.233.30
deny from 187.53.241.189
deny from 187.53.25.228
deny from 187.53.253.88
deny from 187.54.134.223
deny from 187.54.171.105
deny from 187.54.72.55
deny from 187.54.79.128
deny from 187.55.144.165
deny from 187.55.190.72
deny from 187.55.202.219
deny from 187.55.205.87
deny from 187.55.216.82
deny from 187.55.240.74
deny from 187.55.53.153
deny from 187.56.104.143
deny from 187.56.120.53
deny from 187.56.125.223
deny from 187.56.159.76
deny from 187.56.37.224
deny from 187.56.41.101
deny from 187.56.89.209
deny from 187.56.94.34
deny from 187.57.116.40
deny from 187.57.183.196
deny from 187.57.188.250
deny from 187.57.20.210
deny from 187.57.27.53
deny from 187.57.88.200
deny from 187.58.114.195
deny from 187.58.145.150
deny from 187.58.172.24
deny from 187.58.181.2
deny from 187.58.212.58
deny from 187.58.229.221
deny from 187.58.232.251
deny from 187.58.254.146
deny from 187.58.34.35
deny from 187.58.38.203
deny from 187.58.50.196
deny from 187.58.53.46
deny from 187.58.73.71
deny from 187.59.101.140
deny from 187.59.110.36
deny from 187.59.128.81
deny from 187.59.165.86
deny from 187.59.171.157
deny from 187.59.217.157
deny from 187.59.34.61
deny from 187.59.5.15
deny from 187.59.63.102
deny from 187.59.63.110
deny from 187.59.91.236
deny from 187.59.96.177
deny from 187.6.157.89
deny from 187.6.19.54
deny from 187.6.197.45
deny from 187.6.209.242
deny from 187.6.219.13
deny from 187.6.252.138
deny from 187.6.55.115
deny from 187.6.97.167
deny from 187.60.121.58
deny from 187.60.128.110
deny from 187.60.218.75
deny from 187.60.222.50
deny from 187.61.233.86
deny from 187.62.1.116
deny from 187.62.30.127
deny from 187.62.42.39
deny from 187.62.45.141
deny from 187.63.15.61
deny from 187.63.214.174
deny from 187.64.141.88
deny from 187.64.142.158
deny from 187.64.142.98
deny from 187.64.32.62
deny from 187.65.102.235
deny from 187.65.115.54
deny from 187.65.169.13
deny from 187.65.174.185
deny from 187.65.33.155
deny from 187.65.53.144
deny from 187.65.78.46
deny from 187.66.40.141
deny from 187.66.41.175
deny from 187.69.94.108
deny from 187.7.120.51
deny from 187.7.181.163
deny from 187.7.186.3
deny from 187.7.37.206
deny from 187.7.49.153
deny from 187.7.5.77
deny from 187.7.88.26
deny from 187.7.94.33
deny from 187.72.151.161
deny from 187.72.69.108
deny from 187.72.69.113
deny from 187.73.204.159
deny from 187.73.228.62
deny from 187.73.228.69
deny from 187.73.28.246
deny from 187.73.5.243
deny from 187.73.63.74
deny from 187.74.101.188
deny from 187.74.148.126
deny from 187.74.202.145
deny from 187.74.89.61
deny from 187.75.117.189
deny from 187.75.133.240
deny from 187.75.173.208
deny from 187.75.185.153
deny from 187.75.192.47
deny from 187.75.246.170
deny from 187.76.84.134
deny from 187.78.10.30
deny from 187.78.101.246
deny from 187.78.103.92
deny from 187.78.110.119
deny from 187.78.121.139
deny from 187.78.135.154
deny from 187.78.177.195
deny from 187.78.178.18
deny from 187.78.24.186
deny from 187.78.47.61
deny from 187.78.67.219
deny from 187.78.8.77
deny from 187.79.13.237
deny from 187.79.141.192
deny from 187.79.154.86
deny from 187.79.194.157
deny from 187.79.195.133
deny from 187.79.195.134
deny from 187.79.215.99
deny from 187.79.216.96
deny from 187.79.217.178
deny from 187.79.218.19
deny from 187.79.239.38
deny from 187.79.245.120
deny from 187.79.248.49
deny from 187.79.57.230
deny from 187.79.72.103
deny from 187.79.80.103
deny from 187.79.83.87
deny from 187.85.129.98
deny from 187.85.199.156
deny from 187.86.180.164
deny from 187.86.180.236
deny from 187.86.57.63
deny from 187.86.77.18
deny from 187.87.114.1
deny from 187.87.114.178
deny from 187.87.115.183
deny from 187.87.12.99
deny from 187.87.250.5
deny from 187.9.114.252
deny from 187.9.235.167
deny from 187.9.92.114
deny from 187.94.147.197
deny from 187.95.2.6
deny from 187.95.241.49
deny from 187.95.68.177
deny from 187.95.92.162
deny from 188.121.63.235
deny from 188.143.232.12
deny from 188.165.123.193
deny from 188.215.83.174
deny from 188.215.83.180
deny from 188.24.138.42
deny from 188.250.187.160
deny from 188.251.1.72
deny from 188.251.2.53
deny from 188.251.3.127
deny from 188.40.152.99
deny from 188.80.184.168
deny from 188.83.124.38
deny from 188.83.154.19
deny from 188.98.9.190
deny from 189.1.128.130
deny from 189.10.155.140
deny from 189.10.227.114
deny from 189.10.64.12
deny from 189.10.91.112
deny from 189.100.238.34
deny from 189.100.55.209
deny from 189.101.10.20
deny from 189.101.130.32
deny from 189.101.180.67
deny from 189.104.0.204
deny from 189.104.132.52
deny from 189.104.174.195
deny from 189.104.185.108
deny from 189.104.215.87
deny from 189.104.220.184
deny from 189.104.34.216
deny from 189.104.40.164
deny from 189.105.10.55
deny from 189.105.120.206
deny from 189.105.122.160
deny from 189.105.124.36
deny from 189.105.150.254
deny from 189.105.161.217
deny from 189.105.178.76
deny from 189.105.202.178
deny from 189.105.217.138
deny from 189.106.106.61
deny from 189.106.13.5
deny from 189.106.150.169
deny from 189.106.220.89
deny from 189.106.3.83
deny from 189.106.39.35
deny from 189.106.57.163
deny from 189.106.62.138
deny from 189.106.92.54
deny from 189.107.115.8
deny from 189.107.117.13
deny from 189.107.123.23
deny from 189.107.131.75
deny from 189.107.157.107
deny from 189.107.16.196
deny from 189.107.227.236
deny from 189.107.228.120
deny from 189.107.23.73
deny from 189.107.235.46
deny from 189.107.24.129
deny from 189.107.240.21
deny from 189.107.241.106
deny from 189.107.250.87
deny from 189.107.59.94
deny from 189.107.61.182
deny from 189.107.64.226
deny from 189.107.70.30
deny from 189.107.90.232
deny from 189.107.91.211
deny from 189.109.25.154
deny from 189.11.103.44
deny from 189.11.144.48
deny from 189.11.95.73
deny from 189.110.105.216
deny from 189.110.175.140
deny from 189.110.193.213
deny from 189.110.194.153
deny from 189.110.199.129
deny from 189.110.207.121
deny from 189.110.221.18
deny from 189.110.221.228
deny from 189.110.231.27
deny from 189.110.243.194
deny from 189.110.35.1
deny from 189.110.37.181
deny from 189.111.102.91
deny from 189.111.117.38
deny from 189.111.131.46
deny from 189.111.160.10
deny from 189.111.64.192
deny from 189.112.191.18
deny from 189.112.41.1
deny from 189.114.38.160
deny from 189.115.129.225
deny from 189.115.132.139
deny from 189.115.136.244
deny from 189.115.162.74
deny from 189.115.202.58
deny from 189.115.65.126
deny from 189.115.66.194
deny from 189.12.115.91
deny from 189.12.239.64
deny from 189.12.241.183
deny from 189.12.246.190
deny from 189.12.34.199
deny from 189.12.38.117
deny from 189.12.52.140
deny from 189.12.67.104
deny from 189.12.96.229
deny from 189.120.159.180
deny from 189.120.234.251
deny from 189.120.66.23
deny from 189.121.166.179
deny from 189.121.18.219
deny from 189.121.204.197
deny from 189.121.86.159
deny from 189.122.166.52
deny from 189.122.74.58
deny from 189.124.202.36
deny from 189.124.23.3
deny from 189.124.23.4
deny from 189.124.29.11
deny from 189.124.31.7
deny from 189.124.34.127
deny from 189.124.37.61
deny from 189.124.73.170
deny from 189.124.73.87
deny from 189.124.77.174
deny from 189.125.172.36
deny from 189.125.215.3
deny from 189.125.7.102
deny from 189.126.24.133
deny from 189.126.29.211
deny from 189.126.29.76
deny from 189.126.31.48
deny from 189.126.61.132
deny from 189.127.149.12
deny from 189.127.191.163
deny from 189.127.210.126
deny from 189.128.112.188
deny from 189.13.107.213
deny from 189.13.12.187
deny from 189.13.164.202
deny from 189.13.167.60
deny from 189.13.188.13
deny from 189.13.234.184
deny from 189.13.46.9
deny from 189.13.80.184
deny from 189.13.81.151
deny from 189.13.93.120
deny from 189.134.232.170
deny from 189.135.184.107
deny from 189.135.89.35
deny from 189.137.219.210
deny from 189.14.192.75
deny from 189.14.23.126
deny from 189.15.108.236
deny from 189.15.126.125
deny from 189.15.128.170
deny from 189.15.158.81
deny from 189.15.188.115
deny from 189.15.200.151
deny from 189.15.226.140
deny from 189.15.239.182
deny from 189.15.38.173
deny from 189.15.86.204
deny from 189.168.255.218
deny from 189.168.37.201
deny from 189.168.52.117
deny from 189.179.88.234
deny from 189.18.12.186
deny from 189.18.12.9
deny from 189.18.145.125
deny from 189.18.149.77
deny from 189.18.15.152
deny from 189.18.2.126
deny from 189.18.2.176
deny from 189.18.27.230
deny from 189.180.161.176
deny from 189.186.139.193
deny from 189.19.101.169
deny from 189.19.135.173
deny from 189.19.245.145
deny from 189.19.9.206
deny from 189.191.199.192
deny from 189.20.80.189
deny from 189.205.215.98
deny from 189.21.198.166
deny from 189.22.132.35
deny from 189.22.191.130
deny from 189.227.224.9
deny from 189.235.147.127
deny from 189.235.158.168
deny from 189.24.118.240
deny from 189.24.124.6
deny from 189.24.165.132
deny from 189.24.168.205
deny from 189.24.210.32
deny from 189.24.30.184
deny from 189.24.59.183
deny from 189.24.69.160
deny from 189.244.155.42
deny from 189.25.107.132
deny from 189.25.144.101
deny from 189.25.168.22
deny from 189.25.22.184
deny from 189.25.95.53
deny from 189.25.95.96
deny from 189.25.96.24
deny from 189.250.23.75
deny from 189.250.32.155
deny from 189.251.25.10
deny from 189.251.67.51
deny from 189.253.222.123
deny from 189.254.1.2
deny from 189.26.150.137
deny from 189.26.153.226
deny from 189.26.177.72
deny from 189.26.236.230
deny from 189.26.255.100
deny from 189.26.255.50
deny from 189.26.65.254
deny from 189.26.72.229
deny from 189.26.77.177
deny from 189.26.77.214
deny from 189.27.128.110
deny from 189.27.130.52
deny from 189.27.137.61
deny from 189.27.214.12
deny from 189.27.67.234
deny from 189.27.7.134
deny from 189.28.162.134
deny from 189.29.245.126
deny from 189.29.25.156
deny from 189.29.36.101
deny from 189.29.89.52
deny from 189.3.162.113
deny from 189.3.162.70
deny from 189.3.170.146
deny from 189.30.104.14
deny from 189.30.104.174
deny from 189.30.116.243
deny from 189.30.127.145
deny from 189.30.130.5
deny from 189.30.246.153
deny from 189.30.38.105
deny from 189.30.39.230
deny from 189.30.93.77
deny from 189.31.166.105
deny from 189.31.199.52
deny from 189.31.2.4
deny from 189.31.28.119
deny from 189.31.40.97
deny from 189.31.9.147
deny from 189.32.196.187
deny from 189.32.84.29
deny from 189.32.89.222
deny from 189.33.19.238
deny from 189.33.19.6
deny from 189.33.70.214
deny from 189.33.91.193
deny from 189.34.211.228
deny from 189.34.75.221
deny from 189.35.155.137
deny from 189.38.250.162
deny from 189.38.36.109
deny from 189.4.102.161
deny from 189.4.167.115
deny from 189.41.104.150
deny from 189.41.109.23
deny from 189.41.109.90
deny from 189.41.111.107
deny from 189.41.111.171
deny from 189.41.130.251
deny from 189.41.180.1
deny from 189.41.184.160
deny from 189.41.205.207
deny from 189.41.217.85
deny from 189.41.221.142
deny from 189.41.232.109
deny from 189.41.234.104
deny from 189.41.234.41
deny from 189.41.242.123
deny from 189.41.53.233
deny from 189.41.62.16
deny from 189.41.84.65
deny from 189.41.86.100
deny from 189.41.92.140
deny from 189.41.94.156
deny from 189.45.144.152
deny from 189.45.246.54
deny from 189.46.167.84
deny from 189.46.197.178
deny from 189.46.224.246
deny from 189.46.48.222
deny from 189.46.81.124
deny from 189.47.1.15
deny from 189.47.130.95
deny from 189.47.66.222
deny from 189.47.70.105
deny from 189.47.87.144
deny from 189.48.121.38
deny from 189.48.227.21
deny from 189.48.231.196
deny from 189.48.52.51
deny from 189.48.72.116
deny from 189.48.95.218
deny from 189.5.181.216
deny from 189.5.225.188
deny from 189.5.227.124
deny from 189.5.239.204
deny from 189.5.248.102
deny from 189.5.248.34
deny from 189.5.252.12
deny from 189.5.45.194
deny from 189.50.142.186
deny from 189.50.191.252
deny from 189.51.133.83
deny from 189.51.235.154
deny from 189.51.33.83
deny from 189.53.102.65
deny from 189.53.214.98
deny from 189.54.233.231
deny from 189.55.177.69
deny from 189.55.179.251
deny from 189.55.30.33
deny from 189.55.36.125
deny from 189.56.25.162
deny from 189.57.88.10
deny from 189.58.22.149
deny from 189.58.34.22
deny from 189.58.76.170
deny from 189.59.156.127
deny from 189.59.187.210
deny from 189.59.199.60
deny from 189.59.54.18
deny from 189.59.68.230
deny from 189.6.1.33
deny from 189.61.155.230
deny from 189.61.38.155
deny from 189.62.103.56
deny from 189.62.113.229
deny from 189.62.114.157
deny from 189.62.124.91
deny from 189.62.137.5
deny from 189.62.163.147
deny from 189.62.238.143
deny from 189.62.52.215
deny from 189.63.195.103
deny from 189.63.64.217
deny from 189.68.122.125
deny from 189.68.166.44
deny from 189.68.30.97
deny from 189.68.50.49
deny from 189.68.59.40
deny from 189.68.59.44
deny from 189.69.119.216
deny from 189.69.174.149
deny from 189.69.40.151
deny from 189.69.40.20
deny from 189.69.40.99
deny from 189.69.55.121
deny from 189.69.57.153
deny from 189.69.87.160
deny from 189.7.235.50
deny from 189.70.172.194
deny from 189.70.175.238
deny from 189.70.18.194
deny from 189.70.228.101
deny from 189.70.247.80
deny from 189.70.250.23
deny from 189.71.105.236
deny from 189.71.176.114
deny from 189.71.207.55
deny from 189.71.213.64
deny from 189.71.248.72
deny from 189.71.48.44
deny from 189.71.8.254
deny from 189.72.210.39
deny from 189.72.222.199
deny from 189.72.240.112
deny from 189.72.240.155
deny from 189.72.48.56
deny from 189.72.67.88
deny from 189.72.82.106
deny from 189.73.111.54
deny from 189.73.145.249
deny from 189.73.149.44
deny from 189.73.196.112
deny from 189.73.233.115
deny from 189.73.239.47
deny from 189.73.249.53
deny from 189.73.251.31
deny from 189.73.32.44
deny from 189.73.48.37
deny from 189.74.116.75
deny from 189.74.150.133
deny from 189.74.169.96
deny from 189.74.215.190
deny from 189.74.227.46
deny from 189.74.45.112
deny from 189.74.89.77
deny from 189.75.14.195
deny from 189.75.149.79
deny from 189.75.171.162
deny from 189.75.212.29
deny from 189.75.67.41
deny from 189.76.1.181
deny from 189.76.215.228
deny from 189.76.39.222
deny from 189.76.64.18
deny from 189.76.71.242
deny from 189.78.11.52
deny from 189.78.14.10
deny from 189.78.14.210
deny from 189.78.193.250
deny from 189.78.199.123
deny from 189.78.201.101
deny from 189.78.213.147
deny from 189.78.4.32
deny from 189.78.9.187
deny from 189.79.129.59
deny from 189.79.131.65
deny from 189.79.134.120
deny from 189.79.193.246
deny from 189.79.202.206
deny from 189.80.131.116
deny from 189.80.238.46
deny from 189.80.26.189
deny from 189.80.51.150
deny from 189.81.139.53
deny from 189.81.20.216
deny from 189.81.42.47
deny from 189.81.5.171
deny from 189.81.5.177
deny from 189.81.50.70
deny from 189.81.6.39
deny from 189.81.70.139
deny from 189.82.158.88
deny from 189.82.175.121
deny from 189.82.182.10
deny from 189.82.59.63
deny from 189.82.78.31
deny from 189.82.84.204
deny from 189.82.86.30
deny from 189.82.95.253
deny from 189.83.117.113
deny from 189.83.175.80
deny from 189.83.191.34
deny from 189.83.20.93
deny from 189.83.29.147
deny from 189.84.112.230
deny from 189.84.114.150
deny from 189.84.120.135
deny from 189.84.190.77
deny from 189.84.211.146
deny from 189.89.155.46
deny from 189.89.18.21
deny from 189.89.246.52
deny from 189.89.82.121
deny from 189.90.102.133
deny from 189.90.118.28
deny from 189.90.250.138
deny from 189.91.0.65
deny from 189.91.193.8
deny from 189.91.196.194
deny from 189.91.209.33
deny from 189.91.209.67
deny from 189.92.195.6
deny from 189.93.130.238
deny from 189.95.131.251
deny from 190.102.129.130
deny from 190.102.7.48
deny from 190.14.255.234
deny from 190.146.1.162
deny from 190.151.8.246
deny from 190.167.3.136
deny from 190.189.88.163
deny from 190.199.41.12
deny from 190.201.226.112
deny from 190.211.106.190
deny from 190.242.99.178
deny from 190.250.231.14
deny from 190.26.210.29
deny from 190.35.101.164
deny from 190.43.254.253
deny from 190.6.193.219
deny from 190.85.133.162
deny from 190.95.158.162
deny from 192.119.144.104
deny from 192.119.154.152
deny from 192.119.154.168
deny from 192.119.154.169
deny from 192.119.154.204
deny from 192.119.154.205
deny from 192.119.154.221
deny from 192.119.154.222
deny from 193.137.179.181
deny from 193.152.181.131
deny from 193.178.234.3
deny from 193.200.150.152
deny from 193.23.123.61
deny from 193.239.56.21
deny from 193.42.159.234
deny from 193.53.4.252
deny from 193.61.104.66
deny from 194.116.198.185
deny from 194.125.255.72
deny from 194.160.66.28
deny from 194.2.68.153
deny from 194.206.227.78
deny from 194.71.222.107
deny from 194.71.222.113
deny from 194.71.222.115
deny from 194.71.222.118
deny from 194.71.222.12
deny from 194.71.222.135
deny from 194.71.222.137
deny from 194.71.222.145
deny from 194.71.222.154
deny from 194.71.222.190
deny from 194.71.222.198
deny from 194.71.222.2
deny from 194.71.222.20
deny from 194.71.222.210
deny from 194.71.222.247
deny from 194.71.222.33
deny from 194.71.222.40
deny from 194.71.222.41
deny from 194.71.222.45
deny from 194.71.222.49
deny from 194.71.222.50
deny from 194.71.222.6
deny from 194.71.222.64
deny from 194.71.222.95
deny from 194.71.222.99
deny from 194.71.223.104
deny from 194.71.223.131
deny from 194.71.223.134
deny from 194.71.223.135
deny from 194.71.223.151
deny from 194.71.223.190
deny from 194.71.223.191
deny from 194.71.223.198
deny from 194.71.223.20
deny from 194.71.223.26
deny from 194.71.223.5
deny from 194.71.223.60
deny from 194.71.223.64
deny from 194.71.223.69
deny from 194.71.223.80
deny from 194.71.223.90
deny from 194.71.223.98
deny from 194.71.224.153
deny from 194.71.224.177
deny from 194.71.224.178
deny from 194.71.224.188
deny from 194.71.224.198
deny from 194.71.224.204
deny from 194.71.224.205
deny from 194.71.224.255
deny from 194.71.224.86
deny from 194.71.225.13
deny from 194.71.225.149
deny from 194.71.225.155
deny from 194.71.225.207
deny from 194.71.225.209
deny from 194.71.225.212
deny from 194.71.225.221
deny from 194.71.225.23
deny from 194.71.225.247
deny from 194.71.225.250
deny from 194.71.225.252
deny from 194.71.225.37
deny from 194.71.225.44
deny from 194.71.225.7
deny from 194.78.20.11
deny from 195.112.255.99
deny from 195.138.195.241
deny from 195.138.81.100
deny from 195.162.88.230
deny from 195.190.13.142
deny from 195.20.126.163
deny from 195.228.14.210
deny from 195.23.248.204
deny from 196.1.178.254
deny from 196.217.243.7
deny from 197.148.17.6
deny from 197.148.28.140
deny from 197.5.15.187
deny from 198.101.240.130
deny from 198.12.71.143
deny from 198.147.20.217
deny from 198.147.22.16
deny from 198.147.22.23
deny from 198.148.120.147
deny from 198.15.117.131
deny from 198.71.90.182
deny from 198.74.52.215
deny from 198.85.237.121
deny from 199.101.101.167
deny from 199.101.101.182
deny from 199.101.102.14
deny from 199.101.102.16
deny from 199.101.102.19
deny from 199.101.102.39
deny from 199.116.173.186
deny from 199.116.84.20
deny from 199.116.86.243
deny from 199.127.103.3
deny from 199.180.114.131
deny from 199.180.114.140
deny from 199.180.114.162
deny from 199.180.114.177
deny from 199.180.116.249
deny from 199.180.128.173
deny from 199.180.131.126
deny from 199.19.252.53
deny from 199.19.252.55
deny from 199.192.154.24
deny from 199.201.126.106
deny from 199.229.249.134
deny from 199.245.60.146
deny from 199.59.58.205
deny from 199.59.60.212
deny from 2.50.33.14
deny from 2.83.122.216
deny from 2.83.247.171
deny from 200.1.20.211
deny from 200.1.30.212
deny from 200.101.41.253
deny from 200.102.171.35
deny from 200.103.146.58
deny from 200.103.194.168
deny from 200.109.228.67
deny from 200.124.225.254
deny from 200.128.102.3
deny from 200.133.33.114
deny from 200.136.83.2
deny from 200.138.100.56
deny from 200.138.211.174
deny from 200.138.220.106
deny from 200.138.248.96
deny from 200.138.249.176
deny from 200.138.70.16
deny from 200.139.149.139
deny from 200.139.157.187
deny from 200.140.39.37
deny from 200.144.29.106
deny from 200.147.54.177
deny from 200.148.101.134
deny from 200.148.205.162
deny from 200.150.69.156
deny from 200.150.86.106
deny from 200.151.169.50
deny from 200.151.236.102
deny from 200.153.150.9
deny from 200.153.155.225
deny from 200.155.35.96
deny from 200.158.53.178
deny from 200.158.66.94
deny from 200.158.92.201
deny from 200.159.120.34
deny from 200.159.201.65
deny from 200.161.102.201
deny from 200.161.4.162
deny from 200.162.240.232
deny from 200.163.166.91
deny from 200.163.223.5
deny from 200.163.237.82
deny from 200.164.100.145
deny from 200.164.193.234
deny from 200.164.99.137
deny from 200.164.99.232
deny from 200.165.48.236
deny from 200.166.194.136
deny from 200.167.58.80
deny from 200.167.94.3
deny from 200.168.69.20
deny from 200.169.9.141
deny from 200.172.41.18
deny from 200.174.171.222
deny from 200.175.180.142
deny from 200.178.186.178
deny from 200.18.33.211
deny from 200.180.121.228
deny from 200.180.83.50
deny from 200.181.195.20
deny from 200.181.217.55
deny from 200.182.149.131
deny from 200.183.240.162
deny from 200.183.80.194
deny from 200.187.14.193
deny from 200.187.6.125
deny from 200.187.92.132
deny from 200.192.247.130
deny from 200.193.12.61
deny from 200.193.3.37
deny from 200.195.154.114
deny from 200.195.176.77
deny from 200.195.183.122
deny from 200.196.167.254
deny from 200.196.180.200
deny from 200.196.224.242
deny from 200.196.54.164
deny from 200.198.105.82
deny from 200.198.137.76
deny from 200.198.212.5
deny from 200.198.47.90
deny from 200.199.3.42
deny from 200.199.87.24
deny from 200.201.164.115
deny from 200.203.103.9
deny from 200.203.111.134
deny from 200.203.115.62
deny from 200.203.15.109
deny from 200.203.15.174
deny from 200.203.222.13
deny from 200.203.28.181
deny from 200.203.57.23
deny from 200.203.64.104
deny from 200.204.189.105
deny from 200.204.189.252
deny from 200.204.222.33
deny from 200.204.51.180
deny from 200.205.130.42
deny from 200.205.209.170
deny from 200.206.127.42
deny from 200.206.154.70
deny from 200.206.177.46
deny from 200.206.23.178
deny from 200.207.104.3
deny from 200.207.139.122
deny from 200.207.57.106
deny from 200.207.61.103
deny from 200.207.61.70
deny from 200.21.254.12
deny from 200.210.47.9
deny from 200.213.1.162
deny from 200.215.99.225
deny from 200.216.188.35
deny from 200.216.193.162
deny from 200.216.241.130
deny from 200.223.110.70
deny from 200.223.147.139
deny from 200.223.164.53
deny from 200.228.193.140
deny from 200.228.94.136
deny from 200.229.0.113
deny from 200.231.18.62
deny from 200.232.179.34
deny from 200.232.181.30
deny from 200.232.201.246
deny from 200.233.169.243
deny from 200.237.141.90
deny from 200.238.81.2
deny from 200.239.65.75
deny from 200.241.145.2
deny from 200.241.34.114
deny from 200.241.42.194
deny from 200.247.120.2
deny from 200.248.226.3
deny from 200.252.185.10
deny from 200.252.203.170
deny from 200.254.130.50
deny from 200.31.13.66
deny from 200.34.141.105
deny from 200.57.90.4
deny from 200.76.148.85
deny from 200.90.139.170
deny from 200.93.238.170
deny from 200.96.106.112
deny from 200.96.209.213
deny from 200.96.211.131
deny from 200.96.249.200
deny from 200.97.105.21
deny from 200.97.106.166
deny from 200.97.205.223
deny from 200.97.210.184
deny from 200.97.221.252
deny from 200.97.224.62
deny from 200.97.227.249
deny from 200.97.30.241
deny from 201.0.105.225
deny from 201.0.124.84
deny from 201.0.183.117
deny from 201.0.55.23
deny from 201.1.142.13
deny from 201.1.143.136
deny from 201.1.143.166
deny from 201.1.155.249
deny from 201.1.223.79
deny from 201.10.102.166
deny from 201.10.138.152
deny from 201.10.181.245
deny from 201.102.71.116
deny from 201.102.77.119
deny from 201.103.248.75
deny from 201.11.104.149
deny from 201.11.187.113
deny from 201.11.190.68
deny from 201.11.229.137
deny from 201.11.37.13
deny from 201.11.58.221
deny from 201.11.85.122
deny from 201.110.3.78
deny from 201.110.94.1
deny from 201.110.96.55
deny from 201.114.60.35
deny from 201.124.133.93
deny from 201.124.60.134
deny from 201.13.150.90
deny from 201.13.170.189
deny from 201.13.189.5
deny from 201.13.192.196
deny from 201.13.213.231
deny from 201.13.255.59
deny from 201.13.77.30
deny from 201.14.100.126
deny from 201.14.146.203
deny from 201.14.172.135
deny from 201.14.183.119
deny from 201.14.225.220
deny from 201.143.204.39
deny from 201.147.129.49
deny from 201.147.15.188
deny from 201.15.213.230
deny from 201.15.24.179
deny from 201.16.206.65
deny from 201.17.136.55
deny from 201.17.152.45
deny from 201.17.153.111
deny from 201.172.234.66
deny from 201.18.28.150
deny from 201.18.35.38
deny from 201.18.37.26
deny from 201.18.89.77
deny from 201.19.104.72
deny from 201.19.202.94
deny from 201.19.213.56
deny from 201.19.216.193
deny from 201.19.249.134
deny from 201.19.36.141
deny from 201.19.73.186
deny from 201.19.79.150
deny from 201.2.202.170
deny from 201.2.204.237
deny from 201.2.238.91
deny from 201.2.37.139
deny from 201.2.8.114
deny from 201.20.111.62
deny from 201.20.64.138
deny from 201.209.91.221
deny from 201.210.192.236
deny from 201.22.166.139
deny from 201.22.212.8
deny from 201.22.227.106
deny from 201.22.57.236
deny from 201.22.68.93
deny from 201.22.73.47
deny from 201.23.143.22
deny from 201.23.94.187
deny from 201.24.111.142
deny from 201.24.111.156
deny from 201.24.12.225
deny from 201.24.167.64
deny from 201.24.20.222
deny from 201.24.223.10
deny from 201.24.87.99
deny from 201.243.126.142
deny from 201.25.203.214
deny from 201.25.234.139
deny from 201.25.27.136
deny from 201.26.140.239
deny from 201.26.199.72
deny from 201.26.214.111
deny from 201.26.4.96
deny from 201.27.13.222
deny from 201.27.141.171
deny from 201.27.233.192
deny from 201.27.31.98
deny from 201.27.56.216
deny from 201.27.57.100
deny from 201.28.123.226
deny from 201.29.23.86
deny from 201.29.31.9
deny from 201.29.38.69
deny from 201.29.45.102
deny from 201.29.7.98
deny from 201.3.108.143
deny from 201.3.220.2
deny from 201.3.230.83
deny from 201.3.3.56
deny from 201.30.222.138
deny from 201.31.109.102
deny from 201.33.186.7
deny from 201.33.241.232
deny from 201.34.106.69
deny from 201.34.112.99
deny from 201.34.159.236
deny from 201.34.216.206
deny from 201.34.65.13
deny from 201.35.126.122
deny from 201.35.249.56
deny from 201.35.34.19
deny from 201.35.75.54
deny from 201.36.151.26
deny from 201.4.121.95
deny from 201.4.152.101
deny from 201.4.156.11
deny from 201.4.47.57
deny from 201.40.135.202
deny from 201.40.186.225
deny from 201.40.186.250
deny from 201.40.2.94
deny from 201.40.246.188
deny from 201.40.58.237
deny from 201.40.77.181
deny from 201.41.118.99
deny from 201.41.24.126
deny from 201.41.88.9
deny from 201.42.134.13
deny from 201.42.143.211
deny from 201.42.167.89
deny from 201.42.173.144
deny from 201.42.204.77
deny from 201.42.59.7
deny from 201.42.63.154
deny from 201.42.69.231
deny from 201.42.73.18
deny from 201.42.76.119
deny from 201.43.168.154
deny from 201.43.180.126
deny from 201.43.180.147
deny from 201.43.210.115
deny from 201.43.211.82
deny from 201.43.212.230
deny from 201.45.55.234
deny from 201.45.9.178
deny from 201.46.35.241
deny from 201.47.178.201
deny from 201.47.255.204
deny from 201.47.52.232
deny from 201.48.64.81
deny from 201.49.164.45
deny from 201.49.165.95
deny from 201.49.77.218
deny from 201.50.130.136
deny from 201.50.139.159
deny from 201.50.194.28
deny from 201.50.241.234
deny from 201.50.241.77
deny from 201.51.221.110
deny from 201.52.106.144
deny from 201.52.148.161
deny from 201.52.148.231
deny from 201.52.242.49
deny from 201.52.65.105
deny from 201.52.96.25
deny from 201.54.40.241
deny from 201.55.125.18
deny from 201.55.225.218
deny from 201.55.31.10
deny from 201.55.31.15
deny from 201.55.31.16
deny from 201.55.31.67
deny from 201.58.168.221
deny from 201.58.195.147
deny from 201.58.204.77
deny from 201.58.232.83
deny from 201.58.236.144
deny from 201.58.240.54
deny from 201.58.27.120
deny from 201.58.28.253
deny from 201.58.40.147
deny from 201.6.107.49
deny from 201.6.251.124
deny from 201.62.233.4
deny from 201.62.79.40
deny from 201.64.223.106
deny from 201.64.254.228
deny from 201.65.119.226
deny from 201.65.138.67
deny from 201.65.173.202
deny from 201.65.235.110
deny from 201.66.134.99
deny from 201.66.153.191
deny from 201.66.156.63
deny from 201.66.175.53
deny from 201.66.200.202
deny from 201.67.118.186
deny from 201.67.129.7
deny from 201.67.13.169
deny from 201.67.131.145
deny from 201.67.138.247
deny from 201.67.191.52
deny from 201.67.210.235
deny from 201.67.220.6
deny from 201.67.83.169
deny from 201.67.91.161
deny from 201.68.14.34
deny from 201.68.146.18
deny from 201.68.165.188
deny from 201.68.194.165
deny from 201.68.38.189
deny from 201.68.92.34
deny from 201.69.244.133
deny from 201.69.40.114
deny from 201.70.53.130
deny from 201.72.11.98
deny from 201.72.111.242
deny from 201.73.139.26
deny from 201.73.165.181
deny from 201.73.165.191
deny from 201.73.165.36
deny from 201.73.241.203
deny from 201.74.229.49
deny from 201.74.60.153
deny from 201.76.21.217
deny from 201.76.3.2
deny from 201.77.117.82
deny from 201.77.142.184
deny from 201.77.70.114
deny from 201.78.105.124
deny from 201.78.110.2
deny from 201.78.149.136
deny from 201.78.153.252
deny from 201.78.217.40
deny from 201.78.236.21
deny from 201.78.241.117
deny from 201.78.32.18
deny from 201.78.36.8
deny from 201.78.69.24
deny from 201.78.86.82
deny from 201.78.96.134
deny from 201.78.98.61
deny from 201.79.116.45
deny from 201.79.117.238
deny from 201.79.160.213
deny from 201.79.163.112
deny from 201.79.224.102
deny from 201.79.224.45
deny from 201.79.29.157
deny from 201.79.30.91
deny from 201.79.39.81
deny from 201.79.94.183
deny from 201.79.96.222
deny from 201.8.101.169
deny from 201.8.122.1
deny from 201.8.128.156
deny from 201.8.131.205
deny from 201.8.144.164
deny from 201.8.32.182
deny from 201.8.34.159
deny from 201.8.35.17
deny from 201.8.36.138
deny from 201.8.37.113
deny from 201.8.38.54
deny from 201.8.44.62
deny from 201.8.53.170
deny from 201.8.75.158
deny from 201.8.8.65
deny from 201.8.93.42
deny from 201.80.45.22
deny from 201.81.238.132
deny from 201.81.49.173
deny from 201.81.67.98
deny from 201.82.30.53
deny from 201.86.132.77
deny from 201.86.70.162
deny from 201.88.107.178
deny from 201.88.124.114
deny from 201.88.18.226
deny from 201.88.19.96
deny from 201.89.133.44
deny from 201.89.209.123
deny from 201.89.63.230
deny from 201.9.113.10
deny from 201.9.2.60
deny from 201.9.23.208
deny from 201.9.23.95
deny from 201.9.26.149
deny from 201.9.27.82
deny from 201.9.67.200
deny from 201.9.8.182
deny from 201.9.89.28
deny from 201.90.0.169
deny from 201.90.164.120
deny from 201.90.213.82
deny from 201.90.30.210
deny from 201.90.31.74
deny from 201.92.119.16
deny from 201.92.156.106
deny from 201.92.58.241
deny from 201.92.59.40
deny from 201.92.67.187
deny from 201.92.68.232
deny from 201.93.133.250
deny from 201.93.158.67
deny from 201.93.163.186
deny from 201.93.167.254
deny from 201.93.221.215
deny from 201.93.244.237
deny from 201.93.85.137
deny from 201.94.167.116
deny from 201.94.169.177
deny from 201.94.184.250
deny from 201.94.192.232
deny from 201.94.201.220
deny from 201.94.205.237
deny from 201.94.207.32
deny from 201.94.246.98
deny from 201.94.251.94
deny from 201.95.2.253
deny from 201.95.3.108
deny from 201.95.35.103
deny from 201.95.47.19
deny from 201.99.29.243
deny from 202.103.241.169
deny from 202.129.124.51
deny from 202.138.180.214
deny from 202.149.78.234
deny from 202.166.205.91
deny from 202.169.239.50
deny from 202.43.161.90
deny from 202.56.165.18
deny from 202.91.248.74
deny from 202.93.136.98
deny from 203.114.105.243
deny from 203.124.105.129
deny from 203.128.80.170
deny from 203.129.224.6
deny from 203.159.63.19
deny from 203.161.10.199
deny from 203.17.206.4
deny from 203.198.23.82
deny from 203.226.116.115
deny from 203.52.133.236
deny from 203.59.130.32
deny from 204.124.181.122
deny from 205.147.6.38
deny from 205.213.97.34
deny from 206.169.242.254
deny from 206.214.82.168
deny from 206.214.93.172
deny from 207.178.157.196
deny from 208.107.37.88
deny from 208.167.231.169
deny from 208.167.231.229
deny from 208.70.142.34
deny from 208.88.9.104
deny from 208.89.210.170
deny from 209.107.208.86
deny from 209.17.113.28
deny from 209.204.147.100
deny from 209.26.151.254
deny from 209.48.175.72
deny from 209.73.154.207
deny from 210.177.97.230
deny from 210.212.152.5
deny from 211.136.199.210
deny from 211.162.112.110
deny from 211.167.112.15
deny from 211.206.122.150
deny from 211.48.232.238
deny from 212.118.244.162
deny from 212.143.93.29
deny from 212.154.116.162
deny from 212.166.58.195
deny from 212.185.87.53
deny from 212.203.83.90
deny from 212.253.44.194
deny from 212.253.85.161
deny from 212.34.238.98
deny from 212.35.65.234
deny from 212.40.49.29
deny from 212.6.202.10
deny from 212.68.90.12
deny from 212.90.161.214
deny from 213.10.60.194
deny from 213.123.129.214
deny from 213.128.138.120
deny from 213.129.233.130
deny from 213.13.145.238
deny from 213.131.40.106
deny from 213.131.41.6
deny from 213.142.25.226
deny from 213.144.132.98
deny from 213.152.255.146
deny from 213.157.16.233
deny from 213.180.90.83
deny from 213.65.167.230
deny from 213.82.45.148
deny from 216.152.246.19
deny from 216.152.246.60
deny from 216.152.252.67
deny from 216.155.152.206
deny from 216.162.21.129
deny from 216.177.186.25
deny from 216.18.228.153
deny from 216.220.48.196
deny from 216.244.86.130
deny from 216.27.61.231
deny from 216.56.68.254
deny from 217.120.41.68
deny from 217.129.41.217
deny from 217.15.185.118
deny from 217.165.238.218
deny from 217.169.209.62
deny from 217.206.69.218
deny from 217.21.16.26
deny from 217.219.184.58
deny from 217.77.223.180
deny from 218.108.242.68
deny from 218.18.16.234
deny from 218.18.182.41
deny from 218.18.69.146
deny from 218.46.115.209
deny from 218.5.74.199
deny from 218.66.104.131
deny from 218.86.50.223
deny from 218.86.50.42
deny from 218.94.149.114
deny from 219.110.188.74
deny from 219.116.245.91
deny from 219.145.172.83
deny from 219.234.82.78
deny from 219.92.0.165
deny from 219.92.4.186
deny from 220.161.100.199
deny from 220.161.101.137
deny from 220.161.96.87
deny from 220.162.237.126
deny from 220.200.95.92
deny from 220.250.25.157
deny from 220.255.1.19
deny from 220.255.2.121
deny from 221.132.35.36
deny from 221.175.217.54
deny from 221.175.218.157
deny from 221.181.232.145
deny from 221.181.232.146
deny from 221.181.232.147
deny from 221.181.232.148
deny from 221.193.28.6
deny from 221.225.42.137
deny from 221.3.153.122
deny from 222.197.214.91
deny from 222.242.122.116
deny from 222.52.99.131
deny from 222.75.151.240
deny from 222.76.48.96
deny from 222.77.206.150
deny from 222.77.218.166
deny from 223.165.31.61
deny from 223.202.36.166
deny from 223.27.28.231
deny from 223.93.11.174
deny from 23.19.101.109
deny from 23.19.125.137
deny from 23.19.212.162
deny from 23.19.212.181
deny from 23.19.212.50
deny from 23.19.216.11
deny from 23.19.72.251
deny from 23.19.72.55
deny from 23.19.72.91
deny from 23.19.92.31
deny from 23.20.210.124
deny from 23.24.72.165
deny from 23.27.36.129
deny from 23.27.36.232
deny from 23.29.55.148
deny from 23.29.56.220
deny from 23.29.58.235
deny from 24.101.173.59
deny from 24.105.208.38
deny from 24.126.223.14
deny from 24.16.104.209
deny from 24.44.4.58
deny from 24.93.181.216
deny from 27.153.230.59
deny from 27.159.199.137
deny from 27.159.206.226
deny from 27.159.206.233
deny from 27.159.229.200
deny from 27.159.231.236
deny from 27.159.233.146
deny from 27.159.238.55
deny from 27.189.245.86
deny from 27.189.3.201
deny from 27.189.34.43
deny from 27.189.7.116
deny from 27.194.90.134
deny from 27.206.14.136
deny from 27.96.52.40
deny from 31.104.222.31
deny from 31.11.42.212
deny from 31.11.82.58
deny from 31.126.120.220
deny from 31.126.17.7
deny from 31.127.106.112
deny from 31.133.58.16
deny from 31.171.152.4
deny from 31.25.94.141
deny from 31.45.32.42
deny from 31.97.28.78
deny from 36.249.139.24
deny from 36.251.102.121
deny from 36.42.77.196
deny from 37.10.106.56
deny from 37.128.146.102
deny from 37.220.15.171
deny from 37.59.162.240
deny from 37.59.171.219
deny from 37.59.189.136
deny from 37.59.189.137
deny from 37.59.210.236
deny from 37.59.210.237
deny from 37.59.228.29
deny from 37.59.240.10
deny from 37.59.247.6
deny from 37.59.255.155
deny from 37.59.255.158
deny from 37.59.54.180
deny from 37.59.68.208
deny from 37.59.84.188
deny from 37.59.84.189
deny from 37.59.84.6
deny from 37.72.190.155
deny from 37.72.190.182
deny from 38.104.66.162
deny from 41.134.21.113
deny from 41.215.208.147
deny from 41.215.216.76
deny from 41.221.201.80
deny from 41.221.207.30
deny from 41.224.78.209
deny from 41.35.219.197
deny from 41.74.131.182
deny from 41.78.77.122
deny from 41.78.77.123
deny from 41.85.10.26
deny from 42.121.3.63
deny from 42.201.175.58
deny from 42.48.34.189
deny from 42.62.5.100
deny from 42.62.5.98
deny from 46.105.100.112
deny from 46.105.100.95
deny from 46.105.158.52
deny from 46.105.49.28
deny from 46.105.60.119
deny from 46.105.7.138
deny from 46.119.246.126
deny from 46.119.97.151
deny from 46.129.66.24
deny from 46.145.239.188
deny from 46.163.75.190
deny from 46.21.144.176
deny from 46.21.144.52
deny from 46.227.176.7
deny from 46.227.68.105
deny from 46.227.68.11
deny from 46.227.68.117
deny from 46.227.68.118
deny from 46.227.68.12
deny from 46.227.68.126
deny from 46.227.68.138
deny from 46.227.68.142
deny from 46.227.68.145
deny from 46.227.68.149
deny from 46.227.68.164
deny from 46.227.68.165
deny from 46.227.68.190
deny from 46.227.68.200
deny from 46.227.68.207
deny from 46.227.68.217
deny from 46.227.68.223
deny from 46.227.68.23
deny from 46.227.68.231
deny from 46.227.68.234
deny from 46.227.68.247
deny from 46.227.68.32
deny from 46.227.68.75
deny from 46.227.68.81
deny from 46.227.68.93
deny from 46.227.70.135
deny from 46.227.70.142
deny from 46.227.70.144
deny from 46.227.70.149
deny from 46.227.70.150
deny from 46.227.70.152
deny from 46.227.70.183
deny from 46.227.70.192
deny from 46.227.70.197
deny from 46.227.70.198
deny from 46.227.70.200
deny from 46.227.70.214
deny from 46.227.70.218
deny from 46.227.70.226
deny from 46.227.70.242
deny from 46.227.70.249
deny from 46.227.70.252
deny from 46.227.71.134
deny from 46.227.71.135
deny from 46.227.71.140
deny from 46.227.71.141
deny from 46.227.71.170
deny from 46.227.71.198
deny from 46.227.71.214
deny from 46.227.71.238
deny from 46.227.71.239
deny from 46.227.71.244
deny from 46.227.71.251
deny from 46.239.142.16
deny from 46.24.121.166
deny from 46.246.20.144
deny from 46.249.59.36
deny from 46.29.194.130
deny from 46.37.162.25
deny from 46.37.165.184
deny from 46.37.185.211
deny from 46.37.185.245
deny from 46.37.187.83
deny from 46.4.227.141
deny from 46.4.227.147
deny from 46.4.235.34
deny from 46.4.235.40
deny from 46.4.235.45
deny from 46.43.44.158
deny from 46.43.45.141
deny from 46.43.45.143
deny from 46.44.114.226
deny from 46.99.3.189
deny from 46.99.30.13
deny from 46.99.52.181
deny from 49.0.124.230
deny from 49.212.152.57
deny from 49.74.99.234
deny from 5.13.198.51
deny from 5.135.1.170
deny from 5.135.11.122
deny from 5.135.112.56
deny from 5.135.112.59
deny from 5.135.113.237
deny from 5.135.180.99
deny from 5.135.210.17
deny from 5.135.30.147
deny from 5.135.34.25
deny from 5.135.35.82
deny from 5.135.39.147
deny from 5.135.53.211
deny from 5.135.53.214
deny from 5.135.53.219
deny from 5.135.53.244
deny from 5.135.77.219
deny from 5.135.85.127
deny from 5.135.85.231
deny from 5.135.86.70
deny from 5.144.176.198
deny from 5.144.176.20
deny from 5.144.176.206
deny from 5.144.176.234
deny from 5.175.192.42
deny from 5.2.56.182
deny from 5.254.141.105
deny from 5.34.241.58
deny from 5.34.242.211
deny from 5.34.242.95
deny from 5.34.246.112
deny from 5.39.108.20
deny from 5.39.108.224
deny from 5.39.108.228
deny from 5.39.119.80
deny from 5.39.119.86
deny from 5.39.119.93
deny from 5.39.13.41
deny from 5.39.13.42
deny from 5.39.19.64
deny from 5.39.19.67
deny from 5.39.19.68
deny from 5.39.19.69
deny from 5.39.19.76
deny from 5.39.28.242
deny from 5.39.40.130
deny from 5.39.40.136
deny from 5.39.43.217
deny from 5.39.44.151
deny from 5.39.61.72
deny from 5.39.69.34
deny from 5.39.78.225
deny from 5.39.85.72
deny from 5.39.85.76
deny from 5.39.85.83
deny from 5.39.96.79
deny from 5.39.97.18
deny from 5.44.98.5
deny from 5.9.135.70
deny from 5.9.156.135
deny from 5.9.184.18
deny from 5.9.238.59
deny from 5.9.238.76
deny from 50.115.163.153
deny from 50.115.170.143
deny from 50.115.171.230
deny from 50.115.171.46
deny from 50.115.171.77
deny from 50.115.171.78
deny from 50.115.171.79
deny from 50.115.172.100
deny from 50.115.173.152
deny from 50.116.13.138
deny from 50.117.63.141
deny from 50.117.63.231
deny from 50.117.63.97
deny from 50.117.69.216
deny from 50.135.160.173
deny from 50.31.10.20
deny from 50.31.107.15
deny from 50.31.107.2
deny from 50.31.71.8
deny from 50.31.9.213
deny from 50.7.44.146
deny from 50.76.34.185
deny from 54.234.34.14
deny from 54.245.237.153
deny from 58.10.126.115
deny from 58.210.212.107
deny from 58.215.173.186
deny from 58.22.151.105
deny from 58.22.151.112
deny from 58.22.151.122
deny from 58.22.151.125
deny from 58.26.61.52
deny from 58.55.124.226
deny from 58.8.45.7
deny from 58.96.125.5
deny from 59.139.30.58
deny from 59.162.204.175
deny from 59.36.150.125
deny from 59.46.67.109
deny from 59.56.156.63
deny from 59.56.86.55
deny from 59.58.136.135
deny from 59.58.139.123
deny from 59.99.238.190
deny from 60.0.199.2
deny from 60.160.238.118
deny from 60.49.112.175
deny from 61.147.82.178
deny from 61.154.156.151
deny from 61.160.83.235
deny from 61.184.33.115
deny from 61.187.190.28
deny from 61.19.252.149
deny from 61.32.200.199
deny from 61.55.141.10
deny from 61.57.141.3
deny from 61.8.144.230
deny from 62.14.228.164
deny from 62.233.82.136
deny from 62.43.207.27
deny from 62.50.2.178
deny from 62.97.124.194
deny from 63.141.198.71
deny from 63.141.232.11
deny from 63.238.72.56
deny from 64.120.63.162
deny from 64.120.63.48
deny from 64.124.46.6
deny from 64.145.83.132
deny from 64.145.83.135
deny from 64.188.59.82
deny from 66.215.163.152
deny from 66.216.132.98
deny from 66.35.200.34
deny from 66.35.68.145
deny from 66.36.182.147
deny from 66.36.183.223
deny from 66.54.56.1
deny from 66.74.185.249
deny from 66.85.144.142
deny from 66.99.86.61
deny from 67.107.56.204
deny from 67.202.113.162
deny from 67.202.113.231
deny from 67.209.190.115
deny from 67.209.190.116
deny from 67.86.242.71
deny from 68.169.80.146
deny from 68.169.80.147
deny from 68.169.80.148
deny from 68.169.80.149
deny from 68.169.86.218
deny from 68.169.86.219
deny from 68.169.86.220
deny from 68.169.86.222
deny from 68.199.161.101
deny from 68.200.252.82
deny from 68.99.242.139
deny from 69.123.3.178
deny from 69.14.162.70
deny from 69.147.240.14
deny from 69.147.240.176
deny from 69.162.117.2
deny from 69.162.159.163
deny from 69.162.162.223
deny from 69.162.162.57
deny from 69.165.149.35
deny from 69.17.128.146
deny from 69.172.67.52
deny from 69.175.54.204
deny from 69.46.94.215
deny from 71.223.113.4
deny from 71.38.115.69
deny from 71.61.80.177
deny from 71.74.235.108
deny from 72.215.9.32
deny from 74.204.134.243
deny from 74.221.208.163
deny from 74.221.208.217
deny from 74.221.210.87
deny from 74.221.211.133
deny from 74.221.215.218
deny from 74.221.215.240
deny from 74.221.215.241
deny from 74.221.215.243
deny from 74.221.215.252
deny from 74.221.217.210
deny from 74.221.220.16
deny from 74.221.220.51
deny from 74.53.70.210
deny from 74.80.56.69
deny from 74.82.161.117
deny from 74.91.23.132
deny from 75.127.135.186
deny from 75.127.135.188
deny from 75.139.35.8
deny from 75.171.245.132
deny from 76.119.35.213
deny from 76.161.163.146
deny from 76.185.166.198
deny from 76.8.92.215
deny from 76.91.223.194
deny from 76.99.114.2
deny from 77.109.139.26
deny from 77.223.208.230
deny from 77.23.182.86
deny from 77.242.222.180
deny from 77.38.171.87
deny from 77.68.136.64
deny from 77.94.166.234
deny from 78.0.102.11
deny from 78.122.16.121
deny from 78.129.218.176
deny from 78.137.36.38
deny from 78.160.150.191
deny from 78.160.153.243
deny from 78.160.155.58
deny from 78.161.248.248
deny from 78.162.241.129
deny from 78.171.225.119
deny from 78.175.169.97
deny from 78.176.138.171
deny from 78.177.191.15
deny from 78.180.171.76
deny from 78.181.162.85
deny from 78.181.176.160
deny from 78.181.247.206
deny from 78.182.187.90
deny from 78.184.154.231
deny from 78.187.236.175
deny from 78.187.44.145
deny from 78.188.233.135
deny from 78.190.126.137
deny from 78.191.12.216
deny from 78.223.148.195
deny from 78.29.9.104
deny from 78.38.150.3
deny from 78.39.68.145
deny from 78.39.99.90
deny from 78.41.200.67
deny from 78.46.137.4
deny from 78.46.145.58
deny from 78.46.145.59
deny from 78.46.145.66
deny from 78.46.145.78
deny from 78.46.145.94
deny from 78.46.218.225
deny from 78.47.216.99
deny from 79.112.221.142
deny from 79.115.11.196
deny from 79.115.168.21
deny from 79.116.217.45
deny from 79.116.233.6
deny from 79.121.22.173
deny from 79.133.199.194
deny from 79.152.67.146
deny from 79.157.119.219
deny from 79.4.234.162
deny from 8.36.224.242
deny from 8.8.244.15
deny from 80.126.108.50
deny from 80.241.130.202
deny from 80.248.10.230
deny from 80.79.179.10
deny from 81.105.60.38
deny from 81.164.136.106
deny from 81.17.28.142
deny from 81.17.28.242
deny from 81.17.28.39
deny from 81.17.29.7
deny from 81.17.30.153
deny from 81.216.187.140
deny from 81.218.158.238
deny from 81.255.13.100
deny from 81.66.139.125
deny from 81.82.235.123
deny from 81.84.162.192
deny from 81.94.201.178
deny from 82.1.195.157
deny from 82.1.82.155
deny from 82.108.148.19
deny from 82.114.93.98
deny from 82.115.121.188
deny from 82.15.74.237
deny from 82.155.246.36
deny from 82.158.76.60
deny from 82.205.252.178
deny from 82.221.99.44
deny from 82.232.4.8
deny from 82.5.156.32
deny from 82.9.184.80
deny from 83.10.162.207
deny from 83.110.232.18
deny from 83.140.154.254
deny from 83.206.115.61
deny from 83.206.154.101
deny from 83.212.106.198
deny from 83.244.48.73
deny from 83.249.210.240
deny from 83.55.213.242
deny from 83.55.254.110
deny from 83.82.52.125
deny from 83.84.154.196
deny from 83.84.88.157
deny from 84.122.180.86
deny from 84.127.113.184
deny from 84.146.236.95
deny from 84.243.24.18
deny from 85.115.3.242
deny from 85.12.211.203
deny from 85.139.250.244
deny from 85.15.149.35
deny from 85.21.96.248
deny from 85.214.227.133
deny from 85.221.58.235
deny from 85.230.172.105
deny from 85.25.109.152
deny from 85.25.208.201
deny from 85.90.4.151
deny from 85.90.62.254
deny from 85.94.96.19
deny from 85.97.38.137
deny from 85.97.57.95
deny from 85.97.63.11
deny from 85.97.64.239
deny from 86.114.160.253
deny from 86.123.41.207
deny from 86.133.45.175
deny from 86.143.34.111
deny from 86.15.57.44
deny from 86.160.69.80
deny from 86.185.90.114
deny from 86.22.151.45
deny from 86.27.113.167
deny from 86.39.152.150
deny from 86.47.218.50
deny from 87.10.156.195
deny from 87.145.51.17
deny from 87.18.11.102
deny from 87.18.155.137
deny from 87.230.54.88
deny from 87.250.37.50
deny from 87.73.2.26
deny from 87.78.53.17
deny from 87.79.208.19
deny from 87.98.131.201
deny from 87.98.139.117
deny from 87.98.152.179
deny from 87.98.250.232
deny from 88.119.196.145
#deny from 88.166.82.205
deny from 88.190.16.36
deny from 88.191.233.146
deny from 88.198.153.70
deny from 88.226.138.96
deny from 88.226.141.111
deny from 88.226.145.112
deny from 88.238.143.172
deny from 88.238.148.228
deny from 88.247.104.167
deny from 88.248.121.240
deny from 88.80.21.137
deny from 89.133.129.15
deny from 89.135.63.36
deny from 89.142.237.210
deny from 89.22.97.230
deny from 89.248.165.143
deny from 89.251.103.130
deny from 89.32.125.6
deny from 89.67.157.120
deny from 89.67.253.49
deny from 90.189.119.126
deny from 90.219.210.147
deny from 90.24.49.245
deny from 91.103.238.110
deny from 91.114.33.182
deny from 91.121.174.7
deny from 91.121.219.49
deny from 91.121.252.66
deny from 91.185.20.18
deny from 91.192.32.1
deny from 91.196.159.66
deny from 91.198.130.74
deny from 91.201.64.27
deny from 91.207.4.157
deny from 91.207.5.9
deny from 91.210.242.216
deny from 91.211.43.100
deny from 91.221.176.163
deny from 91.234.217.136
deny from 91.236.74.156
deny from 91.236.74.249
deny from 91.237.249.182
deny from 91.237.249.89
deny from 91.238.214.155
deny from 91.67.39.74
deny from 92.146.226.219
deny from 92.18.178.160
deny from 92.18.195.203
deny from 92.42.190.221
deny from 92.45.203.94
deny from 92.45.232.202
deny from 92.62.131.54
deny from 92.79.27.208
deny from 93.120.245.113
deny from 93.137.127.229
deny from 93.161.142.178
deny from 93.174.88.44
deny from 93.182.172.39
deny from 93.182.173.143
deny from 93.184.71.66
deny from 93.21.246.233
deny from 93.215.201.102
deny from 93.215.210.6
deny from 93.62.198.90
deny from 93.83.40.134
deny from 94.132.171.189
deny from 94.170.83.1
deny from 94.23.114.58
deny from 94.23.114.60
deny from 94.23.120.109
deny from 94.23.14.30
deny from 94.23.155.150
deny from 94.23.19.131
deny from 94.23.214.159
deny from 94.23.4.92
deny from 94.23.71.243
deny from 94.230.3.194
deny from 94.242.237.5
deny from 94.242.237.54
deny from 94.242.237.6
deny from 94.242.241.137
deny from 94.242.241.139
deny from 94.242.241.14
deny from 94.242.241.177
deny from 94.242.241.216
deny from 94.242.241.225
deny from 94.242.241.236
deny from 94.242.241.242
deny from 94.242.241.72
deny from 94.56.242.18
deny from 94.56.242.27
deny from 94.7.208.76
deny from 95.141.28.57
deny from 95.143.42.95
deny from 95.155.42.21
deny from 95.180.77.18
deny from 95.181.33.22
deny from 95.23.5.65
deny from 95.24.213.15
deny from 95.25.223.91
deny from 95.39.147.16
deny from 95.39.147.231
deny from 95.51.134.10
deny from 96.227.105.78
deny from 96.37.193.3
deny from 96.43.236.227
deny from 96.47.224.218
deny from 96.47.224.42
deny from 96.47.224.50
deny from 96.47.224.58
deny from 96.47.225.162
deny from 96.47.225.170
deny from 96.47.225.178
deny from 96.47.225.186
deny from 96.47.225.66
deny from 96.47.225.74
deny from 96.47.225.82
deny from 96.9.141.236
deny from 98.251.188.35
deny from 99.188.255.102
deny from 99.193.232.245
deny from 99.229.136.106
deny from 99.71.246.38
deny from 1.234.45.130
deny from 1.4.225.203
deny from 1.4.244.203
deny from 1.85.17.82
deny from 103.5.187.30
deny from 106.8.112.99
deny from 107.198.155.31
deny from 107.5.205.24
deny from 108.177.140.231
deny from 108.177.195.185
deny from 108.177.228.188
deny from 108.177.228.83
deny from 108.177.254.18
deny from 108.178.23.116
deny from 108.21.103.72
deny from 108.21.228.126
deny from 108.62.16.132
deny from 108.62.71.125
deny from 108.62.71.136
deny from 108.95.173.10
deny from 109.150.86.55
deny from 109.153.129.146
deny from 109.163.229.179
deny from 109.200.12.50
deny from 109.230.245.174
deny from 109.65.214.13
deny from 109.87.114.119
deny from 109.87.170.195
deny from 110.124.184.102
deny from 110.124.189.141
deny from 110.77.250.177
deny from 110.85.103.116
deny from 111.145.71.84
deny from 111.146.188.171
deny from 111.175.89.243
deny from 111.94.147.191
deny from 112.217.228.212
deny from 112.220.99.43
deny from 112.251.155.233
deny from 112.66.107.222
deny from 113.212.68.142
deny from 113.212.68.166
deny from 113.212.68.36
deny from 113.212.68.49
deny from 113.212.70.227
deny from 113.212.71.107
deny from 113.229.29.31
deny from 114.79.18.202
deny from 116.115.83.186
deny from 116.55.49.35
deny from 117.214.0.210
deny from 117.34.72.51
deny from 118.182.226.98
deny from 118.186.140.3
deny from 118.99.66.7
deny from 119.129.103.173
deny from 119.129.119.114
deny from 119.129.121.179
deny from 119.187.13.165
deny from 119.53.232.161
deny from 119.82.252.76
deny from 120.151.38.244
deny from 120.40.119.154
deny from 120.43.24.205
deny from 120.43.27.89
deny from 120.43.28.236
deny from 120.43.30.220
deny from 120.43.30.87
deny from 121.14.36.182
deny from 121.14.9.75
deny from 121.205.241.233
deny from 121.229.50.38
deny from 122.160.17.73
deny from 123.116.34.114
deny from 123.154.19.249
deny from 123.231.242.178
deny from 123.24.99.187
deny from 123.27.227.172
deny from 124.168.149.67
deny from 128.204.194.12
deny from 128.204.198.50
deny from 128.204.202.75
deny from 129.75.105.183
deny from 130.185.156.164
deny from 139.209.44.249
deny from 14.146.13.249
deny from 14.146.14.214
deny from 14.146.15.177
deny from 140.224.103.82
deny from 142.4.117.33
deny from 142.54.182.186
deny from 142.54.190.141
deny from 142.91.118.177
deny from 142.91.200.80
deny from 142.91.208.22
deny from 142.91.208.244
deny from 144.64.42.155
deny from 147.255.162.172
deny from 147.255.162.93
deny from 151.21.68.169
deny from 151.21.82.26
deny from 151.237.189.103
deny from 151.237.189.149
deny from 151.237.189.244
deny from 151.237.190.184
deny from 159.226.43.56
deny from 159.255.240.172
deny from 173.0.50.199
deny from 173.208.2.31
deny from 173.208.2.34
deny from 173.208.29.43
deny from 173.212.192.232
deny from 173.212.198.39
deny from 173.212.198.45
deny from 173.212.212.6
deny from 173.213.108.142
deny from 173.213.108.203
deny from 173.213.110.22
deny from 173.213.110.72
deny from 173.213.76.45
deny from 173.213.96.249
deny from 173.213.96.68
deny from 173.213.99.16
deny from 173.232.104.147
deny from 173.232.104.227
deny from 173.234.181.39
deny from 173.242.124.59
deny from 173.242.125.5
deny from 173.245.220.170
deny from 173.245.90.162
deny from 173.44.37.226
deny from 173.44.37.234
deny from 173.44.37.242
deny from 173.44.37.250
deny from 175.140.252.53
deny from 175.154.38.253
deny from 176.106.43.107
deny from 176.31.43.185
deny from 176.31.59.194
deny from 176.31.9.212
deny from 176.31.99.227
deny from 176.61.136.89
deny from 176.61.140.118
deny from 176.62.74.150
deny from 176.9.236.4
deny from 177.0.163.46
deny from 177.0.213.66
deny from 177.1.201.93
deny from 177.100.20.198
deny from 177.101.97.254
deny from 177.102.151.109
deny from 177.102.212.225
deny from 177.103.149.4
deny from 177.106.144.92
deny from 177.106.162.218
deny from 177.106.168.248
deny from 177.106.174.147
deny from 177.130.173.175
deny from 177.132.32.215
deny from 177.132.37.130
deny from 177.134.43.159
deny from 177.135.17.223
deny from 177.135.20.138
deny from 177.135.25.201
deny from 177.135.59.182
deny from 177.138.145.117
deny from 177.138.185.157
deny from 177.141.253.174
deny from 177.143.232.253
deny from 177.158.133.107
deny from 177.158.194.30
deny from 177.158.203.125
deny from 177.158.232.206
deny from 177.159.1.105
deny from 177.159.17.131
deny from 177.159.18.5
deny from 177.159.19.186
deny from 177.17.5.215
deny from 177.17.70.232
deny from 177.17.71.240
deny from 177.17.98.167
deny from 177.177.112.234
deny from 177.177.196.135
deny from 177.177.248.22
deny from 177.177.88.249
deny from 177.179.65.195
deny from 177.179.74.153
deny from 177.18.177.106
deny from 177.18.177.66
deny from 177.18.178.33
deny from 177.182.33.97
deny from 177.19.109.147
deny from 177.19.133.234
deny from 177.19.158.149
deny from 177.192.24.211
deny from 177.2.60.63
deny from 177.34.226.158
deny from 177.35.234.171
deny from 177.36.192.26
deny from 177.36.223.26
deny from 177.38.241.50
deny from 177.4.120.33
deny from 177.4.203.64
deny from 177.40.142.202
deny from 177.41.144.143
deny from 177.41.178.228
deny from 177.41.179.28
deny from 177.41.90.226
deny from 177.41.90.80
deny from 177.42.116.167
deny from 177.43.158.199
deny from 177.43.69.2
deny from 177.5.119.209
deny from 177.5.204.248
deny from 177.5.66.154
deny from 177.65.14.92
deny from 177.65.169.198
deny from 177.70.168.4
deny from 177.81.165.104
deny from 177.85.233.3
deny from 177.9.47.96
deny from 177.96.143.56
deny from 177.96.77.206
deny from 177.96.86.32
deny from 177.97.15.148
deny from 177.97.173.61
deny from 177.98.135.152
deny from 177.98.171.182
deny from 177.98.200.30
deny from 177.98.83.148
deny from 177.99.48.118
deny from 178.167.108.1
deny from 178.167.55.154
deny from 178.175.102.79
deny from 178.32.156.193
deny from 178.32.173.46
deny from 178.32.226.186
deny from 178.32.229.157
deny from 178.32.254.37
deny from 178.32.254.68
deny from 178.32.52.230
deny from 178.32.86.148
deny from 178.32.86.155
deny from 178.33.154.134
deny from 178.33.22.123
deny from 179.234.230.183
deny from 182.133.166.179
deny from 182.186.138.109
deny from 182.186.245.147
deny from 182.188.150.84
deny from 182.40.241.240
deny from 182.68.79.240
deny from 182.89.39.240
deny from 183.5.22.227
deny from 183.5.30.165
deny from 183.61.65.132
deny from 183.62.15.26
deny from 183.63.27.156
deny from 184.154.164.235
deny from 184.154.204.214
deny from 184.173.252.144
deny from 184.22.121.148
deny from 184.22.121.149
deny from 184.22.157.38
deny from 184.22.58.46
deny from 184.22.86.242
deny from 184.82.177.135
deny from 184.82.183.228
deny from 184.91.135.32
deny from 185.3.132.214
deny from 185.3.134.235
deny from 186.201.143.97
deny from 186.204.150.172
deny from 186.207.203.84
deny from 186.210.208.245
deny from 186.210.250.69
deny from 186.210.52.232
deny from 186.212.139.227
deny from 186.212.159.225
deny from 186.212.49.49
deny from 186.212.72.211
deny from 186.213.66.212
deny from 186.213.93.205
deny from 186.214.131.153
deny from 186.214.185.110
deny from 186.214.251.215
deny from 186.216.141.161
deny from 186.218.161.100
deny from 186.221.19.84
deny from 186.223.253.158
deny from 186.224.177.222
deny from 186.232.59.168
deny from 186.236.178.156
deny from 186.238.122.194
deny from 186.241.73.156
deny from 186.244.17.196
deny from 186.244.193.192
deny from 186.244.199.99
deny from 186.244.5.248
deny from 186.244.60.88
deny from 186.244.89.185
deny from 186.247.129.156
deny from 186.247.196.197
deny from 186.247.234.116
deny from 186.247.88.7
deny from 187.0.231.3
deny from 187.0.251.25
deny from 187.0.3.112
deny from 187.0.48.26
deny from 187.1.51.174
deny from 187.10.138.248
deny from 187.10.145.152
deny from 187.10.167.238
deny from 187.101.130.80
deny from 187.101.194.161
deny from 187.101.224.28
deny from 187.101.248.92
deny from 187.101.25.65
deny from 187.102.97.91
deny from 187.103.166.143
deny from 187.103.173.18
deny from 187.104.252.2
deny from 187.106.100.49
deny from 187.106.206.220
deny from 187.106.227.204
deny from 187.108.148.113
deny from 187.108.51.4
deny from 187.109.224.42
deny from 187.109.224.66
deny from 187.11.193.144
deny from 187.11.211.220
deny from 187.11.236.177
deny from 187.11.237.220
deny from 187.110.94.196
deny from 187.111.223.10
deny from 187.111.243.232
deny from 187.112.199.17
deny from 187.112.243.59
deny from 187.112.246.18
deny from 187.113.149.54
deny from 187.113.183.81
deny from 187.113.8.174
deny from 187.113.8.192
deny from 187.115.161.236
deny from 187.115.172.89
deny from 187.115.202.57
deny from 187.115.36.121
deny from 187.115.66.169
deny from 187.115.73.149
deny from 187.12.132.134
deny from 187.120.123.232
deny from 187.121.221.217
deny from 187.123.125.45
deny from 187.126.135.204
deny from 187.126.17.83
deny from 187.127.16.118
deny from 187.127.212.246
deny from 187.127.22.90
deny from 187.127.234.48
deny from 187.13.237.174
deny from 187.13.69.17
deny from 187.13.75.237
deny from 187.14.147.29
deny from 187.14.171.238
deny from 187.14.88.22
deny from 187.147.154.205
deny from 187.15.101.17
deny from 187.15.142.90
deny from 187.15.170.197
deny from 187.15.172.126
deny from 187.15.30.12
deny from 187.15.58.106
deny from 187.15.59.146
deny from 187.15.60.156
deny from 187.15.83.106
deny from 187.15.93.131
deny from 187.155.36.147
deny from 187.158.228.56
deny from 187.16.241.3
deny from 187.17.173.36
deny from 187.17.175.206
deny from 187.17.243.75
deny from 187.171.235.49
deny from 187.18.151.86
deny from 187.188.158.83
deny from 187.19.248.88
deny from 187.19.248.93
deny from 187.19.50.120
deny from 187.19.56.227
deny from 187.192.110.234
deny from 187.192.114.69
deny from 187.193.57.146
deny from 187.2.139.118
deny from 187.2.202.42
deny from 187.20.119.132
deny from 187.204.148.36
deny from 187.207.201.252
deny from 187.23.197.35
deny from 187.23.229.19
deny from 187.23.248.72
deny from 187.23.92.60
deny from 187.28.175.157
deny from 187.3.29.20
deny from 187.32.216.1
deny from 187.33.129.219
deny from 187.34.243.239
deny from 187.34.246.124
deny from 187.34.33.133
deny from 187.34.46.131
deny from 187.35.100.239
deny from 187.35.185.253
deny from 187.35.51.173
deny from 187.35.70.115
deny from 187.35.76.29
deny from 187.37.200.2
deny from 187.38.141.122
deny from 187.39.117.34
deny from 187.4.10.230
deny from 187.4.18.30
deny from 187.4.214.71
deny from 187.4.32.172
deny from 187.4.4.249
deny from 187.40.188.83
deny from 187.40.190.26
deny from 187.40.202.24
deny from 187.40.45.53
deny from 187.40.66.142
deny from 187.41.139.2
deny from 187.41.215.189
deny from 187.43.44.193
deny from 187.45.102.245
deny from 187.45.12.239
deny from 187.49.33.206
deny from 187.5.115.33
deny from 187.5.123.97
deny from 187.5.127.33
deny from 187.5.132.208
deny from 187.5.159.204
deny from 187.5.162.164
deny from 187.5.163.153
deny from 187.5.172.144
deny from 187.5.19.242
deny from 187.5.195.191
deny from 187.5.214.32
deny from 187.5.250.11
deny from 187.5.254.116
deny from 187.5.46.13
deny from 187.5.71.8
deny from 187.50.167.82
deny from 187.50.25.154
deny from 187.52.12.59
deny from 187.52.34.211
deny from 187.52.88.91
deny from 187.53.233.30
deny from 187.53.241.189
deny from 187.53.25.228
deny from 187.53.253.88
deny from 187.54.134.223
deny from 187.54.169.77
deny from 187.54.170.168
deny from 187.54.216.23
deny from 187.55.188.24
deny from 187.55.205.87
deny from 187.55.216.82
deny from 187.55.33.24
deny from 187.55.53.153
deny from 187.55.72.250
deny from 187.56.107.67
deny from 187.57.149.55
deny from 187.57.183.196
deny from 187.57.188.250
deny from 187.57.20.210
deny from 187.57.59.179
deny from 187.58.103.74
deny from 187.58.181.2
deny from 187.58.202.254
deny from 187.58.212.58
deny from 187.58.232.251
deny from 187.58.34.35
deny from 187.58.38.203
deny from 187.58.50.196
deny from 187.59.217.157
deny from 187.59.5.15
deny from 187.59.66.134
deny from 187.59.77.176
deny from 187.59.91.236
deny from 187.6.19.54
deny from 187.6.197.45
deny from 187.6.209.242
deny from 187.6.219.13
deny from 187.6.252.146
deny from 187.60.121.58
deny from 187.60.218.75
deny from 187.61.215.73
deny from 187.62.1.116
deny from 187.62.45.141
deny from 187.63.214.174
deny from 187.64.134.209
deny from 187.65.102.235
deny from 187.65.169.13
deny from 187.65.55.4
deny from 187.65.78.46
deny from 187.68.99.104
deny from 187.69.115.212
deny from 187.69.56.81
deny from 187.69.94.108
deny from 187.7.120.51
deny from 187.7.135.175
deny from 187.7.14.213
deny from 187.7.151.167
deny from 187.7.186.3
deny from 187.7.37.206
deny from 187.73.228.62
deny from 187.75.114.146
deny from 187.75.133.240
deny from 187.75.173.208
deny from 187.75.192.47
deny from 187.75.95.196
deny from 187.76.73.38
deny from 187.76.84.134
deny from 187.78.105.174
deny from 187.78.135.226
deny from 187.78.205.100
deny from 187.78.24.186
deny from 187.78.47.233
deny from 187.79.193.164
deny from 187.79.252.57
deny from 187.79.57.230
deny from 187.79.87.208
deny from 187.79.89.156
deny from 187.85.128.110
deny from 187.85.129.98
deny from 187.86.57.63
deny from 187.87.250.5
deny from 187.92.169.194
deny from 187.94.193.12
deny from 187.94.193.5
deny from 187.94.207.9
deny from 187.95.2.6
deny from 187.95.241.49
deny from 187.95.92.162
deny from 188.143.232.84
deny from 188.165.38.26
deny from 188.251.1.72
deny from 188.83.152.116
deny from 189.1.128.130
deny from 189.10.208.178
deny from 189.10.39.93
deny from 189.10.96.4
deny from 189.101.10.20
deny from 189.101.130.32
deny from 189.104.185.108
deny from 189.104.209.41
deny from 189.104.34.216
deny from 189.104.40.164
deny from 189.104.98.164
deny from 189.105.10.55
deny from 189.105.120.206
deny from 189.105.124.164
deny from 189.105.178.76
deny from 189.105.217.138
deny from 189.105.246.151
deny from 189.106.110.68
deny from 189.106.13.5
deny from 189.106.3.83
deny from 189.106.39.35
deny from 189.106.59.33
deny from 189.106.62.138
deny from 189.107.107.233
deny from 189.107.134.72
deny from 189.107.215.252
deny from 189.107.224.215
deny from 189.107.228.120
deny from 189.107.240.21
deny from 189.107.250.87
deny from 189.107.52.150
deny from 189.107.58.135
deny from 189.107.59.94
deny from 189.107.61.182
deny from 189.107.63.166
deny from 189.109.49.2
deny from 189.11.132.123
deny from 189.11.146.66
deny from 189.11.178.97
deny from 189.110.1.99
deny from 189.110.128.105
deny from 189.110.128.156
deny from 189.110.194.153
deny from 189.110.208.65
deny from 189.110.221.18
deny from 189.110.221.228
deny from 189.110.35.1
deny from 189.111.131.46
deny from 189.111.160.10
deny from 189.111.25.38
deny from 189.114.111.75
deny from 189.115.129.225
deny from 189.115.162.74
deny from 189.115.20.31
deny from 189.115.212.101
deny from 189.115.66.16
deny from 189.115.89.44
deny from 189.12.109.238
deny from 189.12.163.160
deny from 189.12.239.64
deny from 189.12.52.140
deny from 189.12.67.88
deny from 189.12.83.225
deny from 189.120.234.251
deny from 189.121.166.179
deny from 189.122.161.67
deny from 189.122.165.34
deny from 189.122.74.58
deny from 189.123.160.138
deny from 189.123.242.93
deny from 189.123.50.208
deny from 189.124.178.171
deny from 189.124.202.36
deny from 189.124.23.4
deny from 189.124.24.25
deny from 189.124.29.11
deny from 189.124.31.18
deny from 189.124.39.138
deny from 189.124.73.87
deny from 189.125.172.36
deny from 189.125.228.15
deny from 189.125.7.102
deny from 189.126.143.26
deny from 189.126.29.211
deny from 189.126.29.76
deny from 189.126.30.147
deny from 189.126.30.243
deny from 189.127.150.7
deny from 189.128.112.188
deny from 189.13.243.22
deny from 189.15.188.115
deny from 189.15.205.117
deny from 189.15.86.204
deny from 189.16.199.130
deny from 189.168.255.218
deny from 189.17.167.102
deny from 189.175.96.51
deny from 189.18.150.247
deny from 189.18.21.243
deny from 189.18.34.178
deny from 189.186.139.193
deny from 189.19.119.168
deny from 189.19.238.201
deny from 189.196.233.46
deny from 189.21.198.166
deny from 189.22.132.35
deny from 189.235.158.168
deny from 189.235.195.146
deny from 189.24.168.205
deny from 189.24.210.32
deny from 189.24.47.158
deny from 189.24.59.183
deny from 189.25.133.183
deny from 189.25.22.184
deny from 189.25.75.106
deny from 189.25.95.53
deny from 189.251.25.10
deny from 189.251.57.36
deny from 189.253.176.74
deny from 189.254.1.2
deny from 189.26.153.226
deny from 189.26.174.108
deny from 189.26.236.230
deny from 189.26.255.50
deny from 189.26.65.178
deny from 189.26.77.214
deny from 189.27.130.52
deny from 189.28.162.134
deny from 189.29.2.164
deny from 189.29.245.126
deny from 189.29.25.156
deny from 189.29.89.52
deny from 189.29.90.111
deny from 189.30.108.180
deny from 189.30.117.149
deny from 189.30.38.105
deny from 189.30.77.44
deny from 189.31.172.183
deny from 189.31.73.176
deny from 189.32.84.29
deny from 189.32.89.222
deny from 189.33.220.248
deny from 189.33.73.197
deny from 189.34.77.9
deny from 189.35.155.137
deny from 189.38.36.109
deny from 189.41.104.150
deny from 189.41.109.23
deny from 189.41.110.199
deny from 189.41.111.107
deny from 189.41.130.251
deny from 189.41.130.65
deny from 189.41.176.155
deny from 189.41.184.160
deny from 189.41.185.29
deny from 189.41.217.85
deny from 189.41.221.142
deny from 189.41.242.123
deny from 189.41.245.255
deny from 189.41.252.99
deny from 189.41.62.16
deny from 189.41.86.100
deny from 189.41.92.140
deny from 189.42.142.254
deny from 189.44.210.133
deny from 189.45.144.152
deny from 189.45.36.6
deny from 189.46.197.178
deny from 189.46.198.247
deny from 189.46.21.231
deny from 189.46.34.250
deny from 189.47.134.84
deny from 189.47.206.235
deny from 189.47.215.196
deny from 189.47.58.218
deny from 189.47.61.97
deny from 189.48.121.38
deny from 189.48.14.230
deny from 189.48.95.218
deny from 189.5.225.188
deny from 189.5.239.204
deny from 189.5.45.194
deny from 189.5.6.102
deny from 189.51.133.83
deny from 189.51.235.154
deny from 189.51.33.52
deny from 189.53.102.65
deny from 189.53.214.98
deny from 189.55.136.239
deny from 189.58.110.78
deny from 189.59.187.210
deny from 189.59.68.230
deny from 189.6.1.33
deny from 189.61.38.155
deny from 189.62.122.25
deny from 189.62.163.147
deny from 189.62.89.233
deny from 189.63.195.103
deny from 189.63.64.217
deny from 189.68.166.44
deny from 189.69.119.216
deny from 189.69.53.131
deny from 189.70.157.92
deny from 189.70.247.80
deny from 189.71.164.88
deny from 189.71.176.114
deny from 189.71.184.164
deny from 189.71.202.67
deny from 189.71.213.64
deny from 189.71.244.187
deny from 189.71.28.112
deny from 189.72.208.204
deny from 189.72.213.46
deny from 189.72.239.212
deny from 189.72.39.13
deny from 189.72.48.56
deny from 189.72.67.88
deny from 189.73.111.54
deny from 189.73.143.7
deny from 189.73.239.47
deny from 189.73.250.40
deny from 189.73.251.31
deny from 189.74.148.184
deny from 189.74.149.173
deny from 189.74.169.96
deny from 189.74.45.180
deny from 189.74.50.224
deny from 189.74.64.22
deny from 189.75.14.195
deny from 189.75.15.150
deny from 189.75.212.29
deny from 189.75.67.41
deny from 189.75.98.209
deny from 189.76.215.228
deny from 189.76.39.222
deny from 189.76.46.128
deny from 189.78.198.241
deny from 189.78.199.123
deny from 189.78.4.32
deny from 189.79.129.63
deny from 189.79.131.65
deny from 189.79.140.179
deny from 189.79.80.101
deny from 189.79.89.105
deny from 189.79.90.82
deny from 189.79.98.100
deny from 189.80.181.42
deny from 189.80.238.46
deny from 189.80.26.189
deny from 189.81.1.99
deny from 189.81.5.171
deny from 189.82.175.121
deny from 189.83.29.147
deny from 189.83.66.158
deny from 189.84.112.230
deny from 189.84.120.135
deny from 189.84.190.77
deny from 189.84.211.146
deny from 189.86.89.2
deny from 189.89.155.46
deny from 189.89.18.21
deny from 189.89.82.228
deny from 189.90.118.28
deny from 189.91.0.65
deny from 189.91.10.225
deny from 189.91.209.67
deny from 189.91.229.60
deny from 189.95.131.251
deny from 190.14.232.98
deny from 190.151.22.98
deny from 190.166.181.26
deny from 190.248.94.78
deny from 190.26.210.29
deny from 190.85.133.162
deny from 190.9.128.96
deny from 192.119.144.75
deny from 192.119.154.169
deny from 192.119.154.177
deny from 192.119.154.213
deny from 192.119.154.220
deny from 192.119.154.221
deny from 192.119.154.222
deny from 192.161.58.197
deny from 193.152.181.131
deny from 194.71.222.107
deny from 194.71.222.115
deny from 194.71.222.12
deny from 194.71.222.135
deny from 194.71.222.137
deny from 194.71.222.141
deny from 194.71.222.169
deny from 194.71.222.250
deny from 194.71.222.254
deny from 194.71.222.95
deny from 194.71.222.99
deny from 194.71.223.104
deny from 194.71.223.120
deny from 194.71.223.128
deny from 194.71.223.135
deny from 194.71.223.150
deny from 194.71.223.169
deny from 194.71.223.174
deny from 194.71.223.198
deny from 194.71.223.20
deny from 194.71.223.202
deny from 194.71.223.221
deny from 194.71.223.29
deny from 194.71.223.46
deny from 194.71.223.60
deny from 194.71.223.69
deny from 194.71.223.98
deny from 194.71.224.140
deny from 194.71.224.178
deny from 194.71.224.20
deny from 194.71.224.204
deny from 194.71.224.245
deny from 194.71.225.101
deny from 194.71.225.149
deny from 194.71.225.15
deny from 194.71.225.166
deny from 194.71.225.199
deny from 194.71.225.212
deny from 194.71.225.28
deny from 194.71.225.44
deny from 194.71.225.49
deny from 195.3.254.159
deny from 198.101.240.130
deny from 198.147.22.16
deny from 198.147.22.23
deny from 198.203.29.216
deny from 198.24.131.46
deny from 198.40.56.218
deny from 199.101.101.182
deny from 199.101.224.241
deny from 199.15.234.114
deny from 199.180.114.131
deny from 199.180.116.247
deny from 199.19.109.122
deny from 199.19.95.35
deny from 199.201.126.106
deny from 199.245.60.135
deny from 199.245.60.143
deny from 199.48.147.36
deny from 2.81.167.157
deny from 2.82.210.147
deny from 2.83.247.171
deny from 200.1.20.211
deny from 200.101.124.204
deny from 200.111.115.172
deny from 200.129.208.70
deny from 200.137.201.26
deny from 200.139.157.187
deny from 200.140.35.16
deny from 200.140.35.199
deny from 200.141.135.186
deny from 200.141.200.58
deny from 200.141.200.59
deny from 200.144.27.194
deny from 200.144.29.106
deny from 200.148.106.201
deny from 200.148.205.162
deny from 200.150.182.165
deny from 200.150.69.156
deny from 200.153.150.9
deny from 200.153.155.225
deny from 200.155.126.183
deny from 200.155.39.177
deny from 200.158.53.178
deny from 200.159.201.65
deny from 200.161.4.162
deny from 200.162.233.143
deny from 200.163.166.35
deny from 200.163.223.5
deny from 200.164.100.145
deny from 200.164.99.212
deny from 200.164.99.8
deny from 200.165.48.236
deny from 200.166.117.2
deny from 200.167.57.7
deny from 200.167.58.80
deny from 200.167.94.3
deny from 200.17.161.191
deny from 200.17.60.247
deny from 200.174.171.222
deny from 200.180.121.228
deny from 200.180.79.176
deny from 200.181.147.58
deny from 200.183.80.194
deny from 200.187.14.193
deny from 200.189.158.74
deny from 200.189.56.27
deny from 200.195.154.114
deny from 200.196.180.200
deny from 200.196.224.242
deny from 200.198.105.82
deny from 200.198.137.76
deny from 200.198.47.90
deny from 200.199.122.235
deny from 200.199.3.42
deny from 200.199.87.24
deny from 200.201.164.115
deny from 200.203.225.217
deny from 200.203.225.88
deny from 200.203.57.23
deny from 200.204.51.180
deny from 200.206.127.42
deny from 200.206.177.46
deny from 200.206.23.178
deny from 200.207.61.70
deny from 200.213.3.130
deny from 200.215.53.156
deny from 200.216.188.35
deny from 200.216.193.162
deny from 200.216.241.130
deny from 200.217.97.8
deny from 200.222.102.166
deny from 200.222.27.193
deny from 200.223.147.139
deny from 200.223.164.53
deny from 200.223.204.129
deny from 200.228.94.136
deny from 200.231.18.62
deny from 200.232.150.20
deny from 200.232.179.34
deny from 200.232.181.30
deny from 200.241.145.2
deny from 200.248.226.3
deny from 200.249.124.100
deny from 200.252.103.144
deny from 200.254.130.50
deny from 200.45.236.50
deny from 200.54.92.187
deny from 200.57.90.4
deny from 200.76.148.85
deny from 200.90.139.170
deny from 200.96.101.247
deny from 200.97.205.223
deny from 200.97.221.252
deny from 201.0.155.245
deny from 201.0.184.72
deny from 201.1.146.182
deny from 201.1.214.53
deny from 201.10.96.109
deny from 201.102.100.192
deny from 201.11.108.174
deny from 201.11.215.218
deny from 201.11.58.221
deny from 201.11.85.122
deny from 201.110.159.137
deny from 201.13.190.220
deny from 201.13.192.196
deny from 201.13.255.59
deny from 201.13.77.30
deny from 201.14.100.126
deny from 201.14.146.203
deny from 201.14.184.185
deny from 201.14.225.220
deny from 201.143.15.53
deny from 201.15.143.140
deny from 201.15.161.199
deny from 201.15.213.230
deny from 201.15.254.13
deny from 201.17.136.55
deny from 201.17.152.45
deny from 201.17.153.44
deny from 201.172.234.66
deny from 201.18.11.54
deny from 201.18.28.150
deny from 201.19.178.59
deny from 201.19.213.56
deny from 201.19.229.12
deny from 201.194.106.2
deny from 201.2.204.237
deny from 201.2.37.139
deny from 201.209.91.221
deny from 201.22.166.139
deny from 201.22.184.107
deny from 201.22.212.8
deny from 201.22.227.106
deny from 201.24.111.151
deny from 201.24.111.195
deny from 201.245.64.98
deny from 201.25.54.102
deny from 201.28.123.226
deny from 201.29.45.102
deny from 201.29.5.233
deny from 201.3.230.83
deny from 201.3.3.56
deny from 201.30.222.138
deny from 201.33.186.7
deny from 201.33.236.198
deny from 201.34.106.69
deny from 201.34.159.236
deny from 201.34.216.207
deny from 201.35.230.166
deny from 201.35.249.56
deny from 201.35.253.184
deny from 201.36.151.26
deny from 201.4.121.95
deny from 201.4.156.40
deny from 201.4.193.57
deny from 201.40.58.237
deny from 201.41.113.138
deny from 201.41.24.126
deny from 201.41.94.24
deny from 201.42.123.112
deny from 201.42.134.13
deny from 201.42.142.225
deny from 201.42.143.211
deny from 201.42.173.144
deny from 201.42.63.154
deny from 201.42.74.38
deny from 201.43.121.198
deny from 201.43.174.132
deny from 201.43.180.147
deny from 201.43.212.230
deny from 201.45.9.178
deny from 201.46.40.76
deny from 201.48.227.13
deny from 201.48.242.49
deny from 201.49.65.5
deny from 201.50.16.203
deny from 201.50.241.234
deny from 201.52.103.166
deny from 201.52.148.161
deny from 201.52.148.231
deny from 201.54.100.105
deny from 201.55.125.18
deny from 201.55.31.16
deny from 201.55.31.65
deny from 201.55.31.66
deny from 201.56.248.20
deny from 201.58.126.87
deny from 201.58.13.113
deny from 201.58.192.133
deny from 201.58.20.148
deny from 201.58.204.77
deny from 201.58.236.144
deny from 201.58.83.202
deny from 201.58.84.103
deny from 201.58.84.184
deny from 201.59.167.114
deny from 201.6.107.49
deny from 201.6.152.225
deny from 201.6.232.100
deny from 201.62.51.5
deny from 201.62.79.40
deny from 201.65.138.67
deny from 201.65.173.202
deny from 201.65.235.110
deny from 201.66.131.187
deny from 201.66.153.216
deny from 201.66.200.202
deny from 201.66.216.135
deny from 201.67.13.169
deny from 201.67.137.47
deny from 201.67.138.247
deny from 201.67.77.168
deny from 201.68.125.135
deny from 201.68.141.3
deny from 201.69.21.187
deny from 201.69.40.114
deny from 201.70.53.130
deny from 201.72.11.98
deny from 201.73.139.26
deny from 201.73.165.128
deny from 201.73.219.117
deny from 201.73.241.203
deny from 201.74.229.49
deny from 201.75.13.17
deny from 201.76.182.158
deny from 201.76.21.217
deny from 201.76.6.130
deny from 201.78.103.152
deny from 201.78.149.136
deny from 201.78.236.21
deny from 201.78.96.134
deny from 201.79.116.45
deny from 201.79.149.232
deny from 201.79.154.184
deny from 201.79.30.91
deny from 201.79.96.222
deny from 201.8.1.124
deny from 201.8.122.1
deny from 201.8.131.205
deny from 201.8.147.203
deny from 201.8.18.28
deny from 201.8.24.97
deny from 201.8.32.182
deny from 201.8.34.159
deny from 201.8.35.17
deny from 201.8.44.179
deny from 201.8.8.65
deny from 201.80.92.49
deny from 201.83.178.159
deny from 201.85.20.66
deny from 201.87.32.123
deny from 201.88.107.178
deny from 201.88.18.226
deny from 201.89.191.105
deny from 201.9.178.21
deny from 201.9.55.60
deny from 201.9.59.87
deny from 201.9.89.28
deny from 201.90.164.120
deny from 201.90.213.82
deny from 201.92.170.148
deny from 201.92.189.243
deny from 201.92.215.242
deny from 201.92.67.187
deny from 201.93.132.78
deny from 201.93.139.80
deny from 201.93.158.67
deny from 201.93.163.186
deny from 201.93.167.254
deny from 201.94.184.250
deny from 201.94.208.34
deny from 201.94.222.87
deny from 201.95.225.5
deny from 201.95.47.19
deny from 201.95.6.109
deny from 201.99.40.132
deny from 202.28.20.19
deny from 202.83.172.147
deny from 204.124.181.122
deny from 204.27.60.2
deny from 205.189.73.46
deny from 207.255.113.187
deny from 208.107.37.88
deny from 208.167.231.169
deny from 208.167.231.229
deny from 208.89.215.138
deny from 209.141.8.33
deny from 210.101.131.231
deny from 212.154.116.162
deny from 212.175.54.109
deny from 212.253.85.161
deny from 212.84.206.250
deny from 216.151.139.228
deny from 216.152.246.60
deny from 216.155.152.206
deny from 216.18.226.43
deny from 216.80.90.241
deny from 217.129.119.31
deny from 217.131.2.173
deny from 217.219.73.14
deny from 218.108.169.134
deny from 218.208.78.26
deny from 219.239.26.23
deny from 220.255.1.19
deny from 220.255.2.121
deny from 220.255.2.147
deny from 221.206.105.219
deny from 222.127.172.215
deny from 222.135.195.164
deny from 222.252.199.70
deny from 222.255.237.206
deny from 222.76.48.96
deny from 222.77.218.166
deny from 223.240.46.71
deny from 23.19.125.3
deny from 23.19.125.83
deny from 23.19.216.11
deny from 23.19.72.55
deny from 23.19.92.21
deny from 23.19.92.77
deny from 23.27.236.106
deny from 23.27.236.115
deny from 23.27.236.117
deny from 23.27.236.143
deny from 23.27.236.3
deny from 23.29.55.148
deny from 24.116.82.187
deny from 24.132.58.122
deny from 24.158.199.54
deny from 27.130.223.153
deny from 27.159.193.20
deny from 27.159.193.218
deny from 27.159.194.28
deny from 27.159.195.32
deny from 27.159.195.85
deny from 27.159.198.241
deny from 27.159.199.83
deny from 27.159.202.102
deny from 27.159.205.4
deny from 27.159.208.208
deny from 27.159.208.60
deny from 27.159.209.234
deny from 27.159.211.242
deny from 27.159.211.46
deny from 27.189.3.201
deny from 31.126.180.175
deny from 31.127.106.112
deny from 31.133.38.76
deny from 37.10.106.85
deny from 37.59.11.191
deny from 37.59.162.240
deny from 37.59.205.104
deny from 37.59.228.29
deny from 37.59.247.6
deny from 37.59.251.142
deny from 37.59.68.208
deny from 37.59.84.190
deny from 37.59.84.6
deny from 37.72.190.162
deny from 37.8.0.24
deny from 41.35.219.197
deny from 41.74.131.182
deny from 42.62.5.211
deny from 42.62.5.212
deny from 46.10.210.179
deny from 46.105.156.233
deny from 46.119.136.179
deny from 46.119.246.126
deny from 46.21.144.176
deny from 46.21.144.52
deny from 46.227.68.126
deny from 46.227.68.147
deny from 46.227.68.189
deny from 46.227.68.200
deny from 46.227.68.217
deny from 46.227.68.223
deny from 46.227.68.234
deny from 46.227.68.32
deny from 46.227.68.75
deny from 46.227.68.76
deny from 46.227.68.98
deny from 46.227.70.135
deny from 46.227.70.152
deny from 46.227.70.165
deny from 46.227.70.192
deny from 46.227.70.197
deny from 46.227.70.198
deny from 46.227.70.200
deny from 46.227.70.220
deny from 46.227.70.242
deny from 46.227.71.134
deny from 46.227.71.141
deny from 46.227.71.149
deny from 46.227.71.161
deny from 46.227.71.214
deny from 46.227.71.251
deny from 46.246.130.158
deny from 46.37.187.83
deny from 46.4.227.148
deny from 46.43.45.129
deny from 46.43.45.141
deny from 46.73.57.113
deny from 46.99.24.49
deny from 5.13.208.199
deny from 5.13.211.44
deny from 5.135.112.59
deny from 5.135.113.238
deny from 5.135.38.169
deny from 5.135.47.127
deny from 5.144.176.118
deny from 5.144.176.207
deny from 5.144.176.98
deny from 5.34.242.198
deny from 5.34.246.112
deny from 5.39.127.49
deny from 5.39.19.64
deny from 5.39.19.69
deny from 5.39.19.75
deny from 5.39.19.76
deny from 5.39.33.241
deny from 5.39.36.13
deny from 5.39.37.48
deny from 5.39.39.129
deny from 5.39.44.151
deny from 5.39.53.128
deny from 5.39.53.130
deny from 5.39.61.77
deny from 5.39.69.34
deny from 5.9.184.5
deny from 50.115.169.212
deny from 50.115.170.69
deny from 50.115.171.46
deny from 50.115.171.78
deny from 50.115.173.152
deny from 50.115.173.59
deny from 50.117.52.42
deny from 50.117.61.147
deny from 50.117.63.112
deny from 50.117.63.231
deny from 50.135.160.173
deny from 58.22.151.125
deny from 58.96.125.5
deny from 59.56.156.63
deny from 59.58.139.123
deny from 59.99.238.190
deny from 60.166.49.211
deny from 60.49.113.147
deny from 61.19.80.202
deny from 62.83.113.108
deny from 63.141.252.178
deny from 64.120.63.109
deny from 64.120.63.238
deny from 64.120.63.72
deny from 64.188.59.82
deny from 64.191.118.70
deny from 65.33.92.98
deny from 67.202.113.35
deny from 67.209.190.100
deny from 67.209.190.111
deny from 67.209.190.115
deny from 67.209.190.116
deny from 67.209.190.119
deny from 67.209.190.120
deny from 67.209.190.122
deny from 67.209.190.97
deny from 67.209.190.98
deny from 67.55.115.76
deny from 68.169.80.146
deny from 68.169.80.147
deny from 68.169.80.148
deny from 68.169.80.149
deny from 68.169.86.218
deny from 68.169.86.219
deny from 68.169.86.220
deny from 68.169.86.222
deny from 68.235.38.98
deny from 69.40.40.244
deny from 70.173.22.182
deny from 70.63.151.188
deny from 71.71.230.81
deny from 74.118.193.28
deny from 74.120.15.150
deny from 74.204.134.243
deny from 74.221.208.163
deny from 74.221.210.87
deny from 74.221.211.133
deny from 74.221.211.164
deny from 74.221.212.29
deny from 74.221.215.230
deny from 74.221.215.241
deny from 74.221.215.243
deny from 74.221.215.252
deny from 74.221.217.210
deny from 75.127.135.186
deny from 75.88.184.220
deny from 76.91.223.194
deny from 76.99.114.2
deny from 77.111.6.24
deny from 78.160.150.191
deny from 78.160.153.243
deny from 78.172.214.77
deny from 78.176.138.171
deny from 78.181.162.85
deny from 78.181.247.206
deny from 78.184.154.231
deny from 78.187.236.175
deny from 78.188.233.135
deny from 78.34.207.153
deny from 78.41.201.68
deny from 78.46.145.58
deny from 78.46.145.59
deny from 78.46.145.94
deny from 79.140.1.69
deny from 79.143.179.238
deny from 79.145.207.189
deny from 79.157.119.219
deny from 8.36.225.14
deny from 8.36.225.175
deny from 8.36.225.19
deny from 8.36.225.219
deny from 8.36.225.44
deny from 8.36.225.69
deny from 8.36.225.78
deny from 8.36.225.83
deny from 8.8.244.15
deny from 80.123.9.186
deny from 80.248.10.230
deny from 80.91.187.250
deny from 81.155.62.122
deny from 81.17.30.153
deny from 81.216.187.140
deny from 81.241.124.238
deny from 81.66.157.238
deny from 81.84.162.192
deny from 81.94.201.178
deny from 82.1.195.157
deny from 82.155.246.36
deny from 82.232.4.8
deny from 83.10.162.207
deny from 83.244.48.2
deny from 83.55.213.242
deny from 83.84.154.196
deny from 84.122.180.86
deny from 84.127.113.184
deny from 84.200.213.166
deny from 85.102.166.116
deny from 85.105.151.71
deny from 85.110.57.229
deny from 85.12.211.203
deny from 85.214.227.133
deny from 85.241.108.15
deny from 85.97.57.95
deny from 85.97.77.197
deny from 86.133.42.155
deny from 86.139.142.155
deny from 86.22.151.45
deny from 86.24.138.131
deny from 86.4.204.149
deny from 86.62.81.52
deny from 87.145.57.144
deny from 87.196.78.73
deny from 87.236.211.103
deny from 87.79.208.19
deny from 87.98.250.232
deny from 88.161.208.165
deny from 88.190.16.36
deny from 88.238.17.22
deny from 88.80.20.166
deny from 89.122.184.243
deny from 89.135.63.36
deny from 89.154.120.14
deny from 89.207.128.48
deny from 89.218.65.38
deny from 89.248.168.139
deny from 90.177.175.192
deny from 91.121.169.209
deny from 91.121.202.101
deny from 91.121.252.65
deny from 91.121.252.68
deny from 91.192.32.1
deny from 91.201.64.27
deny from 91.201.64.7
deny from 91.210.176.50
deny from 91.216.163.106
deny from 91.222.136.74
deny from 91.236.74.192
deny from 91.236.74.249
deny from 91.236.74.254
deny from 92.18.195.203
deny from 92.18.198.150
deny from 93.182.172.214
deny from 93.182.172.39
deny from 93.182.174.174
deny from 93.184.71.66
deny from 93.188.35.215
deny from 94.23.114.58
deny from 94.23.114.60
deny from 94.23.120.109
deny from 94.23.155.150
deny from 94.23.157.197
deny from 94.242.237.51
deny from 94.242.241.14
deny from 94.242.241.181
deny from 96.31.86.184
deny from 96.43.233.33
deny from 96.47.224.218
deny from 96.47.224.42
deny from 96.47.224.50
deny from 96.47.224.58
deny from 96.47.225.162
deny from 96.47.225.170
deny from 96.47.225.178
deny from 96.47.225.186
deny from 96.47.225.66
deny from 96.47.225.74
deny from 96.47.225.82
deny from 96.9.141.230
deny from 98.109.247.130
deny from 98.168.248.253
#•••