Apple Tree and Solar Panels at Cold Hollow Cider Mill
There are a lot of solar panels springing up around here. Back in the 1980's and 1990's people said we would never have much solar electric in New England because the climate was wrong, we have too much cloudy weather and the solar angle is poor. I suspect that several factors have changed this:
1) Solar panels have become much more efficient. This makes it so they can generate more electricity even on cloudy days and low sun angle days.
2) Solar panels have become much cheaper with improvements in production plus simple economies of scale.
3) Government subsidies of solar projects help with the startup costs.
The last one I have mixed feelings on. On the one hand I like solar instead of petroleum, coal or nuclear and it is good that all these projects are happening. However, the government subsidies are actually increasing the price of solar for those of us who don't get government subsidies to install the panels. This is because if the government says they'll pay half your upfront costs then you're willing to spend more. That's great for the solar companies but bad for the unsubsidized person who wants to install solar themselves. Subsidies warp the market place. Hopefully the subsidies will end soon and in the long run have resulted in both more 'green' power and lower long term prices since the volume of production will be higher. We could do away with subsidies on everything and have a healthier economy in the long run.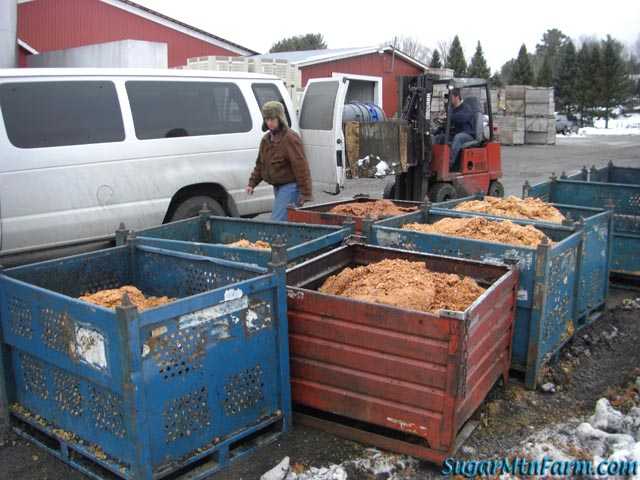 Picking up Crushed Apples (Pomace) at Cold Hollow Cider
This field of panels is at
Cold Hollow Cider
in Waterbury, Vermont. The picture's in negative because I accidentally switched it when sizing it in Photoshop. I thought "cool!" and I left it like that. Very artsy.
At Adams Slaughter where we take our pigs each week they're putting up a big installation of solar electric panels. I've seen several other large installations around as well as many small on-home units.
Next they need to graze some sheep or other livestock in those solar farm fields and double their yield. Electricity plus meat! That will save time mowing.
Outdoors: 20°F/8°F Sunny
Tiny Cottage: 66°F/64°F
Daily Spark: Your chances of winning the Lotto are almost the same whether you buy tickets or not.