Whey Line Descending
This fall we moved the two lower 1,025 gallon whey tanks to the top of the whey driveway so that the delivery truck can park in one area to unload to all three tanks. Recently Will setup new pipe lines leading from there to the north and south areas so once again we have flowing whey to all throughs, just in time for the cold weather.
The big 2″ water line pipe does not clog with butter as easily as the 1″ pipes but it is very stiff. To prevent it from dipping and swirling Will bound it with plastic straps to 2x's, creating a continuously downward flowing slope. One of these pipes, shown here, leads to the north herd and another leads down to the south herd. We also use 4″ white pipes, of which you can see some in the background, to get whey to some troughs that are closer to the tanks. The white pipes are in 10′ sections as opposed to the black pipe which is a continuous run.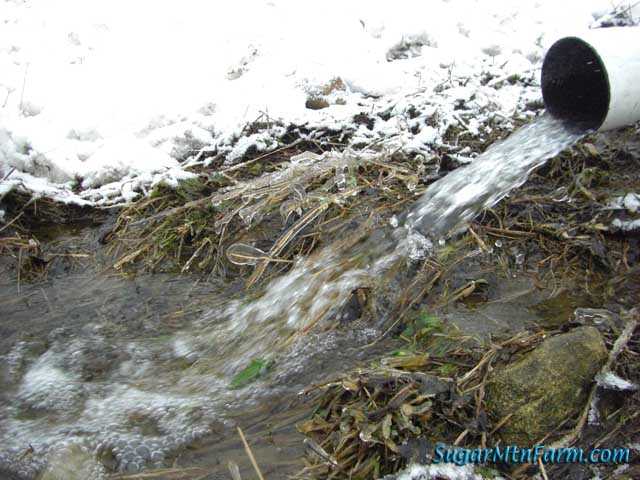 Water Overflow
This is the overflow from the upper pond. Ben extended the output pipe so it avoids coming down onto the pig's winter paddocks. Ben also setup new water lines from the upper pond so that now the bounty flowing from the sap house spring is available as water fountains to the livestock at a variety of different waterers in the winter paddocks.
Blue Waterer
The water flows constantly, down through a series of troughs, so as to prevent freezing. Waterers like the one above are simply 50 gallon plastic drums, troughs and bathtubs set in the ground to get some heat from the earth. The one above has a flap on the opening which creates a warm micro-climate for the water to help keep it fluid. The animals push the flap in to drink.
Another little trick is putting the waterers in sheltered spots like behind a stone wall, in a cave, a small greenhouse or shroud. This blocks the wind and creates a warm micro-climate. Best not to make the spot to large or the animals tend to dung in it.
Outdoors: 27°F/17°F 8″ Snow
Tiny Cottage: 66°F/62°F
Daily Spark: I try to console myself with the thought that the politicians are stimulating the economy. They buy T-shirts, bumper stickers, ads, meals, hotel rooms, flights, bus leases, convention space and such that all provides jobs. Think of it this way: every four years the greedy politicians pay billions of dollars to stimulate our economy for the privilege of getting two to four year terms where they get to think they're running the country. Without their greed a lot of people wouldn't have jobs.