Geese on Snow
Contrary to the predictions of the far left neo-environmentalists it is a white Christmas. Quite frankly, we were appreciating this warm fall as it allowed us to get a lot of outdoor projects finished up. We needed to not get snow so that we could close in the butcher shop and then finish bedding the animals down for winter. It generally takes three weeks to a month to prepare the farm for winter and we're just squeaking in under the snow line. Those things are done and the butcher shop is roofed over we can work indoors finishing off the interior. Now winter can come roaring in, which it did.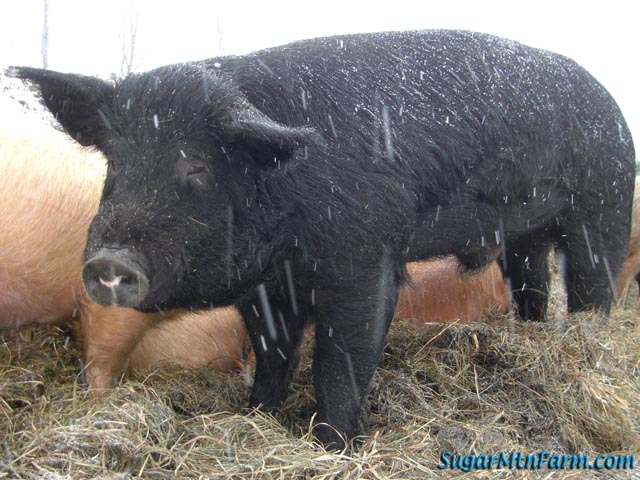 Gomez – New Head Bear
This is Gomez, experiencing his first Christmas snow. He is the new lead boar in the south herd, a descendent of
Blackie
, one of our prize Large Black sows, and
Big'Un
, one of our prize long fast growing (mostly) Yorkshire boars. He replaces his father
Guy Noir
in the south breeding herd. Gomez gets his name from the
husband
of
Morticia Addams
, with his dark good looks and little mustache.
Our Gomez looks like a black Yorkshire pig, being a cross of Large Black and Large White (Yorkshire). He is very long but is developing the huge shoulders of his grandfather Big'Un and father Guy Noir. I also kept back on of his brothers whom we have named Zorro. They look almost identical except Zorro lacks such a well defined mustache.
This past week the snow has accumulated with a little more every night. We've had some howling winds that I really appreciate not having had back when we were working high up in the air. A giant white pine tree was knocked down by the winds up by Riddle Puddle behind our cottage. Fortunately it fell north west and thus avoided taking down the kids's tree house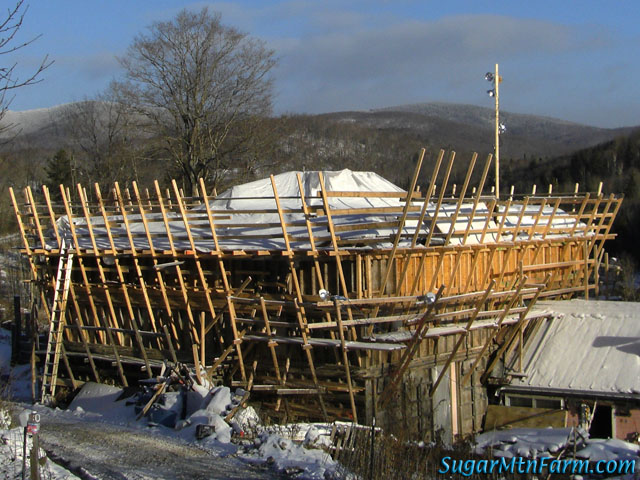 Butcher Shop in Snow
With the new snow the butcher shop is looks like a giant cake covered with frosting and surrounded by birthday candles.
Merry Christmas to everyone!
Outdoors: 25°F/6°F Partially Sunny, Light Snow
Tiny Cottage: 66°F/62°F
Daily Spark: Someone who gets to both the north pole and the south pole in one night is bipolar.