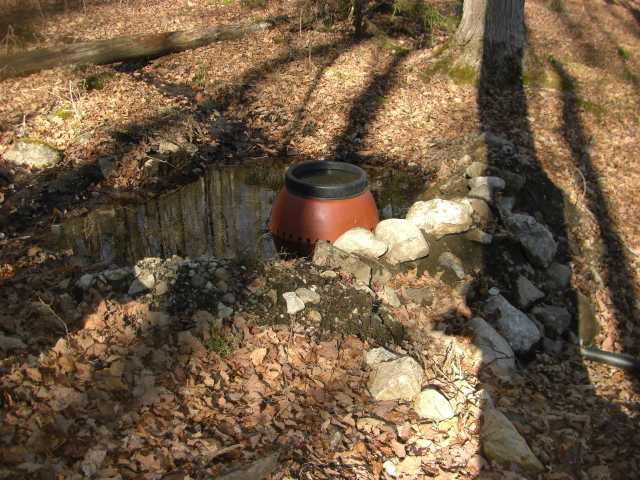 Sap House Spring
This summer we replaced the old damaged
water line
from the sap house spring with a brand new 2″ line that won't leak water on its trip down the mountain to the farm.
When we replaced the pipe we also replaced the failed filter at the top end of the line. Filters clog easy, especially single stage versions and even worse is the old ones made of tin as they rust out, catch leaves, clog and let junk pass when they're not clogging. The new filter consists of a 50 gallon plastic barrel with strategic holes drilled in the sides. This stops leaves, sticks and critters from plugging up the water line. Inside the barrel there is a secondary finer filter which is the pipe itself, capped at the end with small diameter holes drilled in the top 18″ of the pipe walls. These two large surface area filters diffuse the pressure of the incoming water on the holes which prevents leaves from binding and clogging so it stays cleaner making it so I don't have to maintain it as much. I like that.
The time saved lets me do additional interesting projects. Yet, I still enjoy walking the 2,000′ up the mountain to check out how the springs are doing. It is a very pleasant walk up through the north field where I can see how that herd is doing and then into the woods. The day I took this photo I saw deer tracks and several grouse. Remus and Katya typically join me for this walk up the water line road.
Outdoors: 34°F/29°F 3″ Snow
Tiny Cottage: 60°F/56°F No fire for three days
Daily Spark: The problem with the idea that we can regulate, legislate, outlaw, cure, capture or mark criminals is it is the unknown ones who are the greatest threat. So teach your children to scream and fight when threatened. Teach your children to know how to inflict painful injuries. Teach your children not to be victims but to be victorious.