Butcher Shop before pouring ceilings – insulation in place around scaffold
In the
butcher shop
we used a combination of brand new
Formula 250
pink board insulation and recycled insulation that I have been saving for decades. Some readers have been interested in the cost of the insulation vs concrete and what the costs were like for the pour. Per cubic foot the insulation cost just a little more than concrete so they're almost interchangeable in that regard.
Will and Walter unloading cube of new insulation from sky crane on top of butcher shop
Sometimes I build things in a honeycomb fashion to save weight, space or to increase thermal resistance, making beam struts for strength.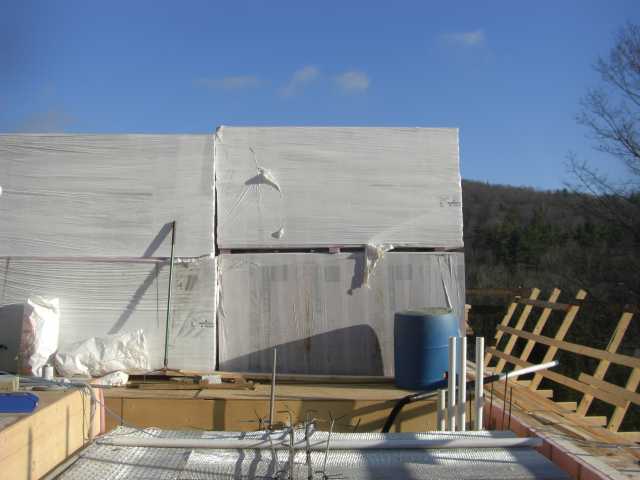 Four Cubes of Insulation Awaiting Installation
This is how we formed the T-beams in the ceilings of the reefer, admin loft and abattoir. We've also built in
cabinets
throughout the facility using this technique.
Walter and Will building insulation channels around beams from recycled end blocks
Since some of our insulation is free recycled material this can save cost too. The first concern is always dependent on the material's primary property – insulation or structural strength.
Recycled Insulation in place and ready to be capped with new sheets of F250
It helped with our budget that I had saved up a great deal of styrofoam insulation over the decades knowing that someday I would want to use it for something. Over the years I've done a lot of experiments with using the recycled materials and the butcher shop, the peak of past experimentation, is more experiments to advance my understanding of what we can do. The ceiling of the reefer is divided into fourteen research pods each with different characteristics so that I can gather more data by measuring temperatures below and above the ceiling in the coming years.
Filling insulation channels with recycled pieces and scraps
This consists of peanuts, styrofoam sheets, squares and blocks. Someday came with the butcher shop and we've used a much of this recycled material. That keeps it out of the land fill and it saves money that can then be used to pay for concrete and steel.
Hope smiling on pour day
The recycled material saved about $20,000 in our construction vs buying new insulation. Since we're doing this on a shoestring that helped make it happen – normally facilities like ours are expected to cost $1.5 million to $4.5 million. We're on track for not being too much over our initial four year old estimate of $150,000 to get to meat cutting. There will be more cost beyond that to get slaughter on-farm but we're doing well.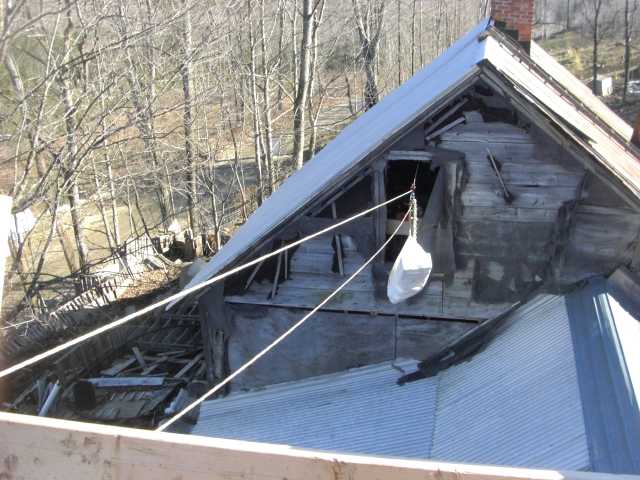 Hope bringing insulation over on the trolly from the old farm house where it has been stored for 20 years.
About $10K worth of recycled insulation went into this last pour to cap the building and about $10K went into the
foundation
insulation. I say $10K. That's what it saved us vs buying new insulation. Yankee frugality. This reuse of insulation actually got me written up in Inc Magazine two decades ago – check out the last news item in
News
from June of 1992 in the menu bar above.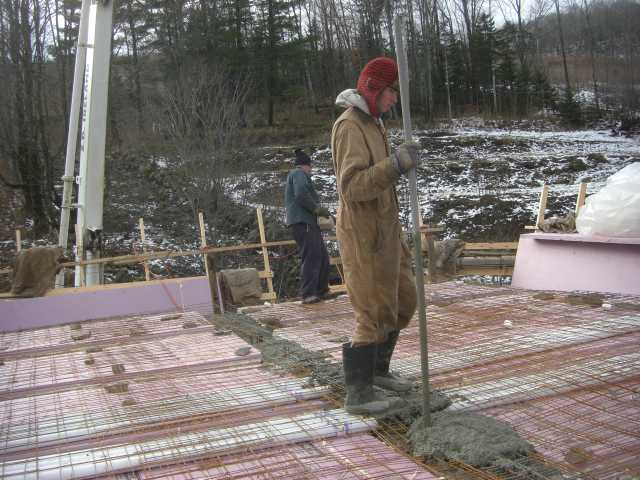 Ben Vibrating by hand with stick
The result is a lower cost of construction and a super insulated high thermal mass energy efficient building. The actual R-factor varies depending on the section of the building from about R-40 to R-100 around the reefer. We'll be adding even more insulation as we finish off the building. Insulation is an investment now to conserve energy over the long run. Electricity for running the refrigeration is a processing facility's largest ongoing cost after labor. We currently pay 21.5¢/KWHr so saving electricity is money in the bank. We've got the labor bit down too since we are the work force.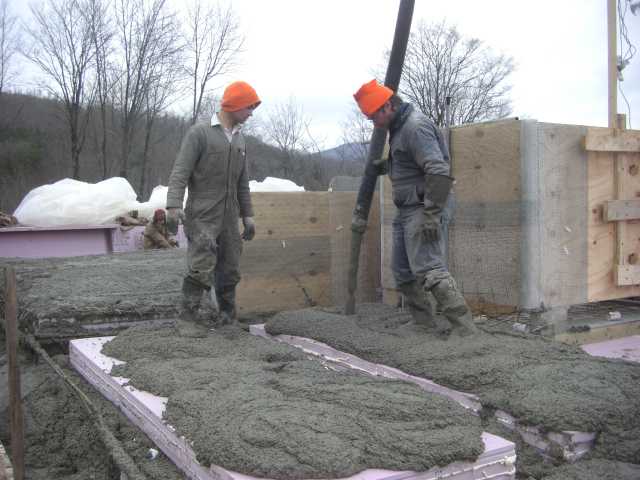 Pump truck hose depositing insulation on top of butcher shop
It might surprise some that the concrete costs about the same as the insulation. The concrete we use is a little bit specialized and a richer mix to meet the specs I needed. The concrete prices have also gone up significantly since we started this project.
Thermal decoupler and lots of rebar in main reefer beam under welded wire mesh
We are using a more expensive concrete than you might use in standard home foundations. We paid $142 per cubic-yard for this last pour of 82 cubic-yards for the building and five more for the inspector's parking slab. The
pump truck
was $700 for the day – well worth the savings in labor and absolutely necessary to getting those many tons of stone 20′ up onto the top of the building.
Ben using elephant vibrator†
So what makes this concrete special? We use a super plasticizer so we can pour with a stiffer concrete for greater strength. This is harder to place but gives greater strength in the long run. Vibration is critical. We vibrated by dancing, by poking with sticks, hammering with rubber mallets and with the powered elephant vibrator.
Hope dancing the wires to vibrate the mesh and rebar below into the concrete matrix
Since it was winter we also used a non-chloride accelerant to get faster set times to help deal with the cold. Chloride based accelerants are cheaper but they also rot the steel which is unacceptable so we went with 1% of the more expensive
PolarSet
. We use fiber in all our pours for added strength and 3/8″ rock since our walls are filled with conduit and steel that the larger 1.5″ stone would bind on. We use a rich 4,000 psi mix for greater strength on the beams. Lastly there was the $6.50/cu-yd cost of hot water since we're late in the season.
#4 316 Stainless Steel Rebar and Beam Socket Hooks for Abattoir High Rail
The box in the middle of the of the wall void is where we'll slide the future stainless I-beam that will be our 20′ high rail for the hoist. The 17′ long I-beam will then sit on the ledge created by this box and a mirroring box at the other end of the room. The beam will bolt to the stainless steel sockets welded to the socket hooks shown in the photo. This provides support for the I-beam every two feet to thus cutting the spanning distances and making for a stronger beam for those big mammoths.
On this last pour the insulation and concrete ran about even. Here's a breakdown of costs:
$12,000 82 cu-yds concrete for building top ring and ceilings
$700 5 cu-yds concrete for inspector's parking slab
$11,000 insulation we bought plus we saved ~$10,000 I had
$500 stainless steel rebar for Abattoir main beam and sub beam
$1,000 plain steel rebar plus welded wire mesh & lathe
$1,500 special basalt reinforcement
$500 expanded lathe
$3,700 lumber for form building, scaffolds, decking, walers, rods
$1,260 plywood for forms
$1,000 for screws (mostly LedgerLok & TimberLok plus sheetrock)
$1,200 electric (conduit primarily)
$900 plumbing (pipes mainly)
$500 lights and extension cords to work in the dark
$800 tools
$2,000 misc
——-
$38,560 Total for the final capping pour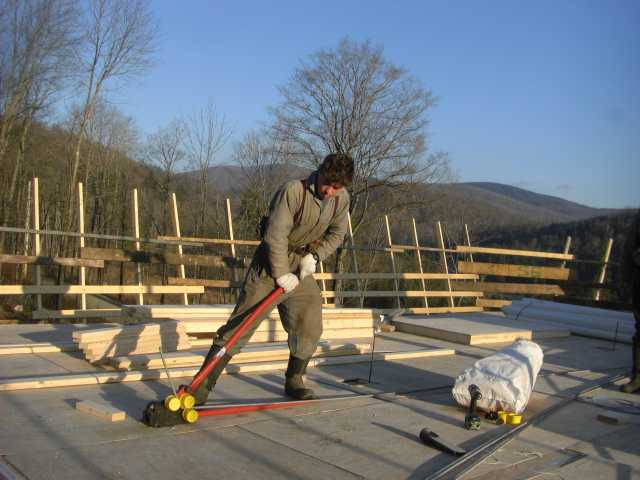 Will Bending Hooks in Stainless Steel Rebar on Reefer Deck
Many of these things like the tools, scaffold, walers, rods, screws and forms are reusable for future pours. In fact, we've been reusing some of the forms for seven years, since we built our tiny cottage in 2005. All this form and support structure make up a significant portion of the total cost of construction but we'll have them for future projects.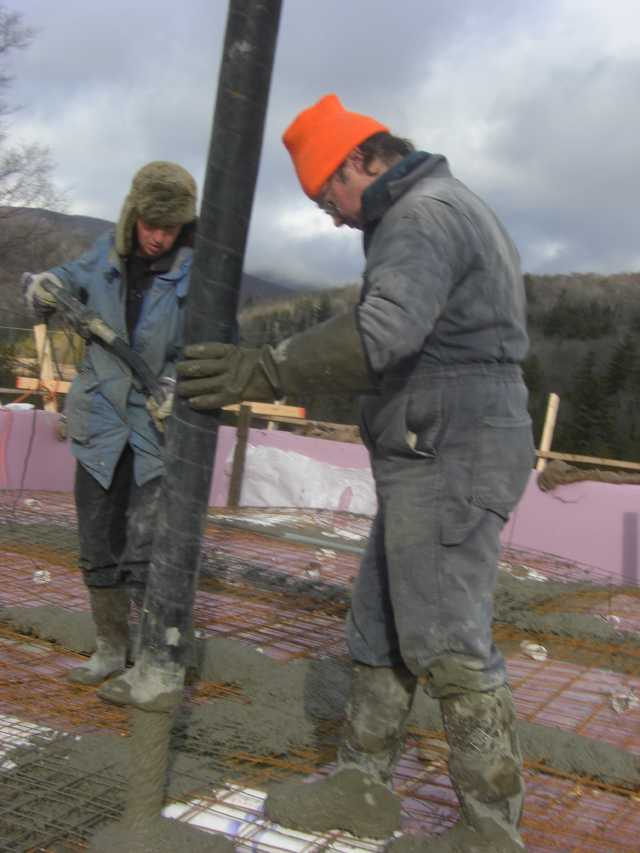 Using electric vibrator and placing concrete with pumper hose
That's our biggest pour by far, both in terms of the total insulation, total concrete, total in wall conduits and plumbing and total cost. It closes us in! It feels really, really good to be closed in before the winter snows got deep! We've poured in the dead of winter before and we're trying to avoid that, at least not outdoors.
After the pour we immediately sealed the building to keep the heat in and have been running a propane heater inside to warm the building. This also captured the heat of reaction of the concrete. That heat was free and I worked hard to make sure we didn't lose it. The building had been frozen prior to the pour and had ice in some of the interior rooms. The heat of the concrete curing melted all of that. The small propane heater is helping to keep the building warm as the upcoming epoxy we'll be using to seal the concrete must be warm to achieve its proper cure. The fact that the building is so well insulated and such a large thermal mass makes it hold it's temperature well. It is now balmy inside and cold outdoors.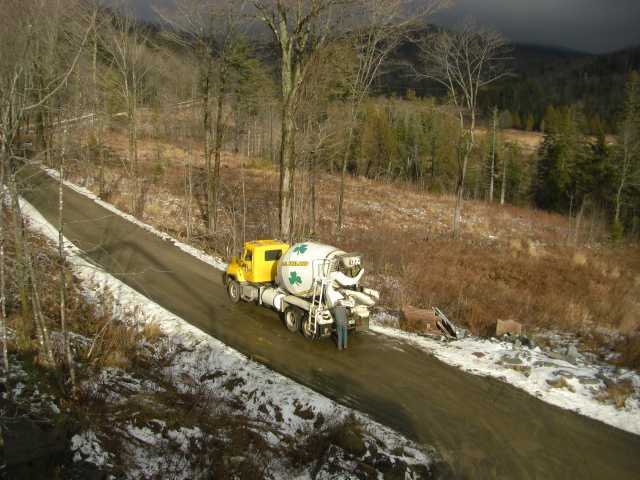 Concrete truck clean out after pour
This week, in addition to catching up on some farm winterization, we're working on cleaning out
Admin
where we'll setup the initial cutting room, removing form work, picking out expanding foam that sealed forms and washing down the concrete. After that I'll do the plumbing and then we can pour the final floors. I'm also planning to pour the interior walls and ceilings of the freezer, cooler and brine rooms in the reefer at that time. We won't be finishing those off immediately but by pouring them now the concrete will be cured and ready for the epoxy when we get the time to work on those rooms.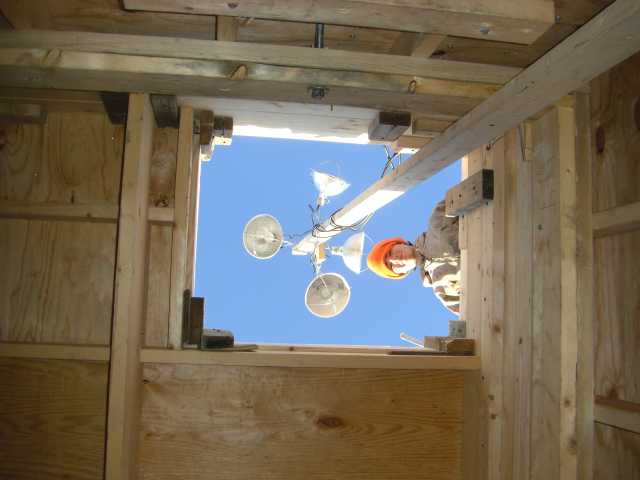 Ben on Blue, Blue Sky – Looking upward from Upper Mech Room in Abattoir
A month later when the concrete is sufficiently cured we can seal it with epoxy on the ceilings, walls and floors to create a seemless coating that prevents bacteria from taking up residence in nooks and crannies. This makes the building easy to keep sanitary – a must for a food processing facility. While we wait for the concrete to cure we'll be doing other finishing details such as electrical wiring, doors, windows to prepare for the equipment which will be arriving soon.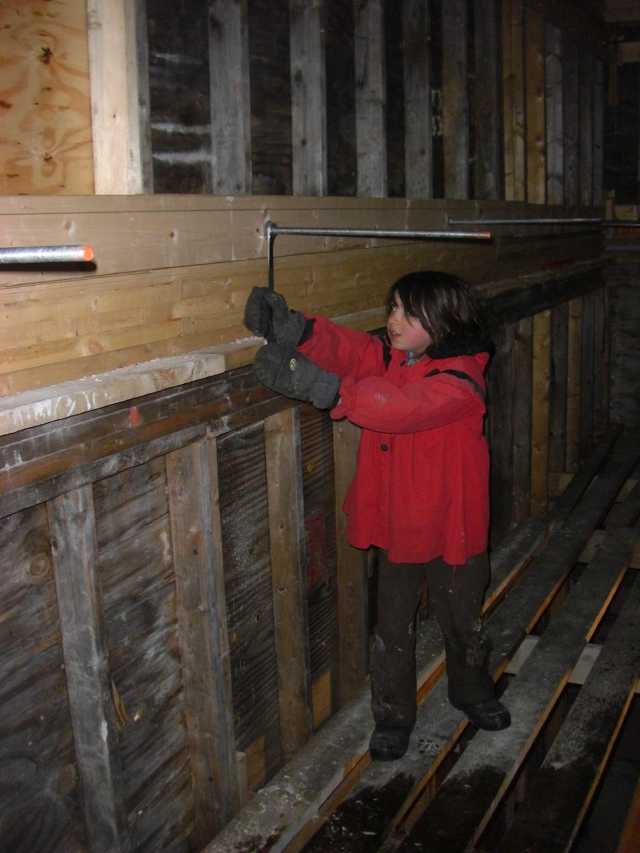 Hope breaking rods free in reefer after pour had solidified
Our goal is to finish off the interior of Admin by February. That consists of the entry hall, inspector's office, inspector's bathroom & laundry and the warm kitchen & smokehouse which is where we'll initially do our meat cutting and sausage making. Then it is just a matter of getting our state inspection license so we can start cutting meat here on the farm. That will be followed by our USDA inspection license which typically takes one to six months to obtain. Once we have that we can ship meat out of state to Kickstarter backers and CSA Pre-Buyers.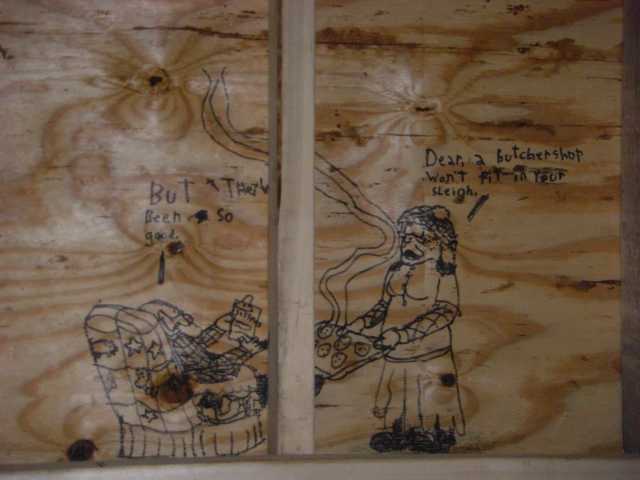 Mrs. Santa: Dear a butcher shop won't fit in your sleigh.
Mr. Santa: But they've been so good.
A cartoon I found drawn on the forms in the reefer by Ben.
It doesn't look like we'll be getting our wish of a butcher shop for Christmas but we are closed in close to completion – that is exciting. If all goes well we'll be cutting meat here on the farm in February or March in the initial cutting room. Cutting and sausage making are the most expensive part of meat processing and prices have been going up. When we started this
Big Project
processing was costing us about 50% of our income. Now processing, including transport, costs us about
64% of each pig
. About 70% of that processing cost is the meat cutting, packaging and sausage making. By doing it ourselves the savings each week can be plowed back into continued construction with the goal of bringing smoking and slaughter on farm by late summer or fall of 2013. Until then we'll still take pigs down to
Adams Slaughter
although we'll be doing the cutting here.
Ready to pour the inspector's parking slab – 12'x24'x5.63″ – our simplest pour ever!
It's a journey we began in 2008. Typically it takes four years to build a facility so we're on target in that regard. While the butcher we work with is really good and very nice, We're really looking forward to no longer driving all the way down to Massachusetts, especially in the winter. Having our own on-farm slaughter will save her a day of driving and $100 in gas each week. It will also save wear and tear on the vehicle and eliminate the stress of the trip for the pigs so their final day will be a good day. We're getting there step-by-step.
Outdoors: 36°F/13°F Partially Sunny
Tiny Cottage: 65°F/63°F
Daily Spark: Ascending to a higher state of geometery. As our facility goes up it gets more exacting.
†Why do we call it an elephant vibrator? Well… er, well, you see it has this long black tube like an elephant trunk on the end of a big drill gun like thing so it sort of looks like an elephant… yes, that must be it… ah-hem…