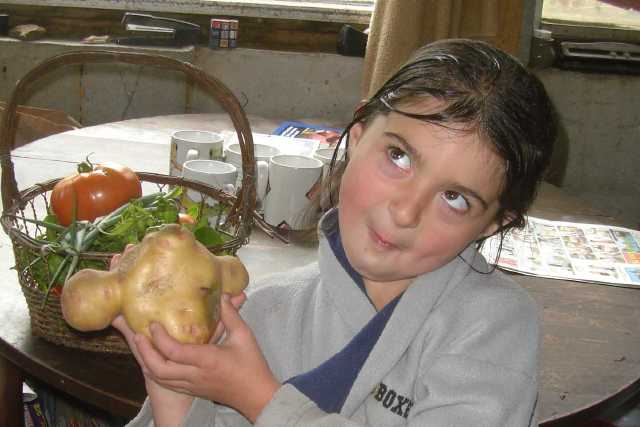 Not a Green Potato
"Don't feed or eat green potatoes."
I've heard this many times.
Being of the scientific and experimental mind, two days ago we did a little research. My wife cooked up a batch of very green potatoes. She, one of our sons and our daughter ate the green potatoes (boiled). Our other son and I abstained. And the results? We all felt fine since. So apparently those very green potatoes were not a problem. Makes me wonder if this is more of a myth than anything else. There are a lot of things that are called poisonous that you have to eat in huge quantities to have any problem.
Before anyone gets upset about me experimenting on my kids with toxic chemicals let me assure you that was not the case. What happened was we had cooked up some green potatoes. Hope and Will had eaten them already by the time the bowl got around to me and Ben where upon I pointed out the green. Presto, instant experiment underway. Ben and I declined so that we could be the control subjects in this little bit of research. Hope pointed out that we did not have a significant sample set – we need to get at least 95 other people to join the study before we can start drawing conclusions.
The green potatoes don't seem to bother the pigs either. Our pigs aren't particularly fond of fresh potatoes to begin with. Cooked are gobbled up. After the potatoes rot a bit or freeze they're also more palatable. Onions are further down the list.
The worry is the solanine in potatoes. The quantity is minute so the danger is low. Cooking, rotting and freezing all might be helping break it down as they do with many nutrients, toxins and chemicals.
For more on green potatoes read Snopes which is sometimes right.
Happy 12/12/12!
Outdoors: 35°F/16°F Sunny
Tiny Cottage: 65°F/62°F
Daily Spark: Optimizing combo diseases: Alzhimers and Breast Cancer – you lose your mammaries and your memories so you forget you ever had either.