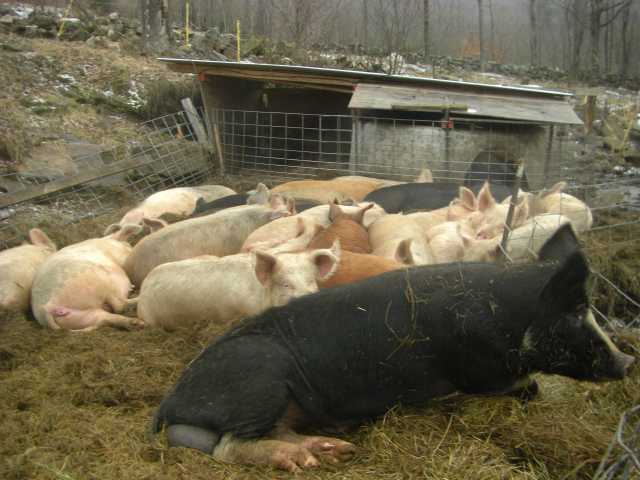 Berkshire Boar Spitz and his 25 Ladies
Check out the
In the Freezer
page to see what is currently available in the freezer. You can pickup at the farm gate or order for delivery along our weekly route. We also now ship. Check out the
Roasters
for delicious oven roasters and suckling pigs to celebrate the holidays.
The photo above shows
Spitz
, our Berkshire boar, with his 25 ladies in their bedding area by their whey trough in the north field. The path to the right of the huts leads out into the north home field and then the north far field where they graze. This time of year the forages are getting sparse so we've begun putting out hay for them to eat as well as sleep on. The hay attracts them in from the fields in the fall. Normally during the warm months from about May through November they sleep out in the brush and under the trees along the edges of the fields.
Outdoors: 37°F/26°F Spots of Sun
Tiny Cottage: 67°F/65°F
Daily Spark: Sick Lawyer joke book titled: "Ill Eagles".