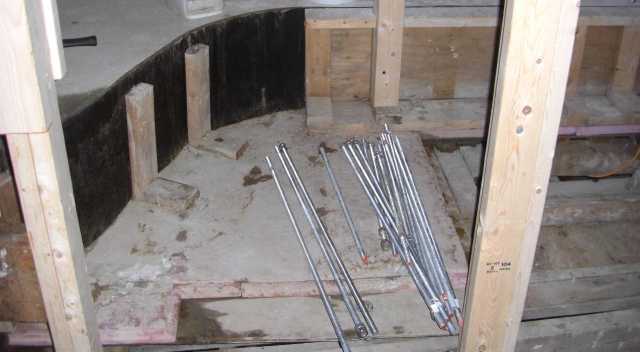 Threaded Rods
To hold our form work together we use
threaded rods
on
walers
. The 1/2″ steel rods transfer the force of the concrete's weight from one form back through the wall to the other form making a full circle.
The rods are expensive up front but reusing them makes them cheaper than the commercial snap ties used on concrete forms. More importantly, the rods and walers are also a lot stronger than the commercial snap ties. The engineer from the concrete readymix company was telling me about being on a job where one snap tie broke and then the entire wall unzipped dumping many truck loads of concrete into someone's home. That would be a very bad day.
Threaded Rod Cleaning Machine
After the concrete sets we
spin
and pull the threaded rods so we can reuse them on the next pour. The only problem is they have some concrete stuck to them. To remove the concrete Ben and Will made a little machine that scours the rods, runs a screw point through the threads and then a threaded nut to finish the cleaning. All this is high powered by a drill to make the rod spin quickly and easily.
Outdoors: 40°F/28°F Cloudy, 1/4″ Snow
Tiny Cottage: 66°F/64°F
Daily Spark: Necessity is the Mother of Invention. -Plato