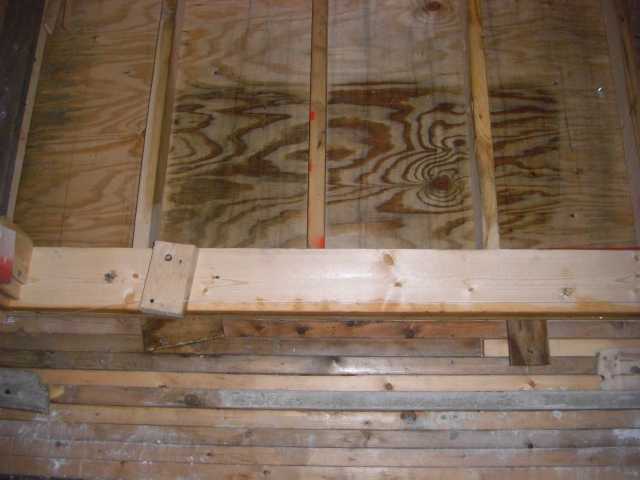 Ghost in the Walls
Look at the forms and you can see ghostly regular shapes! What are they? These appeared the day after our recent
concrete pour
. Any ideas on what caused this? Another physics problem…
More Ghosts in the Walls
Ben discovered the ghosts and pointed them out to me this morning. He had figured out what they were. I'll give the answer after people have had a chance to think about it and leave ideas in comments. Don't be shy!
One very interesting thing was that on Monday night after the pour had solidified we started pulling the threaded tensor rods. The interior up the Abattoir and Admin were hot! It was 80 or 90 degrees F in there! All the ice that had been in those rooms from when they were exposed melted. This was the heat from when concrete sets in an exothermic reaction which gives off a lot of heat. The building was insulated on the exterior to contain the heat which helps it set faster and stronger. But inside Admin/Abattoir there was no insulation so the heat went in there. You could touch the walls and they felt hot.
Now on Friday, four days later, the walls are still hot and the building is still warm although not quite as steamy. This raises the interesting thought that you could heat an entire building by the heat from the chemical reaction of cement setting up if you're willing to pour enough concrete… Oo-la!
On the flip side, the coolth attic of the reefer was very cold. That is where the interior is completely isolated from the hot concrete by 16″ of Formula 250 pink foam insulation for a total of R-80 insulation – The reefer runs around R-100 depending on the section. The result is the heat of reaction was completely kept out of the reefer and it was still very cold in there. This made for quite the contrast from the hot section of the building and demonstrated that all my careful insulation has worked.
Outdoors: 36°F/28°F Cloudy, 1/2″ Snow
Tiny Cottage: 67°F/64°F
Daily Spark: ZenGeek to ZenMaster: "Oh, no, I don't have to meditate, I have an App for that!"