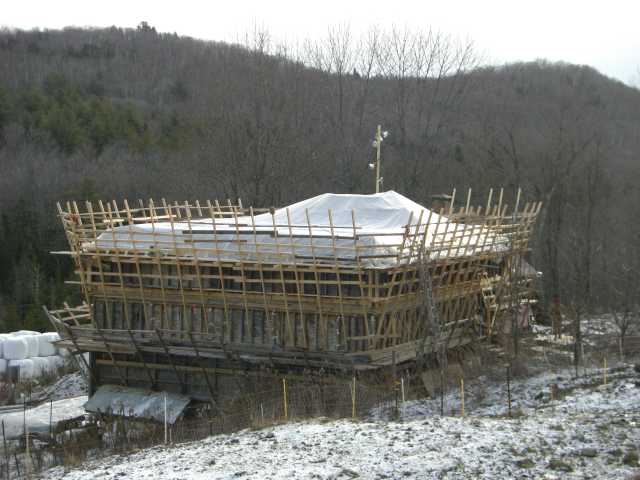 Butcher Shop Capped and Bedded Down for the Winter
This photo is the butcher shop covered over from the last pour as seen from the north home field. Once we finished the pour we covered the top with burlap on the sloped eaves, four inches of pink foam insulation and then two sheets of plastic to keep the insulation dry and the heat in so the concrete can cure over the winter.
That tall post in the background is the light pole, a 16′ 2×4 with four lights attached so we could work in the evenings to get the forms ready. It's a good thing we had it during the pour as we were out there until 11 pm.
It is not officially winter yet but we're getting about 1/4″ to 3″ of snow a night. This is pretty typical once the cold sets in. It's the equivelant of dew. Even on a clear night there will typically be a new thin coating of white the next morning. If it is sunny then it generally melts but the ground is cooling and soon it will start accumulating.
Outdoors: 31°F/18°F Cloudy, 1″ Snow
Tiny Cottage: 66°F/63°F
Daily Spark: Euthenize: To make something younger as in, "I youthenized him and now he ain't getting any older."