Inspector's Parking Space
One concrete pour wasn't enough for the week. Since it went so well yesterday and the weather was so nice today I decided to push forward and do another concrete slab today. This time it was a 12'x24′ paved parking area in front of the butcher shop. USDA regulations require a paved area to keep down dust and mud for sanitation purposes. We live on a dirt road and have never had a paving here before but now the kids will have somewhere to skateboard when the inspector's not here. What fun!
Ben, our resident
RipSticker
framed the area out of 2×4's with a drainage slope to the east. I had mentioned that the minimum concrete load from the readymix company was 5 cubic-yards. Ben set the average depth to 5.63″ resulting in a volume of exactly 5.00 cu-yards. Wow! That's some precise form work!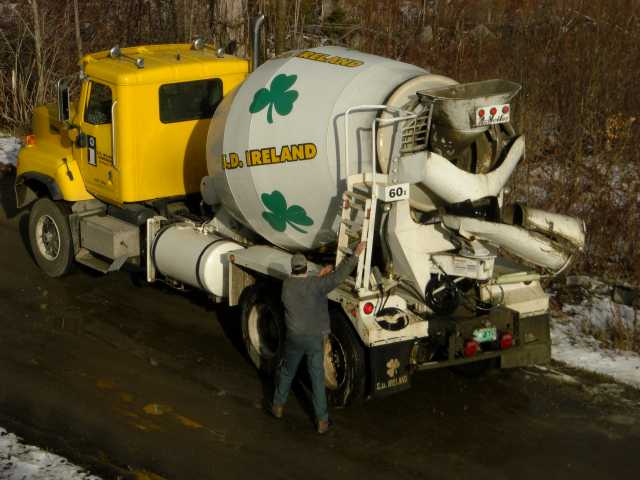 Concrete Truck – The drivers know us well…
The 4000 psi, 5% air entrained, 1%
PolarSet
, 1.5″ stone with fiber mesh load arrived from
S. D. Ireland
's Berlin plant at 11 am and we poured hot mud. After November 1st they add hot water to make the mix so it steams. We placed 661010 Welded Wire Mesh (WWM) in the upper part of the slab for reinforcement. This is the simplest pour we've ever done.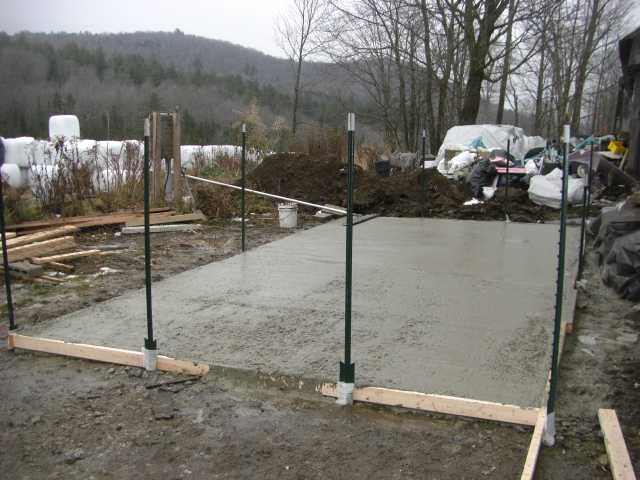 Floating Slab
As beautiful as it is, eventually this slab will disappear under our
earth air heat exchanger
and be covered with a final slightly larger parking area a few years down the road. That will allow us to warm the incoming air during the winter thus capturing a lot of free BTUs, that is to say heat, from the earth. In the summer this same system can be used to cool air. We will power the heat exchanger air flow using a solar chimney stack effect in the tower so it won't require electricity. We installed the first set of tubes required for that future project yesterday when we poured the ceilings.
Outdoors: 49°F/42°F Sunny
Tiny Cottage: 66°F/63°F
Daily Spark: Luck favors the prepared. ~L. Pasteur