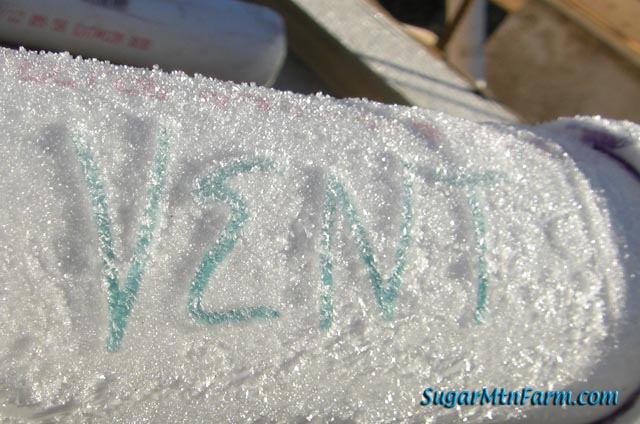 What a Relief!
We see a lot of
hoar frost
this time of year. Think frozen dew. The crystals can be quite spectacular.
This morning I got up to the top of the
butcher shop
construction site and was inspecting my heavily frosted work from last night when I saw something very odd. The hoar frost was in a relief pattern spelling out words!
This was in an area where I had written on the white PVC pipe with a green Sharpie marker. Something interesting had happened. Some thinking about physics revealed why the frost was thicker where I had written… Can you come up with the explanation for what caused this?
Don't look at the comments yet. Think about it. Subscribe to this post's comments by checking the subscribe box and leave your idea in comments. After some people have left ideas I'll give my ideas. It's a fun little application of physics and leads to thoughts on how to save energy, something I'll explain later. Don't be shy!
Outdoors: 44°F/17°F Sunny
Tiny Cottage: 60°F/57°F
Daily Spark: The real question is should we kill Schrödinger's cat.