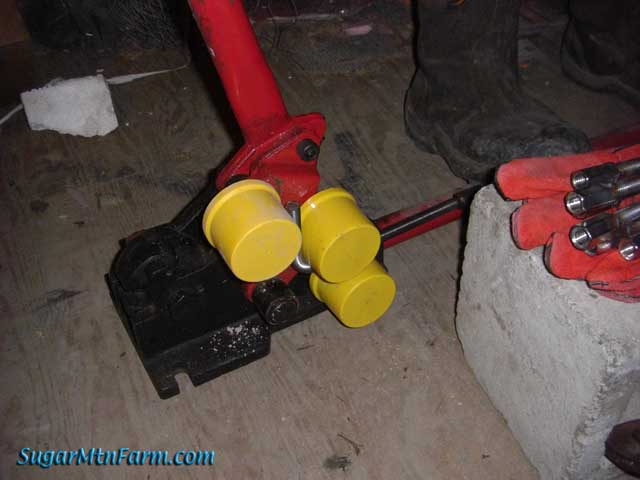 Stainless Protectors
In doing the Abattoir ceiling we used a lot of stainless steel. Stainless steel threaded sockets for hanging the rails. Stainless steel threaded rods bent in hooks to grab the concrete beams. Stainless steel rebar with tail hooks for reinforcing the beams that will carry the carcass load, the snow load and be self-supporting thus carrying their own load and the attached ceiling.
All these stainless steel rods and rebar pieces needed bending. The problem is our bar bender is plain steel. When bending it puts a lot of force on the metals, crushing them together. It is less than desirable to crush stainless steel against plain steel because it can result in contamination of the stainless steel with the plain steel.
Will's solution was to put pieces of plastic, can-of-foam caps in this case, on the rollers of the bar bender. This keeps the two types of steel separated by a very thin layer of non-reactive plastic and prevents contamination.
Outdoors: 44°F/15°F Sunny
Tiny Cottage: 62°F/59°F
Daily Spark: Terry Pratchett nicely sums up my livestock raising philosophy: "We are as gods to the beasts o' the fields… We order the time o' their birth and the time o' their death. Between times, we ha' a duty." -Claire Weldon