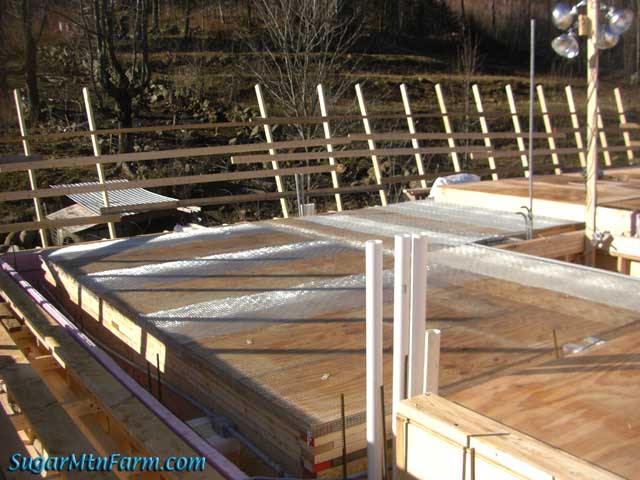 No photo of this actual event. There wasn't time and I, and a little friend, were the subject of this story…
I was standing on the deck forms of the Abattoir, 20′ up above the floor, right there in the middle of the photo above. Suddenly I heard a loud flutter-flutter-flutter. A little bird zipped up over the railing of the scaffolding around our construction site and landed on my right shoulder. Perhaps I had been standing too still and the bird thought I was a tree. I very slowly turned my head and looked at it. The bird looked very surprised right back at me! It hopped off my shoulder and flew over to the apple trees about 30′ away. There it sat looking back at me, perhaps wondering how it was going to explain this little faux pas.
Today was a gorgeous, blue-sky day. Clear and sunny, warm and good weather for working up high on the forms of the butcher shop. I got the parging lath on the deck and all of the very precisely spaced holes for the stainless steel sockets that will hold up the high rail and middle rail leading into the chiller.
Meanwhile Will worked on welding the stainless steel sockets to the rods that will then attach to some of the stainless steel rebar so that tomorrow we can set them all in place.
And meanwhile again, Ben worked on raising the Upper Mech closet to its full 10'6″ height, framing in the form work that will let us pour the ceiling of that room.
And meanwhile again, Hope vacuumed out the walls to clean them of construction debris so we can have a clean pour.
And meanwhile, off the ranch, we took this weeks pigs down on the long trip to Massachusetts. It is a fourteen hour day for her today. In that time we could cut a lot of meat. In the not too distant future all this work will make that trip a thing of the past. We'll miss the wonderful people at Adams but we won't miss the drive. Every day we make progress, step-by-step.
Outdoors: 60°F/24°F 1.5″ Rain and 2″ Snow
Tiny Cottage: 61°F/67°F
Daily Spark: Every Day thousands of innocent plants are eaten alive by vegetarians and vegans. Help end the violence. Eat Meat! -What the little bird whispered in my ear