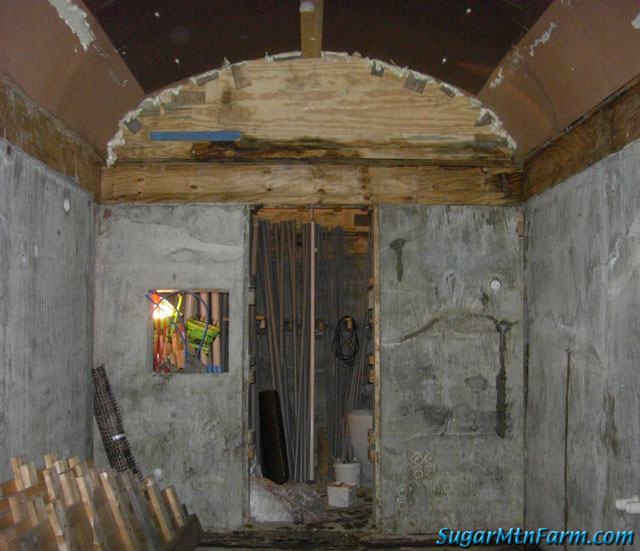 Cutting Room Walls Laid Bare
In order to put up the last ring of
forms
around the butcher shop for pouring the final outdoor pour of the year we have been gathering forms from the interior of the butcher shop. This has revealed the interior which has been wonderful to finally see. For reference, that doorway ahead into the cold kitchen is 8′ tall and 40″ wide.
Above is the cutting room as seen from the door to the carcass chiller and looking eastward into the cold kitchen where we'll do our fermented sausages and such. The arched ceilings of the rooms give them great strength with a minimal use of materials. They also are beautiful. The building is almost like a cathedral with the immensely high ceilings arcing overhead.
To the left you can see the trusses that we used to shape the masonite into the form for the catenary arched ceilings of the cutting room. The kitchen, smokehouse, hall, inspector's office and bathroom all have catenary arches as well. The chiller has a barrel vault roman arch for maximum strength.
The hole in the wall with the red PEX pipes is where the controller for the heat transfer fluid system will go. This keeps the extreme cold of the blast freezer from causing frost heaves. That's the active system in addition to the passive systems of the air gap, lungs and R-40 insulation that separates the blast freezer from the rest of the reefer. The reefer is then separated by another R-40 from the structural shell of the building which has another R-20 to R-40 outside of it. This means we have over R-100 insulation for our deepest depths of cold.
The white pipes sticking out of the wall are conduits for water lines and DWV plumbing lines. Having it all built into the walls of the building means that the room is smoother when finished so it will be easier to keep clean and sanitary. Think surgery.
The cutting room feels much bigger in person than it did on paper. We apprenticed for 18 months with the wonderful butcher Cole Ward in spaces that were a small fraction of this room. Working in here will feel luxurious.
This will be the first room that we will finish off for work, where we'll finally start doing on-farm butchering, the cutting of the meat and making of delicious sausages.
But first we must pour one last batch of concrete, raising the building walls to their full 20′ height and capping it with a concrete roof and ceilings. The other day we had an inch or two of snow. Now we race winter to close in…
Outdoors: 54°F/37°F Sunny
Tiny Cottage: 62°F/60°F
Daily Spark: Palindrome: Dammit I'm Mad -Anona