A Trail, A Trail!
As Holly and I were driving home she noticed a ripple on the waters. I hopped out and followed the trail made by certain web footed, flat tailed friends down from the road.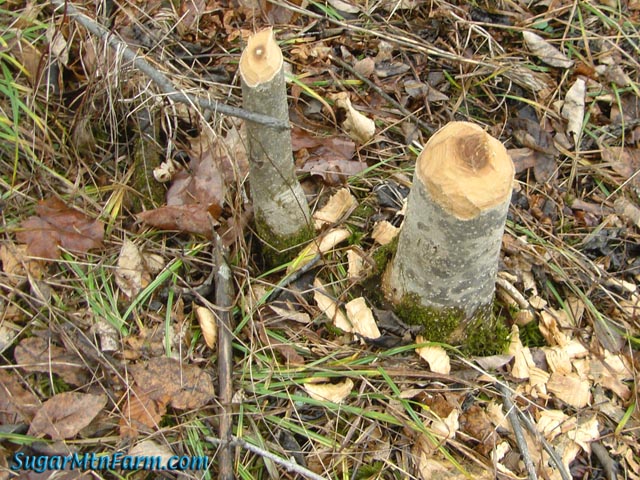 Someone's been chewing on the trees!
Their recent work clearing the small trees by their home was quite evident.
Beaver Pond Full to the Brim – Click for Larger View
In their front yard I saw the storm had filled their pool to brimming and they were working hard at increasing its size for winter.
A Juvenile Beaver
Then I heard a splash and this little young'un, a juvenile beaver, swam over to me from the far side, turned left and scooted underwater along the bank.
They build their house in the marsh which is verboten according to the Agency of Natural Resources but I think these folk know what they're doing. They just build really tough houses with underwater entrances so they can weather a whole winter of storms. Interestingly, sometimes the sticks they use to build their houses sprout. Are they gardeners too? Wolves are ranchers. Beavers are planters?
Outdoors: 37°F/24°F Spots of Sun, Bits of Snow
Tiny Cottage: 62°F/59°F
Daily Spark: Peace and all those good things are luxuries. First you need to feed yourself, your family, your community before you can think about saving the world.