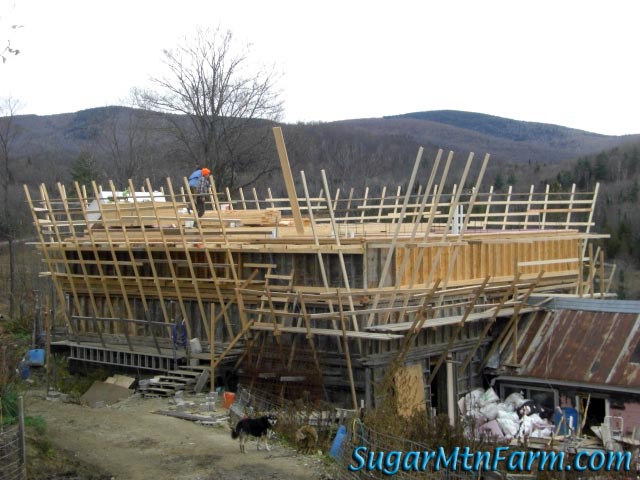 Butcher Shop Forms Rising Higher and Being Battened Down
The wind started to pickup at about noon. Without the hype I would not think anything of it. Just another windy day on the mountain. We routinely get high winds in the 25 to 50 mph range so we're used to that. They're predicting maybe up to 70 mph, which isn't too unusual, we see that several times a year and occasionally higher. Due to our mountains and trees breaking up the terrain we rarely get higher wind speeds – those stay up above the ridge tops.
The media is making all sorts of advisories about how to be prepared but interestingly none of their advice applies to us. We live prepared. That's the way it is out in the country. One always has everything ready that they're recommending. We are used to riding out storms.
The thing we did need to do was put out extra hay for the livestock and pickup or secure anything loose so it won't get blown away. We normally do this if we think a storm will blow up, as it does many times each winter.

Top Deck Battened Down – Click image for wider view.
The most important thing on the construction site was binding all of the recently delivered bundles of timber which was skyhooked up onto the roof. We also strapped the stack of plywood together and screwed down some 2×6's across the new ceiling deck form we're preparing for the upcoming last concrete pour of the year. We also moved insulation board downward and picked up any loose items so they won't blow away.
This weekend we've been working on getting the rest of the top scaffold in place, the deck is now on the reefer two thirds of the building. This morning we worked at getting the forms plus header are up in the admin loft section. Next comes the deck for admin loft and then forms and deck for abattoir's top layer followed by the upper machine room. With some finishing touches we hope to be ready to pour our last layer of concrete the second week of November. This will raise the walls to their final height and cap the building with the initial roof insulated to a value of R-70. Hopefully this warm weather will continue to cooperate.
To everyone out there in the path of Sandy, may you weather the storm well!
Outdoors: 59°F/56°F Cloudy
Tiny Cottage: 69°F/67°F
Daily Spark: Remember it is 'i' before 'e', except when you foist a feisty heist on a weird beige foreign neighbor. -Anon
Update: 6 PM – We came in early from construction work as it has started to rain and the wind is gusty making it a little dangerous to be up so high on the scaffolds and roof deck. The rain is being rather intermittent, coming and going.