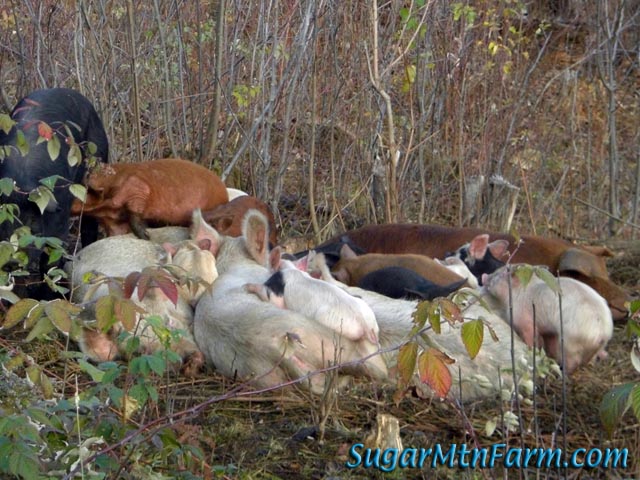 North Field Sows & Piglets
Pigs tend to be late risers. They generally go to bed early too. This is a communal nest of about half a dozen sows of various sizes and assorted piglets. Three to seven adults is pretty typical. As the piglets get older they'll tend to form their own cohorts and start sleeping separately.
This nest is in the upper north field, just below the water line road. I saw them the other morning as I walked up to check the springs. There were several nests out in that field like this and they were just beginning to wake up.
This field, and many others on our farm, was cleared by the settlers 200 years or more ago, stone walls were built and then in the early 1900's the fields were gradually abandoned. By 1939, the first arial photo I have of our land, this field was grown in to forest. When we came here in the 1980's it was thick forest with mature sugar maple trees. In 2009 we cut back the forest to the stone walls of this field and some others adding about 40 acres to our farm's fields. Now the pigs are helping with the next step of field making, regenerate it to field, bush hogging it as it were. Doing it slowly like this saves the nutrients in the soil, saves soil from washing away and gradually adds organic matter spread naturally by the pigs, their urine and manure. The pH is slowly rising toward neutral – a good thing as our soils were so acidic.
In parts of the field there is lots of regen, which can be seen here. They pigs love the mix of pasture, brush and trees. Over time they'll take out much of the brush leaving patches and turning the pasture more and more toward grasses and clovers. All this happens without my having to risk driving the tractor with a mower on our steep hill sides. The far south field is a step ahead of this field and the south field is ahead of that having been recut in 1998.
This field is about 10 acres so that is a lot of area to renovate. A few pigs don't make a dent in it. This summer we shifted over 30 sows from the far south field to this field to be with Spitz, our new Berkshire boar. With them are hundreds of piglets. They're starting to make a noticeable difference in the progress of the field. In a few years it will catch up with the south field. We shift the herds around to different fields which then gives each field a growing season of rest. During that time it stock piles forages which also go to seed saving me some cost and effort of seeding.
It is really good to see each year how the land improves from the grazing. Our soils are remarkably better than they were ten and fifteen years ago. Deep forests are low in biodiversity and the soils are poor. The mix of forest, brush and open pastures results in greater biodiversity. With open space the legumes like alfalfa and clover are able to grow, sucking nitrogen down from the sky – free fertilizer. We're seeing more wildlife. This same day I took this photo Remus and I saw a big buck bounding away from us through the trees up by the maple sugar sap house on Sugar Mountain.
Outdoors: 65°F/43°F Sunny
Tiny Cottage: 67°F/66°F
Daily Spark: Live life prepared. The alternative is nonviable.