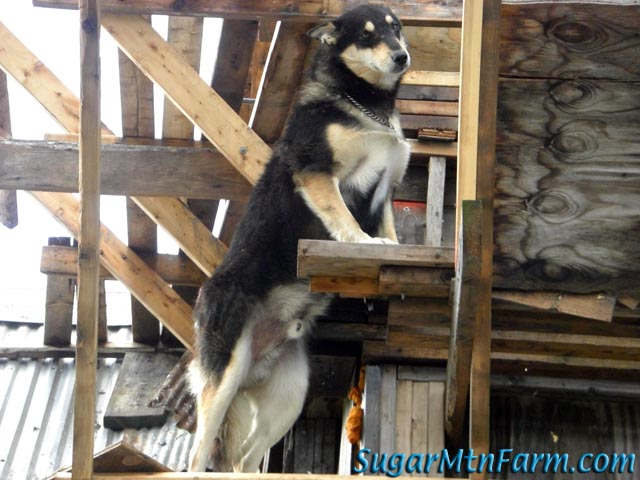 Sirius Watching from on High
Sirius is one of our livestock guardian and herding dogs. He loves to walk up on the scaffolding around the
butcher shop
construction site. Sometimes he goes from there to the roof of the old farmhouse which is attached to the south of the growing facility. If you drive by you might see dogs high up looking down and watching you watch them.
When I got back this morning from counting pigs in the fields I spotted him up on the kitchen roof observing me. As I rounded the bend he jumped back up on the scaffold and circled around the building to greet me and his twin brother Hanno.
The weather prediction had been for rain and clouds but instead we got drenched with sunshine. It was beautiful. I'm loving the warm weather which is extending our construction season. I could stand another two months of this weather.
Today was steelwork on our minds. We bent and tied up about sixty rods of plain iron rebar. I have five rods of stainless steel rebar coming next week for a special beam and another 90 rods of plain steel rebar to arriving Monday. Most of that will go into the ceiling to make it strong enough to hold the snow load. Ben thinks it is going to be a high rise skateboarding park. Maybe he's right. It also doubles as a water collector and we could use it for solar panels to heat our hot water and maybe make electricity as well as dark radiators, a.k.a. lunar panels, for cooling the reefer. I've never had a flat roof so it will be interesting to see what I come up with for things to do with it…
Outdoors: 66°F/41°F Sunny
Tiny Cottage: 71°F/67°F
Daily Spark: I'm a secondhand vegetarian. Pigs eat grass. I eat pigs.