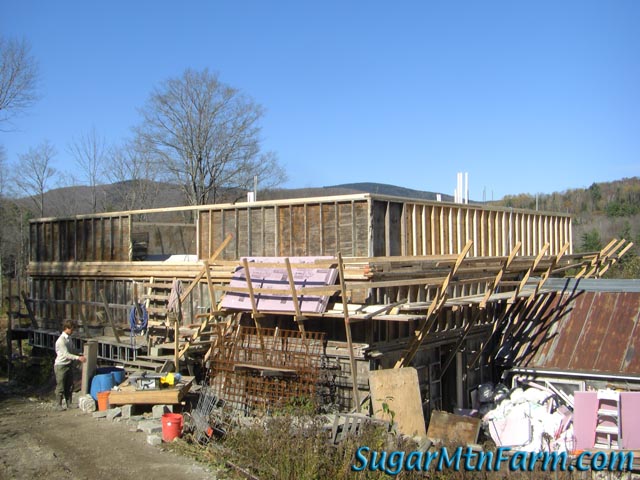 Will with Last Ring Form
Yesterday Holly, Will, Ben and I lifted and secured all of the forms around the outside perimeter in place for the top ring of concrete. Today the header went on, the line of 2x's on top of the forms in the photo above. We lifted all of those forms into place, which was high and a little awkward, without dropping a single one or anyone getting hurt. Admirable goals we always keep in the forefront of our thinking. Compare this photo with the
corner pans
of earlier this month.
Tomorrow we'll tie up the reinforcing steel, the rebar, for this last level and setup the interior wall forms, binding it all together so the ring is solid and can take the force of the concrete as well as supporting the roof during the pour.
View from the Road
The next thing to come is setting a roughly 40'x40′ deck strong enough to hold over 100,000 lbs of concrete. This is divided into three bays each of which is sub-divided to cut the spanning lengths of the joists giving a three fold safety factor. I'm accounting for the dynamic force of the concrete coming down from the pump truck's hose. There will be three concrete pillars going down into the reefer which will be thermally isolated at their tops. We'll also pouring a number of T-beams and inverted T-beams to support snow loads and the dynamic force of hanging carcasses in the abattoir.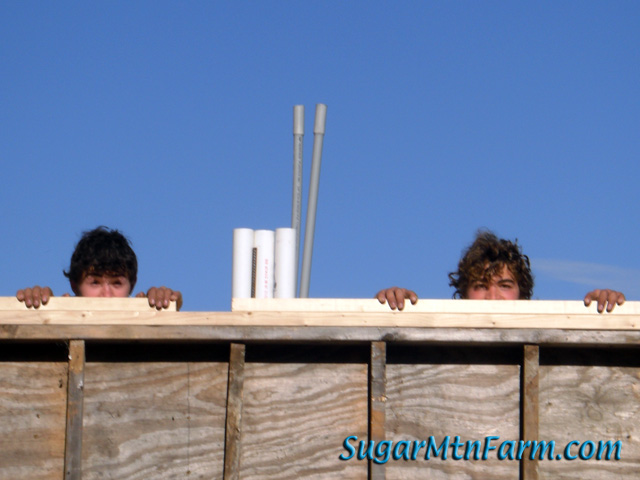 Ben & Will Kilroy Was Here
This coming pour will close in the building with the last six feet of walls and the ceiling which doubles as the roof for now. It is insulated but later we'll add more insulation and then a final roof above that, next year or perhaps in 2014. The roof we'll do this fall is good enough for 40 years or more so there is no rush.
Once the last big pour of the year is completed we'll turn our attention to getting ready for winter. After those things are done and the concrete is cured, then we'll shift our focus to finishing of the interior of the facility beginning with the cutting room so we can begin on-farm butchering and sausage making soonest.
We've made a lot of progress this year and it's exciting to think that in a month or less we'll be closed in. In the past our construction season pretty much halts when winter hits. We often push into December but that's cold mud, not a pleasant time to be doing wet concrete work. This year we'll be indoors which will make it a lot more pleasant.
Outdoors: 62°F/45°F Sunny
Tiny Cottage: 68°F/66°F
Daily Spark: Live with enthusiasm.