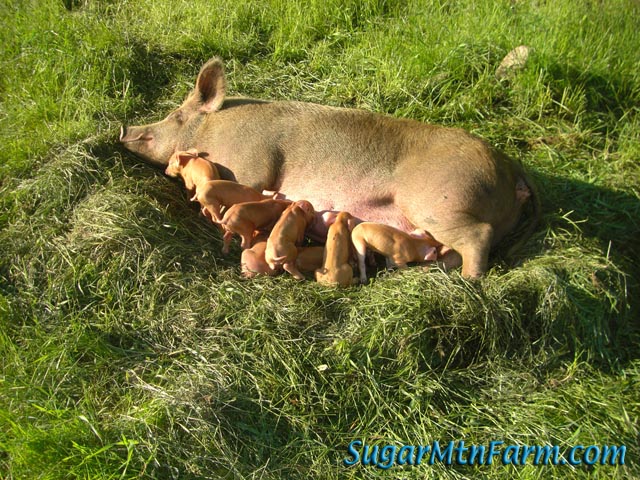 Tamworth Sow in Grass Nest
In the
Butcher Shop
article in 2009 I had explained that processing cost us 36% to 50% per pig. Costs have gone up. Last year the meat processing cost us about 64% of our meat sales. There was more sausage making and smoking which is part of that percent cost increase but the actual cost of processing climbed during that time too. It also required driving 25,520 miles, about 1,700 gallons of gasoline and 510 hours of our time driving plus about 416 hours of time related to taking the animals to slaughter, unloading at the slaughterhouse and picking up the meat. That's about 18 hours a week. This is the cost of hired processing and trucking.
One might argue that if we used a closer processor the miles would be fewer but the reality is the other processors make us drive twice a week to them so the miles and time end up being almost the same as driving once a week to
Adams Farm Slaughter
in Mass. Adams is willing to
hang and age
our meat which allows for the
single trip per week
and gives top quality. The Adams family also does a far better job than any of the processors we've worked with in Vermont and New Hampshire so it is worth the extra drive for their humane handling and attention to detail. Quality costs but it pays.
There is also the issue that only one of other the processors besides Adams does the vacuum packaging the way we need for store sales so that right there eliminates them from the competition. Store customers want to see what they are buying. Presentation is important.
This 18 hours a week doesn't include things that happen here on the farm related to taking to butcher such as loading the pigs, sorting meat into the freezer here for the little bit that is left over in any given week or the approximately 14 hours a week we spend doing deliveries. Deliveries is another 728 hours a year. She's a busy lady.
The other day she looked at me and said, "you know what… I have a crazy idea… Let's build our own butcher shop…" I told her I would give it some thought.
Outdoors: 66°F/43°F Patches of Sun
Tiny Cottage: 68°F/65°F
Daily Spark: I dream in math.