F2+ Tomatoe
Someone asked a while back about how the hybrid (F2 and beyond) tomatoes come out. Above is an example. It is a volunteer that either the pigs pooped out the seed or the seed fell not far from the bush of last year. Either way it is a hybrid of a hybrid and looking good.
It's a little dry because its been sitting in the pantry for a month after it was picked green. But then that is how commercial tomatoes are picked. It ripened up nicely and we had it for lunch today.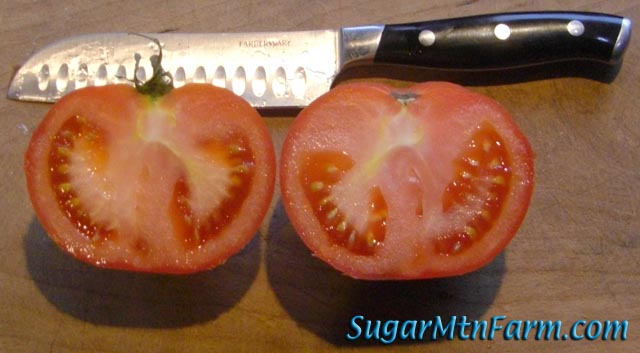 F2+ Tomato Sliced Open
The relevance of this is the sellers of seeds tell us that saving hybrid seeds won't work. Obviously they're wrong. I have a lot of hybrid seeds, crosses of two different parent lines by traditional breeding, which have gone on to produce excellent offspring themselves, generation after generation. Our pigs are hybrids. Our dogs are hybrids. We are hybrids. More the vigor.
We've had a wonderful warm fall after a long sunny summer. Today we got a good hard, unusually late, frost followed by hail, rain, snow and sunshine. A few minutes ago the snow was rattling the windows. Now the sun is warm. The weather is changing. This was the first snow of the fall. Holly put in the winter window in the loft this morning in preparation for the dropping temperatures. We haven't lit a fire yet but it is nice to look out in the wood shed and see the dry wood piled there and know there are more dry logs up on the water line road waiting to be skidded down, before winter. We'll be warm and toasty in our little cottage.
Outdoors: 44°F/24°F Rain, Sun, Hail, 2″ Snow melted, Sun, Clouds, 1″ Snow – Confusing Weather – First Snow of the Fall
Tiny Cottage: 65°F/63°F
Daily Spark: Windmills do no good unless tilting rapidly.