Mud turning to Stone
As
Mary Poppins
said,
"she was practically perfect in every way."
Well today we had a practically perfect pour. There were a few of very minor glitches but no blowouts, no injuries and not even any close calls. Almost boring. Boring is good. I like boring when I'm placing 132,000 lbs of liquid stone.
The pump truck arrived at 6:18 AM, at the same time as the milk truck arrived at our farm. Oops! But they managed to sort it out, the milk driver John did his thing and then the pump truck driver Joel set up the concrete pumper while we waited for the first truck of concrete to arrive at 7 AM just as it started to get light.
Today's pour included:
East and West Abattoir closet partition walls and door frame pillar.
Upstairs equipment closet
Abattoir loft floor
Bond ring around entire building
Cross beam east west
Abattoir loft and Administration storage loft separation wall
Freezer insulated sub-slab
Cooler insulated sub-slab
Brine insulated sub-slab
My Current Favorite Mathematical Curve – a Symmetrical Cubic Quadratic Bezier Curve
We did a number of new techniques including pouring our first flat ceiling (wow, look Ma, no arch!), the
Bezier curve
and some open bottomed forms just to keep things interesting.
Basalt Rock Fiber Mesh Reinforcement
We also used a new material in this pour,
basalt rebar and mesh
. The idea behind the basalt is it is not susceptible to corrosion like plain steel due to urine, manure, salts, blood and acids used in cleaning. From the lairage through the abattoir to the brine and the smokehouse we will be playing with a lot of corrosive materials. It would be best if these didn't destroy our facility.
Naughty (e.g., Bad) Waler where washer pulled through first board
The only problems were a threaded rod nut that had been left off, a form with a small hole at the bottom and one waler that pulled through the first of its three boards probably due to said missing nut on the next rod over. Fortunately the next two waler boards held and there was no blowout. All praise the backup and over construction!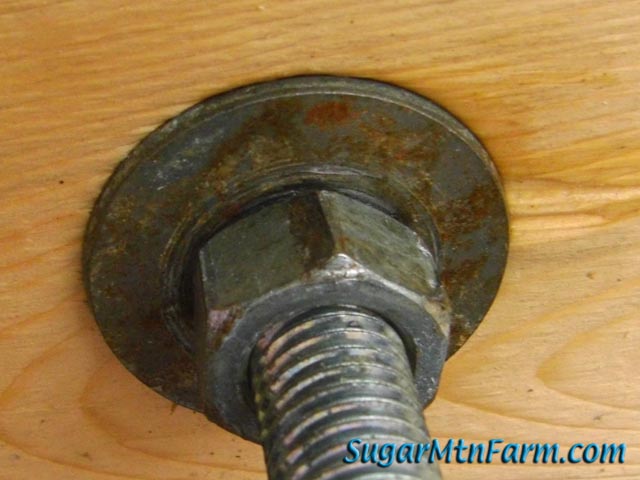 Good Waler for comparison
So now the
butcher shop
is one level higher and closer to being closed in which brings us that much closer to opening our own on-farm USDA meat processing facility with slaughter, meat cutting, sausage making, smoking, fermenting and our own commercial kitchen. Step by step we're making progress.
"What's next?" you ask…
This weekend we'll setup forms for the last wall pour to bring the building to full height for this year – no tower of Babylon this winter although it looks very tall from the road side. We'll then set ceiling forms and I'll do a tiny bit of conduit and plumbing for exhaust vents and such. The upcoming pour will fill the last section of wall forms and create the ceilings as well including the heavy inverted T beam in the Abattoir for the high rail where the hoist will hang in the Abattoir.
The pour after that, the final outdoor concrete pour of the year, will happen very quickly – I hope before the end of October. We'll let the concrete from the coming pour cure a week or so to get enough strength to hold the roof. Then we'll cap the building with an outer concrete roof including the eaves that will allow the sun to come in the big windows to warm some parts of the facility in the winter while blocking the sun during the warm parts of the year. This is part of my plan for minimizing our energy consumption since energy costs are one of the biggest budget items for a facility.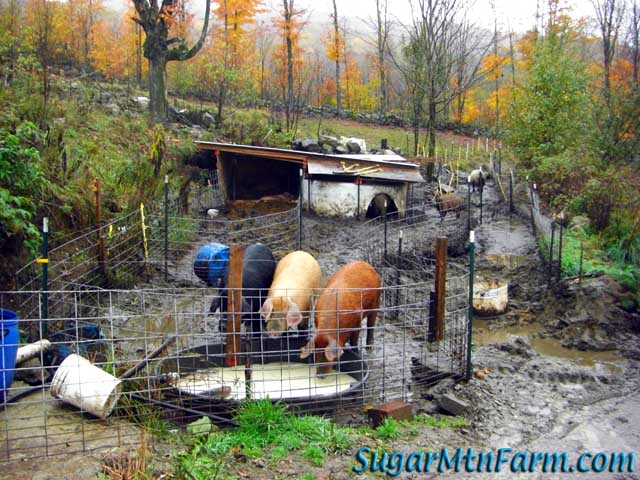 North Field Sows Drinking Whey by Driveway
Joel, the concrete pump truck operator saw me shoving the mud around with my gloved hands and said,
"You really like playing in that stuff!"
He's right. I love concrete. It's a wonderful green building material that is made up mostly of our locally quarried rock and sand. It is easy to manipulate and form into virtually any shape. With tensile reinforcement and some fun engineering it can build incredible, long lasting structures that will outlive stick built houses. Some concrete structures are thousands of years old. Modern advancements in the technology will improve this even further. Build it and have it last many lifetimes. Mud between my fingers and big machines to play with. A little kid's delight!
Outdoors: 58°F/36°F Light rain all day, heavier in the PM after we finished pouring
Tiny Cottage: 67°F/65°F
Daily Spark: There's all this hoopla about voters having to show photo ID. I don't have photo ID. Our town clerk knows us all. That works. If a town is too big to have their town clerk know everyone then perhaps the town is too big.