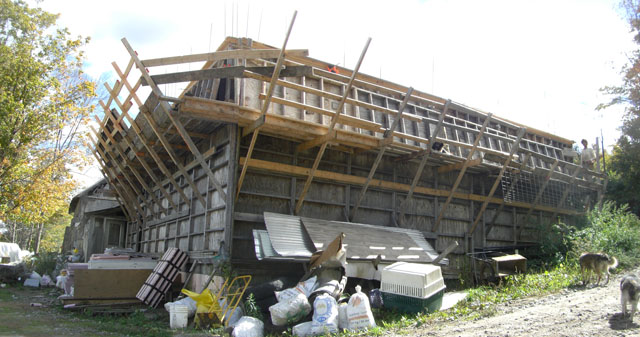 Butcher Shop Corner North East
This is the view of the
butcher shop
forms from the driveway gate. The building sets into the mountain as the driveway wraps around it climbing up towards the whey tanks.
Note that each of these pictures are built up panoramas of multiple photos and they can be zoomed in by clicking on them if you have Javascripting in your web browser. In most cases they can then be further enlarged using the X in the lower right of each photo.
We are nearly ready to do the next big pour which will produce a unified bond beam just below the window height all the way around the building. This will also be the time that we pour the Abattoir loft floor, upper equipment closet and lower equipment closet partitions.
Butcher Shop Corner North West
Looking back from the corner of the driveway the building does not look quite as tall. That's Will, our eldest son, and Hanno, one of our livestock guardian dogs, up on the scaffold. Note that the scaffold is the same level height as it wraps around the building, eventually running into the ground on the ramp.
Butcher Shop Corner South East
Looking back down the driveway we can now see how the scaffold meets the ground. The building is set pretty deeply into the embrace of the mountain. Recently Ben and Will added more higher scaffold that wraps around the front side to make it easier to deal with the high windows in the Abattoir.
Butcher Shop Farm Pan
I took this almost 360° panorama from on top of the barrel vault arch of the chiller ceiling. I thought I had gotten a full wrap around pan but apparently missed the last couple of photos which show the compost pile by the pig path into the north fields on the far right.
Butcher Shop Corner Fall Foliage View
We're just about peaked for fall foliage. It is awe inspiring to watch the magnificent changing colors of the mountains.
Outdoors: 62°F/50°F Sunny
Tiny Cottage: 71°F/67°F
Daily Spark: "I'm from the government and I'm here to help you" is actually true on occasion.