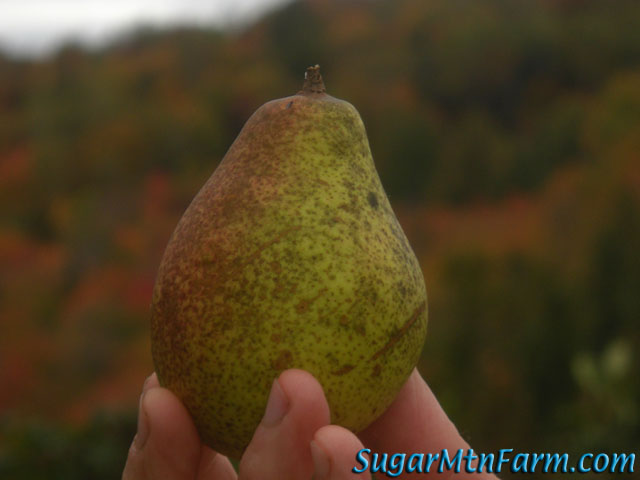 Perfect Pear on Fall Foliage
Fall Foliage is peaking this week. It is quite splendid. In other areas it will peak a little earlier or later depending on the local micro-climates.
This week our daughter Hope and I picked all of our pears and apples. This pear is from the trees we planted in 2005. Today she made three batches of apple crisp, one of my favorite treats. Apple crisp is a wonderful way to use the less than perfect apples.

We planted a lot more apple trees than we might need for our own consumption and I plan to plant over a thousand more. It is not that we are starting an orchard for commercial production of apples. Rather we are planting fruit and nut trees to produce food for our livestock. This is a part of a more natural diet that produces a particularly delicious portion of pork.
My technique is to plant apple trees between fence lines such that the larger animals are kept off of the trees. The trees get guards as well while they are young. The smaller livestock such as geese, ducks, chickens, lambs and piglets can then creep feed into the double fence rows to clean up the drops close to the trees. More drops fall outside the protected zone and are consumed by the larger livestock.
We're working on preparing additional lines where I hope to plant several hundred more trees next spring. Eventually we will have thousands of fruit trees, nut trees and small fruit bushes along the paddock divisions.
Growing fruit is normally a very labor intensive process. Having free labor in the form of pigs and other animals to help spread the fertilizer, mow the orchards, pick the fruit and clean up the drops works and produces a better flavored meat in the process.
Normally the trees are also heavily sprayed with fungicides, herbicides and pesticides to minimize the number of blemished fruits. We don't do any of that spraying because our direct customers, the livestock, don't mind a spot on their apple and think a worm in the core is just a bit of extra flavor.
So I grow fruit and nuts to be harvested by the animals, taking myself out of most of the equation. Not only do they like these delicacies but they appear to enjoy the process of harvesting.
More about: Double Fences.
Outdoors: 58°F/48°F Misty Rain
Tiny Cottage: 68°F/65°F
Daily Spark: I have heard some people say, "The government we have today is the direct result of choosing the lesser of two evils for generations." But might I mention that had we chosen the greater of two evils we would now be in Hell instead of Heck.