Useless Carlon† PVC Grey Conduit Cement
The cement is normally very useful but this can and another were useless. I had used two cans and left them out, tightly sealed. It had been a sunny day and then it rained that night. When I opened the first one up, which I had almost finished off the day before, I discovered it was nearly full of water! How bizarre. The cement was useless. How did the water get in there?
Then I opened the second can which I had just started on the evening before and it too was full of water on top of the cement that was in it! Totally Bizarre. Once is strange. Twice is obviously a conspiracy!
While I pondered this I went and got another can of PVC conduit cement from my private hardware store in the chiller. (Everyone needs a hardware store on-farm!) The can stored indoors out of the rain was fine. After much thinking I figured out what mechanism had probably put the water inside the tightly closed cans of PVC conduit cement. Can you figure it out?
I'll give you some clues:
1) A can stored on its side outdoors had no water in it.
2) Three cans stored upright indoors in an open area (so same air flow as outdoors) had no water in them.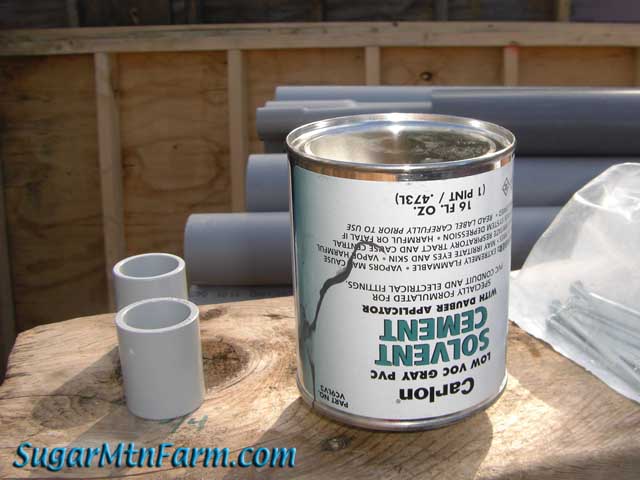 3) A can stored like this upside down outdoors would have no water in it.
4) Cans stored in window frames like this would have no water in them. I had two test subjects for this case.
5) Cans with a bent top such that the upper surface was at an angle had no water in them.
6) It had been a warm sunny day and then it cooled off in the evening.
7) It had rained gently most of the night.
8) All the cans were tightly screwed shut.
This is sort of like a locked door murder. Who dunnit?!? Or rather, what mechanism of physics is our culprit?
Leave your ideas of how the water got in and why as well in comments. I'll leave a comment with my answer, which I'm pretty sure is right after having thought about this puzzle. Let's see what we come up with…
Outdoors: 59°F/46°F Overcast
Tiny Cottage: 68°F/66°F
Interesting Names: Vladimir B. Brik in Wisconsin works in masonry
†The Carlon brand PVC Grey Cement is my favorite and it in and of itself is not useless. I don't mean to be disparaging of them or their product at all. The stuff works great, as long as it stays dry. This little mystery is not about cement but physics. The fact that it was Carlon brand had no impact on the mystery at hand.