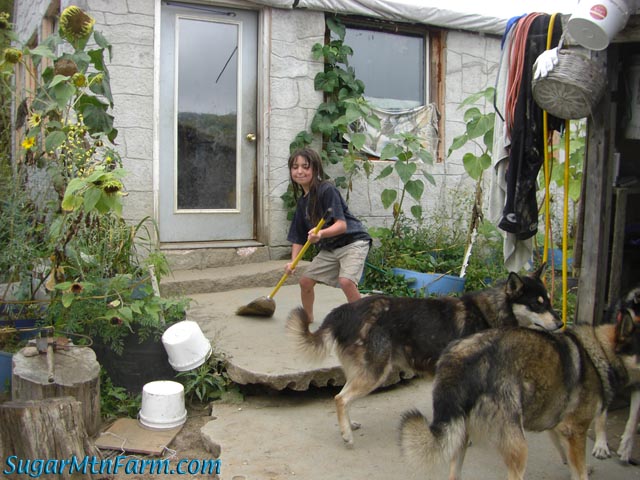 Hope Makes a Clean Sweep
One of Hope's daily chores is sweeping the sidewalk in front of our
cottage
. The sidewalk is made up of a large slab of granite. Originally it was one 14′ long slab that was about 8″ thick but when I set it down in front of the cottage it cracked. So we have two sidewalk slabs instead of one. This worked out very nicely, stepping downward from the cottage.
The large stoop stone of hand hewn granite by our door used to be the doorstep of our old farmhouse which is further down the mountain. Ironically that stone began life, shall we say, as part of the mountain just above our cottage, travelled the 500′ or so down the mountain when the settlers built the farm house over 200 years ago. In the process of cutting the rocks for the foundation they also carved out one of the springs that serves our farm. In 2005 I brought that stone back up the mountain to become the doorstep of our cottage. Something new, something old…
That is Sirus and his father Kavi on the right in the photograph.
Outdoors: 67°F/40°F Sunny, 1/2″ Light Rain at Night
Tiny Cottage: 69°F/67°F
Daily Spark: The first rule of the Tautology club is the Tautology club's first rule.