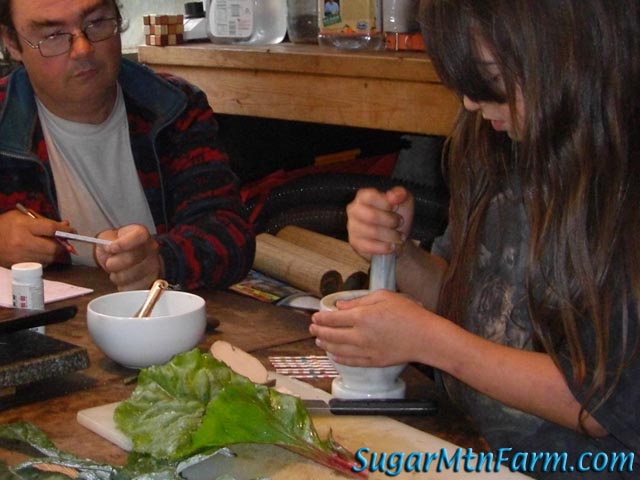 Walter and Hope Testing Forages
We homeschool our kids which means, among other things, we get to do all sorts of fascinating science experiments. Recently Hope and I tested a dozen different forages for nitrates, nitrites, pH and a variety of other things. The reason we were testing for nitrates, besides doing some fun science, was because high nitrate levels in forages can happen during or after dry periods or in the fall and cause trouble for livestock. All of the forages we tested came out well within the safe zone which is good news.
We grow many, many acres of cole crops in particular, kale, rape, broccoli, turnips, beets, pumpkins, etc for our livestock. This is primarily a fall food for them. As their pastures wane they turn to these crops. As they eat down the leaves they turn to the stalks and then finally late in the fall they eat tubers. I think the tubers get sweetened by the fall frost. These plants grow well in our climate and extend our grazing season into the snow.
In the process of doing the forage tests we check the pH of our soil. In the 1990's our soil had a pH of about 4.5. That's nasty – Very acidic. Highly acidic soils is common around here because of the acid rain we get from the coal plants out in the mid-west. With the improved air quality this has been lessening. A neutral pH is 7.0. The oceans are around 8.2. Most plants like a pH around neutral although some like blueberries like acidic soil. The low pH binds up some nutrients making them less available to the plants and thus less available to animals.
Now our soil tested at 6.8 on the south field plateau. That's really good. A decade ago an extension agent explained that we could apply a lot of lime to our soil, on an ongoing basis, or we could graze livestock and gradually the pH would improve. She was right.
The soil testing lab also had recommended applying a lot of fertilizer to our poor, thin, rocky mountain soil. Again, we chose the slower path with just grazing livestock and planting a lot of legumes like alfalfa, clover and such. These plants suck nitrogen from the air in addition to carbon dioxide and in the process they fertilize our soil. It's a slower method but it works.
Outdoors: 59°F/37°F Sunny
Tiny Cottage: 69°F/67°F
Daily Spark: If you never try, you'll never fail.