Marsh Field Foliage – Click for Larger View
Our trees are starting to put on their fall colors. The mountain across the marsh field was splendidly regaled in the morning's golden light. Visitors comment on what a beautiful place we live in. I like it.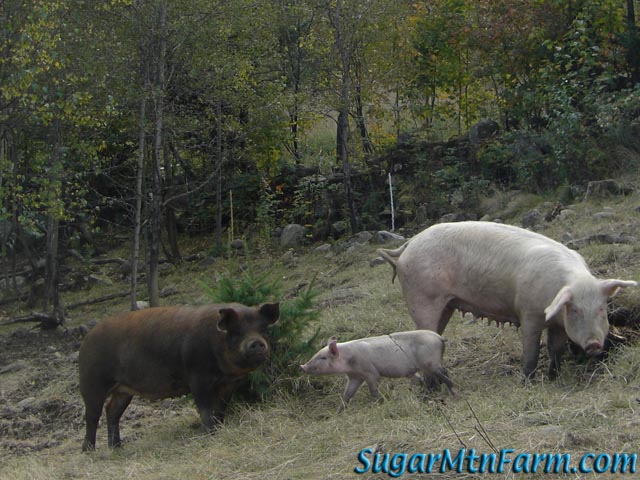 Gestating Sow, Lactating Sow and a Piglet
These three pig are part of the herd which is now in upper section four of the south field. The grasses are starting to age into fall. Lots of seed heads which the pigs will eat and digest some of, spreading the seeds in their manure. Behind them one can see a stone wall backing a fence line. Someone had asked if we fence the piglets and chickens with the smooth wire. The answer is no. The smooth wire fences the larger pigs. Stone walls do work quite well to contain the smaller pigs, especially when fronted by a hot wire. For keeping piglets and chickens out of gardens we use woven wire, hog panel or chicken wire with a hot wire or two, or three – depending on the pressure, pig size ranges and what is on the other side.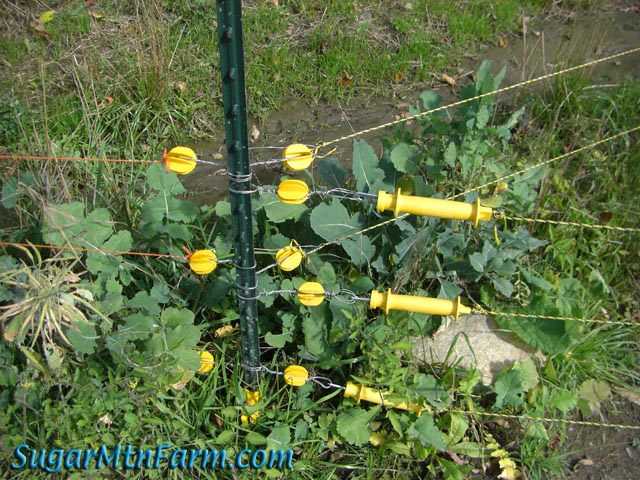 Junction Fence Post for Paddocks
Here is a closeup showing a three wire setup at the junction of two paddocks with the south field lane from the road. Some of the time we raise the bottom wire to allow piglets to creep graze into paddocks where larger pig are being kept out. This gives the piglets first shot at the tender new growths. These are the worst bullnose connectors – avoid them. They tend to short out, arc and break and are a problem with even low tension polywire fences. Not at all good, of course, for high tensile fences.
Outdoors: 61°F/35°F Sunny, 1/2″ Light Rain Last Night
Tiny Cottage: 69°F/65°F
Recent Spam read: "Our Anti-Aging Cream will Cut 30 Years of Your Life!" Perhaps something was lost in translation.